Updated on March 1, 2021 by Asher Fergusson
I
f you're planning to join the Peace Corps, you probably have a lot of questions – about your job, your training, your living conditions, and more. You'll only start to understand some of those things once you arrive in-country with your volunteer group. But there's one thing you need to know about ahead of time, and that's what we can help with: packing for the Peace Corps.
Exactly what to pack will depend on what country you're serving in, so you'll need to do some additional research on the climate and culture of your host country, as well as what the living conditions tend to be like and what kinds of items are available there. But this Peace Corps packing list covers the things you'll need to bring regardless of where you're headed. We've also included some tips on what NOT to bring, what to wear in the Peace Corps and some FAQs about your service.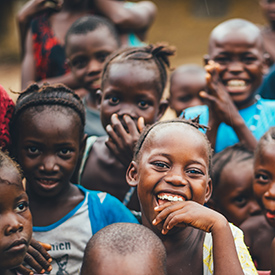 What to Pack for the Peace Corps – 17 Essentials
---

Whether you're packing for Peace Corps service or just for a vacation, there's one easy way to stay more organized: use packing cubes. Instead of packing every individual item of clothing separately, you'll roll or fold each item into a cube first, and then place the cubes in your bag. For added organization, the cubes in this set even have a clear pocket with an index card to record what's packed in it.
---

The Peace Corps operates all over the world, but the majority of Peace Corps countries have tropical climates. And that means they have mosquitoes, which may carry diseases like malaria and dengue fever, and all kinds of other bugs. It's crucial to protect yourself against them, but quality insect repellent is hard to come by in many places, so make sure you bring a supply from home.
---

Paracord bracelets might have been designed for backcountry recreation, but they can come in handy during the Peace Corps, too. Volunteers typically travel around a fair amount, which means you're not always going to have your flashlight, knife, and other gear with you. Just wear this bracelet when you head away from your site, and you'll have everything you need in case of an emergency. Plus, the paracord works great as a clothesline, no matter where you are.
---

Very few countries have the same type of outlets as the U.S., so a power adapter will probably need to be on your Peace Corps packing list. This one fits all the common types of outlets, and it also has USB charging ports and a fuse to protect against power surges (which are common in many Peace Corps countries). This adapter doesn't work everywhere, though, so be sure to check what type of outlets are found in your host county.
---

Something else you're likely to encounter during the Peace Corps? A lack of soap and water. But washing your hands is critical to preventing all kinds of diseases, especially since you'll be exposed to many germs your body isn't used to. That's where hand sanitizer comes in. When you're out for a day, or there's a water shortage, or you're just in a place without soap, hand sanitizer will be a must. It may not be widely available near your site, so be sure to bring some from home.
---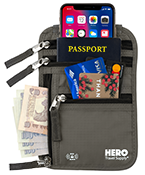 As a volunteer, it's almost inevitable that you'll end up in situations that are rife with pickpocketing: busy markets, public transportation, bus stations, and tourist attractions, to name a few. In these kinds of crowded places, it's all too easy for someone to reach into your pocket or bag and grab your wallet, phone, or other valuables. But it's nearly impossible for pickpockets to get into a neck wallet without you noticing, which makes it a much safer place to keep your money, ID, ATM cards, and so forth. This one is even waterproof, so no worries if you get caught in the rain!
---

You might have electricity at your Peace Corps site, you may have it intermittently, or you could be totally off the grid. Even if your home has power, there's a good chance you'll end up traveling to places that don't. But you'll still want to be able to keep your devices charged, so a solar charger will definitely come in handy. Unless you're headed to a country where reliable electricity is widespread, put one on your list of things to take to the Peace Corps.
---

If Peace Corps Volunteers all over the world have one thing in common, it's that they've probably experienced some digestive troubles. When you're in a new place with bacteria that your body isn't used to and where hygiene standards may be different than at home, it's almost inevitable. The good news is that activated charcoal tablets can help you start feeling better quickly. Because it's cheap, effective, and all-natural – and because you'll almost certainly need it at some point – this is one of the top Peace Corps packing essentials!
---

Depending on your living situation and responsibilities in the Peace Corps, there may be times that you have to go without a shower. And when that happens, deodorant wipes will be a lifesaver. Deodorant isn't widely available in many places anyway, so this is something that should be on most any Peace Corps packing list.
---

You'll also need to bring a towel no matter where you're going, but think twice before packing a regular bath towel. It'll take up a lot of space in your bag and, perhaps more importantly, take forever to dry. Since you'll almost certainly have to line dry your laundry in the Peace Corps and will likely be living in a humid climate, a towel that dries quickly will be much more convenient. Pack a lightweight microfiber towel instead of a regular one.
---

There are so many reasons a daypack is one of the top Peace Corps essentials. You may need to go out all day or even take day trips to work on projects, you'll probably travel to your regional capital or to visit other volunteers, and you may want to go on hiking or cycling trips. A daypack will be handy in those situations and more, so make sure to bring one that'll hold all your necessities.
---

The Peace Corps will probably provide you with First-Aid supplies once you arrive in country, but it doesn't hurt to bring some of your own as well. You'll almost certainly end up getting minor injuries like cuts, blisters, or burns, and you'll want to be able to take care of them at your site. This First-Aid kit won't take up too much space, but it has all the basics.
---

If you're serving in a place that gets hot – and the majority of volunteers do – this cooling towel will be a lifesaver. All you need to do is wet the towel, and the unique fabric will remain cool to the touch for hours. When it's scorching out, nothing will feel better than draping a chilly towel around your shoulders. They're lightweight and pack down small, so you could even bring two!
---

A good headlamp is another one of the essentials to take to the Peace Corps. If you don't have electricity at your site, or it goes out frequently, you'll need one on a regular basis. And if you need to do your cooking outside or walk outside to get to your bathroom – which is the case for many volunteers – it'll also be extremely handy. You could carry a flashlight instead, but a headlamp will be much more convenient.
---

It's smart to pack an umbrella whenever you travel, and the Peace Corps is no exception. Many Peace Corps countries experience heavy rainfall, so an umbrella is really a must. This one is lightweight and packs down small, so it's ideal for travel. But it's also sturdy enough to hold up to the strong winds you might also encounter.
---

Something else most Peace Corps countries have in common is that the tap water (or well water, if that's what's available) usually isn't safe for foreigners to drink. You'll need to treat all your drinking water, probably by boiling or filtering it. Peace Corps will most likely provide a big filter for you to keep at your house, but a Lifestraw bottle will be super convenient to use on the go. If you're traveling or you're just away from your house, just fill up the bottle with water, and the unique filtration straw will clean it as you drink.
---

Packing a solid shampoo bar instead of a bottle of the liquid kind will save you a lot of trouble on any trip. It weighs less, it won't cut into the limited allotment of liquids in your carry-on, and there's no risk of it leaking and making a mess. Plus, since there's no plastic bottle, it's much more eco-friendly. Many Peace Corps have minimal waste disposal infrastructure, so limiting the amount of waste you produce in country is essential, and this is an easy way to cut down.
Other Peace Corps packing list items not to forget
---
What to Wear in the Peace Corps
---
Exactly what to wear in the Peace Corps will depend on your country of service. The Peace Corps largely operates in more tropical countries, so there's a good chance you won't need anything much heavier than a sundress. But there are certainly plenty of places that will require warm clothes like sweaters and boots, at least for part of the year. Make sure you check the climate and seasons of your particular country before you pack your clothing for Peace Corps.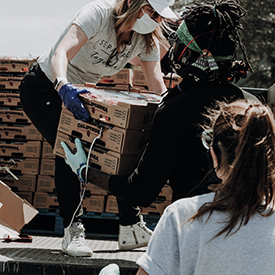 It's also vital to consider the culture of your host country. Many (but not all) Peace Corps countries are extremely conservative, and you'll probably need to keep your shoulders, knees, cleavage, and midriff covered.
You'll also find in many places that local people tend to dress up more than you were expecting, so clothes for Peace Corps should not be only casual. Bring some nicer clothes as well, including slacks, blouses, collared shirts, and nice dresses or skirts.
Lastly, most volunteers tend to do a lot of walking, often on ground that's uneven or muddy. The ideal shoes for the Peace Corps are waterproof, sturdy, and comfortable for walking, but still look nice.
Dressing Appropriately for the Activity – (Click to expand)
Teaching Classes:
A huge proportion of Peace Corps Volunteers work primarily as schoolteachers, and many more ending up teaching some classes even if it's not in their official job description. In many host countries, teachers tend to dress formally, and things like sandals, jeans, and T-shirts might even be against the school's dress code. Your Peace Corps wardrobe for teaching will probably need to include dressier items like slacks, collared shirts, close-toed shoes, and conservative dresses for women. In some areas, female teachers will be expected to wear skirts or dresses, rather than pants.
Meetings with Officials: There's also a good chance you'll end up needing to meet with government and other officials during your service, and they tend to dress up in many countries as well. This is another time you'll want to wear nicer (and conservative clothes), like dress pants, collared shirts or nice blouses, dresses or skirts, and closed shoes.
Volunteer Training: The first three months of your time in the country will be spent in training, and you'll also have additional training and volunteer conferences throughout your two years. During these, volunteers generally dress very casually (although still conservatively in most countries). You'll probably want to wear things like jeans, lightweight pants or capris, T-shirts, casual dresses or skirts, and sandals.
Cycling: In many Peace Corps countries, biking is one of the most common ways to get around, and the Peace Corps often provides volunteers with bicycles. Even though it can be a little uncomfortable, you'll probably need to dress conservatively, even when cycling. That means no bike shorts! Instead, go for pants or capris and a T-shirt, along with sturdy shoes.
Vacation: Peace Corps Volunteers do get vacation time! Many volunteers use that time to travel to other regions of their host country or nearby countries. In most cases, similar rules for covering up will still apply, although expectations are certainly relaxed at beaches and resorts and in tourist areas. For vacations, you'll probably want to wear casual clothes and sandals, and don't forget to pack a swimsuit.

What NOT to Bring to the Peace Corps
---
1)

DON'T BRING lots of medication:
The Peace Corps will provide the medication you'll need during your service, from over-the-counter basics to your regular prescriptions to emergency antibiotics. You may want a small supply from home to use in the beginning, but otherwise, you don't need to bring medications with you.
2)

DON'T TAKE a mosquito net: If you're in a place where a mosquito net is needed, the Peace Corps will provide one, or you can buy a net locally once you see what your room is like.
3)

DON'T PACK survival gear: Many volunteers think they need to bring all kinds of emergency backcountry gear in the Peace Corps. But the truth is, you won't really need that stuff, and most of it will seem very out of place.

4)

DON'T TAKE unnecessary valuables:
Since you're going to be there for more than two years, you'll inevitably need to bring some valuables with you. These days, most volunteers have devices like a smartphone, laptop, and/or tablet. But only bring the things you'll actually use, and leave items like expensive jewelry and family heirlooms at home.
5)

DON'T BRING lots of cash: Many volunteers worry about how they'll access money in another country – but the Peace Corps will handle this for you. You'll probably receive cash allowances in the beginning, they'll set you up with a bank account and debit cards, and the capital city will almost certainly have ATMs that take foreign debit cards. Bring a little cash (which you can exchange for the local currency) for incidental expenses during your first couple days, but don't pack a big wad of it.
6)

DON'T PACK a bunch of books: Almost nothing will fill your bag – or weigh you down – faster than physical books. Bring an e-reader to save space, or just take one or two books and then swap with other volunteers later.
What NOT to Wear in the Peace Corps – (Click to expand)
The right clothing for the Peace Corps depends on your host country, and what's acceptable in one country may be inappropriate in another. But if you're in a conservative area, revealing clothing like shorts, mini skirts, tank tops, and crop tops should be avoided. If you're in a tropical country, you'll also want to avoid heavy clothing, fabrics that don't breathe, and clothes that take a long time to dry. And in almost any Peace Corps country, there's no need to wear safari gear unless you're on an actual safari!

FAQs about the Peace Corps
---
1. What is the Peace Corps?

The Peace Corps is an independent agency of the U.S. federal government that sends volunteers around the world. The goals of the Peace Corps are to provide needed assistance to countries that request it, to promote an understanding of the U.S. in other countries, and to promote an understanding of other cultures among Americans.

2. What do Peace Corps volunteers do?

There's no one answer to this question, and even within the same country and same sector, volunteers can end up doing dramatically different work.

Volunteers mainly work in six sectors: agriculture, environment, economic development, health, education, and youth development. Volunteers in the education sector are placed at a specific school (or multiple schools), where they usually work as English teachers (sometimes other subjects) and are often involved in clubs, extracurricular activities, and even school administration. Health volunteers don't provide medical treatment, but they might work at a particular clinic or health center to provide education or administrative assistance. Volunteers in the other four sectors largely provide education and skills training or conduct outreach or advocacy efforts. In any sector, volunteers may also be placed with non-profit organizations, churches, or other local groups and provided any needed assistance on their projects.

3. Where does the Peace Corps operate?

New Peace Corps countries are being added or re-opened all the time, and existing programs are occasionally closed. Peace Corps countries are as diverse as Tonga, China, Jordan, Mali, Armenia, Colombia, and Jamaica, just to name a few. The Peace Corps is currently operating in over 60 countries throughout Asia, Eastern Europe, the Middle East, Africa, the Pacific, and Latin America. Nearly half of all volunteers serve in sub-Saharan Africa.

4. How long does the Peace Corps last?

Peace Corps service is 27 months, with the first 3 months being training. However, it's not uncommon for volunteers to choose to end their service early, while others extend for a third (or even fourth!) year.

5. What kind of training do Peace Corps volunteers get?

Every Peace Corps Volunteer's service starts with about three months of pre-service training (PST). The biggest component of PST is language study, which includes both classes and practical activities. Another big part of training is cross-cultural competency, which teaches volunteers about the norms, traditions, and expectations in their host country. Volunteers also receive personal health and safety training, including preventive measures for staying safe and healthy, how to handle illnesses and other problems at the site, and support for mental and emotional health. Lastly, technical training is specific to each sector. For example, training for education volunteers focuses on lesson planning, teaching skills, and classroom management.

In addition to PST, volunteers typically have at least three other training sessions during their service.

6. Do Peace Corps volunteers get paid?

Peace Corps Volunteers are given a monthly stipend to cover their living expenses, the amount of which varies by country, and depends on the cost of living there. It is typically more than sufficient to cover utilities, phone and Internet use, food, transportation, household basics, and other necessities. Housing is provided separately at no cost to volunteers. At the end of their service, volunteers also receive a readjustment stipend of around $10,000, which is prorated for those who leave early.

7. Do Peace Corps volunteers get other benefits?

In addition, volunteers receive a variety of benefits during and after their service. Volunteers receive free medical and dental care, including check-ups and prescription medications, from Peace Corps medical staff and approved local providers. For serious illness or injury, including mental illness, volunteers may be evacuated to facilities in a nearby country or the U.S., the cost of which is also covered.

Transportation costs to and from the host country at the beginning and end of service are covered as well. Volunteers also accrue two vacation days per month, which can be used to travel within the host country or elsewhere, including to visit the U.S. Some student loans are eligible for deferment or partial cancellation during Peace Corps service, and many graduate schools provide scholarships specifically for returned volunteers. After the completion of service, volunteers also have 12 months of non-competitive eligibility for federal employment.

8. Who is eligible to serve in the Peace Corps?

Peace Corps Volunteers must be U.S. citizens, aged 18 or older; there is no upper age limit. Volunteers are typically required to have at least a Bachelor's degree, although significant professional experience can qualify applicants without one. Applicants must also undergo legal and medical screening processes, which are reviewed on a case-by-case basis.

9. How do you apply to the Peace Corps?

To apply to serve in the Peace Corps, visit the agency's website and select the position you want to apply for. You can also choose "apply where you are needed most," and your application will be matched to an open position that needs to be filled. Once you've made your selection, fill out the online application and health history form. If you're selected, you will be contacted for an interview. After the interview, you'll find out whether you were accepted.

10. What are the living conditions of Peace Corps volunteers?

Living conditions for Peace Corps Volunteers vary dramatically by region, country, and even within a country. Some volunteers live in small villages in extremely remote areas, without electricity or running water. Others live in apartment buildings in major cities and have many modern amenities. In some countries, volunteers live with a host family or within a host family's compound.

The important things are to be prepared to forego some of the comforts you enjoy at home, to know that you'll likely have less personal space and privacy than you're used to, and to approach your living situation with an open mind.
Other packing lists you may like…
2-Week Trip | 3-Day Trip | Baby Packing List | Baby Travel Gear | Bachelorette | Backpacking | Beach | Birthright | Bonnaroo | Burning Man | Business Trip | Cabin | Camping | Canoe Trip | Car Camping | Carry-On | Castle Trip | Cheerleading Camp | College Dorm | Convention | Cruise | Day Hike | Deer Hunting | Desert Trip | Destination Wedding | Diaper Bag | Digital Nomad | Disney | Disney Cruise | Elk Hunt | Fall | Float Trip | Flight | Girl Scout Camp | Girls | Glamping | Golf Trip | Honeymoon | Hostel | International | Island Vacation | Kids | Lake House | Long-term | Men's Packing List | Minimalist | Motorcycle | Moving Abroad | Music Festival | Overnight | Resort | Road Trip | Round The World | Ski Trip | Snowboarding | Spring Break | Study Abroad | Summer Camp | Summer Vacation | Teen | Theme Park Trip | Toiletries | Toddler | Tropical Vacation | Ultralight | Wedding | Winter Vacation | Weekend | Zoo Trip
Please note: We have over 200 packing lists covering practically every popular travel destination in the world. Access them all on our packing list overview page ➜