This March we escaped the freezing cold Iowa winter and had an incredible beach vacation!
Below is a photoblog of our adventures in Puerto Rico and on our Royal Caribbean Cruise to Curacao, Aruba, Bonaire, and St. Maarten.
DAY ONE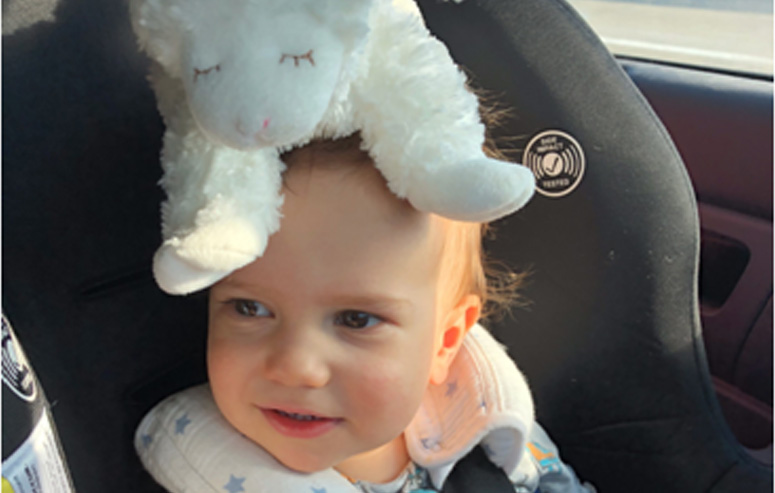 Our little dude was a serious champ on the two hour drive to the Des Moines Airport. We use the Evenflo Tribute LX Convertible Car Seat for all our travel, and really love it! It only weighs 9 lbs and is super easy to take in and out of taxi's when on the go.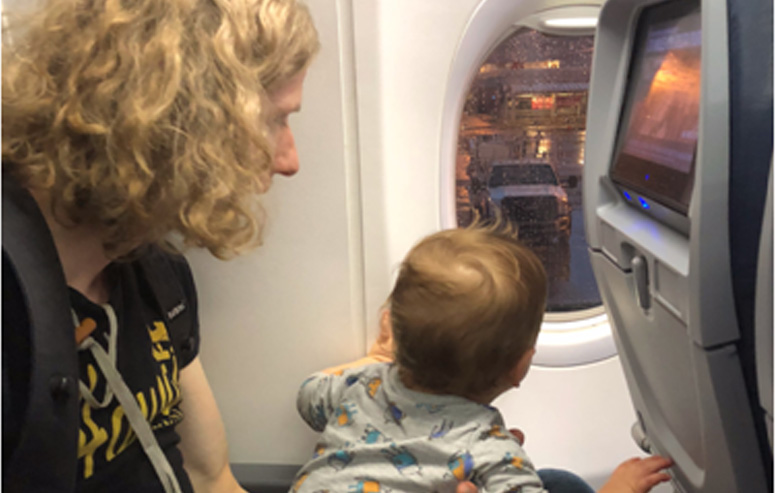 We had a really easy flight from Des Moines to Puerto Rico with one quick layover in Atlanta. Kingsley loves looking out the window and seeing all the "big trucks!"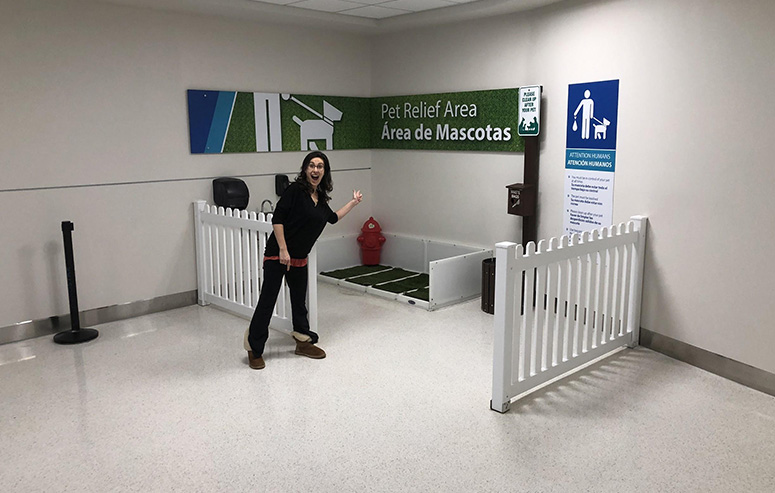 Pretty exhausted, we landed at 11pm in Puerto Rico and were welcomed by a very interesting "Pet Relief Area." It even came with a fire hydrant. Never seen that before!
DAY TWO
window and seeing all the "big trucks!"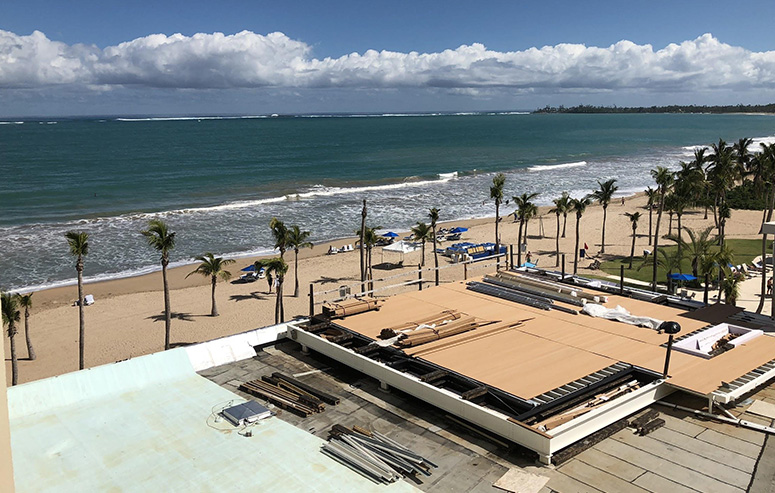 On March 2nd the whole family woke up around 9am to the sound of the ocean outside our balcony at the Marriott Isla Verde in Puerto Rico. It's a wonderful and familiar noise for us—Asher and I lived on Maui for over 2 years and really miss it!
Where we were staying in San Juan there was little evidence of Hurricane Maria, although so many Puerto Ricans are still really suffering from it's wake. The most damage we saw was to our hotel's roof which was being repaired outside our window.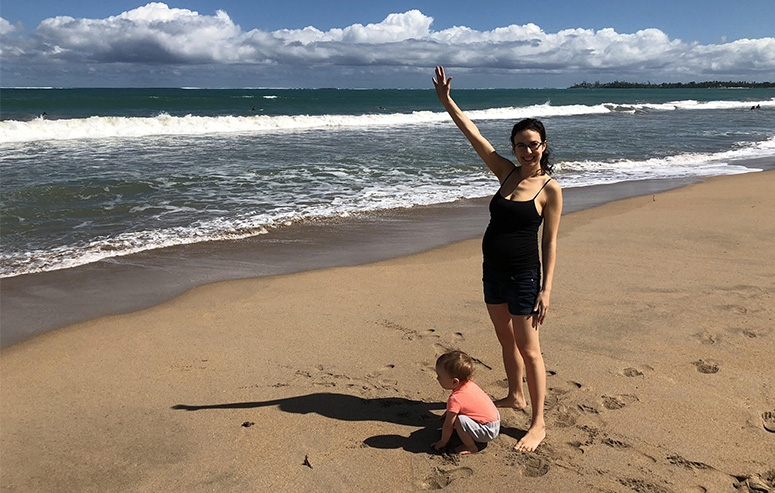 Although Kingsley had seen the Mediterranean Sea before in Italy, this was Kingsley's first time seeing the ocean! The weather was perfect, 80 degrees and the water felt perfectly warm.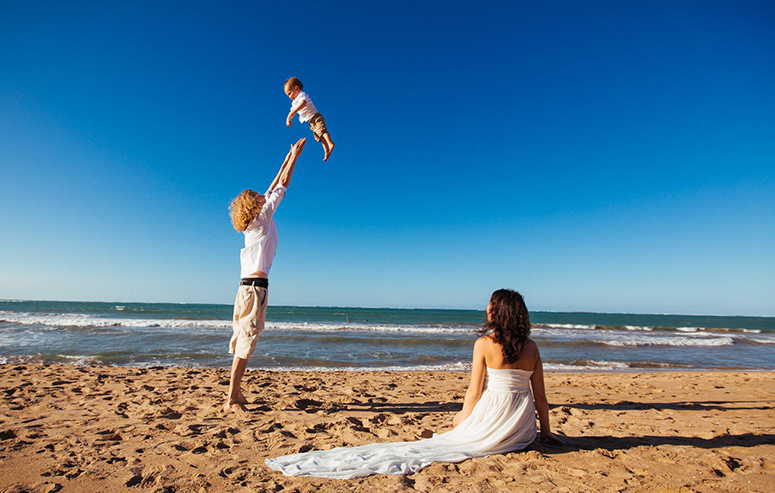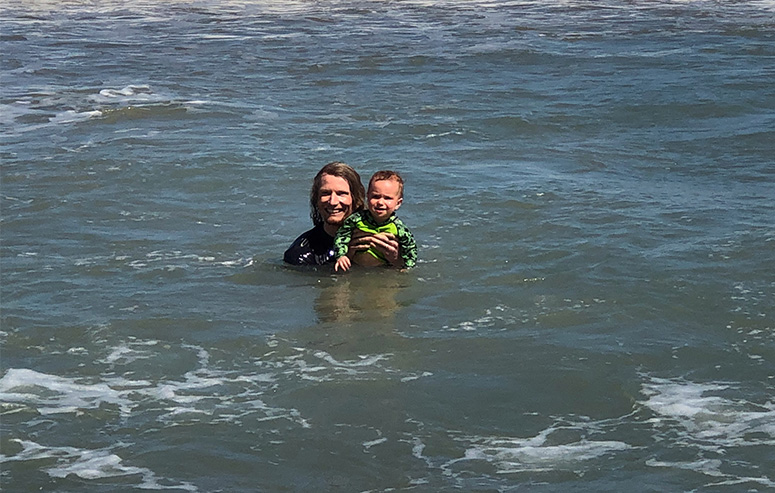 Asher took Kingsley right into the waves—and he loved it!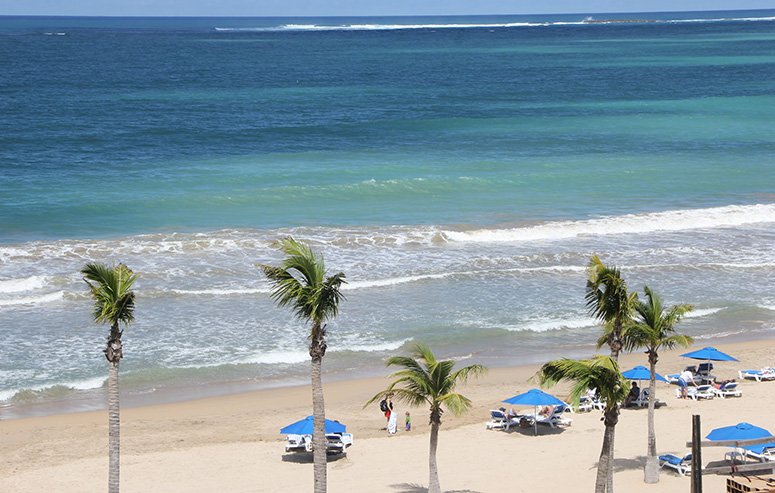 We spent the morning relaxing on the beach and eating the really incredible food at the hotel. (After traveling for over 15 hours the day before we needed a day to decompress!) Here is a picture Asher took from our balcony. Can you find Kingsley and me the picture? 😉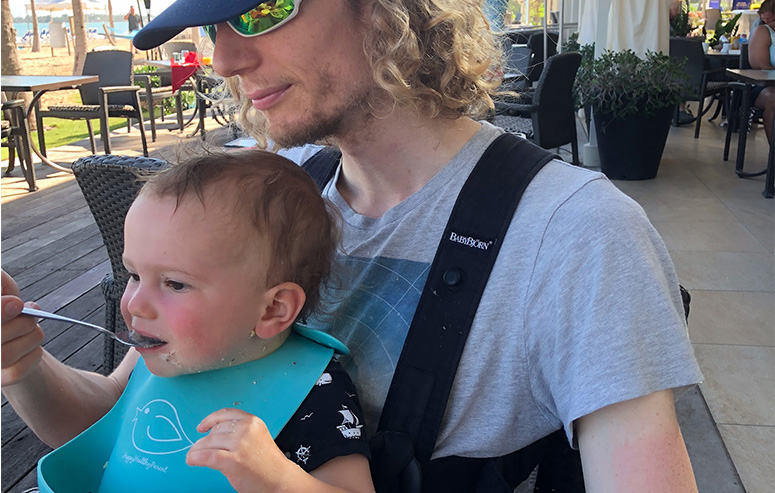 This is our favorite way to feed Kingsley on the go. We strap him into the Baby Bjorn carrier and use one of our silicone bibs to catch the food. The combo keeps him clean and much more comfy than in the high chair—and he always eats a ton!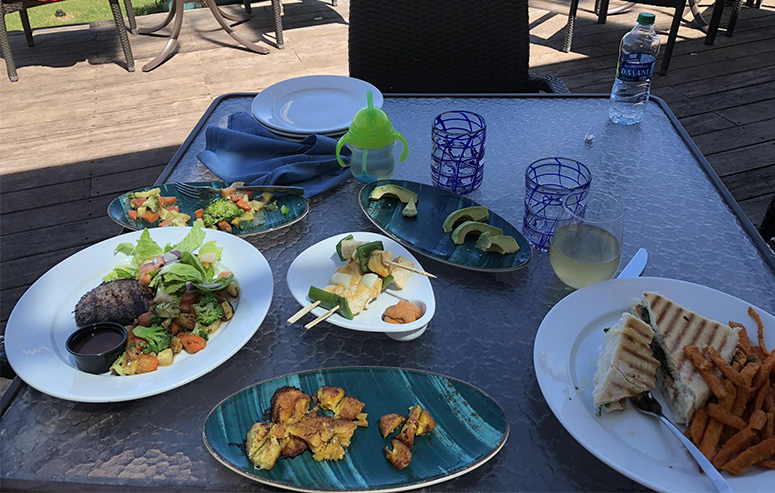 When traveling abroad, we always try to stay at hotels where we know the restaurant is going to be good (and clean!) especially when going to less developed nations. This saves a lot of time trying to figure out where you are going to grab you next meal with a hungry little one.
The Courtyard by Marriott Isla Verde was awesome in this way, and they were happy to accomodate, and even made special dishes for Kingsley.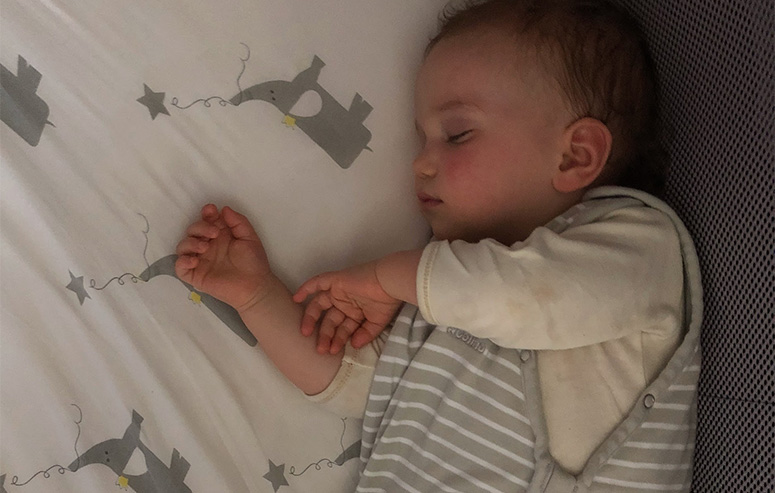 After lunch we all passed out for a long nap! Kingsley is an awesome sleeper when traveling and we really give the credit to the amazing Baby Bjorn travel crib and his Sleep Sack which we take everywhere with us.
This trip we also brought a portable white noise machine which was a serious life-saver both in this hotel and on the cruise. We had some very drunk people yelling in the hallways, especially in Puerto Rico, and because of this little machine Kingsley slept through the night every time.
After lunch we met up with the incredibly talented local photographer Edwin Dominguez. http://www.edwindominguez.com It was so fun to show off my baby belly! I was five and a half months pregnant at the time.
All these pics are from the beach in front of our hotel. Honestly it was paradise! There were so many wonderful photos we wanted to share that we decided to make a grid below. (click to expand)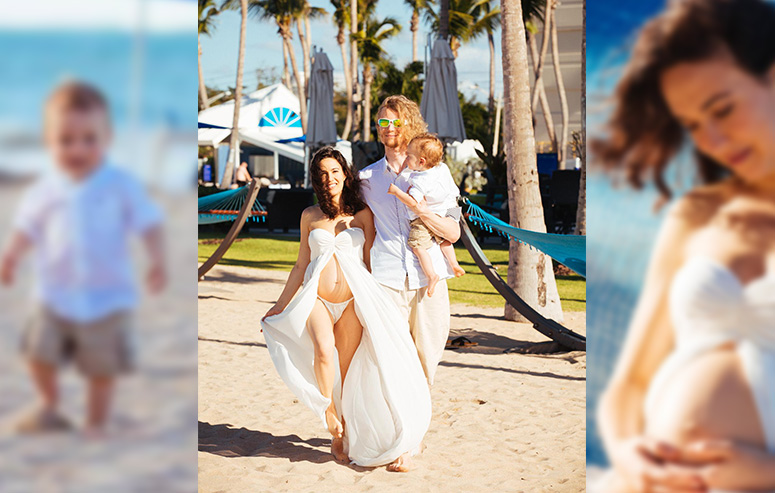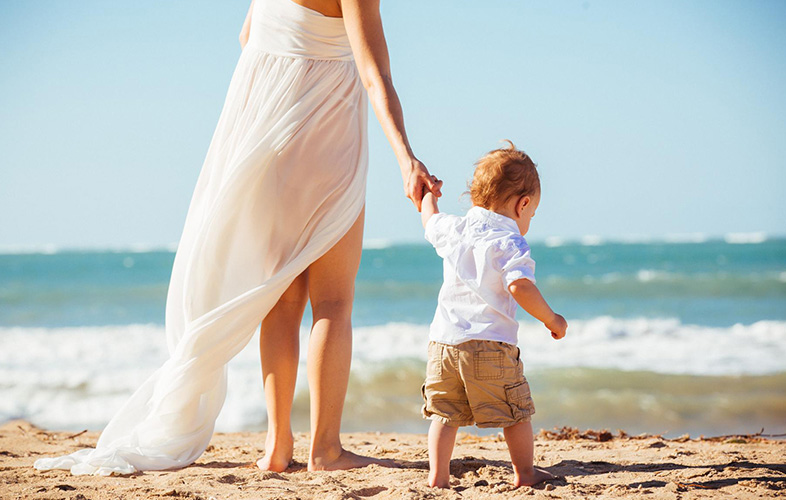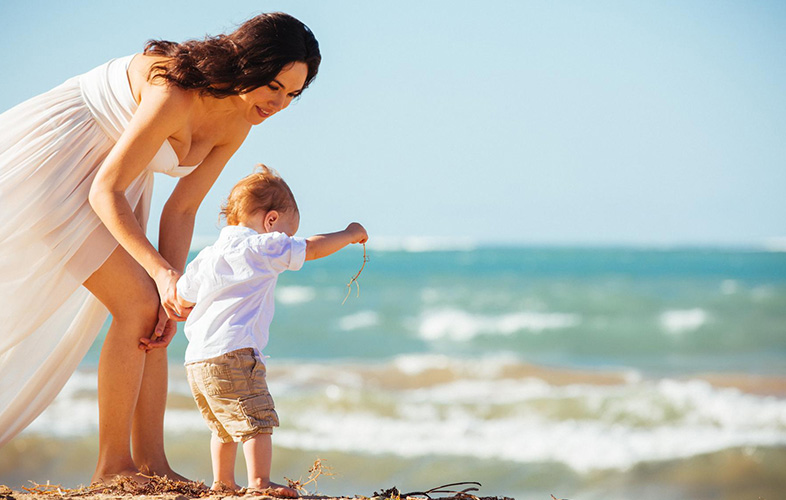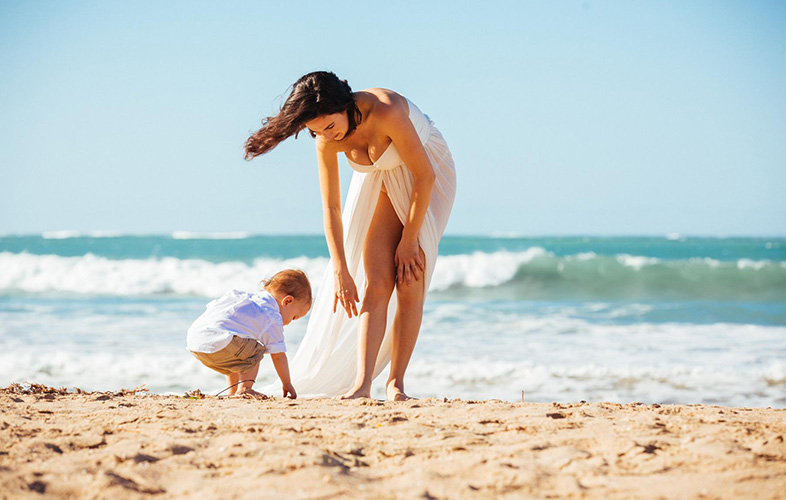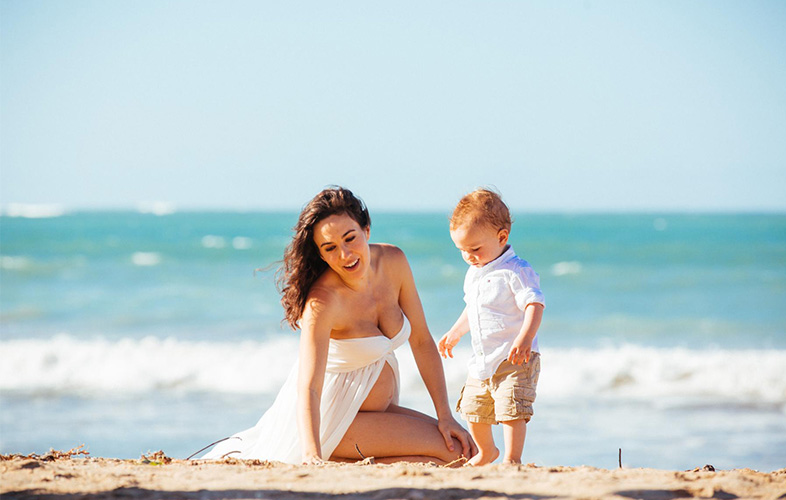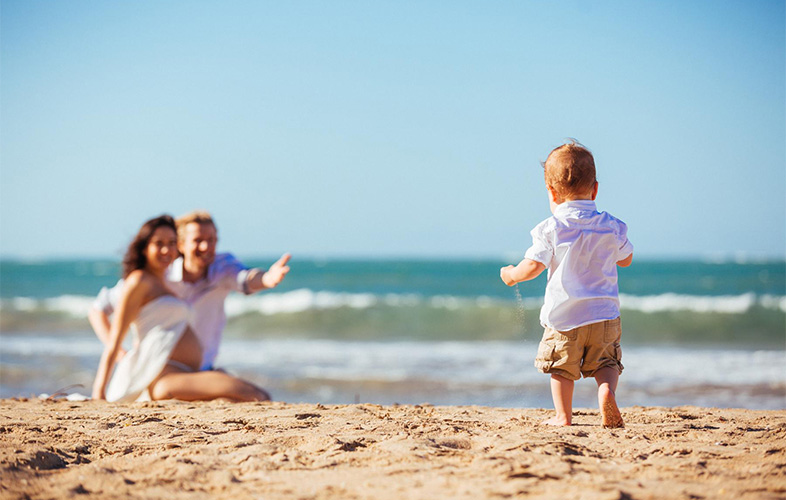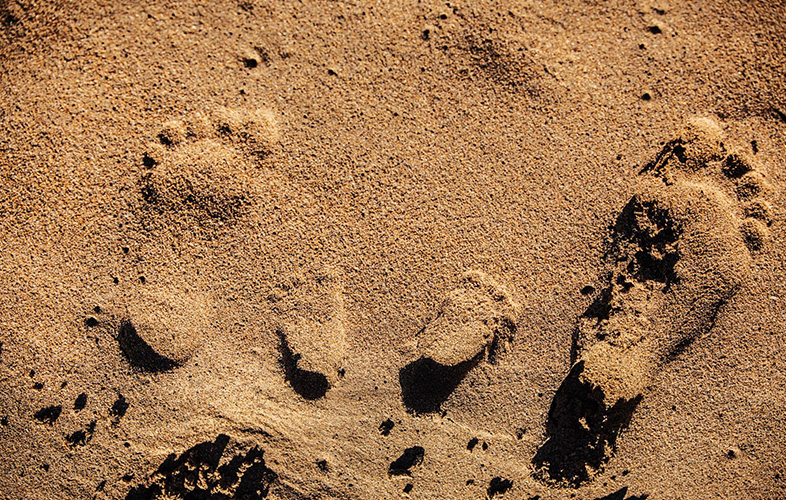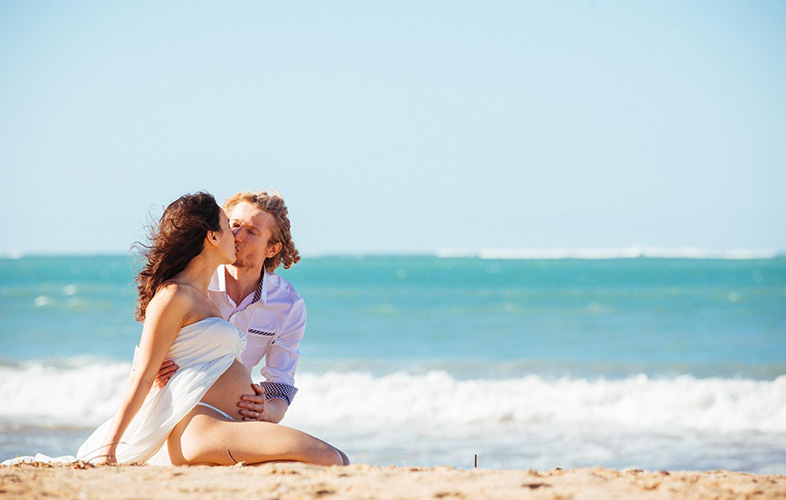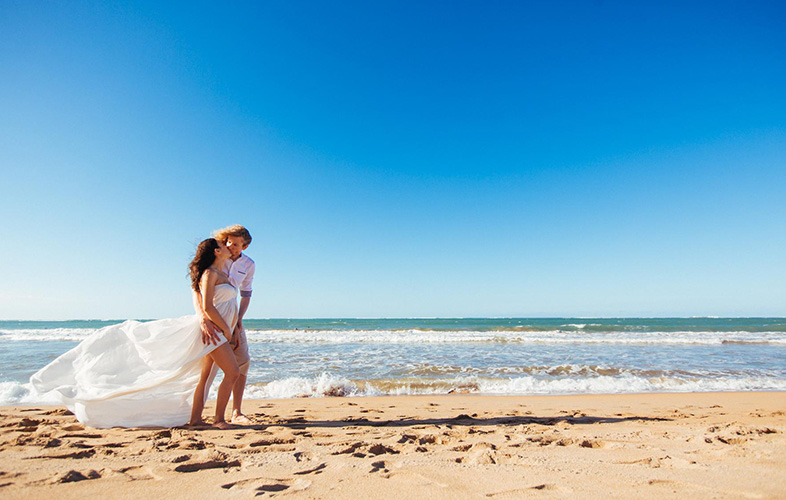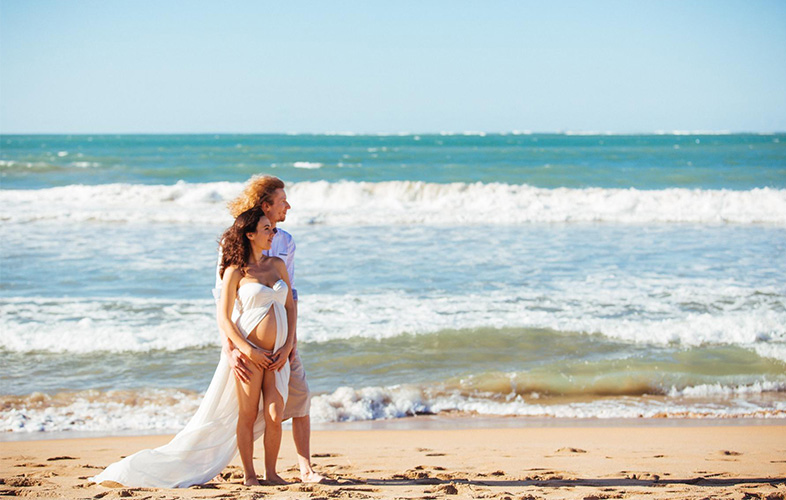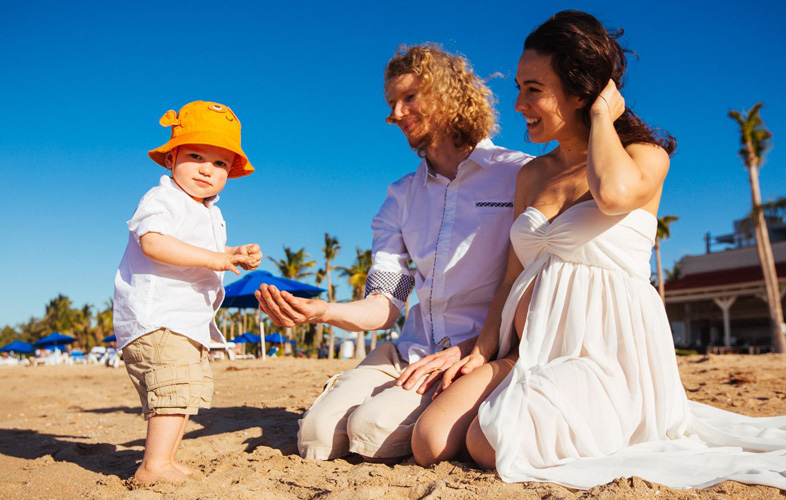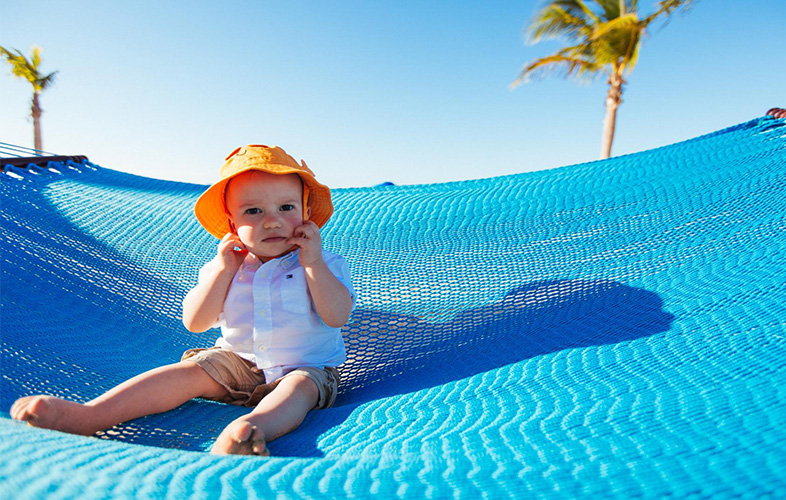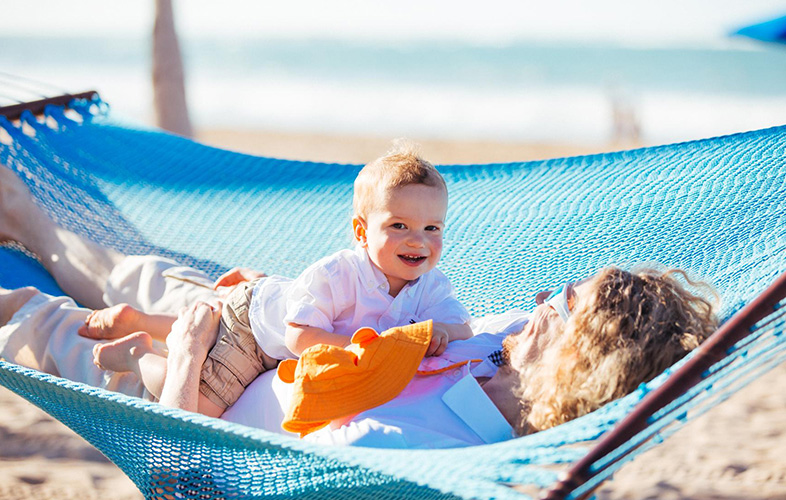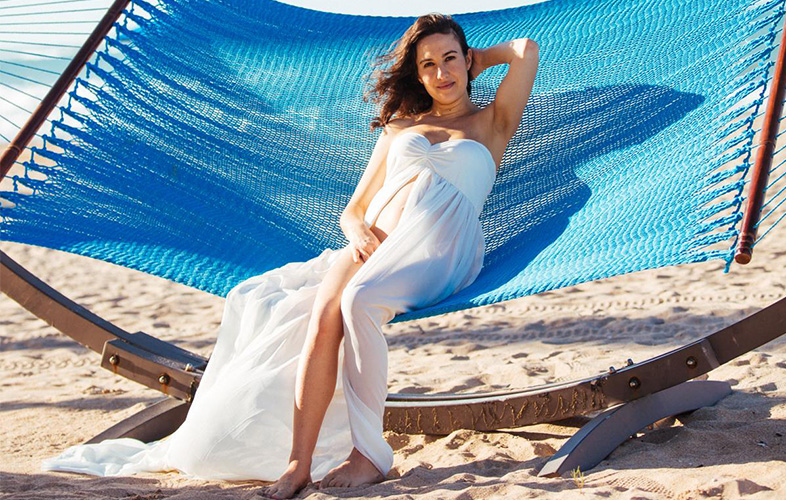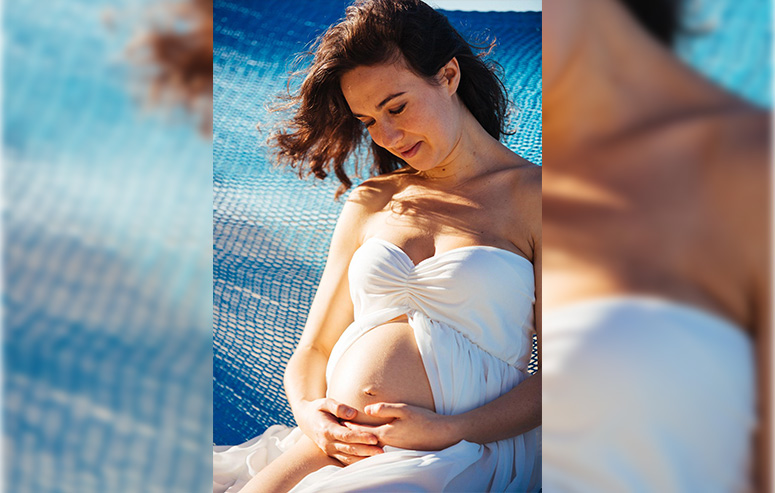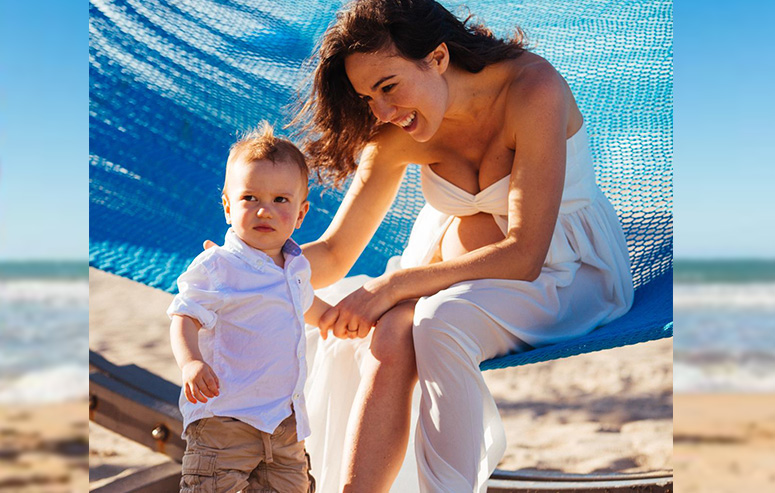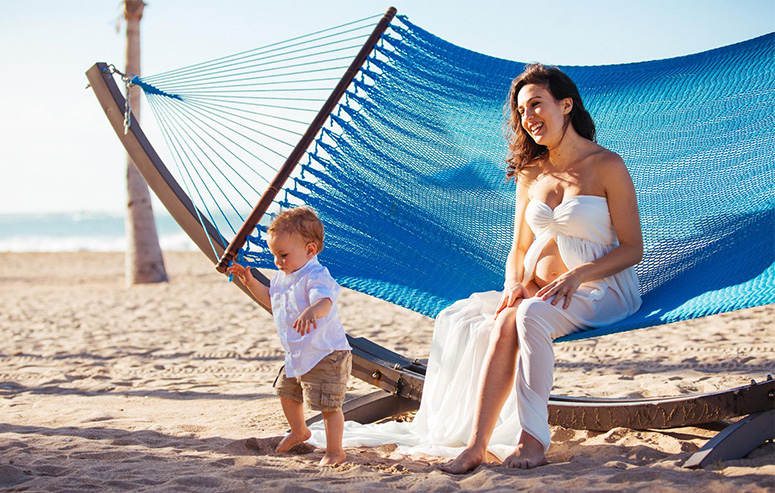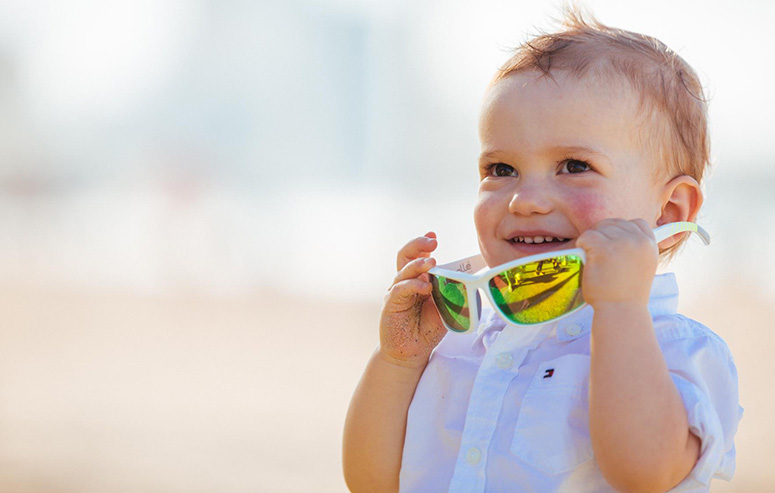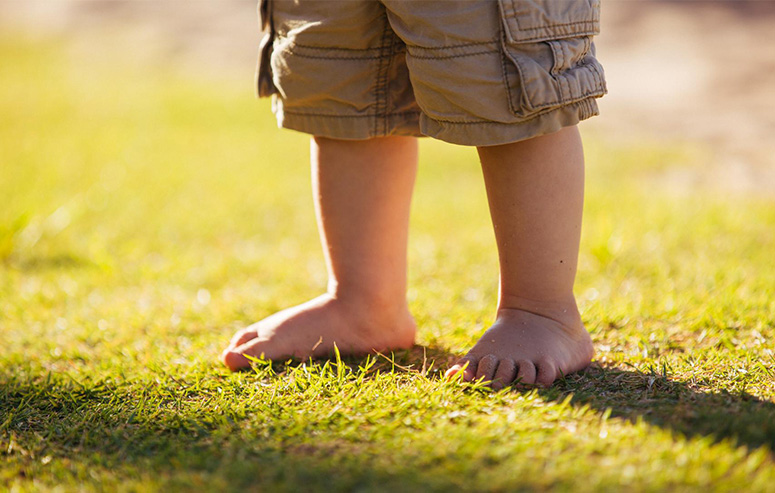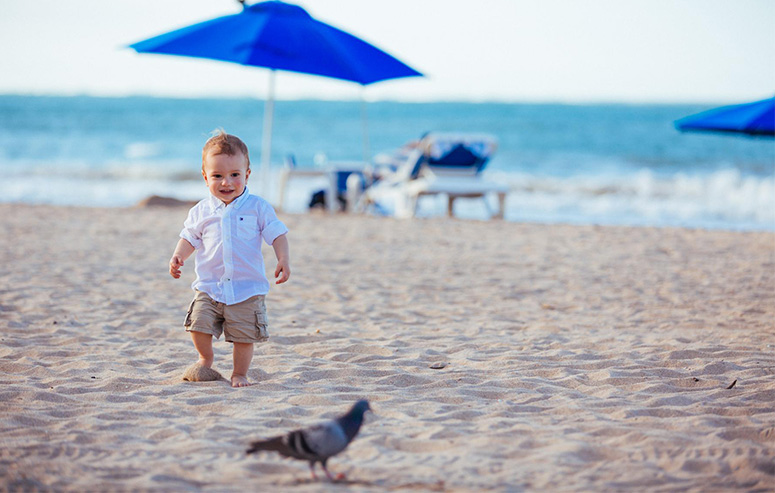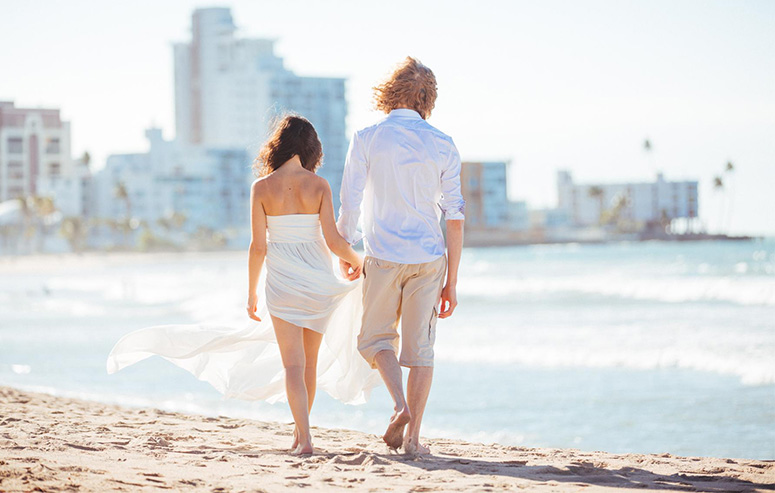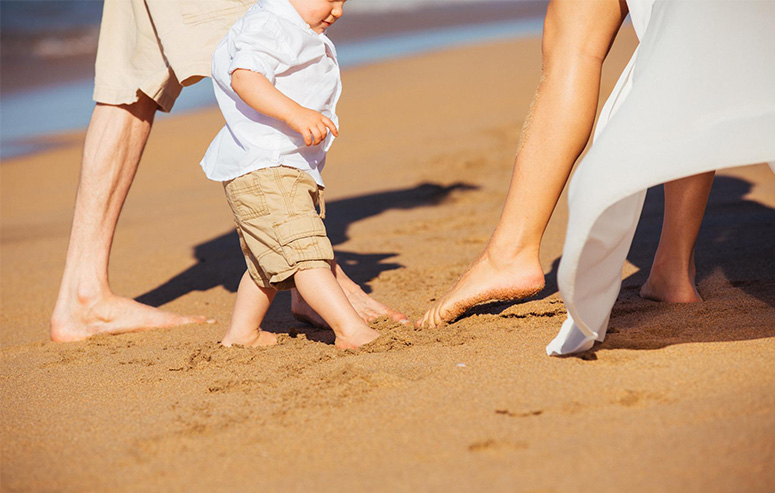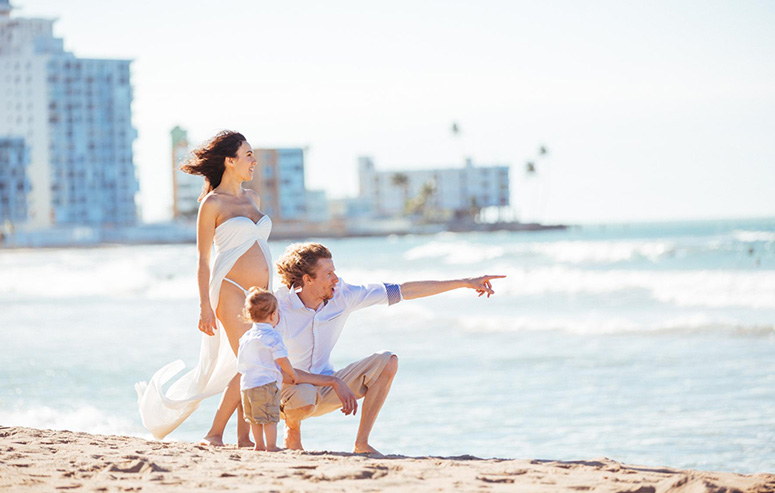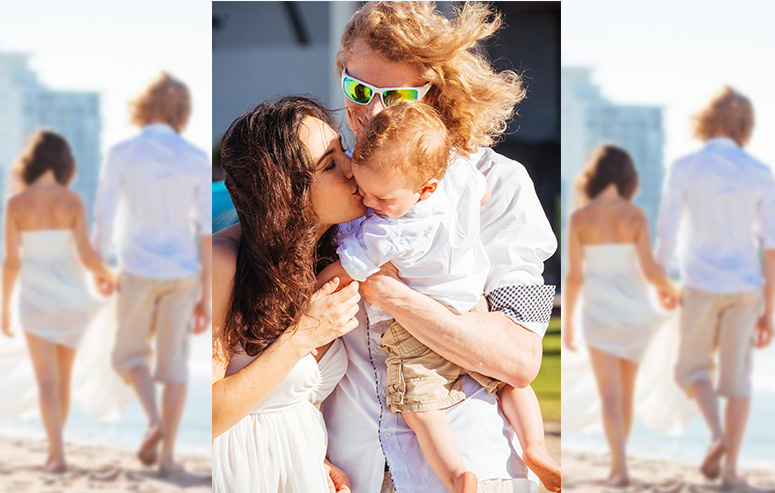 DAY THREE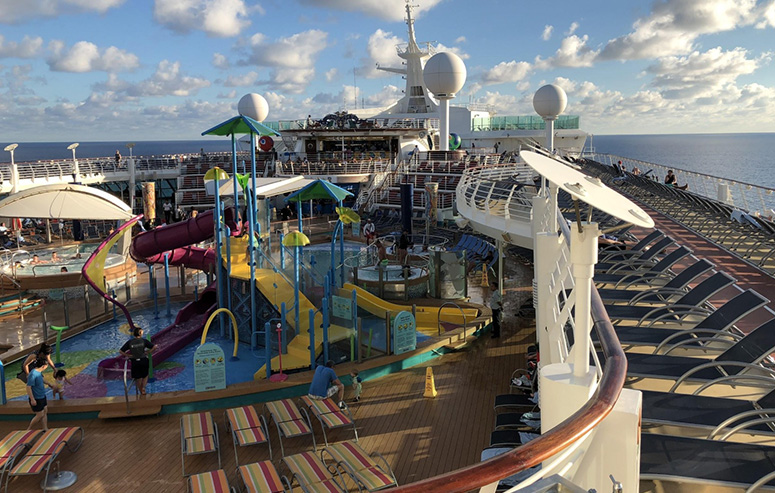 The next day we packed up our bags, took a taxi to the cruise port, and board the Royal Carribean Adventure of the Seas! YAY!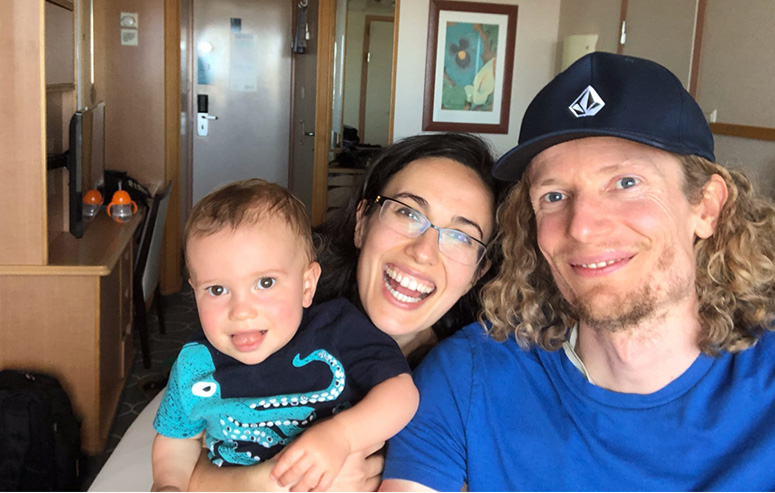 Here we are in our room. We were surprised how spacious it was, although I was really glad that I brought our packing cubes as they really helped to keep things organized in the super tiny closet!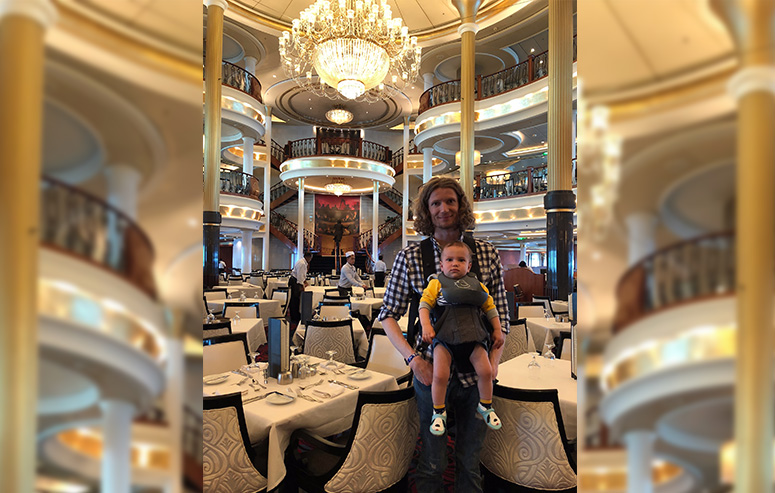 We really loved the dining set up! This is the main dining hall, we chose to do the "My Time" dining because we could get to dinner at 5:45pm which was great for our little guy. We also found the waiters to be very accomodating in making Kingsley special meals.
Every night they whipped up cooked bananas and fresh figs for Kingsley for dessert. This was a huge relief for us because although he isn't that picky… he can have picky moments! And thanks to the bananas he never went hungry.
DAY FOUR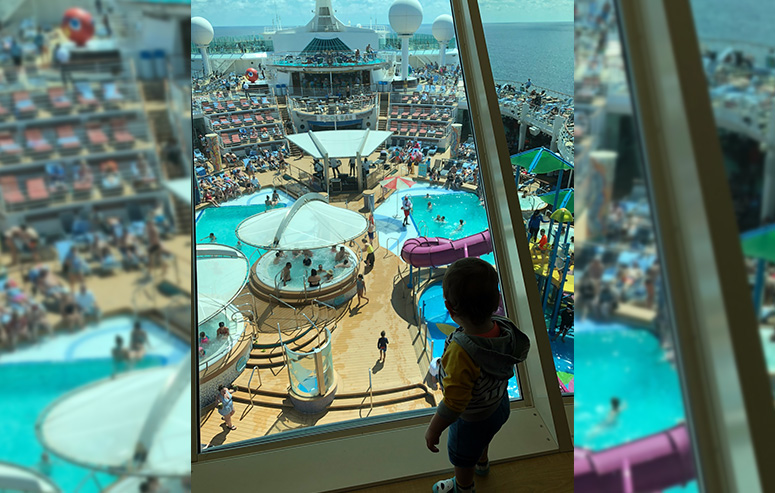 We spent the first day at sea exploring the ship, riding the wave runner, and going down the epic water slide! Here is a cute pic of Kingsley surveying the landscape.
DAY FIVE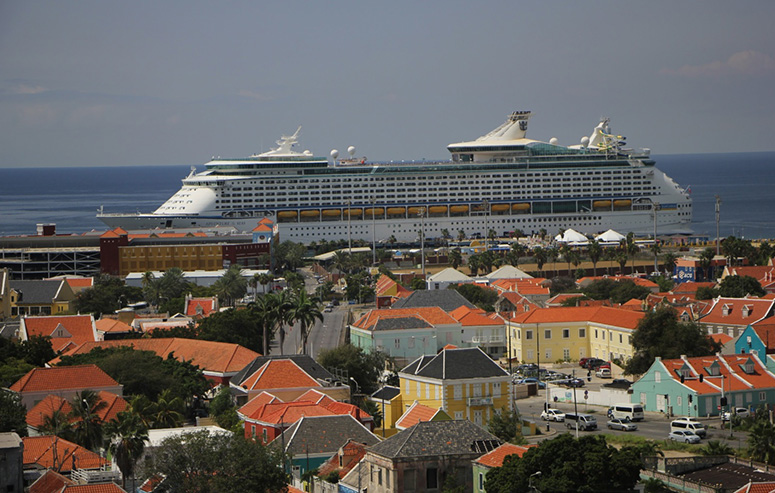 After one full day and night at sea we landed in Curacao. It was gorgeous! We really noticed the Dutch influence on the island, but it always had a colorful Caribbean flare.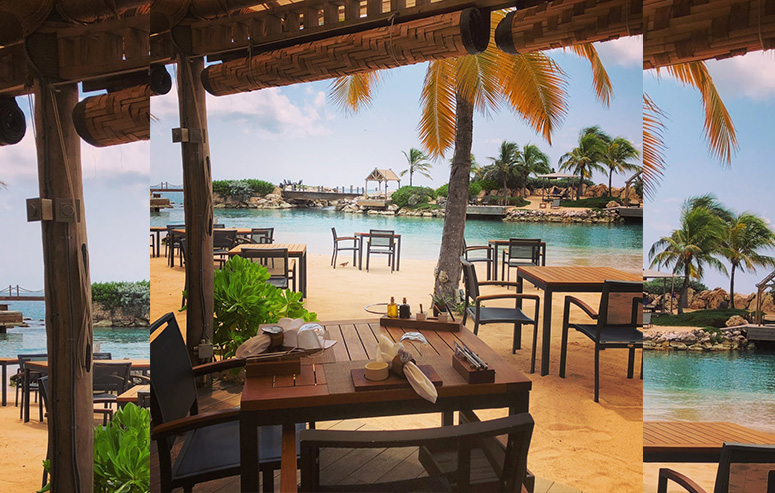 We jumped into a taxi and headed to the Baoase Luxury Resort. This was by far the highlight of the entire trip for me. This was the view from the 5 star restaurant which, (although incredibly slow!), served us one of the best meals we have had outside Paris.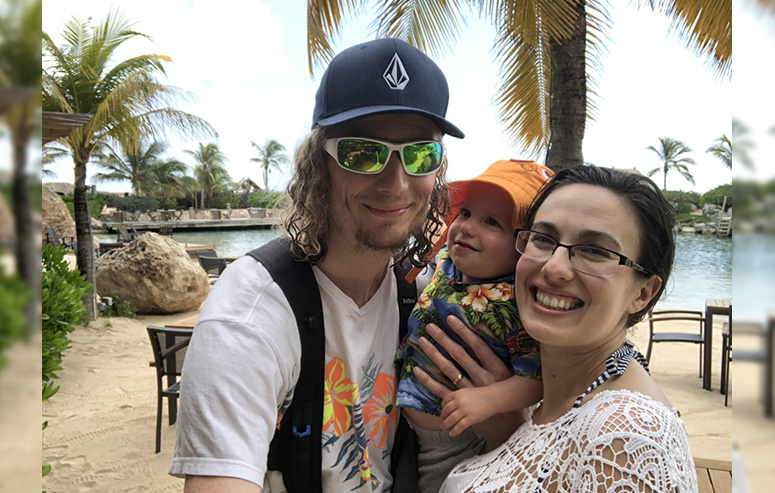 Family selfie!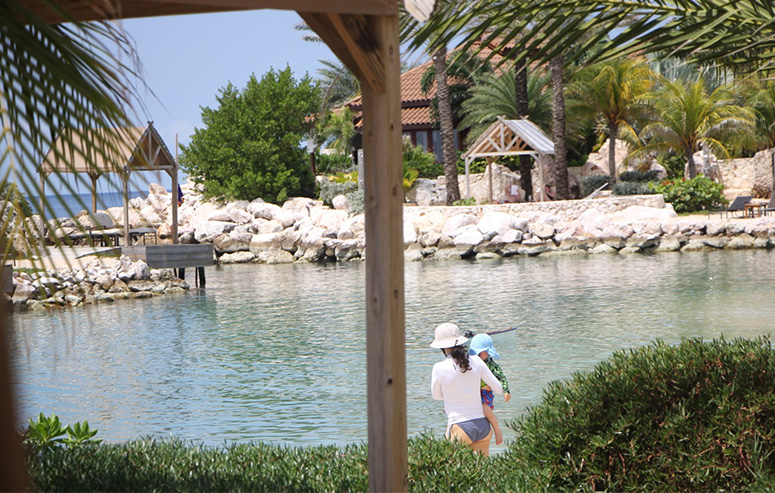 The owner of this hotel created a lagoon using a rock wall to keep the beach extremely private and free of waves. Honestly this was my idea of the ideal beach! Hardly anyone was there, and the peaceful silent vibe was really beyond anything I had experienced in a long time.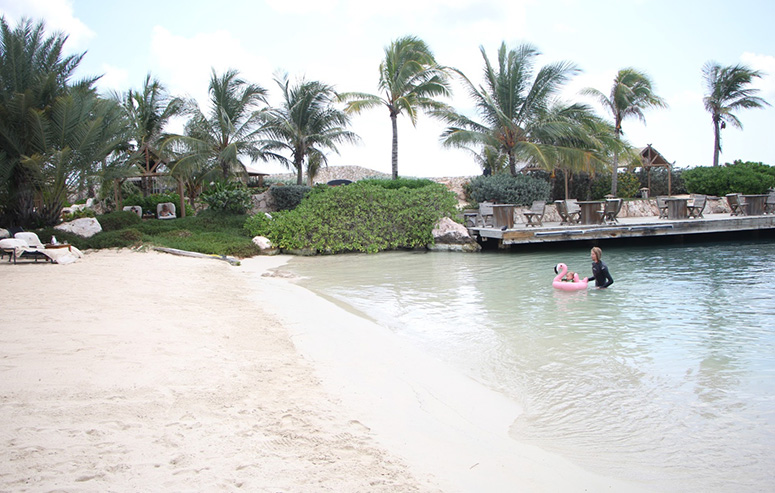 The day was off and on overcast but the water was so warm and the air even warmer. There was even a short rainshower that lasted only about 10 minutes. The whole day was really magical.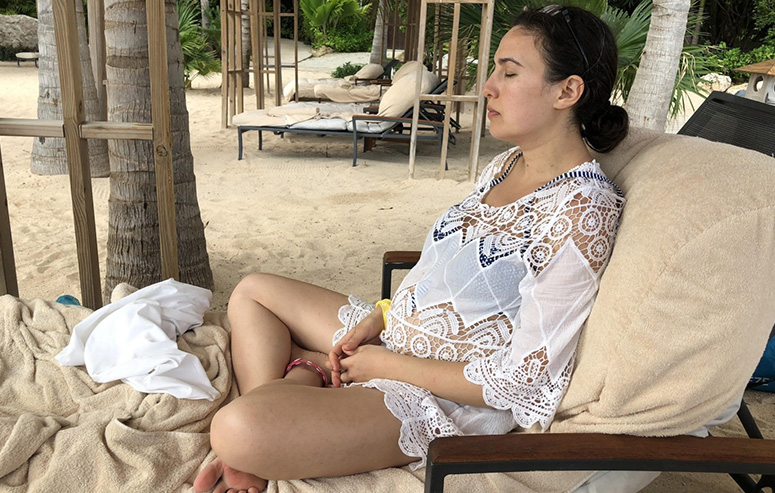 Here I am meditating under the private cabana they gave us. Kingsley is napping behind me in the travel crib.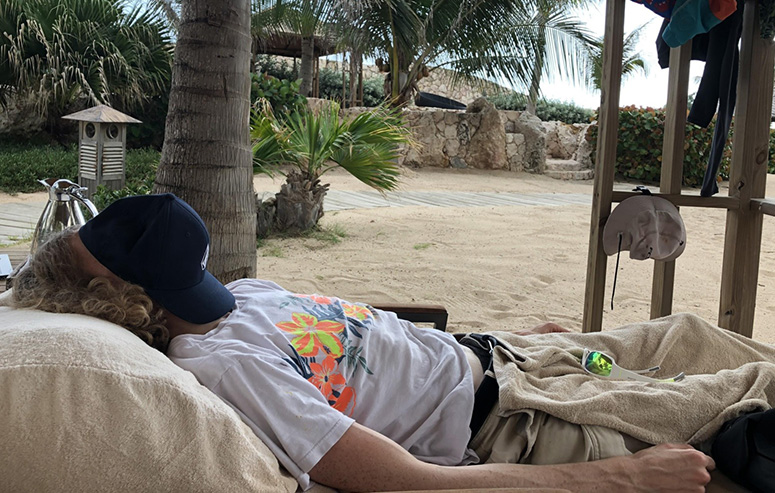 Asher also decided to take a nap!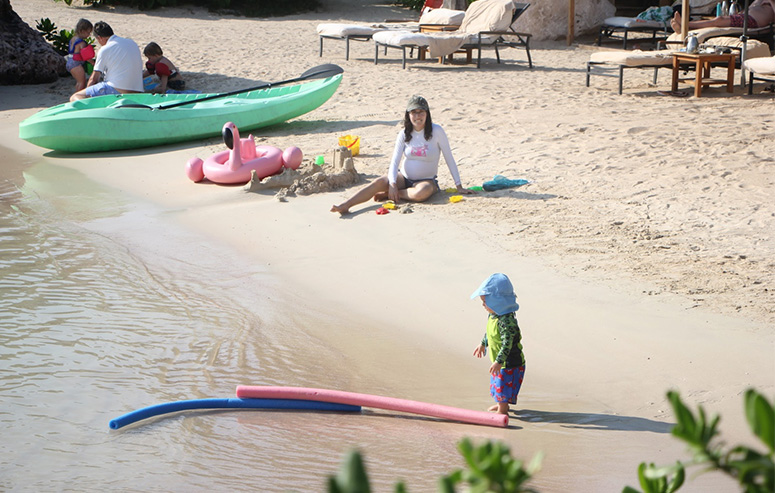 After the rain passed we jumped in the water before heading back to the boat.
Asher went for a snorkel past the lagoon into the ocean, and said he saw the most fish he had ever seen. That means a lot considering he grew up in Australia, and we lived on Maui!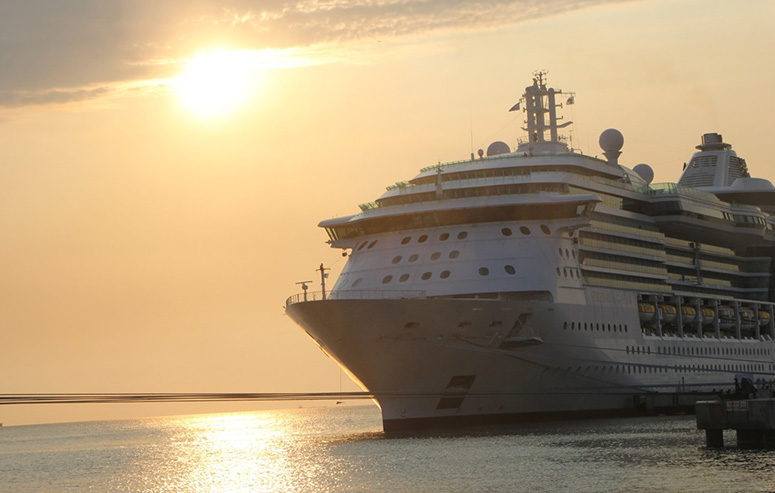 Back to the ship by sunset. A seriously magical day.
DAY SIX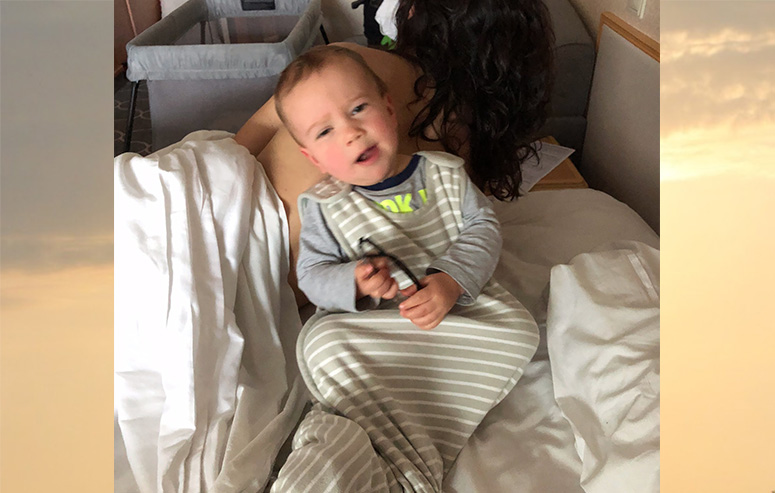 We slept great that night and then woke up in the next port of Bonaire! Here's a pic of Kingsley cuddling with us while I am calling for room service.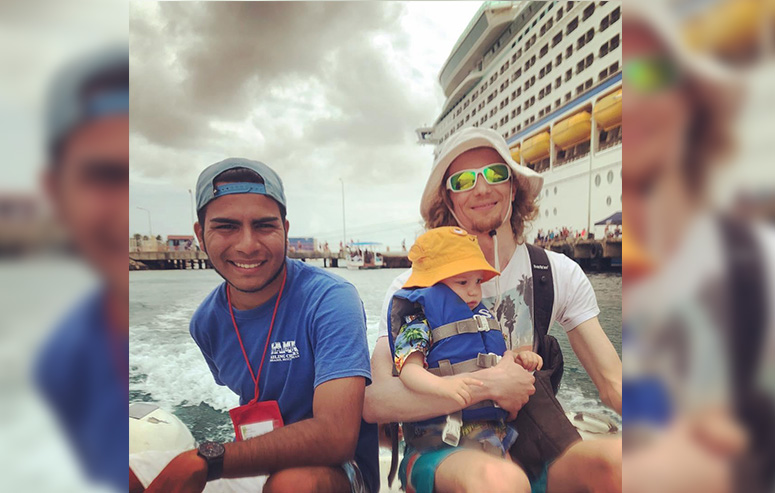 Bonaire is known to be one of the best snorkeling spots on the Caribbean so we planned to do an excursion to a private island via a wooden pirate ship! Here we are on zodiac on the way to the ship. It was a bit overcast that day, but still really beautiful.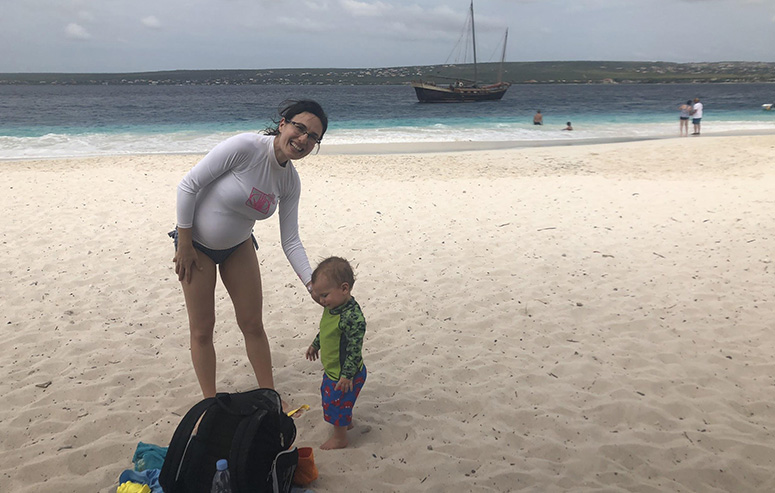 Here I am sporting my baby belly 😉 And you can also see the pirate ship in the background!
DAY SEVEN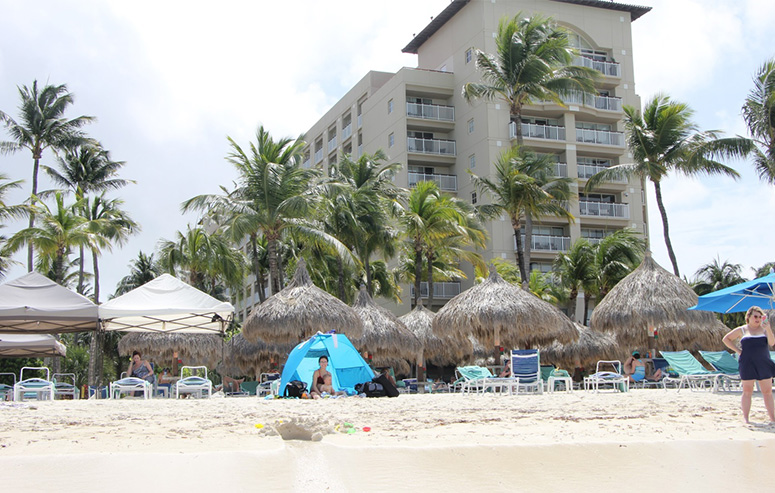 The next day the ship docked in Aruba. We again headed immediately to the beach. We brought our beach tent with us and set up in front of all of the cabanas at the fancy hotel behind us. We had the best view. 😉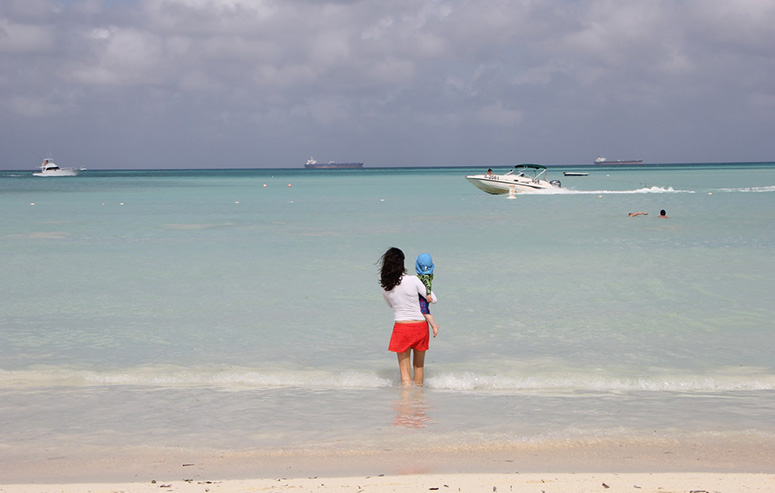 The water was so beautiful and clear!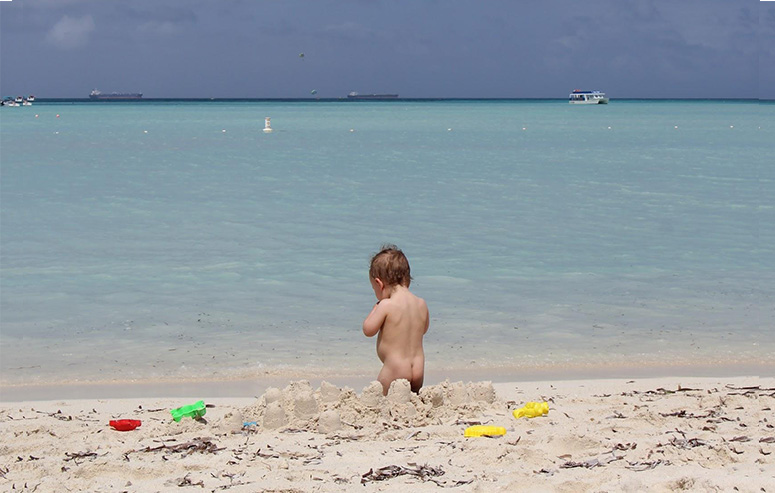 Our little guy spent the morning building sandcastles with daddy, and running around naked on the beach before the sun got too strong.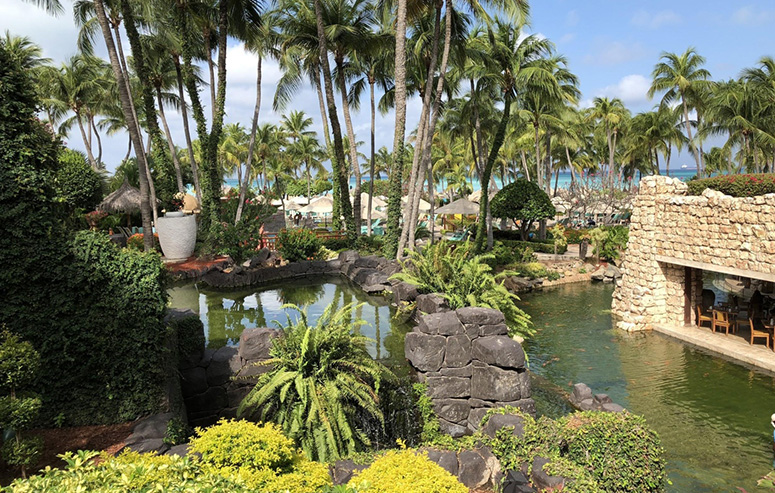 For lunch we headed to the epicly beautiful Marriott's Aruba Ocean Club. It was paradise!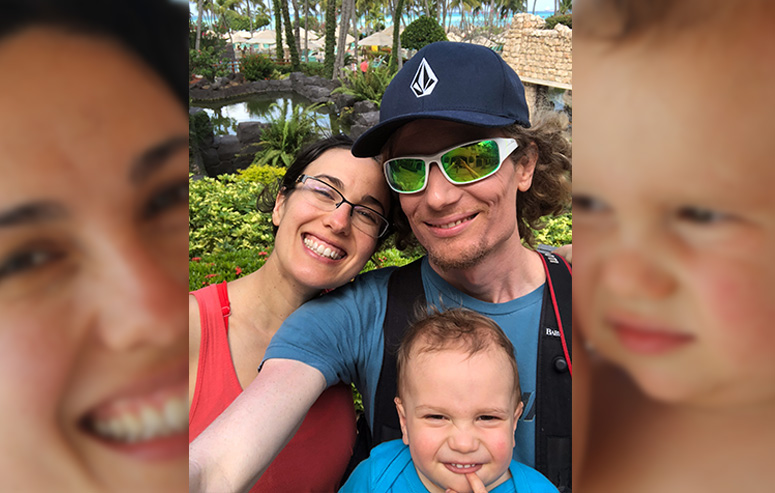 Family selfie!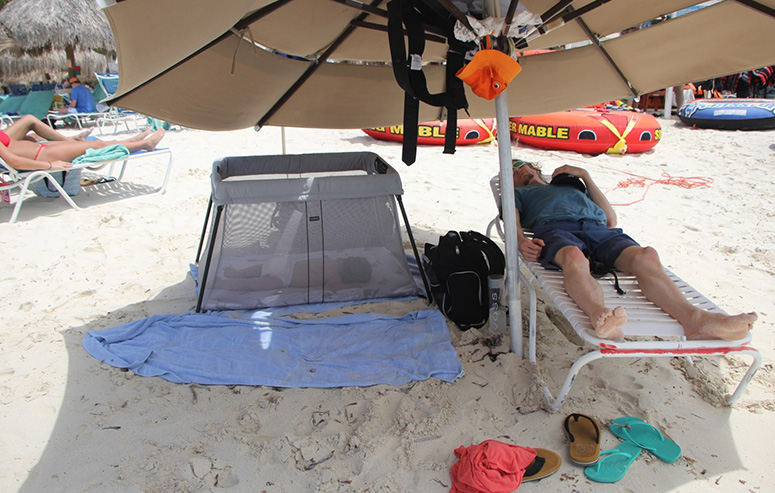 After lunch we rented an umbrella on the beach and everyone passed out for a nap. Can you find the baby?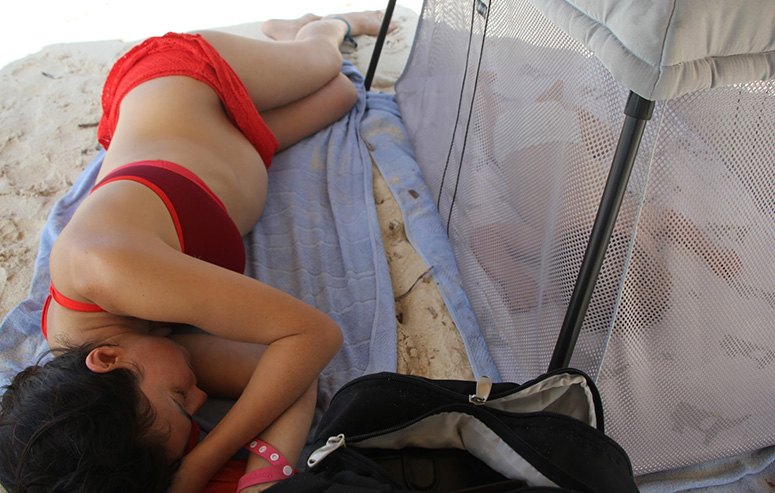 There were signs all over the airport warning us of traveling to the Caribbean because of the Zika virus. I actually only saw one mosquito the entire trip, but here I am sporting my mosquito wrist band— just in case!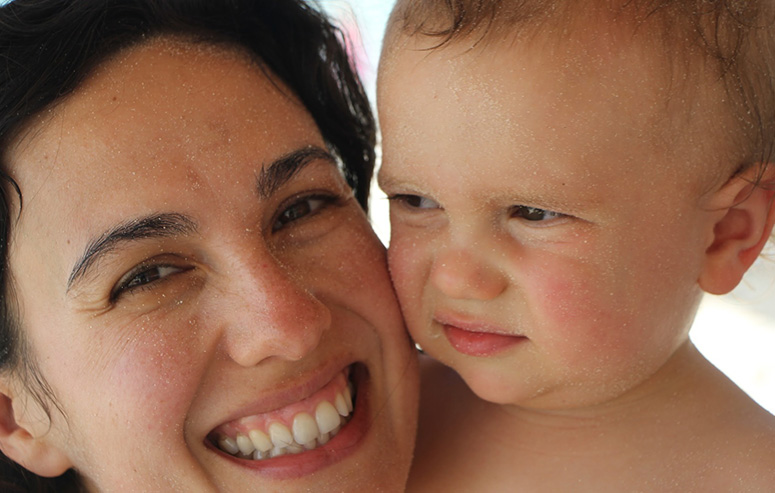 Everyone was a bit sandy when we woke up!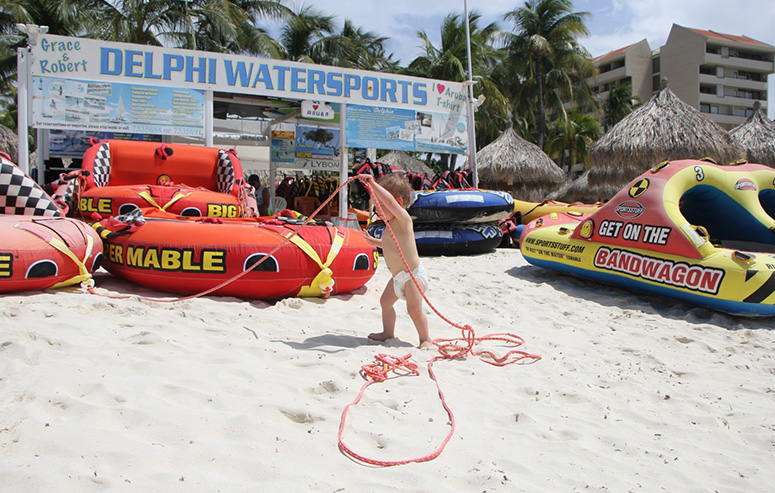 Kingsley is clearly ready to take one of these for a spin!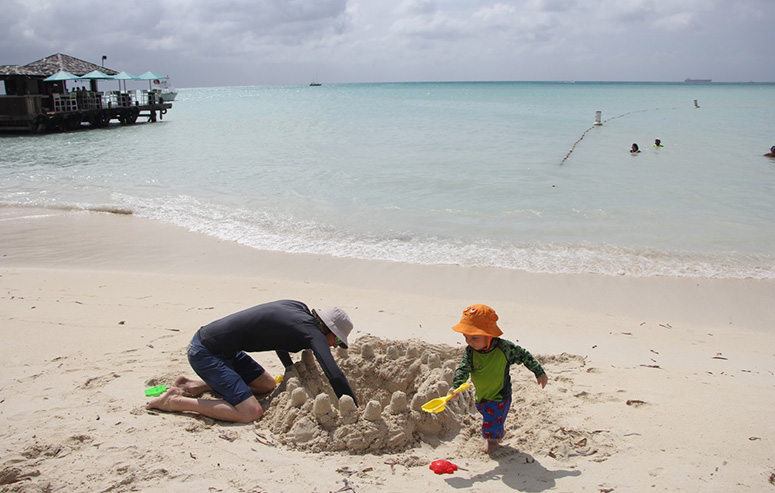 Building some epic sandcastles with daddy.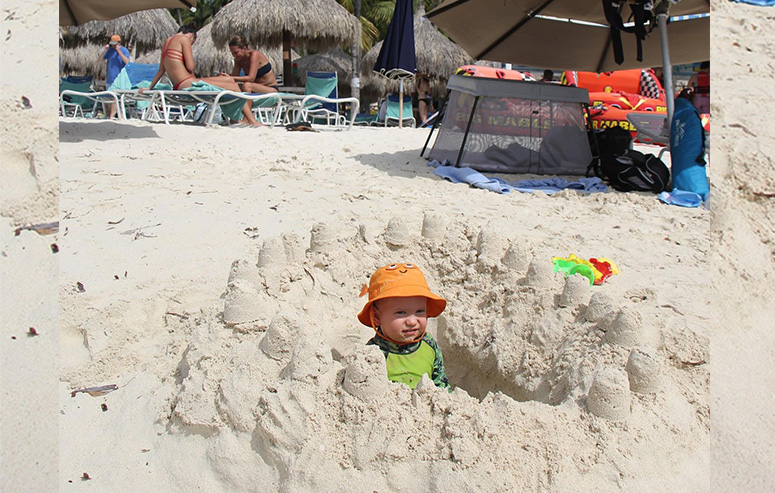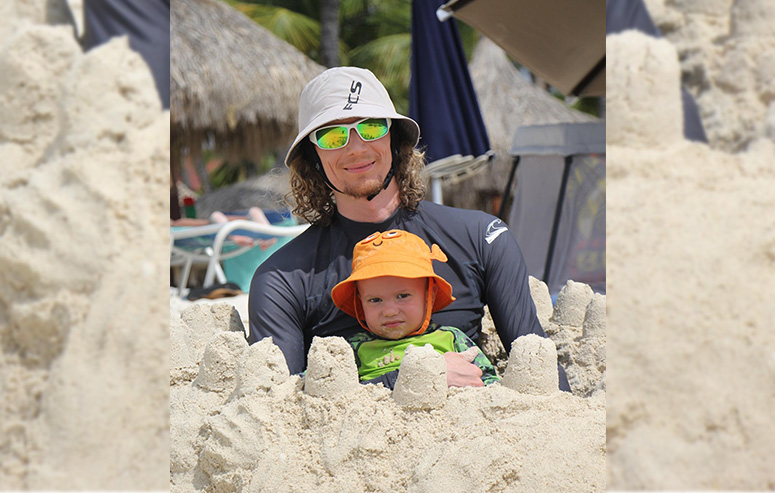 My men. Cutest in Aruba.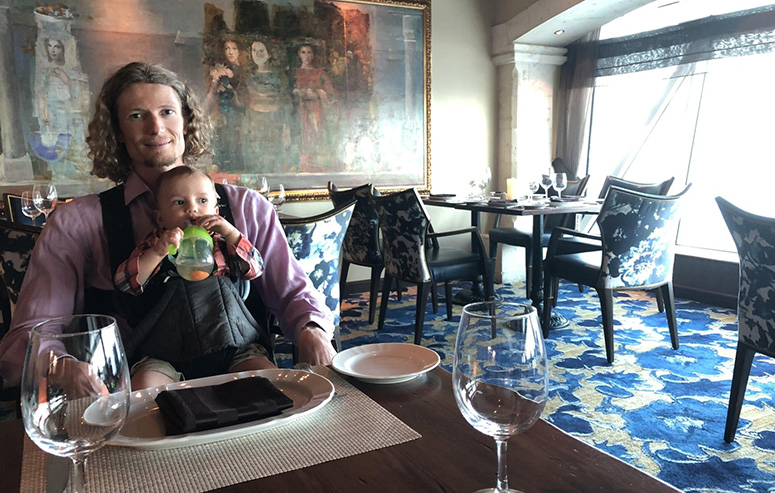 That night we got back to the boat around 5:30 and went immediately to dinner. We splurged for the speciality dining package for three of the seven nights, and I highly recommend it!
What's so awesome about cruise dining is that you can order anything you want on the menu. You have already paid for it. If you want to sample all the entrees they even bring you smaller portions so you can just have a taste. This was an incredible meal. They started us off with olives and cheese, moved onto soups and appetizers, then I had an incredible filet mignon and they also let me taste the garlic shrimp, Kingsley had sweet pork and Asher had eggplant parmesan. And finally, there were four different desserts to choose from. Of course we tasted them all! I left feeling so satisfied! They even made special fried bananas especially for our little guy.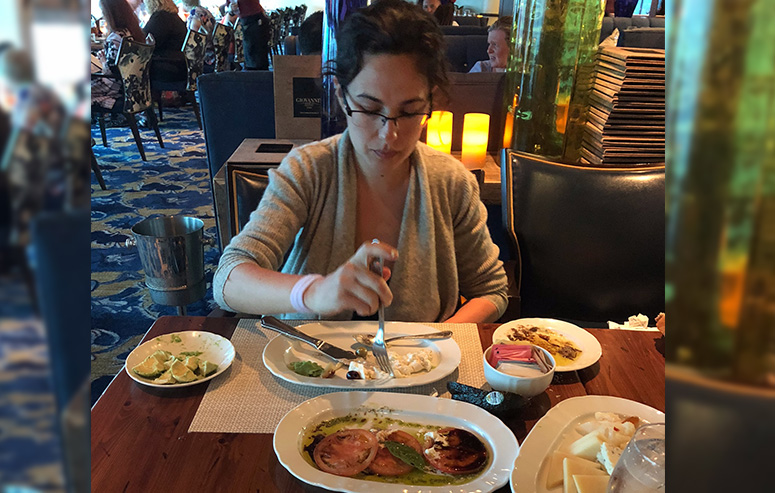 Yummmm.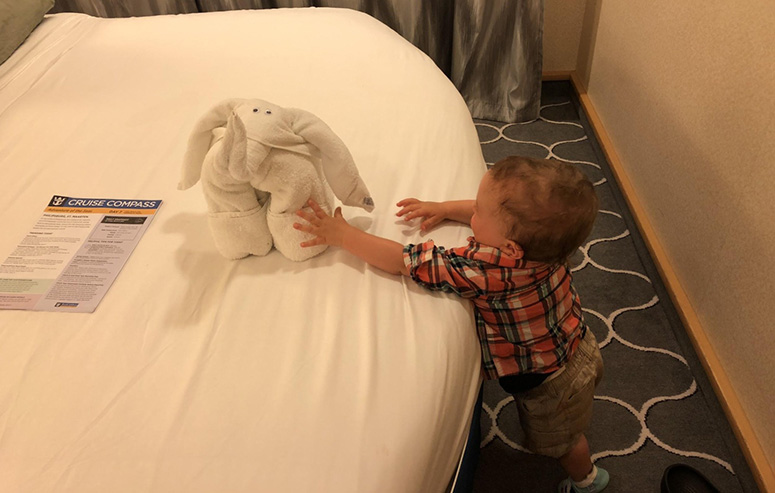 Every night our room was made up for us and there was a different animal made from towels waiting on our bed for Kingsley! So sweet!
DAY EIGHT
FIND PICTURE
This was another day fully at sea, and the only day I got really sea sick! But I still managed to really enjoy myself, and got as much fresh air as I could.
DAY NINE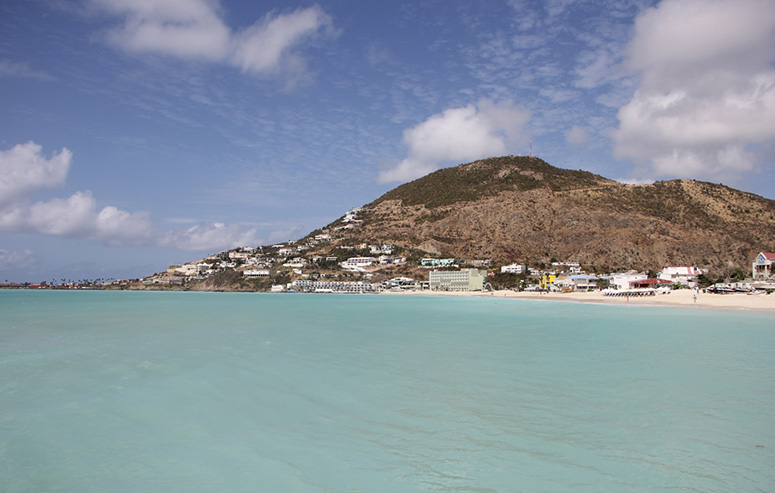 The next morning we sailed in St. Maarten. The water was the most beautiful turquoise out of all of the islands we had visited.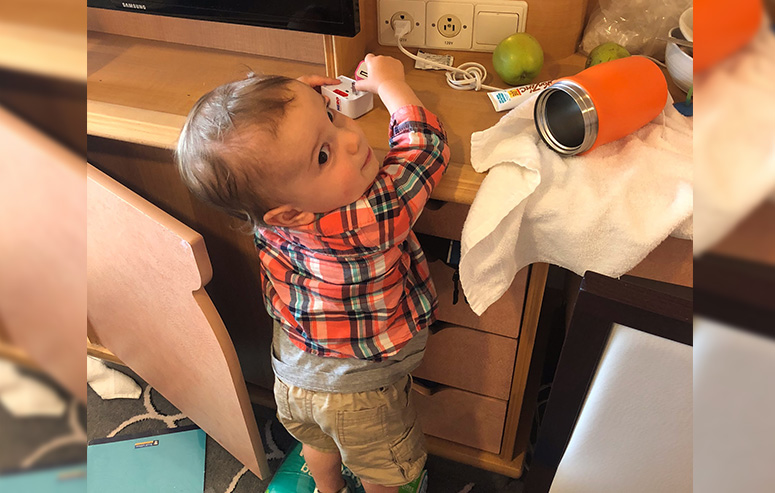 Kingsley is helping us organize things so we can quickly get to breakfast!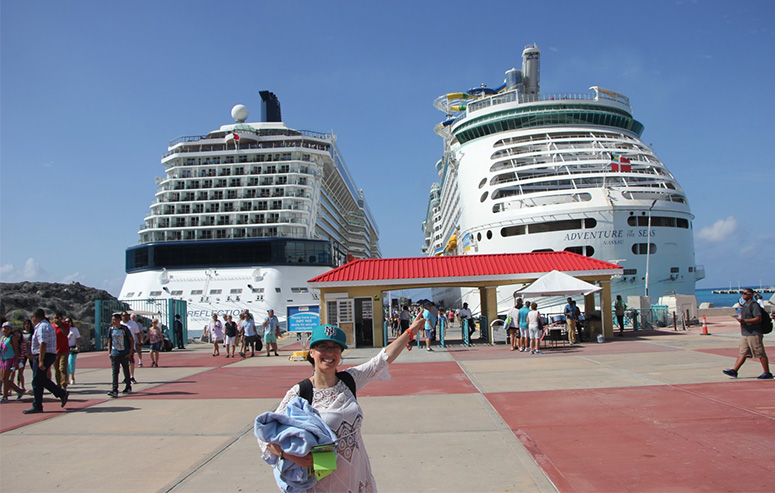 There's our ship!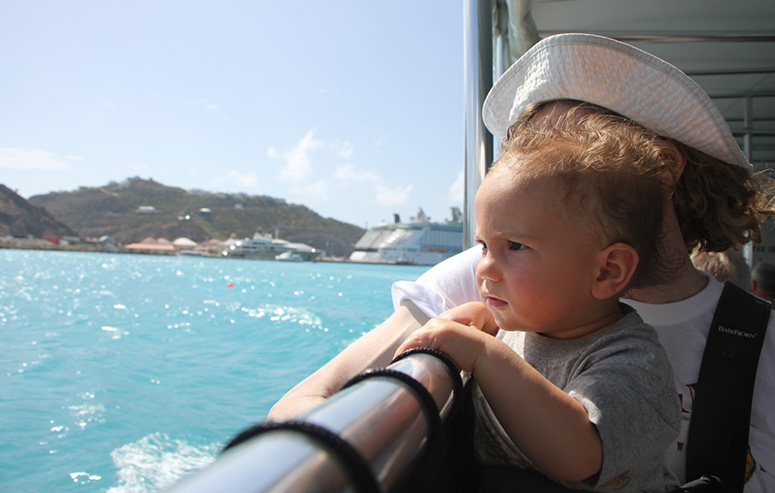 We jumped on a water taxi and sailed five minutes to the nearest beach.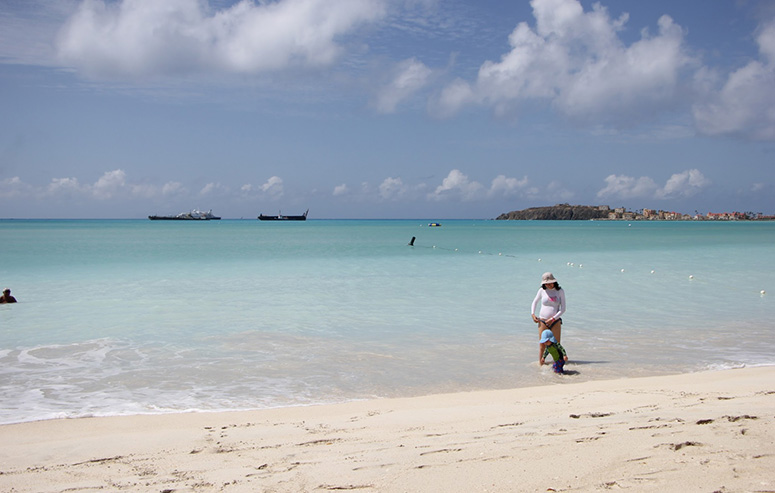 St. Maarten was gorgeous. The water, the sand, the hills in the distance were incredibly picturesque. But, out of all the places we visited, you could see and feel the effects of the recent hurricane.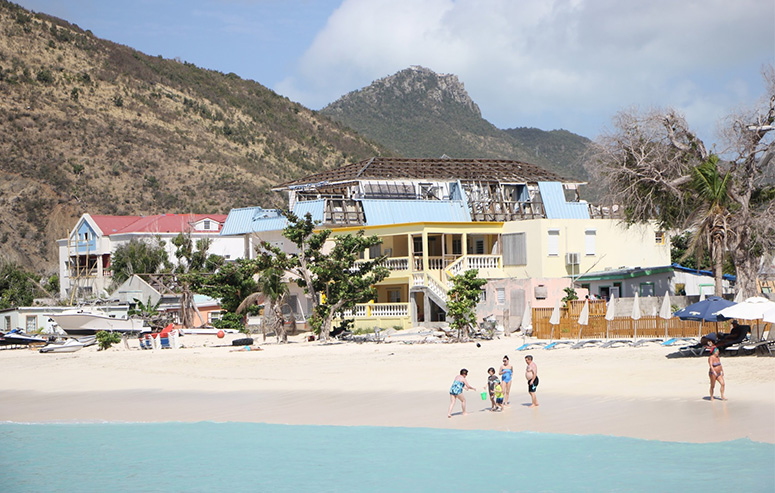 Almost every building had major damage. The waters lines to the major restaurants had been repaired but they were still working on water lines to the beach. Many buildings looked irreparable. We were glad that we stopped there, and hoping that our business could add to the local economy which depends primarily on tourism.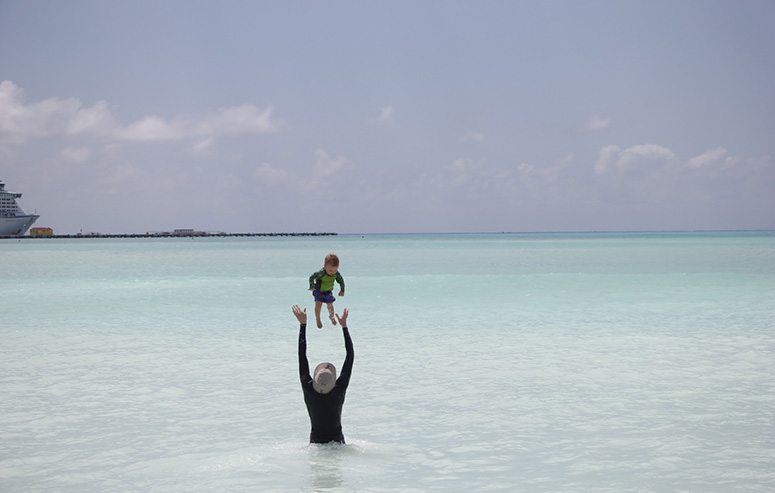 The temperature was really hot that day, and the sun incredibly strong which made the water, which was a bit more chilly than at the other islands, feel very refreshing.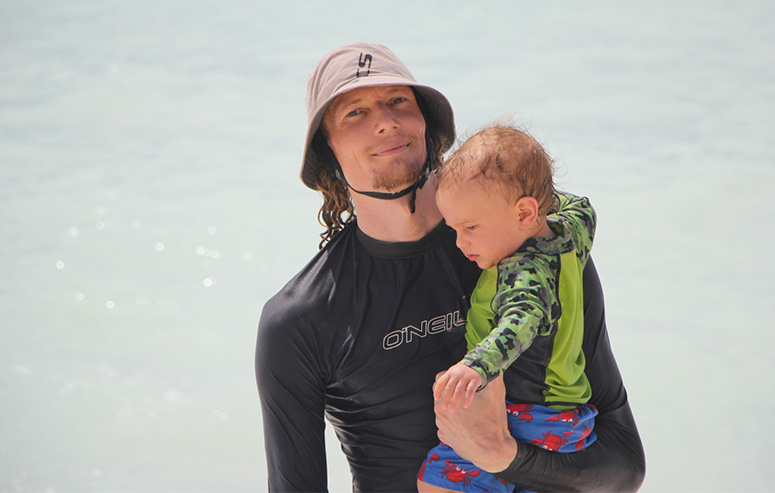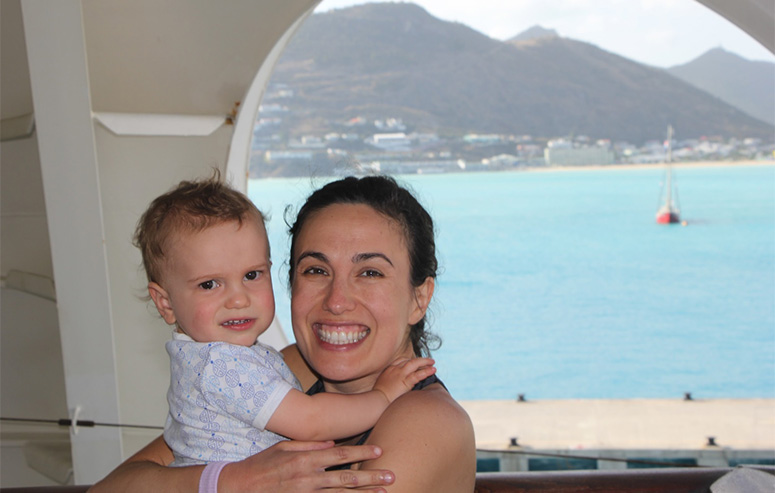 We headed back to the boat for lunch because we didn't feel comfortable eating on the island. One thing you need to watch out for when traveling with a baby is making sure the water and food are impeccably clean. Because of the recent hurricane and general damage we thought we would just play it safe and have room service.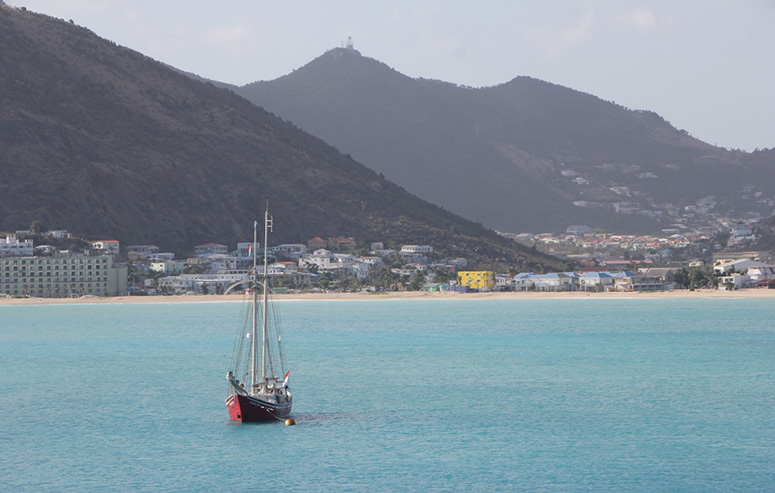 This was the view from our balcony!
DAY TEN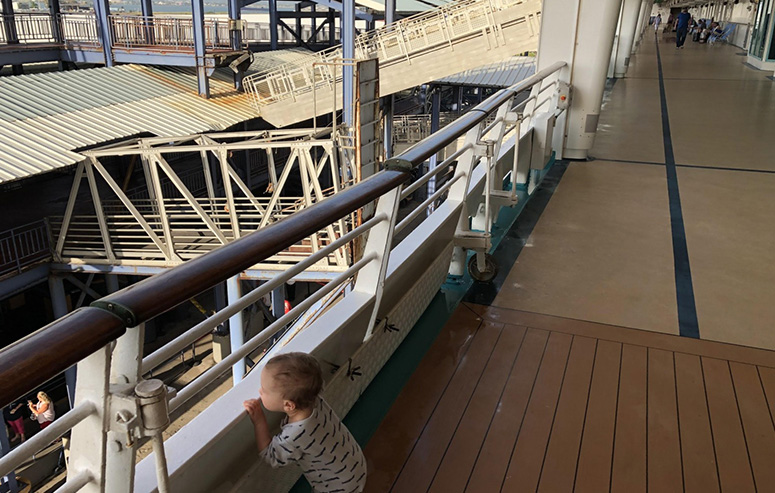 The next morning the ship docked in Puerto Rico once more. Here is Kingsley checking out all the passengers disembarking. We were so sad to leave!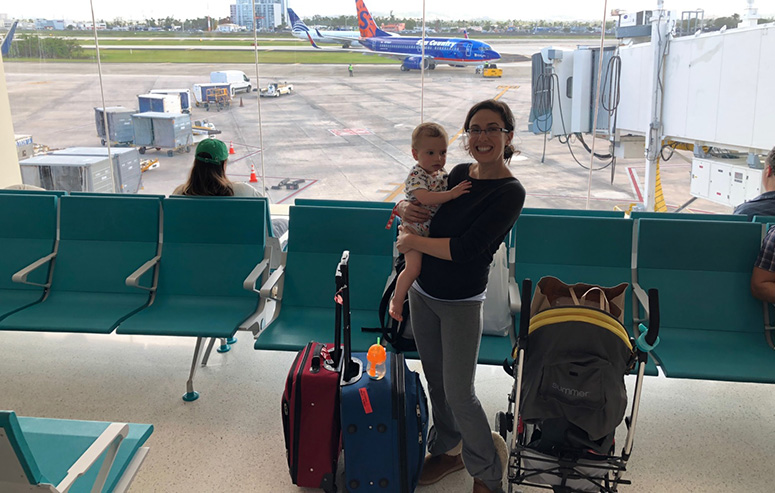 Later that day we headed to the San Juan Airport and boarded our flight home to Iowa.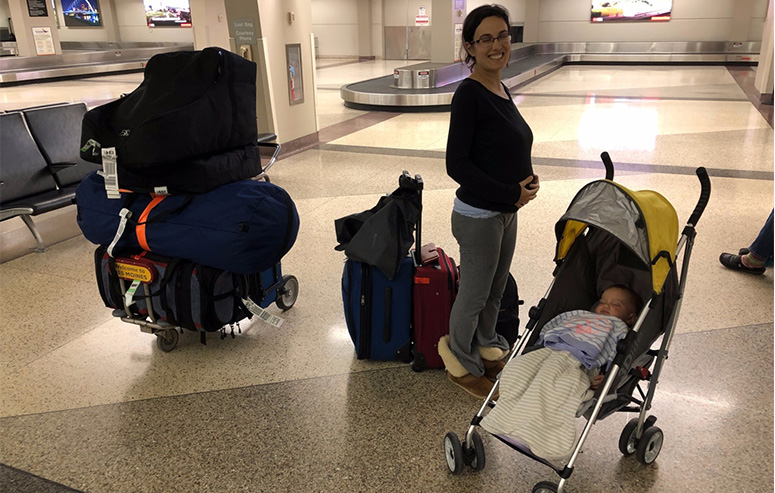 Here we are back in Des Moines. We had a long journey home but our little dude did so well. We managed to sleep on both flights, and the car ride home. This Summer Infant 3D lite stroller was awesome in keeping him snoozing because it has a great recline that goes almost flat.
DAY ELEVEN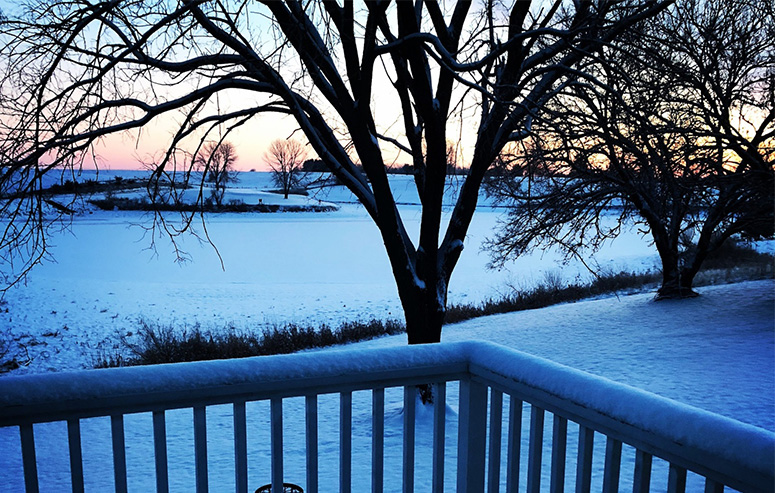 Home again to snowy Iowa.