Updated on by Asher Fergusson
P
eople often ask me, "What should I take on my trip to Thailand?" so I put together this essential checklist.
I also include what to wear in Thailand as well as additional tips on what NOT to bring and some frequently asked questions about general Thailand travel.
In addition to all these physical items definitely make sure to also bring an open heart and mind, patience, a balanced sense of humor, and an adventurous spirit!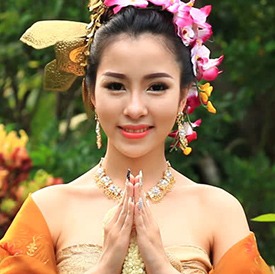 What to Pack for Thainland – 17 Essentials
---

The tap water in Thailand isn't purified enough for Westerners to drink without getting sick, but staying hydrated in a tropical climate is key. Bottled water is widely available, but in the event that it's not when you're going off the beaten track, the LifeStraw is a literal lifesaver. It works by filtering the water as you drink through it. And it's small, lightweight, and inexpensive.
---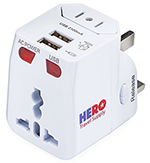 They use quite a few different outlets in Thailand so you'll likely find that you need an universal power adapter like the one pictured. This will ensure you always have the ability to charge your devices. Also note: most Southeast Asian countries can have strong power surges so you may want to bring some extra fuses for this adapter in case you blow through the two that it comes with.
---

If you're careful with your food and water, you hopefully won't have too many health problems in Thailand. That said, a lot travelers end up getting sick at least once, so pack some activated charcoal to be prepared. These capsules quickly absorb whatever toxins are in your system, stopping the dreaded diarrhea that comes with eating contaminated food in a developing country.
---

A set of packing cubes is a savior when it comes to staying organized on the road. Instead of digging around in your backpack looking for that missing sock, just pull out the cube your socks are packed in!
Note: My wife and I personally designed these packing cubes after having subpar experiences with the low-quality ones available on Amazon. Our packing cubes come with premium YKK zippers, puncture-resistant ripstop Nylon, and quality workmanship backed by our lifetime replacement guarantee. We just launched and we're currently offering our readers an exclusive 15% discount! Use this coupon "2R574QV9" at checkout. Only available in the USA.
---

Electrolytes are also great to have in case you get sick in Thailand, as diarrhea can leave you seriously dehydrated, which is especially dangerous in a hot, humid climate. If you get sick, drop one of these tablets in a bottle of water to replenish the electrolytes you're losing. Even if you're not sick, staying hydrated in Thailand's climate is a challenge, so taking electrolytes on a regular basis isn't a bad idea, especially if you're spending a lot of time outside.
---

If you want to protect your phone from dust, sand, dirt and water while also being able to take underwater photos and videos then this little phone case is a must. And it's really affordable on Amazon with amazing reviews!!
---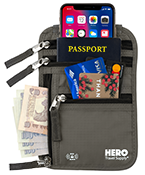 Unfortunately pickpockets are very common in places like Bangkok and any crowded places you may visit in Thailand. The best solution we've found is to keep your valuables such as cash, credit cards, passport and phone stashed away in a concealable neck wallet like the one pictured. By doing that, you make it next to impossible for pickpockets to steal from while staying super organized with your most important travel items always at hand. This one also comes with a lifetime replacement guarantee!
---

If you're planning to stay connected on your Thailand trip and there are certain websites that you require access to, a VPN like NordVPN is the best way to ensure you won't get blocked. If you try to stream your favorite show via Netflix, HBO or a live TV event, many networks can be blocked and a VPN will solve this problem.
Furthermore, a VPN protects you with 1-click from losing your passwords, credit cards, and identity. Hackers are known to target tourists on insecure WiFi networks. I learned this the hard way!
---

While travel insurance isn't the most exciting thing to think about when you're planning a trip, it's really a necessity. You don't want to find yourself unable to get home during a health emergency or having to spend money replacing stolen items. Thailand is a safe country, but things can still go wrong, whether it's injury, illness, or petty crime. Knowing that insurance will cover those situations can give you some peace-of-mind while you're traveling. I highly recommend using World Nomads insurance and they're a really popular company among frequent travelers.
View their plans at WorldNomads.com ➜
---

If you're a budget traveler in Thailand, you might run into some rooms that are far from spotless. When that happens, it'll be nice to have a lightweight travel sheet, and they also work great when the AC is cranked way too high on the bus or train.
---

I usually find traveling with a backpack to be the most convenient, as it keeps my hands free for other things and can double as my carry-on when flying. This fantastic pack is lightweight but has a lot of storage capacity. When you're not using it, it folds up compactly into its own zippered pouch!
---

Not all hostels and budget guesthouses in Thailand provide towels, so it's a good idea to bring your own. Skip bringing a regular bath towel, though, as they're bulky and take too long to dry. A quick-dry towel is sufficient, and these ones are small and lightweight.
---

This is a great little camera that won't get damaged easily and won't break the bank. It takes great pictures both on land and underwater and is a great solution if you don't want a more expensive GoPro or DSLR camera. Also, a lot of wonderful things to photograph in Thailand are near water such as: the beaches, waterfalls and rain forests.
---

Okay, don't get weirded out by this one. Thailand is a place with limited toilets and if you do happen to find a public one it'll probably be disgusting. Guys just pee on the street but that's not possible for women. This little device allows Western women to stand and pee with no mess and no more hurting bladder 😉
---

You should definitely bring a sarong to Thailand, because they have so many uses for travelers: towel, blanket, swimsuit cover-up, curtain, skirt, beach towel, scarf – the list goes on. Sarongs might not be an absolutely ideal replacement for all of those items, but they work great in a pinch. Plus they're lightweight, and they dry quickly.
---

Thailand has lots of great hiking and trekking options, and I definitely recommended taking advantage of them. But some of the trails are pretty intense, and leeches are an extremely common sight on many of them, so you'll want protective footwear. While waterproof shoes might seem like a good idea, they're too warm for Thailand's heat and humidity, so look for ventilated shoes instead. My husband and I both like these Merrells, which fit all the criteria.
---

Maybe it's a little cliché, but after years of traveling, I still swear by Lonely Planet guidebooks. They cover both popular and off-the-beaten-path destinations, and always give budget-friendly options. The Lonely Planet Thailand book is updated pretty regularly, so be sure to get the newest edition.
Other packing list items for Thailand
---
What to wear in Thailand?
---
Thailand is a country known for incredibly hot and humid weather. Much of Thailand is fairly conservative, especially in the countryside and away from the tourist hotspots. Islam is prominent in much of southern Thailand, where headscarves are more common than shorts among locals. Even in laid-back beach towns, swimwear should be saved for the beach.
No matter where you are, choosing the right fabrics can help you stay cooler in Thailand's tropical climate. Clothes made from thin, lightweight materials like linen, cotton blends, and active fabrics are best – avoid heavy denim.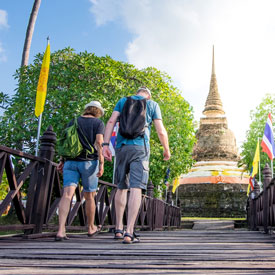 What should WOMEN wear in Thailand? – (Click to expand)
Below is a sample women's clothing list. (All items link to Amazon.com for your convenience).
Shorts, tops, skirts, dresses, and capris made out of lightweight fabrics can all be good options for women visiting Thailand. On the other hand, denim is one of the worst fabrics for hot climates, and while denim shorts aren't too bad, full-length jeans are uncomfortable and take forever to dry. Lighter-weight pants or capris are a much better option for your Thailand wardrobe.
Like most places, social norms regarding how to dress in Thailand definitely put more restrictions on women than on men. Even in beach towns and large cities, women should cover their midriffs and avoid super-short shorts and skirts. But in general, Thai clothing reflects Western fashion, and visitors to Thailand can wear similar styles as at home. Just err on the side of lighter fabrics and a little more coverage.

What should MEN wear in Thailand? – (Click to expand)
Below is a sample men's clothing list. (All items link to Amazon.com for your convenience).
Shorts, pants, and short-sleeved shirts made from lightweight fabrics are the best clothes to wear for men in Thailand. Again, jeans are not a great idea in a climate this hot – pants made from linen or a cotton blend will be much more comfortable. As long as you're wearing a shirt (and not an open button-down with nothing under it), the Thailand dress code for men is pretty lenient.
Thai men mostly wear Western clothes, so the styles you wear at home are generally acceptable. That said, Thais dress more formally than you might expect, especially in the cities, and Thai men are more likely to wear pants and a collared shirt than shorts and a t-shirt. But the most important thing for male visitors is that singlets or other too-revealing tank tops should not be part of your Thailand wardrobe (regardless of how many other tourists you see in one). Slip-on shoes like loafers are most convenient for removing at businesses and will also keep your feet cool.

HOT SEASON

– March, April, May, June.

Heat climbs quickly and is quite oppressive due to the dense humidity in this region. Rains happen occasionally and only add to the humidity. You'll want light, quick-dry fabrics, comfortable sandals that strap on, a good sun hat, cute sunglasses, and plenty of sweat-resistant (and reef-safe!) sunscreen.

Visiting temples always requires fairly modest attire, so plan to bring lightweight items like linen shirts, linen pants, and maxi-skirts to cover you up but allow you to stay cool at the same time.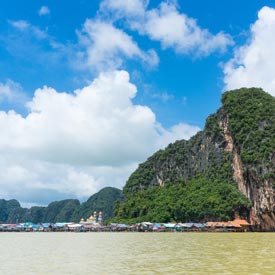 Hydration is also key, so bring a water bottle to ensure you always have a supply of safe drinking water! Temperatures average between 85°F to 90°F (29°C to 32°C) with April and May being the hottest months.
WET

or

MONSOON SEASON:

Andaman (West) Coast: June, July, August, September, sometimes October.

Thai Gulf (East/South) Coast: September, October, November, December.

Heavy rains and rough seas are typical of this season. In some parts of Thailand, rains come in heavy spurts and go as quickly as they come. In other parts, you'll see longer, somewhat mild storms that can last for days.

Flooding is common regardless of area, and the temperature is still quite warm – humidity makes it feel warmer! Wet season timing can vary from year to year, so be sure to do some research and look at the forecasts before you go.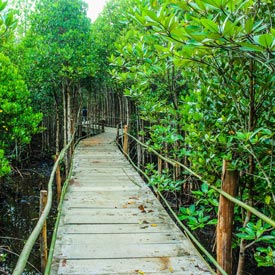 You will absolutely need a windproof umbrella and a dependable rain jacket. You should also plan to bring a couple of pairs of shoes – waterproof hiking shoes are great, and sandals that strap on snugly and can be dried quickly are also a good idea. Temperatures average between 80°F to 90°F (27°C to 32°C).
COOL SEASON

– November, December, January, February.

In several areas of Thailand, the temperatures will drop a bit during this season, and drier air will move in. Don't expect it to be too cool, though, unless you're at a higher elevation and further north for an extended period of time.

As always, it's a good idea to look up the forecast to get a ballpark temperature estimate for the area you'll be visiting.

Everyone reacts to temperatures differently, so you'll want to pack according to your comfort level in the expected temps, and bring a rain jacket just in case. Long-sleeved, lightweight shirts are great as long as they can dry quickly.

Linen pants are perfect, and good walking shoes are always crucial. You'll still have plenty of sun, so be sure to pack a sun hat, sunglasses, and sunscreen! Temperatures average around 78°F (26°C) in most areas, with a colder snap for about a week in December.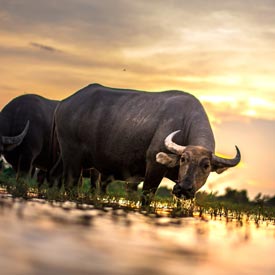 How to dress for activities in Thailand – (Click to expand)
Visiting Temples – The Thailand dress code is perhaps more important for visiting temples than anything else. Temples are sacred to Buddhists in Thailand and are generally active places of worship and spiritual study. Revealing clothes are considered extremely disrespectful in these locations, and you'll likely be turned away if you're not dressed properly. In general, both men and women need to cover at least their shoulders and knees. Men should wear pants, and women can wear capris or longer skirts or dresses. T-shirts are acceptable, but sleeveless tops are not, though women can cover bare shoulders with a scarf or shawl.
Hiking/Trekking – Thailand has lots of great hiking and trekking options, and the same clothing you wear for outdoor activities at home will probably work. The key is to wear clothes made from sweat-wicking fabrics, which will keep you more comfortable on the trail. They'll also dry quickly if you get splashed at a waterfall, and they usually don't take up much space in your bag. Despite the heat, you should definitely wear pants when hiking in Thailand. Brush and leaves and all manner of biting insects will be kept at bay by a good pair of quick-dry hiking pants. Opt for ventilated hiking shoes so that your feet won't get too hot.
Diving, Snorkeling, or Surfing – What's a trip to Thailand without getting into the ocean? It's home to some of the best – and cheapest – diving in the world, and has a few up-and-coming surfing spots as well. Though most people just wear a swimsuit for snorkeling, many of them end up with very sunburnt backs, so a rash guard is a really good idea. You'll definitely want a rash guard for surfing, and probably a wetsuit for diving. While most surf and dive shops provide attire, it's definitely better to have your own.

What NOT to bring to Thailand
---
1) 🚫 DON'T BRING expensive jewelry. Wearing flashy jewelry can make you a target, and there's really no reason to risk it getting lost or stolen.

2) 🚫 DON'T TAKE unnecessary valuables. Theft does happen in Thailand, and stuff can get lost on the road. If you don't really need something that's valuable, it's just not worth the risk.

3) 🚫 DON'T PACK more than one pair of jeans. You may want jeans for going out or for wearing on the plane, but limit yourself to one pair. They're bulky and heavy, they take forever to dry, and you probably won't want to wear them very often in Thailand's tropical climate anyway.

4) 🚫 DON'T PACK a mosquito net. This is something I occasionally see on packing lists, and it's really not worth bringing. Almost all accommodations in Thailand provide mosquito nets if they're needed, and it's often not possible to hang up your own anyway.

5) 🚫 DON'T BRING a sleeping bag.
Unless you're planning on doing a ton of camping and know that you'll need your own gear, there's no need to bring a sleeping bag. Use a
travel sheet
instead.
6) 🚫 DON'T TAKE lots of cash. There's no reason to carry a lot of cash with you and risk it getting stolen. Except in the most remote areas, there are ATMs throughout Thailand, so it's pretty easy to access cash once you're there.

7) 🚫 DON'T PACK heavy books.
When you're trying to fit everything into a backpack, even one book takes up significant space and weight. Lots of guesthouses and cafes in Thailand have book exchanges, where you can pick up a paperback for free and drop it off at a future exchange when you're done. Or, just bring a
Kindle
, and do your reading that way.
8) 🚫 DON'T BRING too many clothes. When you're seeing different people all the time, you really don't need to worry about repeating outfits. Plus, you can pick up new and second-hand clothes for cheap at local markets in Thailand. Also, Thailand is known for amazing tailoring so you can even have clothes made when you get there.

What NOT to wear in Thailand – (Click to expand)
The most important part of the Thailand dress code is not to show too much skin. Even in Bangkok or beach towns, women should avoid short-shorts and miniskirts or mini dresses. Crop tops, low-cut shirts, and shirts that leave the bra mostly exposed are also inappropriate.
The cutout tank or "singlet" tops the list of what men shouldn't wear in Thailand (especially away from the beach), though the same goes for unbuttoned shirts without anything underneath. Both men and women should also refrain from wearing just swimsuits unless they're on the beach.
The second most important thing is not to look too grungy. Thai clothing generally isn't that much different from what you'd see back at home, and many people are just as fashion conscious. They also often dress more formally than you might expect, especially in Bangkok, but in other areas as well. Travelers should keep their clothes clean, and overly casual outfits should be avoided.

FAQs about travel in Thailand
---
1) What vaccinations do I need?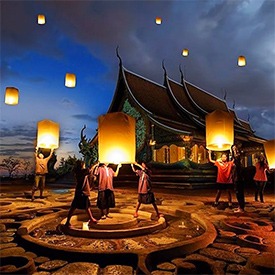 Travelers to Thailand should be up to date on the following vaccinations: MMR (measles-mumps-rubella), Tdap (tetanus-diphtheria-pertussis), polio, chicken pox, hepatitis A, and hepatitis B.
In addition to those vaccines, most of which many Westerners already have, you need a typhoid vaccine before visiting Thailand. You should get a rabies vaccine only if you're planning on doing significant outdoor activities, taking extended trips to remote areas, or coming into contact with animals. The Centers for Disease Control (CDC) update this list sometimes, so double-check their site a few months prior to your trip.
2) Do I need to take malaria medication?
Malaria prophylaxis is only recommended for travel to Thai provinces that border Burma, Cambodia, or Laos. Both atovaquone-proguanil and doxycycline are effective in those areas. In other parts of Thailand, avoiding mosquito bites through using insect repellent, sleeping under a mosquito net, and wearing long pants and sleeves is sufficient for malaria prevention.
3) What kind of visa do I need?
For citizens of most Western countries, no visa is needed for tourist visits of up to 30 days. Check your requirements here.
4) What's the best way to get around?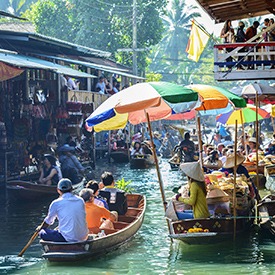 Thailand is renowned for its long-distance rail network, and second-class train cars are most popular among travelers. To get to destinations not serviced by train, the country has a number of bus companies offering long-distance routes.
Bangkok also has an incredibly sophisticated intra-city train and subway system, as well as a network of river ferries that can be convenient (and an interesting experience). Uber is available and popular in both Bangkok and Chiang Mai, too. In most other parts of the country, a variety of taxis, tuk-tuks, motorcycle taxis, and songthaews (local buses) are usually available.
While tuk-tuks are the quintessential transportation of Southeast Asia, they're mainly used by tourists and are rarely the cheapest option. For visitors who know how to ride a scooter, picking up a rental is another popular way of getting around.
5) Are there ATMs?
Yes. With the exception of very rural areas and small islands, there are ATMs located throughout Thailand.
6) Is the tap water safe to drink?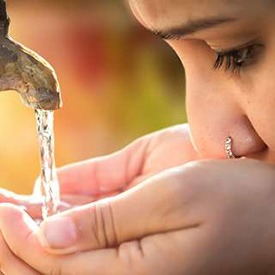 No, the tap water in Thailand is generally not safe for Westerners to drink. Some resorts and upscale restaurants offer filtered water, and otherwise you can use a LifeStraw to filter it yourself. Bottled water is also widely available.
7) Do I need to tip in restaurants?
Tips are appreciated in Thailand, but they're not generally expected. However, it's common to round up to the nearest bill when you pay.
8) How reliable is the Internet in Thailand?
Internet reliability varies widely across Thailand. In Bangkok and Chiang Mai, high-speed Internet is common. In other towns, many guesthouses and cafes offer Wi-Fi, but it's slower and less reliable. In extremely rural areas and on very small islands, it may be non-existent.
9) What's a Virtual Private Network (VPN) and why do I need one?
VPNs are crucial for the protection of your personal and financial data while you're using the internet. Unsecured networks put you at risk of being hacked, and a VPN will add a layer of encryption between you and those would-be thieves. It can also help you gain access to blocked or censored content if you're in a country where certain things are censored – this is common in certain Asian countries. I personally use NordVPN and highly recommend them. They're affordable and offer great plans and service.
10) Is it safe to eat street food?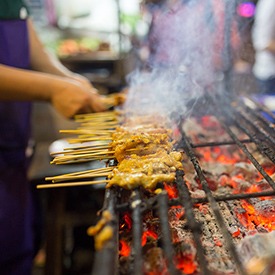 Eating street food in Thailand carries a small risk, but that shouldn't hold you back (and honestly, eating in a restaurant is not necessarily any better). The best tricks for safely eating street food are to eat at local mealtimes and go to busy stalls – that ensures you'll get fresh food, which is much less likely to cause a problem.
Beyond that, make sure everything is thoroughly cooked, avoid fruits and vegetables that don't have a peel, and skip drinks made with water or ice.
11) How can I respect the local Thai culture?
Thais consider the feet to be dirty, and it's extremely rude to point your feet, particularly the bottom of your feet, at people, and images of Buddha.
Similarly, avoid using your feet to move or pick up objects, and do not step over people or even objects on the floor.
Thais consider the head to be sacred, and you should avoid touching Thai people's head, face, and hair.
You also need to be very careful when discussing Thailand's politics or government and do not say anything that could be construed as criticizing the Thai royal family.
Thais expect visitors to be especially respectful when visiting temples, including speaking quietly, removing shoes, and covering the shoulders, chest, and knees.
Finally, women should not touch or hand anything to Buddhist monks.
Other Asia packing lists you may like…
Asia | Annapurna | Bali | Cambodia | China | India | Indonesia | Japan | Nepal | Philippines | Southeast Asia | South Korea | Sri Lanka |Thailand | Vietnam