Updated on by Asher Fergusson
C
amping is one of the most fun ways to connect with your surroundings and to explore our natural world. It can allow you to experience some of the most incredible places in a way that staying in a hotel never will, but it can also expose you to some of the more dangerous aspects of nature.
How you pack for camping can very much affect your comfort and your ability to enjoy your experience to the fullest extent. If you bring the wrong gear you may have a miserable time.
Below you'll find our top recommendations including a section on what to wear while camping along with a list of what NOT to bring and other important FAQs.

What to Pack for Camping – 21 Essentials
---

Needless to say, you won't find many power outlets in the great outdoors. A solar charger with a USB hookup can charge your phone, camera, kindle, or any other device just through the power of the sun! This waterproof one clips onto your backpack so you can let it absorb sunlight while hiking. It can charge an iPhone XS seven times!
---

This nifty little invention is essential whenever you go into the wilderness. In addition to the 12 foot long paracord, it's got an emergency whistle, small knife, compass and fire starter built-in. It's also adjustable for any size wrist and it's very inexpensive. I would never go camping or hiking without one!
---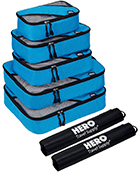 If you want to be able to easily find things in your backpack, tent, or car, you will absolutely want a set of quality packing cubes like these. Instead of digging through everything you packed to see if there's one clean pay of underwear, just pull out the cube your underwear are in – TOTAL CAMPING GAME CHANGER!
Available on HeroTravelSupply.com with an exclusive 15% discount using the coupon code "HERO".
---

A chilly pad is truly a lifesaver when trying to stay cool in the summer heat. All you have to do is wet the towel, squeeze out the excess water and then enjoy 30 degree cooler temperatures around your neck, shoulders and face. Once you try it you will never go camping without it! It lasts for 3 to 4 hours and then all you have to do is wet it again and it'll continue working it's magic. Plus, it costs next to nothing.
---

Sleeping under the stars will be a lot more comfortable if you're in a waterproof, season-appropriate sleeping bag. In fact, sometimes it's downright dangerous to try to camp without one that will give you adequate warmth. This one is lightweight, durable and easy to clean – check out the temperature specs and plan to stay cozy and safe.
---

When you're camping you want to keep the stuff you bring down to the essentials. Camping travel towels (like the one pictured) are a must because you won't be able to rely on room service! These towels are ideal after showering or maybe even taking a dip in a lake or stream, but not all towels are created equally. This microfiber towel is compact and quick-drying so you don't have to worry about carrying around a smelly towel while camping. It's sand and dirt resistant meaning with a quick shake the towel is free of debris making it perfect for the outdoors!
---

Choosing the right tent is important. A good tent is totally weatherproof and easy to set up. The size and type of tent you choose will depend upon your group size and space needs, but this is a reliable and well-ventilated model. It's also one of the most affordable quality tents on the market and will last for many years.
---

There is nothing worse than being caught in a rainstorm while camping without the proper rain protection. But if you bring a quality windproof travel umbrella like the one pictured then you'll be sure to be prepared no matter what the conditions end up being like. This one weighs under one pound, it's super compact at only 12 inches when collapsed, and comes with a lifetime replacement guarantee.
---

One of the most important items to make sure you have on any vacation is reliable travel insurance. Both for peace of mind and in case of emergency, you'll want to make sure you're covered in any situation. We always use TravelInsurance.com to find great policies that cover the costs of lost or stolen luggage, flight cancellations, and medical expenses.
Compare policies at TravelInsurance.com ➜
---

This is especially important during fire bans, when the only things lighting your way are the moon and stars. A solar lantern is great because it requires no battery changing or electrical source. This collapsible one is my favorite – easy to pack and super bright, plus it's light enough to carry with you and hang in your tent for some inside lighting.
---

There's nothing like relaxing in a hammock under a shady tree at the end of a long hike. This hammock is portable, lightweight, easily cleaned, and quick-drying. All you have to do is find the appropriate trees and you'll be set up in no time.
---

While camping you will be on your feet a lot and will likely do some hiking that puts extra pressure on your heels. To prevent the misery of blistered feet, bring this amazing blister balm and you won't have an issue. It glides on quickly and lasts most of the day simply by stopping the excess friction that causes blisters.
---

Hand Sanitizer: When camping you may not have as much access to running water as at home, but it's still just as important to keep your hands clean. You'll want to bring hand sanitizer along on your camping trip so that you are able to clean your hands no matter how remote your adventure is. Eco Sun Naturals hand sanitizer does a great job at killing 99% of germs while smelling amazing and keeping your skin smooth and moisturized.
---

It's so important to bring a reusable, high quality filtered water bottle when camping. You can refill it at your campground's water spigots without worrying about how clean the source is because it removes 99.99% of the the waterborne amoebas that would otherwise make you sick. You can even safely collect water right from a stream or river. This one by LifeStraw is my favorite because of its sip-friendly spout, spill-proof locking mechanism and easy to get replacement filters.
---

The trickiest part of camping is deciding what to eat and how to keep your food from perishing. If you're bringing a gas stove (or if there is a fire pit on-site), bring hot dogs, burgers, or anything else you might like to grill for dinner. For breakfast, bacon and eggs or yogurt with granola are some good combinations. Make sure you bring metal tongs and spatula, and pack perishables in a quality cooler filled with ice.
---

Bringing a camping stove is a convenient way to cook meals, especially if there's no grill at your campsite. This one by Coleman is super affordable, lightweight, easy to set up, and made of high-quality materials.
---

A lot can go wrong on a camping trip. Be prepared for blisters, splinters, cuts, and other much worse blunders with a well-stocked first aid kit. Keep this one in your daypack so that you can whip it out in case of any emergency.
---

While camping you may not be able to shower as frequently as you do at home and you will likely get sweaty and stinky. Instead of worrying if your fellow campers will notice your odor, simply carry a few of these little wipes. Bust them out while in the restroom or your tent and with one quick wipe, you will be refreshed and stink-free.
---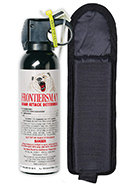 Black bears roam much of North America's best camping destinations and national parks. Therefore, carrying bear spray while camping is a no-brainer. You'll also want to bring bear proof containers for your food so that a bear doesn't try to break into your car or tent at night. Additionally, research suggests that bear spray can also be a good defense against mountain lions who roam much of the same bear territory.
---

It's important to stay organized with a solid daypack that won't hurt your back. This one by Camelbak is extremely well-designed for day hiking when you want to be minimalist and just carry the water you need. It's super lightweight and holds 50 oz that's enough to keep you hydrated for a few hours.
---

Camping in the wild requires us to rough it a little and that change of pace is exciting and fun. What isn't fun is roughing up your expensive smartphone by accident. Keep your phone clean and free from water damage with a waterproof phone case. Whether or not you plan to camp by water, keeping your phone safe in a waterproof case will give you peace of mind so that you can bring your phone wherever you go to take plenty of pictures documenting your unforgettable camping trip.
Other camping packing list items not to forget
---
What to wear Camping
---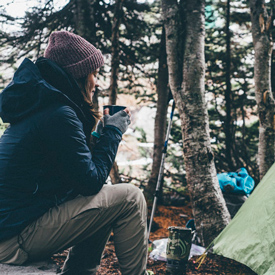 Definitely do your research prior to packing for camping. This is one of the few travel types where it's better to be a little overprepared than to be underprepared.
With that in mind, be sure that every item you pack can be used repeatedly without having to be washed or wearing out. Convertible pants, a light multi-use jacket (rain and windproof, warm but not too warm), well-broken-in hiking boots, a dependable hat, and appropriate cold weather gear are must-haves. Beyond that, be sure that your clothes are easy to layer and can be added or removed when needed without taking up too much room in your pack.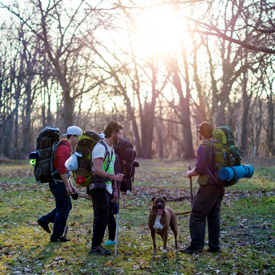 Clothing should also be moisture-wicking when possible (no cotton – this takes FAR too long to dry and can keep dampness near your skin which is never a good thing). You can certainly pack rugged sandals (think Chacos, Keens, Tevas, etc. that have traction and good straps) if the area you're in will be warm enough. Sandals give your feet much-needed air and can offer a break from the hiking boots you'll be wearing for the tougher hikes. I personally bring my Chacos on every trip I take because I can hike in them and they're amphibious – I can creek-stomp one hour and hike up dunes the next if needed, and they'll dry quickly without any damage.
Above all, remember that you're carrying your gear in and out.
Don't bring excessive amounts of anything, because each item adds to your overall haul. Bring enough to be prepared for anything, but not too much.

What NOT to take Camping
---
1)

DON'T PACK denim:
Don't encumber yourself with stiff, inhibiting jeans. Denim and camping don't mix well, especially since wet jeans are the worst and they take days to dry! Opt for rugged quick-dry fabrics instead.
2)

DON'T BRING jewelry or nice clothing:
Style points don't count for anything out here, and these items can get lost or damaged easily when you're roughing it. Leave them safely at home!
3)

DON'T TAKE unnecessary electronics:
You DEFINITELY don't need your computer, tablet, or iPod when trying to appreciate the outdoors. You DO need your phone and a GPS device in case of emergencies, though!
4)

DON'T PACK anything with a strong perfume or odor:
Do your part to keep bears and other wildlife away from humans (to protect yourself and the animals) and don't bring anything too smelly!
5)

DON'T TAKE white clothing:
If you do, you're just begging to fall in mud, brush up against tree sap, or squirt hot dog condiments on yourself. Dark colors are best, but they absorb the sun (and therefore heat you up) much more than lighter colors, so keep that in mind! It can help or hurt your case based on where you're camping.
6)

DON'T BRING anything you're not willing to carry back out with you:
The cardinal rule of camping is that everything you pack in, you MUST pack back out. No unnatural trace of your stay should be left behind, so bring a trash bag or two to collect any waste that you may have, and carry it all back out when you're done.
FAQs about Camping
---
1) How can I find out if there will be potable water at my campsite?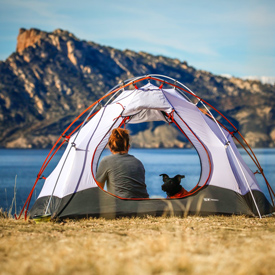 Always check the website of the park that you'll be camping at. Most, but not all, campgrounds have a water source like a spigot that can be used to fill up your water bottles.

Look online or call the park ranger service to check for specifics about your campground. You should also always plan to bring a filtered water bottle in case you get stuck somewhere without potable water. A LifeStraw is also an extremely good idea.
2) How do you deal with inclement weather?
As stated before, always dress in layers. Make sure you bring a rain jacket or poncho, your tent's rainfly, and some in-tent games to stay entertained during a freak rainstorm!
3) Can I expect to shower while camping?
Some campgrounds have showers. They might be relatively nice indoor hot-water showers, or they could be an exposed water spigot outside. Look online or call the park ranger service to check for specifics about your campground.
4) Do all campgrounds allow campfires?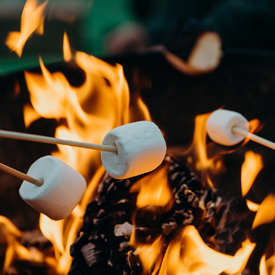 No. During the dry season, many campgrounds will have a fire ban. Make sure you check online or call your local park ranger service to find out. If you cannot make a campfire, make sure you bring a gas stove to cook with, and obey all fire safety regulations!
5) How can I cook while camping?
Many fire pits come with an iron grill that goes on top to cook with. You can use this with or without tin foil, pots, and pans to cook on. It's also a good idea to bring a camping stove.
6) How do I find a campground near me?
You can find a campground through this website. You can even search for specific dates and group sizes! Another great resource for finding legal and safe campsites is the National Park Service site where they offer a similar search tool.
7) What sorts of activities can I do while camping?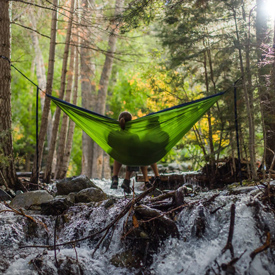 Depending on where will be, you can likely hike, climb, swim, fish, slackline, do yoga, cook, read, and just plain relax! It's all up to you.
8) How do I choose the right gear for my camping trip?
Stores like REI have professionals who can help you find just the right gear. If you're shopping online, make sure you read lots of reviews (and double-check dimensions) before ordering anything.
9) Do I need to plan on hiking to and from any campsite?
This depends entirely on the kind of campsite you've chosen. I've camped in sites that were a two-hour hike from my car, ones that I could park my car 10 feet away from, and everything in between. Whatever your situation, just be sure you know the route to and from your campsite, and that you bring along a map or GPS just in case. Even the simplest routes can look very different if weather changes, and you don't want to be stuck without a way back to civilization.
10) What kinds of safety precautions do I need to take when camping?
Camping is inherently a little risky, but it's not as dangerous as it seems. Most camping trips are fun and uneventful, but you should always be prepared in case something bad should happen. Too many tragedies have arisen from individuals taking unnecessary risks and being utterly unprepared for even the most basic of mishaps.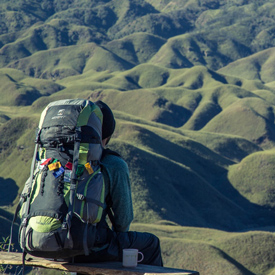 Know the area. Know your route, bring navigational tools like a compass, a map, and a GPS, and be sure you're familiar with alternative routes just in case.
Tell someone where you're going. This may seem silly, but telling someone exactly where you're going (specific camping location) and when you expect to return can make the biggest difference if something bad happens. If something were to happen and this person didn't hear from you, they'd be your best chance of getting help.
Bring emergency gear. A first aid kit, emergency energy bars (Snickers are actually ideal for this!) and a LifeStraw can mean the difference between success and tragedy should something terrible happen!
Don't bring gear you haven't tested or broken in. Knowing your gear is important if you're going to be relying heavily on it. Things like tents and cooking gear are not such a big deal, but shoes and any climbing or rappelling gear should be completely tested in familiar conditions before you trust your safety to them in the wilderness.

Familiarize yourself with local wildlife. Know whether bears are an issue so that you're prepared to store your food accordingly. Likewise, preparing for the possibility of aggressive or venomous animals like moose and snakes is wise – you should know what to avoid to keep yourself and your camping party safe.
Be respectful. Respect the regulations and respect nature! Also, be sure to respect any nearby campers, as they're there to enjoy the wildlife just as you are.
Other packing lists you may like…
2-Week Trip | 3-Day Trip | Baby Packing List | Baby Travel Gear | Bachelorette | Backpacking | Beach | Birthright | Bonnaroo | Burning Man | Business Trip | Cabin | Canoe Trip | Car Camping | Carry-On | Castle Trip | Cheerleading Camp | College Dorm | Convention | Cruise | Day Hike | Deer Hunting | Desert Trip | Destination Wedding | Diaper Bag | Digital Nomad | Disney | Disney Cruise | Elk Hunt | Fall | Float Trip | Flight | Girl Scout Camp | Girls | Glamping | Golf Trip | Honeymoon | Hostel | International | Island Vacation | Kids | Lake House | Long-term | Men's Packing List | Minimalist | Motorcycle | Moving Abroad | Music Festival | Overnight | Peace Corps | Resort | Road Trip | Round The World | Ski Trip | Snowboarding | Spring Break | Study Abroad | Summer Camp | Summer Vacation | Teen | Theme Park Trip | Toiletries | Toddler | Tropical Vacation | Ultralight | Wedding | Winter Vacation | Weekend | Zoo Trip
Please note: We have over 200 packing lists covering practically every popular travel destination in the world. Access them all on our packing list overview page ➜