Updated on by Asher Fergusson
A
bu Dhabi is home to glorious mosques, parks, beaches, private resorts and an emerging international cultural boom that has catapulted the city to new heights.
Knowing exactly what to bring can be tough when packing for your vacation. So we've put together a list to help guide you. You'll learn what to wear in Abu Dhabi, what NOT to wear and NOT to bring, seasons in the region, and answers to the top FAQs.
It's easy to be swept up in the magic in Abu Dhabi – go with it and plan for memory-making!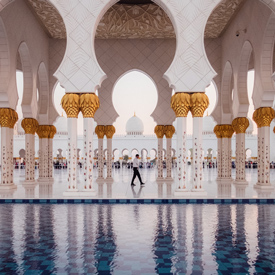 What to Pack for Abu Dhabi – 17 Essentials
---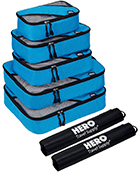 If you haven't used them before, packing cubes will be a complete game changer for you! These compact cubes come in varying sizes and will help you to remain organized and not overpack. You won't have to dig through your luggage searching for one specific t-shirt because you'll already know exactly where it is.
---

Ladies, expect to have to cover up your shoulders (and legs) when heading out to public places, so this is one item that should not be overlooked. Pick a light, breathable fabric, and a pattern that adds a stylish touch to the rest of your outfit, like this one. Think Boho Desert Chic…
---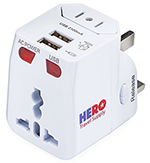 The United Arab Emirates accommodates 220-volt electricity, so you will need a converter or transformer unless your appliance or laptop has dual voltage. However, it's far more convenient to cut through all the issues by investing in an international travel adapter like this one. It's a great and safe way to avoid hassle and to save money, too!
---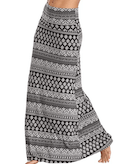 Continuing with the theme of modesty, you can't go wrong bringing a long skirt or maxi dress on your trip to Abu Dhabi. Not only is it a trendy way to keep your legs covered and respect cultural norms, but it's also breezy and lightweight which will keep you cool under the hot Middle Eastern sun.
---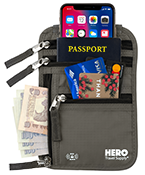 Traveling with foreign currency, credit cards, and other bits and pieces can take up space. Once you head out for a visit to Abu Dhabi's very own Louvre and some shopping at Yas Mall, you'll want to keep all those valuables safely tucked away in your handy neck wallet. It's always best to leave your passport in your hotel safe and to carry copies of your visa and passport instead.
Available on HeroTravelSupply.com with an exclusive 15% discount using the coupon code "HERO".
---

Towels? Check. Sunscreen? Check. Kindle? Check. Throughout your trip, this list might double in size, so if you do plan a day of blissful R&R by the warm waters of the Persian Gulf, grab your stylish beach bag and off you go with all the essentials in one place.
---


Choosing a good VPN is essential when traveling anywhere. It's vital to create a safety net around your account and passwords. There is always a risk when using public WIFI connections. Apart from protecting yourself, it's a good option to have handy when you travel to countries where certain applications and software are censored. FaceTime, Skype and WhatsApp video calling options are not permitted in the UAE and you will find that some keywords in your searches will result in a government notice that advises you to consider different word selections. With NordVPN you can have regular access without having to worry about your accounts being hacked.
---

If you plan to use your smartphone for photos, navigation, texting, music, or anything else throughout the day, there's a good chance you'll need to recharge your battery while you're out and about. Avoid having to stop somewhere and wait for your device to charge by bringing along a handy lipstick-sized portable charger so you'll always have a full battery.
---

Similarly, you can get away with bikinis and swimsuits with less coverage at private beaches and resort pools, but if you plan to spend time at public beaches or just generally want to feel more comfortable and attract less attention, opt for a modest swimsuit like this one. As a general rule in Abu Dhabi, the more coverage, the better!
---

Bottled water in hotels isn't always of the finest quality and though it does serve its purpose, in some instances you will be surprised by the high sodium content it contains. The safest bet is to boil your own water, allow for it to chill then pour it into your filtered LifeStraw water bottle.
---

Perfect for a trip to the beach or pool, a cool relief from the hot desert sun, or as a bath towel if the one at your accommodation isn't up to standards or isn't provided at all, a quick dry towel has got you covered. This one is awesome because it's lightweight, compact, and dries insanely fast.
---

Though the hope is that your trip to Abu Dhabi will go smoothly, it always pays to make sure you're covered in case of emergency. We never travel without World Nomads because they're inexpensive and their coverage is amazing. It includes things like lost or stolen luggage, flight cancellations, and emergency medical.
View their plans at WorldNomads.com ➜
---

Abu Dhabi provides the perfect occasion to let your feet breathe and you will need these when you cross the hot sand in an attempt to find your perfect spot on the beach. You will also need them for quick trips to the store, an impromptu mall excursion and yes, you might even end up wearing them on a warm summer's eve for a local dinner experience.
---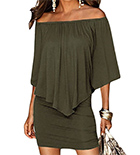 For a night on the town or an upscale dinner, you're going to want a stylish yet relatively modest gorgeous outfit in Abu Dhabi. This jumpsuit is the perfect option because it's breezy, lightweight, and can easily be made more modest by throwing your pashmina shawl over your shoulders and chest for a trendy accent.
---

You'll surely want to sample all the exotic delicacies that Abu Dhabi has to offer. Your body might be unused to the germs, spices, and ingredients in the UAE, which could result in an upset stomach or worse. Be prepared with activated charcoal tablets which will quickly absorb and expel the toxins in your system.
---

Abu Dhabi can get HOT! Whether you're taking a camel ride through the desert, soaking up the sun at the beach, or exploring the city's many attractions, you'll definitely want to toss deodorant wipes in your daypack or purse. These wipes will help you to quickly freshen up whenever you need them. Trust us, they will definitely come in handy during your time in Abu Dhabi!
---

Though swimming at the beach is totally normal, if you're anywhere besides in the water, it may be wise to cover up and respect Abu Dhabi's general culture of modesty. That said, you'll definitely be needing a solid swimsuit cover up like this one to keep you trendy and modest at the beach or pool.
Other Abu Dhabi packing list items not to forget
---
What to wear in Abu Dhabi?
---
When traveling to the UAE it is vital to adopt a slightly more modest approach in what clothing you pack. Resort and beach wear is a must, but this is limited to private beach resorts and hotel pools only. There aren't many public beaches where you'd want to spend an afternoon, but if you wish to experience a change of scenery from your hotel, you can simply check out what other private resorts are open to day visitors (most of them are).
Shopping excursions, brunches and dinner dates are a different story. You are not expected to cover up from head to toe, but it's advisable to not expose keep your chest, shoulder and knees. This rule applies to both men and women. For mosque visits you need to take more precaution with what you wear – even in the middle of summer. The majestic Sheikh Zayed Mosque supplies their visitors with kandouras (men) and burqas (ladies). Without proper attire, your entry into a mosque will be refused.
For ladies, summers are a perfect time to pack your linen trousers, lightweight t-shirts, leggings, knee-length shorts and loafers for any visits to places other than mosques. Pack a shawl for you to take with to cover up when needed. Winters require thin jackets, pullovers and jeans for when the evenings cool down, but generally-speaking, you will find that even between January and March, the day temperatures are still comfortable enough to get away with a long-sleeved shirt and trousers.
The same packing guidelines apply for men, but you might want to remember to wear shorts that hit the knee-mark and to leave the chest and shoulder bearing vests at home (or at least keep them reserved for the pool-side.
What should WOMEN wear in Abu Dhabi? – (Click to expand)
Imagine a glorious sunset over the Persian Gulf at the Shangri-La Hotel and plenty of sun-kissed memories to fill up your Instagram to the brim. A flowy beach kaftan over your swimwear will serve as adequate cover-up for you to make your way to the restroom or back to your hotel room, but make sure that the fabric isn't see-through – it would basically defeat its purpose and you'd still need to play it safe to an extent. Pair your kaftan with a wide-brimmed sunhat and slip-on sandals to complete your resort look.
Dinner at BBQ Al Qasr is bound to be a memorable experience. This popular dining spot with its gazebo-covered tables, candlelit atmosphere and breaking waves a few meters away from your seat is as romantic as it gets. Dress up for the occasion in a printed maxi-dress, ballet flats and tag along your faithful companion, otherwise known as the shawl. Your dinner date too, would suffice.
Enjoying a desert safari is a must and one could possibly glam it up like they did in Sex & The City 2, but it's not practical at all. A comfortable pair of linen trousers should work well, but for this excursion you are not really required to cover up since the safaris are not conducted by locals. If you wish to dress in shorts and a t-shirt, feel free to do so, but during the cooler months you might want to pack a pull-over and trousers for when the sun sets. It gets chilly out there and desert safari dinners are known to take a couple of hours.
Up for a night out on the town? Yes, Abu Dhabi does have nightlife, but it takes a bit of research and at times, an Uber trip to the other side of the city to get your groove on. Dress up to the nines for The Yacht Club at the Intercontinental and if you are going for something that shows some skin, remember that shawl of yours. If you are not planning on packing your little black dress and skyscraper heels, opt for a trendy pair of distressed skinny jeans, white sneakers, a boyfriend shirt and perhaps a few of those new pieces of jewelry your bought at the gold souq instead. Now you're more than ready for a few cocktails at the Skylite Rooftop Lounge.
For a visit to a mosque you will have to ensure that your hair is covered and that you are wearing a long-sleeved shirt and trousers. Flats will work just fine and sandals would be the best option, but should the security guards at the entrance deem your clothing inappropriate, you'd be asked to make use of the local attire to cover up.
What should MEN wear in Abu Dhabi? – (Click to expand)
If you are a guy that favors a Speedo, then you might want to hold that thought before packing it for your trip to Abu Dhabi. Sure, it might work at a hotel pool where things are slightly more relaxed, but I didn't notice a single person donning one, so maybe there is some unspoken rule about avoiding it at all costs or maybe it's just time to let go. Either way, you have plenty of other options for swimwear.
Swimming trunks come in all shapes and designs to suit your style, but whatever you do, don't walk shirtless through the hotel lobby to the pool. Remember to pack your slip-on sandals because you will wear them at the beach and perhaps even to the mall when summer shows its heated face.
A good pair of linen trousers will become your staple for visits to the mosques, cultural sites and perhaps for dinner at the stylish Byblos Sur Mer for some must-have Lebanese cuisine. Pair your trousers with a lightweight shirt and leather loafers. If you can't seem to work your way around the heat, pick out a pair of Bermuda shorts instead, but keep the shirt.
Bar-hopping in Abu Dhabi can be fun, because it does come as somewhat of a surprise how many places there are to experience. This is no time to saunter into the pub in flip flops and a board shorts. Brave a few minutes of heat as you leave the hotel and as you enter one of the many watering holes in your finest jeans, a plain light-weight t-shirt and sneakers. Men in Abu Dhabi do tend to dress up even for a few beers at the bar, because their night usually takes them to trend-spotting nightclubs across the city. Best to keep those tailored pants and formal shoes handy then…
There aren't that many outdoor activities that extend beyond the comfort of the beach near your hotel, but if you are required to hop onto a camel's back or perhaps even a quick jump from an airplane, then you might want to pack something that will allow you to move with ease. Lightweight trousers, t-shirt and comfortable sneakers will do just fine. Your baseball cap will come in handy for any outdoor activity and probably some sunscreen too.
Dressing For Abu Dhabi's Seasons:
---
SUMMER – April, May, June, July, August, September, October, November:
As of April, the cooler day and night temperatures slowly rise and by May, summer is in full swing. Towards June it becomes humid and almost unbearably hot. Thankfully, air-conditioning in public places is effective and at times, you'll actually wonder if you need a pullover.
The best way to approach summer is to dress light and to consider breathable fabric. Shorts and t-shirts are fine for casual dressing, but always put a modest foot forward. Dressing for dinner and a night out on the town is tricky when it's quite warm, but luckily you get to dress to the nines in your finest with all the cooling systems in mind.
Temperatures average between 77°F and 113°F (25°C to 45°C).
WINTER – December, January, February, part of March:
This is obviously the best time of year to visit Abu Dhabi, but just like anywhere in the world, you can expect a slight spike in hotel rates.
Temperatures average between 45°F and 50°F (15°C to 25°C).
How to dress for activities in Abu Dhabi
---
Mosques
We have touched base on the basics that involve dressing for a trip to a mosque in or around the city. Same rules apply for men and women and you will be greeted with signs outside that indicate the dress codes for entry.
Irrespective of the fact that most mosques provide local attire, your choice of clothing upon arrival has to be modest. You will be required to remove your shoes at the door, so head out in slip-on sandals. Leaving your shoes outside won't pose any problems and you'll find them where you left them before entering.
From Souk Markets to Shopping Malls
Public places outside of your hotel and beach resort usually have signs that ask patrons to respect dress codes. I have found that this also includes t-shirts with slogans that might not really work well in your favor. You are permitted to wear shorts and t-shirts, but they cannot reveal too much of your body. Play it safe with shorts that hit the knee area and opt for t-shirts that won't reveal your chest and shoulders.
You still have room to play it up in fashionable way, but it's all about knowing what your boundaries are. Ladies, once again, a shawl does the trick for almost any option of clothing you wish to match with your trousers, jeans or skirt.
Desert Safaris
With morning, evening, overnight and full day tours, you can plan a day of fun in the sun…and sand. It's a glorious experience and in my opinion, the Liwa Day Tour was the most memorable. It showcases an extreme opposite of the city and all it has to offer.
While on a desert safari, you needn't worry too much about what you wear. Naturally, your choice of clothing still has to be modest to a degree, but you are permitted to wear something that would allow you to enjoy the great outdoors without having to cover up from head to toe. Mid-summer isn't the best choice for these excursions, but if you do find yourself in the region during that time, opt for an evening safari
Louvre Abu Dhabi
The museum was established in November 2017 and is truly an impressive structure that features a massive dome and overlapping lattices. Many locals visit the museum, so for this cultural experience, you would need to wear something that allows you to blend in.
Your linen pants, leather slip-ons and long-sleeved t-shirts will do the trick. Carry your lightweight short-sleeved t-shirts in your backpack for when you head out lunch.
Dubai Nightlife
Many expats living in the United Arab Emirates will tell you that Abu Dhabi has a much more vibrant nightlife than that of Dubai. However true that might be, pubs, bars and clubs are in closer proximity to each other.
There are many places to enjoy sundowners or to dance the night away at and while you'll only need to be sure to cover up for your taxi ride and public places, your options for dressing up are boundless But it all depends on where you go and what crowd a place draws.
Gents, you might want to bring your finest along if you do end up at a swanky place and as for the ladies, you will find that skimpy dresses do feature here and there, but you can play it up with jumpsuits, skinny jeans and even a flowy maxi dress and heels.
Reserve the shorts and t-shirts for day time drinks at beach resorts.
What NOT to bring to Abu Dhabi
---
The United Arab Emirates has a long list of restricted items that can't make its way through customs. It's advisable to stick to the rules here as there is no easy way out of this one. You will either be asked to hop on a plane back to where you came from or hand over your items in plain sight of everyone making their way through customs.


1)

Alcohol
– You may purchase some at Abu Dhabi Duty Free as you enter the country, but save yourself the hassle and drama of it all by not packing any booze.
2)

Banned Drugs
– Any bodybuilding, weight-loss, hormone or sexual stimulants are on the list of unapproved drugs, so be sure to leave that home. I have also heard that tablets containing codeine are banned from the UAE. It's better to familiarize yourself with the basics before you pack your medication
here
.
3)

Israeli Goods & Products
– Due to the delicate political relationships within the Middle East, it's probably best to leave any items behind that bear Israeli trademarks or logos. The same applies to your passport – you might have some difficulty at customs with a stamp from Israel in your passport.
4)

Gambling Tools & Machinery
– They might confiscate it or give you a really hard time for bringing it.
5)

Items Made From Endangered Animals
– Enough said.
6)

Cultural Artifacts
– This includes prints, engravings and/or statues.
7)

Counterfeit Currency
– This one is sure to send you back home on the next flight.
8)

Red Laser Pointers
– Yes, this too is on the list.
Items to declare when traveling to and from Abu Dhabi:
---
Certain items must be declared to the customs authorities upon arrival for inspection, even though not all of them are subject to duty and taxes:
Radios
Films, books, photographs, DVDs and CDs
Gifts with value over 3,000 AED
Medicines of all kind
Fireworks and explosives
Weapons and ammunition
Plants, trees and soil.
Pets
What NOT to wear in Abu Dhabi
---
This will serve as last note of sorts, but whatever you do, avoid wearing utterly revealing clothes in public places. You will only be stared at or asked to leave some premises if you are not dressed accordingly. Crop tops work on private resorts and beaches and not in malls or restaurants. The same applies for see-through fabric and short shorts.
Men need to make sure that they don't reveal too much skin either. Keep those shoulders and chests covered and keep short lengths near the knee. Last but not least, check your t-shirts before you pack them and make sure nothing offensive or religious stands out.
FAQs about Abu Dhabi travel
---
1) Is it safe to travel alone as a woman?
It is completely safe, but it's always advisable not to roam around less touristic areas at night by yourself. Stick to daytime excursions and should you wish to enjoy the nightlife of Abu Dhabi, do so responsibly.
2) What type of food is available in Abu Dhabi?
Apart from fantastic Lebanese and Indian cuisine that you'll find in the city, you simply need to experience local food and if you favor South-East Asian flavors, then be sure to try out some Filipino restaurants which you'll find almost anywhere.
Plenty of American franchises are to be found in the food courts of malls, but that doesn't mean you shouldn't be open to the plethora of other options available.
3) What's the best way to get around the city?
Upon arrival, you can catch an airport taxi or Uber. Alternatively, you can arrange for a pick-up with your hotel. Taxis are relatively affordable, safe and you can catch them from almost anywhere. Just be sure that your driver makes use of the meter and always insist that they do so.
4) What currency does the Abu Dhabi use?
The national currency is known as the Emirati Dirham (AED). There are many ATMs conveniently located across the city and most international credit/debit cards are accepted at shopping malls, hotels and restaurants.
5) How much do I need to tip?
Although tipping is not mandatory in Abu Dhabi, it is always expected. 10% of the total amount on your bill can be given to service staff in restaurants and cafes. Porters and bellboys ideally receive tips of AED10 – 20.
6) Which cellular service should I opt for?
The two biggest GSM mobile service providers are Du and Etisalat and offer easy pre-paid SIM cards that can connect locally and internationally.
7) What's the WIFI like?
Staying connected in Abu Dhabi is easy. WIFI networks are incredible and you can connect almost anywhere. It even extends as far as some beach resorts and private cars.
---
Other Middle East packing lists you may like…
Dubai | Egypt | Israel | Jordan | Turkey
Also see our Europe packing lists…
Amsterdam | Barcelona | Camino de Santiago | Croatia | Europe | France | Germany | Greece | Hungary | Iceland | Ireland | Italy | London | Mediterranean Cruise | Norway | Paris | Poland | Portugal | Prague | Rome | Scotland | Spain | Switzerland
Please note: We have over 200 packing lists covering practically every popular travel destination in the world. Access them all on our packing list overview page ➜