Updated on by Asher Fergusson
J
amaica is one of the many gems located in the Caribbean. From aquamarine waters to sandy beaches and hidden waterfalls, the beauty of this island is staggering.
After spending several weeks traveling around the island I quickly learned the necessary essentials every traveler should consider. I've made a list of what to wear in Jamaica, the top items to bring and NOT to bring, seasons for the island, and FAQs to help you plan a successful and enjoyable trip.
Get ready to enjoy the "irie" vibe that is Jamaica!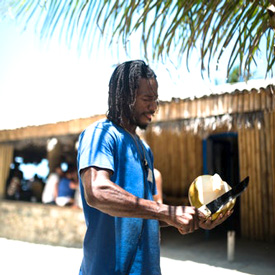 What to Pack for Jamaica – 18 Essentials
---
1. Long-sleeved Swim Rash Guard: Women's & Men's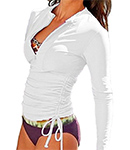 The sun in Jamaica is always strong even in the winter, and a rash guard is the perfect antidote to avoid over exposure. If you are fair-skinned (like me!) or this is your first time in the sun for a while you will be glad to know this one has a UPF sun protection of 50+. I wear mine religiously, especially when hanging on the beach. My wife, who is very olive skinned, also swears by it because when you are in the Jamaican sun for many hours it's just really easy to get burned.
---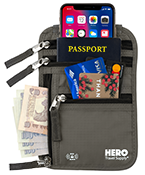 Due to the high rate of theft in Jamaica, a neck wallet is an important accessory to bring with you on your trip. This neck wallet is ideal when visiting particularly crowded or touristy areas, as it's large enough to hold your passport, phone, and wallet and can be worn discreetly under your clothes. I can't stress enough the importance of wearing an inconspicuous neck wallet to safeguard your belongings, as purses and wallets are an easy target for pickpockets and petty theft.
---

We recommend bringing an affordable alternative to a GoPro to capture your Jamaican adventure, both in and out of the water. This underwater camera is compact and durable, so it's perfect to bring with you on all your adventure activities for both photo and video content. Trust me, after your trip, you'll be glad you brought along a good camera to capture your favorite memories.
---

A microfiber, quick dry towel is great for so many activities in Jamaica. Whether you're at the beach or on a waterfall hike, this towel will come in handy when you need to dry off fast! Even if you are staying at a resort, you may find this towel to be more useful than the bulky cotton ones you will receive. Personally, I always bring a quick dry towel with me when I travel; it even comes in handy when I want to freshen up at the airport.
---

If you plan on hiking Dunn's Falls, kayaking, or partaking in other water sports and activities, having closed-toe, slip-on water shoes will come in handy. These are great for protecting your feet from rocks and coral in and out of the water, and will keep your feet cool and refreshed in Jamaica's hot weather.
---

If you want to stay cool and fresh on this island paradise then a cooling towel is a must. They're small enough to bring anywhere and they're super easy to use. Just get it wet, wring out the excess water, and you have a refreshingly cool towel to help you stay comfortable even in Jamaica's hottest weather.
---

This is one item that's absolutely essential to pack any time you travel. If you plan to use your device for navigation, translation, music, or photos, you don't want to get stuck with a dead phone battery. Bring along a lipstick-sized portable charger that you can easily throw in your purse or daypack to ensure you'll always have an extra source of power on the go.
---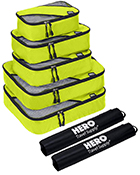 Packing cubes are a great way to stay organized on the road! With a variety of colorful cases in different sizes, you'll never have to dig through your luggage searching for one specific item again. This particular set of packing cubes is amazing because it also comes with a separate case for laundry and another for your shoes, and each case has a place to label what's inside.
Available on HeroTravelSupply.com with an exclusive 15% discount using the coupon code "HERO".
---

Travel insurance is one of those things you don't really think about until you're in a situation where you need it. TravelInsurance.com is an excellent way to find the best travel insurance, and it's what we use since they make it simple to compare policies all in one place. Not only will travel insurance cover your costs if your luggage gets lost or stolen, it will also cover flight cancellations and medical emergencies if you become injured or sick while traveling. And most policies are very affordable.
Compare policies at TravelInsurance.com ➜
---

If you plan on bringing a device to put in a waterproof case, you'll want to ensure its protection by adding a floatation strap! There's no point in waterproofing your phone or camera just to have it sink to the bottom of the ocean, right? Invest in a few floatation straps to bring with you on your trip. They can be used for electronics, hotel room keys, and anything else you'd prefer not to lose!
---

A sturdy travel umbrella is an invaluable item to bring on your trip to Jamaica. During the wet season, you'll need to protect yourself from the elements, and this handy umbrella is large enough to fit two people underneath. During the dry season, use it as a beach umbrella to offer a bit of shade and respite from the heat.
---

In Jamaica, you are constantly surrounded by water, whether it be the vast ocean, stunning waterfalls, or rushing rivers. Make sure to protect your phone by bringing along a high quality waterproof phone case like this one! It enables you to take photos and videos underwater and ensures your device will be protected in any situation.
---


A VPN is essential any time you travel to a foreign place. When you inevitably connect to WiFi in public places, such as hotels, coffee shops, and restaurants, you become vulnerable to hackers who can steal your private information, like credit card numbers and passwords. A reliable VPN (like NordVPN) provides you with an added layer of security so all your sensitive data is safe. It will also grant you access to websites from your home country that may be censored abroad.
---

In Jamaica's hot, tropical climate, it's important to take every precaution against mosquitoes. That said, no matter how hard you try, it's likely you'll end up with at least a few bug bites by the end of your trip. Don't make the situation worse by scratching them, instead use After Bite to soothe your skin and avoid all the unpleasant itching that comes with mosquito bites.
---

If you are prone to getting bug bites back home, don't be surprised if you receive double the amount while in Jamaica's tropical climate. From mosquitos to gnats, there are plenty of insects that will want a taste of you. I highly suggest packing these handy mosquito repelling wristbands in addition to wearing mosquito repellent, as an easy precaution against itchy bug bites and potential mosquito-borne illnesses.
---

A good beach bag is very handy to have while enjoying Jamaica. This Aruba Mesh beach bag is perfect because it comes with an insulated cooler at the bottom which is key for keeping your snacks and drinks cold in the sun. It also easily fits towels, changes of clothes and other accessories, yet isn't bulky.
---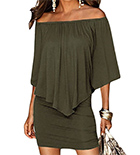 We recommend bringing one nice outfit on your trip. Inevitably you will want to grab a cocktail or a nice dinner somewhere and a sundress won't quite cut it. My wife loves this dress, and personally owns it. It doesn't wrinkle, it's easy to throw on after a long day at the beach, its super sexy on all body types, and comes in a variety of colors. It's also very inexpensive but doesn't look it when you put it on.
---

A lightweight, sand-resistant beach blanket is the perfect alternative to your everyday bulky beach towel. This one is great because you can stake it down to ensure it doesn't shift in the wind, and it is compact and foldable which makes it very easy to throw into your beach bag or day pack.
Other Jamaica packing list items not to forget
---
What should I wear in Jamaica?
---
What you should wear in Jamaica depends on the activities you will be doing and what areas of the island you will be visiting. For the most part, Jamaica is a warm, humid and a pretty casual country. When deciding on items to bring, think breathable and lightweight. Avoid synthetic fabrics and pack items like shorts, tank tops, sundresses and sandals. Most of the places you will go in Jamaica won't require dressy outfits but bring at least one for going out to a nice dinner. If you plan on making a trek to the Blue Mountains near Kingston make sure to bring some sort of lightweight fleece jacket and hiking pants as it can get chilly in the higher elevations, especially at night.
What should WOMEN wear in Jamaica? – (Click to expand)
What you wear can vary depending on which part of Jamaica you visit, in general what you wear should be comfortable, breathable, lightweight clothing. It can be very humid on the island, so be sure to avoid items made of thick fabrics. Sundresses paired with sandals, along with shorts, tank tops or lightweight blouses are good everyday options. Full-length maxi dresses that can be dressed up or down are another great option for an easy day to night look.
While Jamaica is warm all year long, it does have a rainy season in addition to areas of higher elevation. Bringing a lightweight rain or fleece jacket is a good idea, especially if you are prone to getting cold easily. Bring a pair of sneakers or running shoes to use on hikes and in more rural areas where the streets are not paved.
What should MEN wear in Jamaica? – (Click to expand)
Men in Jamaica dress more on the casual side, shorts paired with a tee or tank and sandals is common everyday wear. Make sure to always carry sunglasses and a hat to protect your face and eyes. Bring a few button-down t-shirtsfor going out to restaurants and bars at night.
Bring a pair of sneakers or running shoes for hiking and sightseeing, some rural areas won't have paved roads so skip wearing flip flops when exploring. For high altitude destinations such as the Blue Mountains, make sure you pack a lightweight jacket as temperatures can drop, especially at night.
What NOT to bring to Jamaica
---
1)

DO NOT bring more than one pair of jeans
– Jamaica is a very warm and tropical place, even during the rainy reason there is not much use for jeans unless you are spending the majority of your time in the mountains. If you do decide to bring jeans make sure you only bring one pair, they take a long time to dry and are not comfortable to wear in the heat!
2)

DO NOT bring expensive jewelry
– bringing expensive jewelry is never a good idea when you travel but especially not in Jamaica. The risk of losing items on the beach or due to theft is too high! There is no need to wear expensive items in Jamaica, you will only draw unwanted attention to yourself.
3)

DO NOT bring any valuables
– in addition to expensive jewelry, any highly valuable items should really be left at home or locked in your hotel room safe. Jamaica is known for high rates of theft so think twice before bringing all those electronics and other valuables.
4)

DO NOT bring lots of cash
– once again this cannot be stressed enough! There is no need to carry large amounts of cash on you. Take what you need with you and leave the rest in your hotel room safe or simply withdraw from the ATM in small increments.
5)

DO NOT bring your phone or electronics without a proper waterproof case!
– this seems like a no brainer but every day someone loses an electronic device to water. Water will win every time so make sure you purchase the proper waterproofing accessories you will need for any electronics you bring to Jamaica.
6)

DO NOT bring boots or sneakers
– unless you plan on doing some extensive hiking in the mountains there is really no need to bring boots or sneakers. I myself did backpack around Jamaica and found that my hiking sandals and an extra pair of flip flops were all I needed.
7)

DO NOT pack too many clothes
– In Jamaica you will most likely find yourself living in your swimsuit and guaranteed there will be clothing your bag you will never wear. Pack light, save room for the things you purchase while there!
8)

DO NOT carry your passport with you when you go out
– bring photo copies of ID instead.
What NOT to wear in Jamaica
---
DO NOT wear clothing that is made from fabrics such as polyester and wool. Jamaica is very warm and humid and heavier fabrics will just trap the heat.
DO NOT wear boots– unless you plan on doing some serious trekking in the mountains there is no need to wear boots in Jamaica. They are heavy and hot on your feet.
DO NOT wear any expensive jewelry. I am mostly addressing the ladies here. If you do want to accessorize your outfit make sure it's with cheap jewelry that you won't mind if you lose. Avoid anything made from silver and gold and any precious gems.
DO NOT wear tight fitting clothing. Jamaica is all about enjoying yourself and being comfortable!
---
What to wear to the beach: When you think of Jamaica, beautiful white sand beaches instantly come to mind. Jamaica's beaches live up to all the hype, clear blue water and warm sand make for a serene beach going experience. When going to the beach make sure to bring all the necessities to maximize your time and experience! If you are staying at a resort ask to rent gear for snorkeling- there is always something to see under the water!
Beachwear for women: ladies put on your bikini, a cute coverup and some sandals and you are good to go! Bring or wear a hat to protect your scalp from getting sunburnt, depending on your skin it can be very easy to burn even with sunscreen on and you don't want to get a horrible sunburn on your first day out! If you have fair skin wear a hat and a UV sun guard top for at least part of the time you are at the beach. Bring a beach tote to carry all your essentials and make sure you pack sunscreen, some leave in conditioner to replenish your locks and most importantly water!
Beachwear for men: a tank top, boardshorts and some flip flops will be your staples while in Jamaica. If you haven't gotten a good base tan yet consider wearing a UV sun guard shirt and a hat to avoid getting burnt. Wear a Speedo if you are going for that full body tan, you won't be the only one! Make sure you pack a bag with sunscreen, water and maybe even a few beers.
What to wear to go out: Overall, Jamaica is a pretty casual place, however in large cities such as Kingston there are many fine dining establishments where you will want to dress up. The humid climate makes fabric choices highly important. When deciding on an outfit to wear out to dinner or a night out on the town, chose something that is lightweight, breathable and most importantly, comfortable. For women, opt for wearing a patterned maxi dress paired with sandals or an open toed wedge. For men, pair some khaki shorts with a nice linen button down top and some sandals.
What to wear on hikes/waterfall trips: If you are planning any outdoor hikes or excursions make sure to avoid wearing cotton and chose quick drying athletic fabrics instead. You want clothes that are light weight, breathable and will dry fast in case you get wet. Make sure to bring a quick dry towel as it will come in handy for drying off after swimming or wiping sweat away. Pack a day bag with some snacks, beverages, sunscreen and bug repellent.
For women, if you know you are going to a waterfall to swim wear your swimsuit as your base and pair with comfortable athletic shorts and a sporty tank top. Wear some comfortable sandals like Chocos or Keens that you can walk around in even while wet without chafing.
For men, wear some boardshorts or quick dry hiking shorts, an athletic t shirt that you know absorbs sweat well and some comfortable water shoes or sandals.
Seasons of Jamaica
---
Jamaica essentially has two seasons; hot & rainy. The hot season runs from December to mid-April and is known as the high time for travel. The rainy season or the low season runs from October to November and while still very much warm you will encounter more tropical rain but lower prices at hotels, resorts and even on airfare.
Hurricane season
---
Jamaica also has a known hurricane season which follows the general Atlantic hurricane season and runs from June 1st to November 30th, with the peak period being in early August through the end of October. I personally travelled to Jamaica in mid-June and stayed through July and never encountered any hurricane force winds but mother nature is unpredictable. It is good to be aware of the hurricane season as if one does strike the island while you are visiting it could interfere with travel arrangements.
FAQs about a Jamaica vacation
---
1) Do I need a Visa?
If you are a citizen or permanent resident of the United States or Canada you do not need a tourist Visa to enter Jamaica if you are staying less than 6 months. Check on the Jamaican consulate website for more detailed information regarding Visas. It is also a good idea to check the US State Department website for travel notices if you are American citizen.
2) How safe is Jamaica?
The island does have a notorious reputation for petty theft and assault, however you should not let this deter you from traveling to Jamaica. If you are vigilant and practice "street smarts" you shouldn't run into any trouble. It is important to stay areas where there are plenty of people around and carry minimal amounts of cash. There are some areas in Kingston, Negril and Montego bay that are considered to have a higher risk of crime and violence. It is important to avoid walking around after dark and never venture out alone.Be leery of vendors who try to show you product in a separate location.
3) Can I drink the tap water?
The tap water in Jamaica is safe to drink. In some less developed rural areas it would be best to bring bottled water but for the most part water on the island is perfectly safe to drink. In fact, Jamaica has some of the best drinking water compared to other Caribbean nations.
4) How expensive is Jamaica?
$1 equals $132 Jamaican dollars. The exchange rate fluctuates but overall Jamaica is inexpensive to visit. If you travel during the high season expect an increase in room rates for hotels and activities. Resorts are in a league of their own but basic hotel rooms or a room in a guest house costs between $40-60 a night, a basic meal can range from $3-20 depending on the restaurant and a bottle of Red Strip beer costs around $1.20.
5) What language is spoken in Jamaica?
English is the official language of Jamaica; however, a large majority of people speakJamaican Creole or Patois. Jamaican Creole can best be described as a mixture of English and West African languages.
6) What are the differences between taxis?
In Jamaica there are licensed taxis and unlicensed taxis. Licensed taxis have a red license plate with white numbers and their rates are regulated by the Transportation Authority. Unlicensed taxis are not regulated by the state and are unmarked. You will spot them when a driver in a normal looking unmarked car tries to flag you down and offer you his services. It is always best to take the taxis that are regulated, they are safer.
7) What's this about cockroaches?
While visiting the island don't be surprised if you encounter something scuttling about…these are just your local cockroaches and you will see them! They are harmless but if you are not accustomed to seeing them the first experience can be a little unsettling.
8) What is jerk?
Jerk is a style of cooking native to Jamaica where meat is dry-rubbed or wet marinated with a very hot spice mixture called Jamaican jerk spice/sauce. Jerk seasoning is traditionally applied to pork and chicken and it is delicious!
9) What is a normal Jamaican meal?
The national dish of Jamaica is Ackee and Saltfish. Most people in Jamaica like to eat this combo as a breakfast dish. Ackee is a fruit that grows locally on the island and it is a must try! The dish is served with dumplings that are either fried or boiled. The saltfish is cooked in a small amount of oil with peppers and onions. Another popular dish is hot porridge for breakfast as well as a boiled banana. Boiled bananas are starchy and no longer they have their sweet taste but are often served with meals. Fresh fruit juice is also common, my favorite that I tried was a carrot- ginger blend. Also some famous jerk chicken served with a side of rice is a popular dinner that you can find almost anywhere.
10) Do I need to tip in restaurants?
A 10% tip is normal in hotels and restaurants. Check your bill carefully – some restaurants automatically add a 10% to 15% gratuity. Some all-inclusive resorts do not allow guests to tip. Outside of Kingston, taxi drivers often ask for tips but it is not necessary.
Other Central America packing lists you may like…
Aruba | Bahamas | Belize | Cabo San Lucas | Cancun | Caribbean | Caribbean Cruise | Central America | Costa Rica | Cozumel | Cuba |Dominican Republic | Guatemala | Mexico | Mexico City | Nicaragua | Panama | Playa del Carmen | Puerto Rico | Puerto Vallarta | Punta Cana | Virgin Islands |
Please note: We have over 200 packing lists covering practically every popular travel destination in the world. Access them all on our packing list overview page ➜