Updated on by Asher Fergusson
F
rance's gorgeous landscape and many tourist attractions make it a top-of-list destination for many travelers. It's one of our favorite countries to visit!
If you haven't been there before, though, it can be hard to know what to pack.
To help you, we've prepared a guide to what to wear in France, what NOT to bring, and answers to some of the top France FAQs to make sure you get the most enjoyment possible out of your trip. Bon voyage!
What to Pack for France – 17 Essentials
---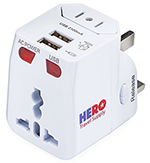 Having this device on hand will allow you to use your American electronics in French power outlets without damaging them. This one pictured is great because it also comes with 2 USB ports and works in over 100 countries. It also has a built-in fuse to protect your devices from irregular power supplies.
---

If you're traveling overseas for your trip to France, chances are you'll fall victim to the negative effects of jet lag. To prevent and treat these symptoms, simply take these homeopathic jet lag relief pills and make the most of the first day of your vacation in France!
---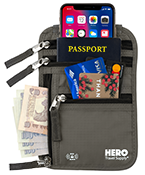 A good neck wallet is an incomparably useful item to bring with you on any vacation abroad, and France is no exception. Whenever you're in particularly touristy or crowded areas, you'll want to keep your valuables, like your wallet, passport, and smartphone, organized and tucked away.
---

Tasteful flats with good traction are your best bet pretty much everywhere in Europe. These shoes enable you to do a lot of walking around during the day but they also keep you from having to pack a second pair to wear to dinner at night. They are also a good way of coping with the occasional hazards posed by cobblestoned streets, uneven pavement, and slick stone staircases.
---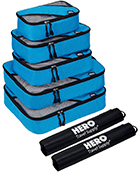 Using packing cubes is a super useful way to remain organized and avoid overpacking during your trip to France. This set comes in a variety of fun colors and allows you to organize your clothing and belongings into separate cubes so you'll never have to dig around your luggage searching one a specific item.
Available on HeroTravelSupply.com with an exclusive 15% discount using the coupon code "HERO".
---

Don't underestimate the usefulness of having a good daypack on hand. This item can serve as a purse/daypack, a beach bag, and a shopping tote. You want something that's big enough to hold all your daily essentials without being overly large and unwieldy. This one is stylish and perfect for a day out in France.
---

Don't travel to France without your quick dry towel! This will come in handy if you're spending a day on the beach in the South of France or if your accommodation doesn't provide a towel or if the one provided isn't up to your cleanliness standards. It's lightweight and dries quickly so you can toss it in your bag whenever you need it.
---

If you plan to use your phone or camera during the day while you're out and about in France, you'll be glad you brought along a handy lipstick-sized portable charger. Simply toss it in your purse or daypack and always have a backup battery if yours runs out at an inconvenient time.
---

The weather in France can be unpredictable so you'll want to make sure you have a sturdy, windproof umbrella in case of rain. Toss it in your daypack so you'll never be unprepared! We love this one because it can fit two people underneath.
---

Bring along a nice raincoat with your umbrella in France and be prepared for any weather situation. You want something like this that's darkly colored and fairly stylish so that you'll blend in more with the locals. You'll definitely want to leave the rain ponchos at home, as the locals generally don't wear them.
---

Though many people in France will speak some level of English, it will be much appreciated by locals if you make an effort to use some French. This phrasebook will give you all the essentials so you can get by in a basic way. This will be especially helpful if you're traveling to the countryside or more rural areas where less English is spoken.
---

Though it's not something we like to think about, there's lots that can go wrong on any trip abroad. Make sure you're protected in case of emergency by taking out a plan from World Nomads. They'll cover your costs for lost or stolen items, flight cancellations, and medical expenses.
View their plans at WorldNomads.com ➜
---


Keep your passwords, credit card numbers, and other sensitive information safe and protected from potential hackers by using a VPN whenever you connect to public sources of WiFi. You'll likely often be using WiFi in cafes, hotels, and airports during your trip, so it's essential to make sure your information is secure. A VPN will also allow you to access websites from home that may not be available abroad.
---

Though France is renowned for a variety of delicious food and wine, you don't want to be unprepared if you end up eating or drinking something that doesn't agree with you. Take these activated charcoal pills if you start to feel sick and they'll quickly absorb and expel the toxins in your system.
---

A good water bottle will often pay for itself before a trip is over. The tap water in France is perfectly safe to drink and doing so can save you several dollars per day. This Brita water bottle will filter your water before you drink it, adding an added layer of health and protection.
---

Especially if you plan to travel in the summer and if you're doing a lot of walking or hiking, you'll be glad you brought a pack of deodorant wipes. These will keep you feeling and smelling clean and refreshed during the day when a shower is not available.
---

For your basic clothes, you want to bring enough outfits to last you a little over a week, even if you're going to be gone much longer than that. A capsule-style wardrobe is best when traveling so that you can mix and match, and do laundry only when you need to. However, you will want to bring at least one smashing outfit that makes you feel great – wear it when you go out to a nice dinner or take in local nightlife, and you'll look and feel confident!
Other France packing list items not to forget
---
What to wear in France
---
1) Stylish clothes in dark or neutral colors that can be worn in layers. Europeans tend to wear what Americans think of as "business casual" as their everyday attire. You'll also want to make sure that whatever you pick out is seasonally appropriate. France tends to be warm in the summer, chilly in the winter, and somewhere in between the rest of the year so plan accordingly.
2) Scarves are always a good option, particularly those that are big enough to double as a lightweight blanket. You'll want to take along one or two.
3) If you're going to beach or the pool at any point, don't forget your swimwear.
4) Having a sweater and a long pair of pants on hand is recommended, even in the summer. This will keep you from being cold if the temperature dips unexpectedly or you end up in an overly air conditioned spot.
5) Travelers who are planning on going to fancy places may want to take along a few nicer outfits, matching accessories/jewelry, and possibly makeup for these occasions.

What NOT to take to France
---
1)

Weighty Items:
Overly large suitcases, heavy books, hairdryers,extra clothes and shoes all fall into this category. It's better to leave extra items at home than drag them along the ride. The less stuff you bring with you, the less you have to tote around.
2)

Valuables: If losing the item in question will break your heart or kill your budget, avoid bringing it with you.Even if you plan on going places where dressing up is mandatory, leave your family heirlooms at home in the safe. Bring along tasteful but inexpensive accessories to dress up your outfits instead.
3)

Touristy Clothes: The best way to avoid being a target for thieves is to blend in with the locals. You can manage that better by leaving your white sneakers, American flag paraphernalia, fanny packs, camouflage, and wildly colored clothes at home. You might also want to avoid bringing your berets along for the ride as well. They might have been a popular style decades ago, but nobody wears them much anymore.

4)

Lots of Beachwear:
If you want to fit in with the locals, you'll need to avoid wear North American style beachwear (such as cut-off jean shorts and flimsy tank tops) in most spots. In Europe, this sort of attire is only acceptable at an actual beach.
5)

Uncomfortable Shoes: Make sure your footwear is well broken in before you leave to avoid rubbing blisters on your feet. After all, you'll spend a lot of time walking around to get from place to place.
6)

High Heels: In some places, such as mountain-top towns in Provence, you'll want avoid this kind of footwear for safety reasons.

FAQs about Traveling to France
---
1) What's a good basic daily budget for visiting France?
Keep in mind that Paris is generally more expensive than the rest of the country. Dorm rooms there run an average of $35 a night and prices on the weekends are even higher. A daily budget of $80 or so should nonetheless cover basic backpacking expenses such as a dorm bed, budget meals, metro tickets, and some attractions. Of course, if you plan on staying solely in private rooms or doing a lot of activities over the course of your stay, you'll want to factor those costs in as well.
2) Where are some cool places to visit in France apart from Paris?
There is little doubt that France is one of the jewels of Europe with its incredible history, love of food and wine and gorgeous landscapes. It's easy to fall in love with Paris and never go anywhere else in the country but there's so much to see! For example, there is the French Riviera on the Mediterranean with towns like Nice and Marseille, on the Atlantic side there is Bordeaux and there are the French alps and countless others town such as Lille, Alsace, and Toulouse. Lille is only a couple of hours north of Paris and if you want some inspiration, check out this guide to the top things to do in Lille.
3) Do I need to tip in French restaurants?
Europeans generally leave the change as the standard reward for good service and often leave nothing if they don't feel like the service merited a tip. While waiters everywhere do tend to be among the more underpaid members of society, the cost of their service is normally factored into the overall cost of dining out in Europe. You may even see service charges already on the menu. In those cases, tips are not generally expected. Of course, if you plan on eating at a fancy place, be sure to leave at least a 5% tip or be prepared to be branded a cheapskate.
4) What's the best way to get from Paris to Marseille?
Once you factor in the time it takes to get to the airport, the TGV train is certainly the fastest way to get across the country. It's also the most expensive. Taking a slower train is can be somewhat cheaper but it may require several changes en route. Budget flights are only worth your time if they greatly outstrip the cost of train tickets or you're headed to somewhere like Corsica that's not easy to otherwise reach by public transport. Just be sure to factor in cost of getting to/from the airport into your calculations along with any baggage charges that might apply. For travelers with more time on their hands than money, the bus is certainly another option. There are even some overnight services available.
5) Where are the country's major airports located?
There are three airports in the north of the country near Paris: Charles De Gaulle (CDG), Orly (ORL) and Beauvais (BVA). There are also busy airports at Nice (NCE) near the Italian border, Lyon (LYS) in the middle of the country, Marseille (MRS) on the southern coast, and Toulouse (TLS) in the south near the Spanish border. Most flights from the United States land near Paris at either Charles De Gaulle (CDG) or Orly (ORL).
6) When is the best time of year to visit?
Like most of Europe, France tends to be at its most expensive and busiest during the summer months. Nice weather, midrange pricing, and uncrowded attractions are all good reasons to visit in either the early spring or the early fall. However, Paris is known to be pretty damp in the springtime. Travelers who plan on spending the majority of their vacation in France's northern regions might therefore be better off planning to visit in autumn.
7) Do you have any money-saving tips for travelers?
France is one of the most expensive destinations in the world. However, aside from paying for hotel rooms and a very pricey TGV ride from Marseille to Paris, I didn't spend a lot when I went there several years ago. For me, the trick to staying under budget and getting the most for my money has been discovering hostels. Having an extra $70 per night can quickly add up. Of course, I'd rather be doing fun things than throwing down large amounts of cash on a room that I only plan on sleeping in. Another trick I've found to saving money is to eat breakfast at my hostel and cook for myself rather than dining out constantly. It's also a good idea to walk where possible and avoid taking taxis. Travelers passing through Paris should nonetheless buy carnets rather than purchase individual metro rides because it's cheaper to do so.
Other Europe packing lists you may like…
Amsterdam | Barcelona | Camino de Santiago | Croatia | Europe | Germany | Greece | Hungary | Iceland | Ireland | Italy | London | Mediterranean Cruise | Norway | Paris | Poland | Portugal | Prague | Rome | Scotland | Spain | Switzerland | Turkey
Please note: We have over 200 packing lists covering practically every popular travel destination in the world. Access them all on our packing list overview page ➜