Updated on by Asher Fergusson
Info on power adapter plugs for Spain
Home to one of Europe's most popular cities (Barcelona), the continent's long-standing party capital (Ibiza), and one of the world's most famous long-distance hikes (the Camino de Santiago), Spain has more than enough attractions to warrant a visit.
Power Outlets in Spain
Spain uses Type C and Type F outlets, both of which have two round holes. The difference between them is that Type F also has two grounding clips. You'll find both outlet types throughout Spain, from Barcelona to the countryside. Both can take any plug type with two round prongs, as long as there's not a third grounding prong. However, sockets in Spain usually sit inside a round indentation in the wall; plugs with a head that isn't round will need an adapter to fit the outlet, even if they're otherwise compatible.
Like the rest of Europe, Spain's electrical grid uses a frequency of 50 Hz and a voltage of 230V. Appliances rated between 220V and 240V are safe to plug into Spanish sockets.
Spain Power Adapter
If you haven't been there before, you'll probably be wondering, "What plug do I need for Spain?" Since electrical sockets in Spain require two round pins, you'll definitely need an adapter if you're American you have American devices. A US to Spain power adapter will allow you to plug in devices with the North American-style flat prongs (Type A and B plugs). Fortunately, the difference between American and Spanish sockets is obvious, so you most likely won't make the mistake of trying to plug in your device with no adapter.
We recommend this Universal Adapter for charging your personal electronics because of its quality, compact build in addition to being compatible with the outlets of dozens of countries around the world and includes two USB ports.
Electricity in Spain
The electrical infrastructure in Spain is not as well developed as in most of Western Europe, and power surges and outages do happen. Blackouts sometimes occur during major storms, but they can also be caused by poor maintenance or insufficient capacity of the electrical grid. In general, there are more issues with electricity in rural areas of Spain than in cities like Barcelona and Madrid.
Do I need a voltage converter for Spain?
To use devices that are rated below 220V, you'll need a US to Spain voltage converter, in addition to your power adapter. The main items that fall into this category are American-made appliances that create heat – like hairdryers, hair straighteners, and irons – which are usually rated at 110V. Trying to use these devices in Spain without a voltage converter will most likely destroy them and can also shock you or start a fire.
If you're going to be in Spain long-term, you may just want to purchase European-made appliances once you arrive. Or if you plan to travel frequently, it might make sense to buy dual-voltage versions, which you can switch between 110/120V and 220/240V depending on where you are.
Other Spain packing list items you won't want to forget!
---

Barcelona has been called the pickpocketing capital of the world, and touristy areas of all other Spanish cities also have problems with pickpocketing, so it's crucial to have a way to keep your valuables safe. Savvy pickpockets can reach into your bag or the pocket of your jacket or pants without you even noticing. Instead, keep your cash, credit cards, and even phone in a neck wallet, where they'll be practically impossible to steal.

---

Whether you're using a mapping app on your phone to navigate Madrid or reading on your Kindle at the beach in Mallorca, you'll want to make sure your devices stay charged. A portable charger that's only the size of a tube of lipstick will keep your devices juiced and take up almost no space in your bag. We have been saved so many times by this nifty little device!

---

If you pack by putting every item into your bag individually, you'll have to remove every item to find what you're looking for. Fortunately, there's a better way. Pack your clothes and other items into packing cubes, and you'll just have to pull out the cube that contains what you need. Pro tip: use one cube for pants, one for tops, and so on. Plus this set pictured also comes with laundry bags so you'll never mix dirty and clean clothes again!

---

Whether you're using your little portable charger or plugging into a regular outlet, you'll need a charging cable for your phone. But it's a pretty easy thing to leave behind, plugged in at your hotel or on the train, so bring an extra just in case.

---

If you're really prone to it, avoiding jet lag can feel like a reason to avoid trans-oceanic flights, especially if the trip would be a short one. Instead of skipping your trip, bring some jet lag relief pills to help you adjust to the time difference quickly. Even if it's a placebo, they work well for us!

---

VPNs aren't only for accessing Facebook in China (although they work for that, too). Using a VPN is also a way to keep your data secure and prevent hackers from accessing your private information. A VPN is an especially a good idea during trips, when you're frequently using Wi-Fi networks in public places where cyber thieves like to target tourists.

---
Other FAQs about traveling in Spain
---
1. When to travel to Spain?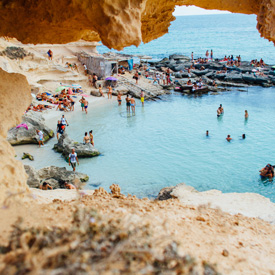 Spring and fall are generally the best times of year to visit Spain. During the summer, the interior of the country is extremely hot, and the coasts are packed with tourists. In August, many businesses close to give their employees a vacation, which can put a damper on your own trip. The winter in Spain isn't unbearably cold, but most of the country is too chilly to enjoy spending a lot of time outside. No matter what time of year you visit, make sure you're aware of any events going on. If your trip coincides with a big festival, your trip could be marred by huge crowds and sky-high prices. Be sure to check current Spain travel advisories before you go.
2. What is the weather like in Spain?
Compared to most of Europe, Spain is relatively warm overall. Even in the winter, lows stay in the 40s in most of the country, and the snowfall is mainly in the mountains. The north of Spain is the wettest region, and is rainiest during the winter and spring months. In the summer, the coastal areas have nice beach weather, but the interior is incredibly hot. Temperatures can soar above 100 degrees, especially in Andalusia, which is the hottest region.
3. What to do in Barcelona?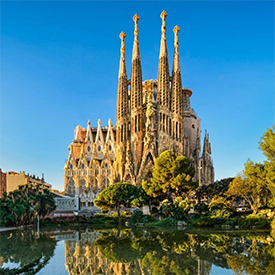 Once you start researching the top things to do in Barcelona, this city's status as a tourist favorite will make sense. The home of Catalan architect Antoni Gaudí, Barcelona has some incredible buildings you can't help but gawk at: the Sagrada Família, La Pedrera, and Casa Batlló, to name a few. Museum enthusiasts will also stay occupied for days there, with the Barcelona Museum of Contemporary Art, the Barcelona City History Museum, the National Art Museum of Catalonia, and the Museum of Chocolate, among others. Or, you can take in the city on foot with a stroll through Las Ramblas, the neighborhood of Gràcia, or the Barri Gòtic. Barcelona also has several parks worth visiting, including Montjuïc, Parc de la Ciutadella, and Park Güell.
4. What to do in Spain?
Barcelona may be Spain's most popular city, but there are interesting things to do all throughout the country. You'll find mesmerizing architecture in most of the major cities, from the Cathedral of Saint Mary of the See in Seville to the famed Alhambra in Granada. There are also more museums than you could ever visit in one trip, starting with the "golden triangle" of museums of Madrid. To stay active during your trip, walk along one of the pilgrimage trails that make up the Camino, tackle the dizzying El Caminito del Rey, or take a Flamenco class in Andalusia. For a uniquely Spanish experience, time your visit to attend one of the dozens of festivals that take place throughout the year.
5. How to get around in Spain?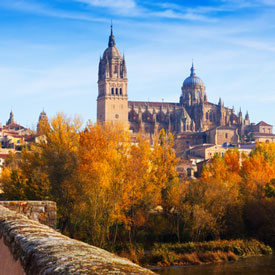 Most of Spain's major cities have ample public transportation, and Madrid, Barcelona, and Valencia all have extensive metro systems. Uber is very controversial in Spain, but it's widely available, as is a Spanish competitor called Cabify.
For travel between cities, a high-speed rail system connects much of the country; the train from Madrid to Barcelona takes just two and a half hours. The popular train routes book up, so make sure to buy your tickets in advance. Most of Spain is also connected by long-distance buses, which are slower and less comfortable than the train, but usually much cheaper. Unless you have your own car, a bus is the only way to reach many of Spain's rural and off-the-beaten-path destinations.
You may also like our other power adapter pages…