Updated on by Asher Fergusson
D
ubai is a city of promise and progressive development. Contrary to popular belief, it's safe to travel within the United Arab Emirates and there are loads of things to see, do, taste and of course, buy. It's a remarkable destination to visit and with this packing checklist below, you'll step out in style without overstepping any boundaries.
I've put together this resource to help you understand the regional seasons, what to wear in Dubai, what items NOT to bring, and the answers to the top Dubai FAQs so that you can plan the least stressful and most enjoyable trip possible.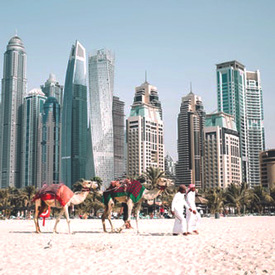 What to Pack for Dubai – 17 Essentials
---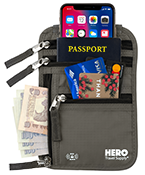 Though a neck wallet will prove useful throughout your entire trip to Dubai, it will be essential when entering crowded bazaars and packed touristy areas. Large enough to hold your phone, wallet, and passport this handy neck wallet can be worn beneath your clothes to keep all your valuables organized, safe, and secure.
---

Depending on where you're coming from, Dubai can be an awfully long way from home. Avoid exhaustion after a long flight with these homeopathic jet lag relief pills. Make the most of your trip and don't lose your first day in a fascinating new city to jet lag.
---

You'll need a universal power adapter for your trip to Dubai. This one is great because it works nearly everywhere in the world so it'll come in handy if Dubai isn't your only destination or for your future international adventures. Plug in multiple items at once using the convenient USB port and feel secure in your purchase with the lifetime warranty guarantee!
Though they are uncommon in Dubai, you may also encounter a Type D outlet. Universal adapters typically do not include a Type D plug, so we would recommend getting one to make sure you are fully covered.
---

A must-pack item for any trip to Dubai is a travel-sized handheld fan. You can expect the weather in Dubai to be hot year round and having a convenient portable fan will be a lifesaver. Stay cool as you stroll under the hot desert sun or ride in vehicles without air conditioning.
---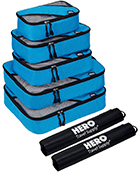 Packing cubes are a serious game changer when traveling internationally. Perfect to keep you organized and stop you from overpacking, this set comes in a variety of fun, vibrant colors. You'll never have to frantically dig through your luggage again searching for that one specific t-shirt, instead, grab your labeled packing cube and find it with ease.
Available on HeroTravelSupply.com with an exclusive 15% discount using the coupon code "HERO".
---

Another great travel item regardless of your destination is a lipstick-sized portable charger. In Dubai, you're likely to be constantly on the go and you won't want to stop to charge your phone. This convenient external battery will end up being a lifesaver when you're out and about and relying on your phone for navigation, photos, music, and more.
---


A VPN is an often overlooked but incomparably useful thing to have whenever you're traveling. Use your VPN when connecting to WiFi in public places, such as hotels, airports, and internet cafes to protect your personal information, like passwords and credit card numbers, from potential hackers. A VPN also gives you access to websites from home that may not be available in your host country.
---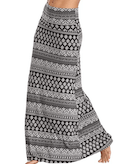 Don't visit Dubai without packing at least one long skirt or maxi dress. Loose and breezy, a long skirt will keep you cool in the hot weather and will also help you to respect cultural modesty norms. This item will be essential when entering mosques or holy sites where you'll want to make sure your legs stay covered.
---

A lightweight shawl or scarf is an incredibly versatile item that you are sure to use every day of your trip to Dubai. Use it to cover your head, shoulders and chest, or even your legs when entering mosques or holy sites, and use it to cover your face on a sandy camel ride through the desert. A shawl will keep you warm on cool evenings and can be worn as a trendy accessory to spice up your outfit.
---

Though the United Arab Emirates is a relatively conservative country, foreigners will be comfortable wearing western-style swimwear on the beach. That said, if you plan to enter a beach bar or cafe, you'll want to cover up for modesty's sake. This one is cute, comfortable, and perfect to throw on over your swimsuit after a day at the beach.
---

As we mentioned before, Dubai can get HOT! During a long day of sightseeing and exploring, you'll likely want to take a moment to quickly freshen up. These deodorant wipes are small enough to be tossed into your purse or daypack for easy access whenever you need them.
---

As experienced travelers, we NEVER travel without insurance. Especially when traveling overseas it's essential, both in case of emergency and for peace-of-mind, to make sure you're covered. We love using TravelInsurance.com because the make it easy to compare the right insurance for our needs. Common features include things like lost or stolen luggage, flight cancellations, emergency medical expenses and they even have plans that cover "cancel for any reason".
Compare plans at TravelInsurance.com ➜
---

Dubai is renowned throughout the world for its wild parties and upscale nightlife. You'll definitely want to dress to impress, and this stunning jumpsuit will be perfect for most occasions. If you're unsure how modestly to dress, this outfit will cover your legs and you can easily toss a lightweight shawl or sweater over your shoulders for more coverage as well.
---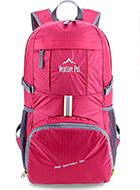 Don't forget to bring a daypack on your trip to Dubai! This is an item you'll probably use every day, as you'll want a small and convenient pack to hold your essential items during day trips to the desert and hours spent exploring the city's colorful bazaars. This one is great because it's sturdy, reliable, and large enough to hold your hat, sunscreen, water bottle, camera, and anything else you may need throughout the day.
---

The tap water is safe to drink in Dubai, so you'll want to avoid using single-use plastic water bottles to reduce your environmental footprint. Bring a Brita-filtered water bottle for an extra layer of protection when drinking from the tap and carry it with you everywhere you go to stay hydrated in Dubai's hot sun.
---

Activated charcoal caps can really be lifesavers when you need them! Though the food in Dubai is delicious and exotic, your body may not be used to the spices, ingredients, and germs, making for a potentially uncomfortable situation. Activated charcoal will quickly bind and expel the toxins in your system to keep you on your feet and out of the bathroom.
---

We never travel without a microfiber, quick dry towel. Useful in endless scenarios, this towel is lightweight and compact and can be tossed into your purse or daypack when you're on the go. Use it as a beach towel, to cool you down in the desert sun, or as a bath towel if the ones at your accommodation are less than ideal.
Other Dubai packing list items not to forget
---
ATM Card
Passport
Travel Documents
Lip Balm
What Should I Wear In Dubai?
---
For many expats across the world, Dubai is where they make money, but more importantly, it's the place they call home. This city is definitely far more 'open' than other regions and capitals within the G.C.C, but it is still conservative.
You may pack your resort wear, bathing suits and summer outfits, but that will only be your go-to for when you are within the grounds of the hotel or resort where you are staying. There are some private beaches where bathing suits and board shorts are allowed too, so be sure to dig into that before going. This same rule applies to a very few public beaches, but its advisable not to opt for the ones that seem quiet.
When heading out for dinner or shopping, cover your cleavage and shoulders and avoid short shorts at all costs. When visiting mosques, men are required to cover their knees and shoulders. You won't see anyone wearing shorts. Mosques that allow visitors will at times provide kandouras for men and abayas for the ladies.
Women are required to cover their hair, but there is no need to cover your face. However, a veil will be provided for ladies upon entry. It's advisable to arrive in clothing that is modest and respectful – otherwise, your entry will surely be declined.
One more thing that really needs to be pointed out is the no P.D.A rule. Its quite a thing and you will almost always see signs in public areas that politely ask you to refrain from certain actions. Here and there, you will see couples holding hands. It's such a natural thing to show affection, but it's also best to play it safe.
Now, let's take a more in-depth look at what men and women can wear in this glamorous city:
What should WOMEN wear in Dubai? – (Click to expand)
First things first: Would I consider Dubai as a fashionable city?
I can't think of any reason why it's not. People dress up and they enjoy it. Emiratis are known for splashing out on expensive jewelry; handbags, shoes and ladies usually dress up to the nines under their abayas.
Expats enjoy what Dubai has to offer on the fashion front. Most shopping malls sell high-end brands and its very common to walk into a hotel to find a swarm of designer-clad foreigners making their way to a boozy brunch.
So, with that said, your playing field is large, but at times slightly conservative. Sticking to the rules doesn't mean you cannot maintain your usual sense of style.
Speaking of shopping…when heading out for some harmless bank account 'damage' you may opt for a summery printed, flowy maxi dress, but take a shawl or lightweight jacket or cardigan with you to cover your shoulders.
You'll find cool air-conditioning in every single shopping mall and I once went out to buy a scarf to warm my legs up with in the cinema. A strappy sandal or canvas sneaker would do just fine (unless of course you feel like it's a heel day).
Mosques (as mentioned above) would require you to cover up well and be sure to arrive in respectable attire. A long, maxi skirt and a light chiffon blouse might do the trick, but if that sounds too Little House on the Prairie for your taste, then pick out a pair of jeans that are not too skinny and perhaps a loose fitting t-shirt dress that tucks in nicely on the side of your pants. Keep in mind that you might want to opt bring a scarf to cover your hair with.
As night falls, you can head out for a nice dinner at Souk Madinat, followed by some dancing at Barasti Beach or Cavalli Club. These two places draw very different crowds, but for the latter, you can team up your LBD with a lightweight tuxedo blazer and a pair of killer heels. The jacket can come off as you make your way into the club. During the cooler months, your jacket can be swapped for a fitted cape trench.
At the beach, you'll need a tunic or kaftan when traipsing along the resort area. Combine your laid-back look with a pair of strappy slips-on sandals. Keep your beach bag handy to store your floppy resort hat and some statement sunglasses.
Hopping on the back on a camel is no easy feat, but you do get help from the kind gentlemen who guide you on your desert safari. Opt for a comfortable pair of linen pants (not white) and a t-shirt. You may wear shorts too, because it's allowed. Best to tag that useful shawl/scarf along if you feel the need to cover up. When 'winter' sets in, you should definitely bring along a jacket, hoodie and jeans – the temperatures in the desert are cooler than that of the city.
What should MEN wear in Dubai? – (Click to expand)
The same rules apply here. Men do need to be considerate of what they wear to the mosque, beach and other public spaces. It doesn't mean that you have to forget to work your style angle, but the best thing you can do is to pack smart casual and irrespective of season, you will need a shirt and trousers.
When heading to the beach or resort its probably a good idea not to wear your swimming trunks en route. You can always switch gears when you reach your destination. At resorts, you'll find that gents do tend to go shirtless, but when heading back indoors, put on your shirt for the sake of being respectful. A pair of slides will go a long way as you walk from the dressing room to your spot by the pool. Bring your baseball cap and a pair of wayfarers for long walks in the sun.
Heading out to more public places doesn't really require you to cover up too much, but you won't really see guys walking around in 'wife-beaters'. A pair of flat-front chino shorts will work well with a crisp white tee and sneakers for a day out.
For dinner, it all depends on where you are going. If you are going for a simple dinner in Deira, you can work your shorts and t-shirt to the max, but if you were dining somewhere more upscale, you'd want to bring along a good pair of lightweight textured trousers and a formal shirt. Blazers are not necessary, but it adds a nice touch. When heading out for a night out on the town, your dark jeans and Poplin shirt goes a long way when teaming it up with leather loafers. In fact, you will find that you fit right in.
During the cooler months, you can team up your day looks with hoodies and slim fit chinos and at night, your lightweight bomber jacket will give you plenty of swag when teamed up with a white t-shirt.
Dressing for Dubai's seasons:
---
Some say Dubai has only one season: hot.
No seriously, temperatures start to spike around April and until the end of October, you will do well in your summer gear. From November to mid-March, you'll need a few warmer pieces. Daytime still brings plenty of sunshine, but the cooler breeze from the ocean can sometimes spoil your poolside fun.
The city does see rainfall at the end of summer and when the cooler period ends. People in Dubai don't really use umbrellas for rain…you'll see plenty of women covering up under the harsh mid-summer sun and even during the warmest months, you'll need to keep an eye on what you wear in public. Yes, it's hot, but you've got this.
Remember to pack light, breathable fabrics and to refer to the dressing guides above.
Dressing fo excursions in Dubai
---
Mosques – Although we have covered a few pointers on this, we can look at this section with a bit more focus. When visiting places of worship in the Middle East, it's imperative that you respect the dress codes that are instructed on the signs as you enter.
At the mosque, you will be required to remove your shoes and if your regular clothes require more cover, abayas and kandouras are available that can be worn over whatever you are already wearing. In some instances headscarves are kept for women, but it's better to bring along your own. Finally, make sure that whatever you choose to wear before entering a Mosque is not too tight or revealing.
From Souk Markets to Shopping Malls – You will come across quite a few foreigners whom blatantly ignore the notices and signage requesting appropriate attire. You will find these signs at most malls and public markets, but in smaller restaurants outside malls you'll find none.
When heading out in public, you'd want to avoid a potentially mortifying situation of coming face to face with a security guard, asking you to cover up. This applies to men too. No muscle tanks or short shorts.
Ladies, now's the time to live your finest fashionable moment in a lightweight jumpsuit and a silk shawl to cover your shoulders with. Covering up has never looked this good. Gents, follow suit with tapered Bermuda shorts that drop on the knees and a summery linen shirt. Finish off the look with a fedora and canvas sneakers.
Desert Safaris – Out there in the open, it' just you, nature and camels – Your guides won't care much for what you choose to wear, but again: it's all quite conflicting. As long as you don't show up in your Daisy Dukes and revealing tank tops, then all should be fine.
I would opt for classic linen and cottons to make your camelback trip an enjoyable one.
Dubai Opera and Nightlife – Dubai Opera… It's glorious. Dressing up is a must. It's a fantastic experience if you can afford it, and while there is no official dress code, you will stand out like a sore thumb if you show up in casual attire, and will get some pretty dirty looks to boot.
Smart dinner jackets with bow ties and tailored trousers will set the tone for rubbing shoulders with the elite of Dubai. Keep your colors neutral and do yourself a favor by going for a local grooming/shaving experience.
I have seen women arriving at the Dubai Opera in ball gowns and sleek designer dresses, but you can also put your unconventional foot forward with slim, tailored pants and a 'blingy' blouse. Accessorize with statement jewelry and your best heels.
Dubai Nightlife – The parties happen inside (on top of) most hotels and private resorts and beaches, since they are the only places that are allowed to obtain a liquor license.
At most clubs and bars (even some pubs) men are stopped at the door when showing up in flip-flops and shorts. Your beach-look stays down by the shores. Wear your dress shoes, smart sneakers, trousers or jeans. Team it up with a nice shirt and your most dashing smile.
Women in Dubai most certainly dress to the nines when heading out. It's a sight to behold, so be well prepared if you are heading out for a bit of a soiree.
Pack your halter neck, sleeveless Bodycon mini dress and your most eye-catching heels. You'll thank us later…
What NOT To Bring To Dubai
---
While Dubai might be considered as the playground of the Persian Gulf, it's certainly no Las Vegas. There are certain things that you might want to leave

1)

Alcohol
– You may purchase some at Dubai Duty Free as you enter the country, but save yourself the hassle and drama of it all by not packing any booze.
2)

Banned Drugs
– Any bodybuilding, weight-loss, hormone or sexual stimulants are on the list of unapproved drugs, so be sure to leave that home. I have also heard that tablets containing codeine are banned from the UAE. It's better to familiarize yourself with the basics before you pack your medication
here
.
3)

Israeli Goods & Products
– Due to the delicate political relationships within the Middle East, it's probably best to leave any items behind that bear Israeli trademarks or logos. The same applies to your passport – you might have some difficulty at customs with a stamp from Israel in your passport.
4)

Gambling Tools & Machinery
– Just don't. They might confiscate it or give you a really hard time for bringing it.
5)

Kaftans & Tunics
– You will find the best ones at the markets in Deira or Souk Madinat and it will glorify your beach look to the nines.
6)

iPad/Tablet
– If you current iPad or tablet is nearing its expiration date, then look no further than the likes of Sharaf DG in Dubai. The country's tax policies make electronic items cheaper.
What NOT to wear in Dubai:
---
This will serve as last note of sorts, but whatever you do, avoid wearing utterly revealing clothes in public places. You will only be stared at or asked to leave some premises if you are not dressed accordingly. Crop tops work on private resorts and beaches and not in malls or restaurants. The same applies to see-through fabric and short shorts.
Men need to make sure that they don't reveal too much skin either. Keep those shoulders and chests covered and keep short lengths near the knee. Last but not least, check your t-shirts before you pack them and make sure nothing offensive or religious stands out.
FAQs about your Dubai trip:
---
1) Is it safe to travel alone as a woman?
It is completely safe, but it's always advisable not to roam around less touristic areas at night by yourself. Stick to daytime excursions and should you wish to enjoy the nightlife of Dubai, do so responsibly.
2) What type of food is available in Dubai?
Dubai's hotels and restaurants offer a very diverse range of food and beverage outlets. Other than traditional Arabic cuisine, there is a wide choice of British, Chinese, French, Filipino, Indian, Pakistani, Greek, Japanese and Italian options to choose from.
3) What's the best way to get around the city?
Upon arrival, you can catch an airport taxi or the Metro. Dubai metro takes pride in their schedule and the cleanliness of their cabins. Taxis are relatively cheap and if you do find it hard to catch a taxi from where you find yourself, simply opt for Uber.
4) What currency does the UAE use?
The national currency is known as the Emirati Dirham (AED). There are many ATMs conveniently located across the city and most international credit/debit cards are accepted at shopping malls, hotels and restaurants.
5) How much do I need to tip?
Although tipping is not mandatory in Dubai, it is always expected. 10% of the total amount on your bill can be given to service staff in restaurants and cafes. Porters and bellboys ideally receive tips of AED10 – 20.
6) Which cellular service should I opt for?
The two biggest GSM mobile service providers are Du and Etisalat and offer easy pre-paid SIM cards that can connect locally and internationally.
7) What's the WIFI like?
Staying connected in Dubai is easy. WIFI networks are incredible and you can connect almost anywhere. It even extends as far as some beach resorts and private cars.
Other Middle East packing lists you may like…
Abu Dhabi | Egypt | Israel | Jordan | Turkey
Please note: We have over 200 packing lists covering practically every popular travel destination in the world. Access them all on our packing list overview page ➜