Updated on August 16, 2018 by Asher Fergusson
What should I bring on my Africa trip?
---
---
---
---
---
---
---
---
---
---
---

11) Virtual Private Network (VPN) – Many countries in Africa heavily censor the Internet. So if you plan on remaining connected on your journey through Africa, a good VPN like NordVPN is essential to prevent getting blocked.
More importantly, though, a quality VPN makes it next to impossible for hackers to access your private info. If you go on any WiFi such as at a restaurant or hotel then you're potentially putting your passwords and credit cards at risk of being stolen but with a VPN you protect yourself with one click.
View NordVPN.com Options ➜
---
---
---
---
---
---
Other packing list items to consider taking to Africa
---
Other African packing lists you may like:
Kenya
|
Morocco
|
Tanzania
|
What should I wear in Africa?
---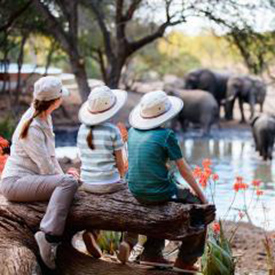 Though it's a large and diverse place, when it comes to clothes for Africa, there are three things I've found everywhere I've visited:
1) The first is the need to dress modestly. With few exceptions, women visiting Africa should keep their shoulders, cleavage, and especially knees and thighs covered.
2) A second thing I've found nearly everywhere is that you should wear nicer clothes than you might think. Westerners tend to think there are no personal hygiene or attire standards in Africa, but that's simply not true. Local people in many areas are more formal and fashionable than I would have expected, and showing up to a nice restaurant or someone's house in dirty or overly casual clothes is considered disrespectful.
3) My third piece of general advice for clothes in Africa is to avoid bringing lots of white clothes. Try as you might, they won't stay that color for long (although you'll inevitably see local men in spotless white button-downs and wonder how they manage it!).
Packing Appropriately for African Seasons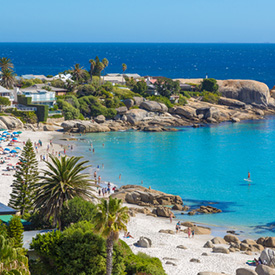 The climate throughout the continent varies vastly across each compass point, and so research is needed to see exactly what you are dealing with once you've booked your precise location. Africa is the hottest continent on Earth, with the North being primarily deserts and arid, taking up over 60%. So hot, in fact, that the Sahara desert can reach over 37.78 degrees Celsius (100 degrees Fahrenheit). Central and South Africa have more dense jungles and rainforests, where temperatures can be hot and humid. As you approach the equator it can become hotter, but seasons are moderated by both rainy and dry seasons.
To the far South you have the Kalahari desert; this semi-arid savannah takes up most of Botswana as well as parts of Namibia and South Africa. Rain can be very scarce in the area, with only 3-7.5 inches of rain per year.
The summers in South Africa can be very hot along the coastlines, but inland provides a relief where the elevations are higher. The winters can be mild, and snow even makes an appearance on the mountains. Please note that the seasons are opposite on each side of the equator, and rainy/dry seasons vary from each region so it is best to consult with a travel guide about the specific weather conditions for where you are traveling to.
What NOT to bring to Africa
---
FAQs about travel in Africa
---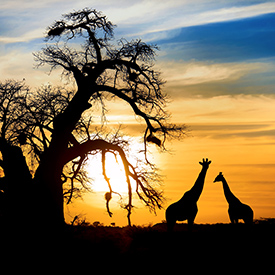 1) Is traveling in Africa safe?
There are risks involved with traveling to certain areas, but visiting Africa is in no way inherently unsafe. Remember that most countries are vastly different than they might be portrayed in the media or pop culture – and that over 65 million people from other continents visit Africa each year, and very few of them have any major problems.
2) How can I stay healthy in Africa?
1) Vaccinations: Beyond making sure you're up-to-date on basic vaccines – MMR (measles-mumps-rubella), Tdap (tetanus-diphtheria-pertussis), polio, chicken pox, hepatitis A, and hepatitis B –both yellow fever and typhoid vaccinations are recommended for travel to most African countries. The rabies vaccine is only needed for visitors planning to take extended trips to remote areas or come into contact with animals.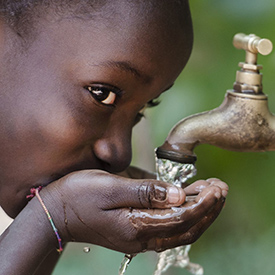 2) Malaria prevention: Malaria prophylaxis is recommended in almost all African countries, and it's a good idea to use insect repellent and sleep under a mosquito net, too.

3) Food and drink: Tap water in Africa is generally not safe for Westerners, so be sure to only drink water that has been treated and to avoid beverages made with tap water or ice. Make sure your food, especially meat, is thoroughly cooked, and skip raw fruits or vegetables unless they can be peeled.
3) What is the weather like?
While large parts of Africa are stereotypically hot, the weather varies across the continent and throughout the year.For planning travel, one key thing to understand is that most of Africa doesn't have four seasons, but instead has two: rainy and dry. The exact timing of the seasons vary by region, and some experience two rainy seasons and two dry seasons per year. An exception is Southern Africa, where the seasons more closely mimic those in Australia: summer is December-February, and winter is June-August.
4) How much does it cost to travel in Africa?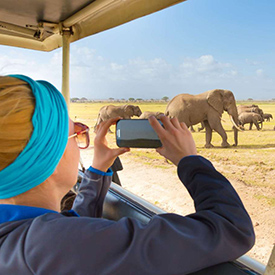 Africa is generally cheaper than Europe or North America, but it's not an extreme budget destination. However, travel costs vary significantly by country and region, as well as by travel style. You can spend thousands of dollars per person on luxury safaris, or travel independently for around $50 a day. As in most places, living like a local makes travel quite affordable: stay at basic guesthouses, eat at local restaurants or markets, and use public transportation and shared taxis.
5) How can I access cash or pay for things?
While credit cards are accepted at major resorts, large safari companies, and some upscale restaurants, cash is definitely king in most parts of Africa, especially outside of Southern Africa. ATMs that dispense local currency and accept international debit cards are common in cities and large towns but don't be surprised if you have to try a couple before you find one that's working. Most cities also have forex bureaus where you can easily exchange cash.
6) What kind of adapter will work in Africa?
Several types of electrical outlets are found throughout Africa, but a universal adapter will work in most places. However, if you're visiting Southern Africa, it's a good idea to bring a South Africa-specific adapter in addition to the universal one (see #3 in the first section of this article).
7) Where should I go on an African safari?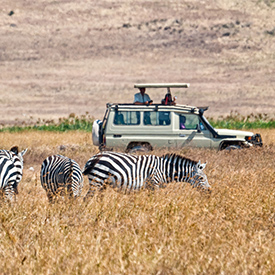 When people talk about safaris, they're almost exclusively referring to East and Southern Africa. Kenya, Tanzania, and South Africa – home to the Maasai Mara, the Serengeti, and Kruger National Park, respectively – are the most popular destinations for safaris, but there are also many excellent safari options in Botswana, Namibia, Zambia, and Zimbabwe.
8) What can I do besides go on a safari?
There are plenty of things to do throughout Africa besides safaris, especially for adventure junkies. Many of the continent's coastal nations and islands boast picture-perfect beaches and offer an array of water activities, including scuba diving, snorkeling, surfing, and kayaking. There are also hiking opportunities in most countries, including world-renowned hikes in Ethiopia, South Africa, Kenya, and Tanzania. Scenic helicopter, micro-light, and hot air balloon rides are available in a few places in East and Southern Africa, and there are even opportunities to skydive, bungee jump, and zipline. Beyond all the adventure activities, though, the chance to simply explore and experience the local culture is one of Africa's biggest draws; visiting local markets, taking a walk through town, and talking to the people you meet might end up being some of your most memorable experiences.
9) Which African airlines are safe to fly?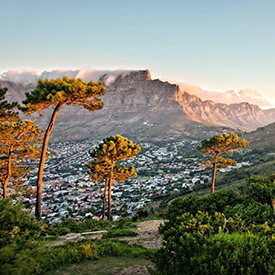 Among the continent's major airlines, South African Airways, Ethiopian Airlines, and Kenya Airways are widely considered the most reputable and are known for operating at Western standards, though many smaller airlines are perfectly safe as well. I advise avoiding any airlines that are under European Union restrictions or that have an extensive list of recent incidents, which you can view on Wikipedia.
10) Can I visit Africa if I only speak English?
Yes! English-speaking visitors can get by in most parts of Africa, though it's decidedly easier in the half of African countries that use English as an official language (mostly former British colonies). The average person you encounter on the street probably won't be fluent in English, especially outside the cities, but many people working in tourism and hospitality do speak it. Compared to the rest of the continent, English is much more prevalent in East and Southern Africa.


You may also like these other packing lists…
---
---
---
---
---
---