Updated on by Asher Fergusson
T
o many people in the lower 48, Alaska is so far removed from the rest of the United States that it can feel foreign and hard to plan for.
It's because of this that I've put together a list of tips for this location, including what to wear in Alaska, what to pack, what NOT to bring, and FAQs for the best trip possible.
Keep your attitude positive, your mind and eyes open, and your sense of adventure at the ready, and you're sure to have a fantastic time in the Land of the Midnight Sun!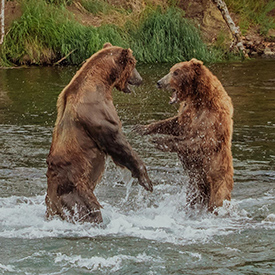 What to Pack for Alaska – 17 Essentials
---
1. Quick-Dry Hiking Pants Women's and Men's

A good pair of hiking pants will make your time out on Alaska's trails much more comfortable. They're so much more pleasant than jeans that it's worth bringing a pair even if you're just planning to do one day of hiking. Nylon-spandex blends are lightweight, quick-drying, and unrestrictive, making them perfect for traveling and spending time outdoors.
---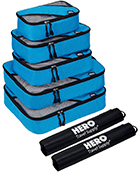 Staying organized while traveling in Alaska is essential to enjoying your adventure. Instead of rummaging through your suitcase or backpack for those missing pair of socks or T-shirts, use packing cubes to organize all your clothes like a pro! Once we starting using these cubes it was a complete gamechanger and made it so easy to avoid overpacking. These ones even come with an index card label on the back of each cube so that you know exactly where everything is even if you're jet-lagged.
Available on HeroTravelSupply.com with an exclusive 15% discount using the coupon code "HERO".
---

Alaska is truly a wild place and it is essential to be prepared. This amazing little bracelet has a built-in emergency whistle, fire starter, compass, and small knife in addition to the 12 feet of military-grade paracord rope. It's the perfect item to have whenever you go hiking in case of an emergency or if you get lost etc. Plus, it's easily adjustable for any wrist size and very affordable.
---

Alaska gets A LOT of rain and it's best to be prepared to enjoy the outdoors even if it's raining. With this windproof travel umbrella you will be able to keep dry even if it's really windy. It packs small yet can cover two people at once if you need it. And it comes with a lifetime replacement guarantee!
---

Different parts of Alaska experience varying amounts of sunshine in the summer, and it's not uncommon to get only 4 or 5 hours of darkness during the sleeping hours. This mask, as its name suggests, was designed to provide comfortable darkness and eye protection so that your rest isn't cut short by the sun creeping into your room.
---

Because of the rain and likelihood you'll be near waterbodies and rivers it's a good idea to have a waterproof phone case to avoid damaging your phone. This one is super affordable and even makes it possible to take underwater photos and videos (with sound)!!
---

When it comes to clothes for Alaska, a fleece jacket is a good place to start. Fleece doesn't absorb water so it won't get damp and uncomfortable. It may be the only jacket you need during the summer, and it also makes the perfect mid-layer during colder months. This jacket by Columbia is very affordably priced and comes in a wide assortment of cute colors.
---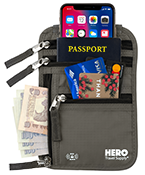 A neck wallet is a handy way to carry your phone, cash, car keys and hotel room card in a safe and hands-free way. It will allow you quick access to your phone for taking pictures but can also be kept under your clothing when necessary. This one is also perfect for carrying your passport and other valuables for international travel when you'll likely need some extra help with avoiding pickpockets!
---
9. Waterproof Jacket Women's and Men's

It's always best to dress in layers in Alaska, especially if you're hiking or doing other physical activity outside. For your outer layer, a medium-weight waterproof and windproof jacket works best. These styles from Columbia will keep you dry and should fit easily over your other layers. This jacket and a fleece underneath were my constant layers whenever I hiked glaciers, enjoyed chilly cruise tours, and walked around exploring towns.
---

Most of the activities that are available in Alaska are outdoors and involve a moderate to high level of physical exertion. Hiking poles are often overlooked on packing lists, but they're actually extremely handy to help you conserve energy and maintain stable footing while walking or hiking on trails, tundra, forest areas, and glaciers.
---

Travel insurance is non-negotiable in my book. It's an affordable way to ensure that you don't have to pay for unexpected mishaps and emergencies out of pocket. Cancelled reservations, lost luggage, theft, damage, medical emergencies, and urgent flights home can all be covered by quality travel insurance plans like those you can find on comparison sites such as TravelInsurance.com. They're my preferred way of finding the best plans and even have the option for "cancel for any reason" policies that are good to have these days!
Compare policies at TravelInsurance.com ➜
---

For many visitors, hiking shoes are the go-to footwear for Alaska. These particular ones by Merrell are great especially for late spring, summer, and fall months. They are renowned for their comfort and arch support, they're very lightweight, and they dry quickly when wet. If you are heading to Alaska in the colder months and plan to snowshoe or hike, I would recommend a heavier boot like this one, also by Merrell.
---

This bottle is a no-brainer since it's a very reliable way to filter out microbes, sediment, bacteria/viruses, and any other contaminants before you drink water from a mountain stream etc. Also keep in mind that much of the water in Alaska has high levels of silt due to the glacier-induced erosion of mountainsides, which sends very fine grains of sand into local water sources so this can even be essential when you're getting water from the tap.
---

Summertime mosquitoes in Alaska can be truly legendary. Therefore, it is best to be prepared for swarms of the little blood suckers! These natural insect repelling wristbands last for up to 300 hours and work surprisingly well. Note: We also recommend you use insect repellent in addition to the bracelets if you want to minimize the chances of getting bitten.
---

Binoculars will serve you well here, as many of the things you'll want to see will be at some distance, even when visiting attractions up-close (like glaciers). Spotting belugas in the Sound and Inlet, watching moose, bears, and swans while on a wildlife tour, and checking out sea life in the distance are all vastly improved by a good pair of binoculars. These ones work extremely well and are very affordable.
View on Amazon.com ➜
---

When you're in a place that gets cold but keeps you active, you want to avoid letting sweat sit on your skin. Being damp and cold can lead to health problems ranging from uncomfortable rashes to frostbite, so it's best not to risk it. Take it from me: standing on the top deck of a glacier cruise boat trying to get pictures in the rain is much easier if you have one or two of these scarves to keep you dry and warm. I don't travel without them anymore.
---

I forgot to bring this with me for a short trip recently and regretted it almost instantly. Having a portable way to recharge my devices is so handy. It regularly saves me from having to sit in my accommodations waiting for my phone to power back up before I can go out and continue exploring. This tiny device holds several charges for your electronics, and uses standard USB cables to recharge those items on the go.
Other Alaska packing lists items not to forget
---
What to wear in Alaska?
---
The right clothes for Alaska will depend on the season and where in this huge state you're traveling. Unless you're heading to the far north, summer should feel similar to other northern states. During Alaska's cold winter months, however, you'll want to plan for plenty of cold.
Layers are crucial – you will find that you heat up and cool down very quickly as you move around and explore. Don't forget to choose moisture-wicking fabrics; you do not want to let moisture sit on your skin in cold weather, so avoiding sweat and dampness is important.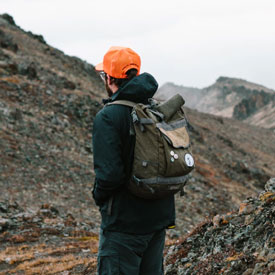 SPRING

– March, April, May:

Spring is wet in most parts of Alaska. It's also still fairly cold, especially in the earlier months, so plan accordingly! You'll start to see more wildlife, but not many tourists brave this still-frigid time. If you have the right gear, though, you'll be just fine!

Plan ahead with moisture-wicking scarves, lightweight waterproof gloves, and a warm hat. Don't forget wool socks, waterproof hiking boots, and rain and snow pants depending on how much time you'll be spending outside (hint: most activities in Alaska are outdoor-centered). Activewear is perfect during the spring, as it breathes and dries well. Avoid jeans which, while very much Alaskan in style, are a pain to dry once they get wet. Temperature averages vary widely based on region, but are generally around 35°F to 45°F (2°C to 7°C).
SUMMER

– June, July, August:

Summer in most of Alaska is a mild and pleasant season. Temperatures throughout the state typically stay well below what most people would consider "hot," with the occasional exception.

Plan for mosquitoes, though, as they can be quite voracious! A good mosquito repellent should do the trick, and mosquito wristbands are easy to use and last all day.

Regardless, always bring a rain jacket that is light on its own but can be layered for warmth on chillier days.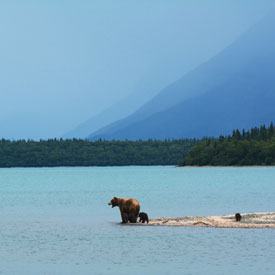 Jeans
are an Alaskan staple and are quite versatile, though they don't dry well so avoid them on the few rainy days during the summer. Consider bringing a pair of
convertible quick-dry pants
so that you can have good outdoor pants which can convert to shorts on the warmest days.
Temperature averages vary based on region, but are generally around 50°F to 60°F (10°C to 16°C). Southern areas tend to be less extreme, and the interior regions are the most extreme.
FALL

– September, October:

Fall brings precipitation back into the picture after the drier summer. Certain regions will start to cool down very quickly, while others will maintain a more temperate feel until later in the season.

For any region in Alaska during the autumn, you'll want a good, relatively lightweight rain jacket. Heavier rain jackets will get a bit warm, and it's better to have a lighter outer-shell that you can wear removable layers under. It should be accompanied by a reliable travel umbrella and a moisture-wicking scarf to help keep moisture away from your face and neck. Gloves, hat, and wool socks are all wise choices, though they can be lighter-weight if you're visiting a less intense region. Athletic pants are ideal at this time, and will keep you comfy and dry all day. Temperature averages vary based on region, but are generally around 35°F to 45°F (2°C to 7°C). Interior regions will cool off much faster, and will start to feel quite wintry by the end of October.
WINTER

– November, December, January, February:

Winter in Alaska sounds magical, doesn't it? It really does live up to that expectation in most areas.

A waterproof winter jacket that can be separated into multiple layers is a great idea here. That way you can choose exactly how much warmth you need on any given day or for a specific activity.

Gloves, hat, scarf, wool socks, thermal underwear, and items that can be easily layered all make up the ideal clothing haul for your winter trip to Alaska.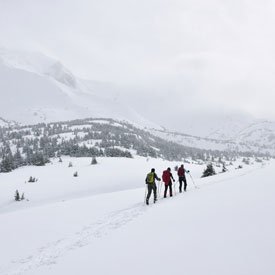 Sunglasses
are also a good idea, as sunlight reflects off of snow and can be quite harsh on sunny days.
Temperature averages vary based on region, but are generally around 5°F to 10°F (-15°C to -12°C). Southern areas tend to be less extreme, and the interior regions are the most extreme.
Regional weather differences in Alaska – (Click to expand)
Alaska is, by rough estimation, about 1/3-1/2 the size of the lower 48 United States combined, and it spans several climate zones due to its proximity to the Arctic Circle and various ocean and sea currents.
Far North: Much colder year-round. Most Alaska-wide averages don't factor these temps in since they skew the averages so low. If you're headed to Wainwright, Barrow, or another northern town, plan for cold and more precipitation during any season.
Interior: Places on the interior like Fairbanks, Denali National Park, or Gates of the Arctic National Park will have more intense weather, as they're isolated from the ocean temperatures that warm other regions. The most extreme temperatures and winds will be found in this region all year round, so do a bit of current-weather research the few weeks leading up to your trip to finalize your clothing items.
Southwest Coastal: This area is dominated by beautiful temperate rainforests. Picture the kinds of forests you'd see in the US Pacific Northwest like Oregon and Washington, and you'll get the idea. The ocean keeps the weather milder here, so daily (and annual) temperature fluctuations are less drastic. Annual rainfall is around 130 inches, which is one of the highest in the world. Plan for outdoor exploring that's both wet and a bit chilly.
Southern: Places like Anchorage and the surrounding areas are sheltered from much of the crazier weather on the interior and in the far north, so they'll have much more predictable weather. This region is very similar to the northern US in that the climate is mild but much cooler than most people are used to. Annual highs seldom get above 70 degrees, and annual lows aren't very extreme either. Rains in spring and fall can be counted on.

What NOT to take to Alaska
---
1)

DON'T TAKE gear you won't use
– Depending on what you have planned for your trip, you might need quite a bit of gear. So don't overpack and get stuck lugging around even more stuff than you need.
2)

DON'T BRING lots of clothes
– Most people bring too many clothes when they travel, and it will quickly weigh down your bag. Try to limit yourself to the amount of clothes you'll actually have time to wear.
3)

DON'T PACK heavy books
– While you might want to do some reading on your flights or during down time, avoid filling your bag with heavy books. Opt for a Kindle instead, which takes up less space than a single physical book.
4)

DON'T BRING excessive valuables
– There's always a chance that things can get lost or stolen on the road. If you have valuables that you won't need to use on the trip, it's best to leave them at home.
5)

DON'T TAKE gear you could rent
– If you're planning on camping, climbing, or other outdoor activities, you'll need gear. But check to see what you can rent (or will get from a tour company) before checking a huge bag of equipment.
6)

DON'T PACK formal eveningwear
– If you're like most visitors to Alaska, you're not going to have a need for lots of dressy clothes. Bring one nicer outfit, and leave the rest of your fancy clothes at home.
FAQs about an Alaska vacation or trip
---
1) What kinds of wildlife will I see in Alaska?
Some of the larger animals in Alaska are numerous types of bears, including black bears, grizzly bears, and polar bears, as well as moose, bison, caribou, mountain goats, gray wolves, lynxes, musk oxen, and Dall sheep.
Along the state's coastline and off its shores are seals, sea lions, walruses, whales, dolphins, porpoises, and sea turtles. There are over 450 species of birds call Alaska home, with some of the most interesting being bald eagles, puffins, trumpeter swans, and ten different species of owls. People also flock to Alaska for fly fishing because of the incredible opportunities to catch salmon, steelhead, and trout.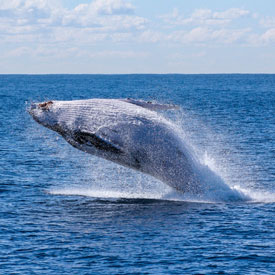 2) What time zone is Alaska in?
Alaska is in its own time zone, Alaska Time Zone (AKT), which is one hour behind U.S. Pacific time. The only exception is the Aleutian Islands in the western part of Alaska, which are on Hawaii-Aleutian Time and one hour behind the rest of the state. Both time zones observe daylight savings time.
3) What are the daylight hours in Alaska?
Compared to anywhere else in the U.S., Alaska has by far the longest days in the summer and the shortest days in the winter. But daylight hours vary considerably throughout the state.
At the most extreme point, in the northernmost town of Barrow, there's no complete darkness from mid-April to mid-August – and no actual sunrise from late-November to late-January.
While the parts of Alaska frequented by visitors are milder, daylight hours in Anchorage still get as short as about 10:00am-3:30pm in the winter and as long as 4:30am-11:30pm in the summer.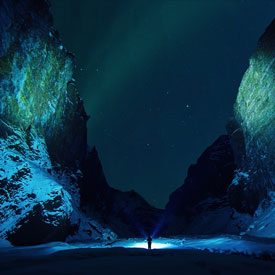 During much of the summer in Anchorage and elsewhere in the state, it never gets completely dark during the few hours between sunset and sunrise.
4) What is the weather like?
In a state as huge as Alaska, the weather varies dramatically by region. In Anchorage and throughout much of the state, average highs in summer months are in the low 60s, but temperatures sometimes climb into the 80s in the warmest areas. Northern Alaska is much colder, with average summer highs in the 40s.
Alaskan winters, true to stereotype, are a force to be reckoned with. For about four months during the winter, average highs stay below freezing in Anchorage and below zero in northern towns like Barrow. Many of Alaska's major towns receive around 70 inches of snow per year on average (about the same as Burlington, VT), but some areas can get up to 500 inches.
5) What are the options for getting to Alaska?
Most people arrive in Anchorage, where the state's largest airport serves flights from several cities in the lower 48, as well as a few in Asia and (surprisingly) Reykjavik. For adventurous travelers with time to spare, the drive to Alaska is a major bucket list item.
There are a few different routes, but the most popular follows the Alaska Highway for almost 1,500 miles from Dawson Creek, BC, through the Yukon to Delta Junction, AK. The other way to get to Alaska is on a cruise, with cruise season lasting from May to September.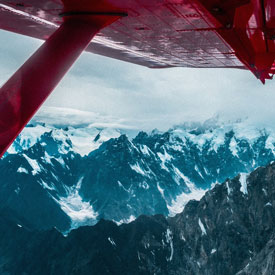 6) What is the best way to get around?
Though Alaska is massive and large parts of it are inaccessible by road, there are plenty of options for getting around the areas frequented by visitors. Flights connect Anchorage with several other towns around the state, and bush planes fly to hundreds of more remote communities. For many coastal towns, ferries and water taxis are the main source of connection, and the state-owned Alaska Marine Highway runs ferries along the state's entire southern coast.
Alaska also has two railroads covering different parts of the state: the Alaska Railroad runs from Seward to Fairbanks, and the White Pass and Yukon Route runs from Skagway and Fraser. If you prefer to drive yourself, highways connect the main towns in central and south-central Alaska, and are generally in very good shape despite the harsh conditions.
7) How can I see the Northern Lights?
Fairbanks is often cited as the best place in Alaska (and the U.S.) to catch a glimpse of the Northern Lights, though they can be spotted throughout the state. The Northern Lights can be visible in Alaska anytime between September and April.
Dozens of companies offer Northern Lights tours, or you can rent a car and chase them on your own. They'll be more visible if you get away from city lights, but if you're in a small enough town, you may not need to go anywhere. Many hotels in Alaska will even give you a wake-up call if the lights become visible during the night.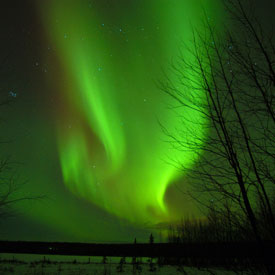 8) How much does it cost to travel in Alaska?
Alaska is, unfortunately, not a great budget travel destination, although there are ways to cut costs. One website that broke down the full cost of a one-week trip for two people estimated the total cost (including flights) at $2,000 on a shoestring and $9,000 for luxury travel.
Depending on where you're coming from, the flight to Anchorage alone will be several hundred dollars, and most flights within the state will be a few hundred more.
Rental cars can cost around $100 per day, not including insurance, and train tickets can be over $100 one-way, depending on the route. Food also tends to be costly in Alaska, both at restaurants and grocery stores.
Still, as in most places, favoring local diners and picking up groceries for some of your meals will cut your food cost considerably. Accommodations are another place where you can save some money in Alaska, as there are a number of hostels in Anchorage and Fairbanks and affordable campgrounds throughout the state. In many areas, homeshare rentals are also cheaper than hotels.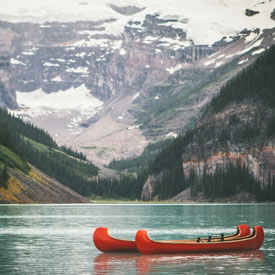 Beyond these basic expenses, the cost of traveling in Alaska really depends on how much sightseeing you do, and what type. Hiking independently in Denali National Park or elsewhere won't cost much; scenic bush plane flights, on the other hand, run a few hundred dollars per person. In general, the more activities you do on your own, as opposed to on package tours, the more money you'll save.
9) Are there any safety concerns?
Travel is Alaska is not inherently more dangerous than in the lower 48, but there are a few unique risks to be aware of. If you visit in the winter, it's important to be prepared for the weather.
Road safety is also a concern in parts of Alaska, so drive carefully.
Though the main highways are in excellent condition, many of the smaller roads are unpaved, and all of them can get extremely icy in the winter.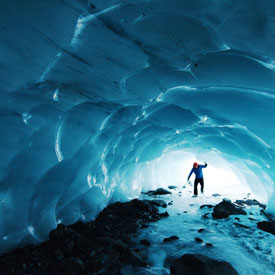 If you go into the backcountry, make sure you have the appropriate gear. This should include a water filter, First-Aid kit, hiking boots with good ankle support, bear spray, and sufficiently warm clothing and sleeping gear. Lastly, Alaska ranks among the worst states in terms of violent crime, so use common sense while you're traveling.
10) What are the top places to visit in Alaska?
In a state that has a lot to offer, Denali National Park tops the list for most people. Alaska also has seven other national parks, with Klondike Gold Rush, Glacier Bay, and Kenai Fjords being among the most visited. The 127-mile Seward Highway across the Kenai Peninsula is the state's most scenic drive, and is a must for anyone with access to their own wheels. For getting out on the water, the glaciers of Tracy Arm Fjord make for a stunning boat tour, while kayaking tours through Glacier Bay guarantee wildlife sightings.
Other North America packing lists you may like…
Arizona | Appalachian Trail | Austin | Banff NP |Beach | California | Canada | Camping | Chicago | Colorado | Cruise | Day Hike | Denver | Desert Trip | Destination Wedding | Disney | Florida | Glacier NP | Grand Canyon NP | Grand Teton NP | Havasupai | Hawaii | Honeymoon | Kalalau trail | Kauai | Key West | Lake trip | Las Vegas | Maui | Miami | Moab | Myrtle Beach | Nantucket | New York | Oregon Coast | Orlando | Pacific Crest Trail | Portland | Quebec | Road Trip | RV Trip | San Diego | San Francisco | Seattle | Sedona | Texas | Washington, D.C. | Wisconsin Dells | West Coast Trail | Yellowstone NP | Yosemite NP | Zion NP
Please note: We have over 200 packing lists covering practically every popular travel destination in the world. Access them all on our packing list overview page ➜