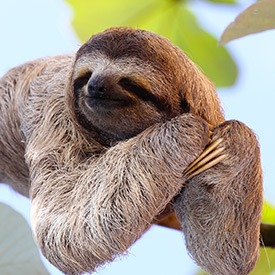 It won't take long after you've landed in Costa Rica to hear the phrase "la pura vida". While its direct translation means "the pure life", it is more of a way of life for folks in this small piece of paradise. It might as well mean, "sit in a hammock and relax all day" or "grab your surfboard, the water is perfect."
Whether it's a sleepy beach town you're after or an adventure through the treetops of a tropical rainforest, Costa Rica has an array of draws that set it apart. One of the more tourism-focused locales of Central America, it's an easy spot to travel, from backpackers to families. But you won't be alone — Costa Rica has seen a boom in visitors, with a record 2.66 million visiting in 2015.
But don't let that stop you. There's plenty of beauty to go around. Its warm weather and long list of activities are sure to have you living "la pura vida" by the end of your trip.
What to pack?
---
---
---
---
---
---
---
---
---
---
---
---
---
13) ATM card
– Many places in Costa Rica will accept U.S. dollars. ATMs are available throughout the country, and many provide offer both colones (Costa Rica currency) and dollars. Bring only enough to cover a few days in case something happens — you can always take out more. Just make sure you've contacted your bank so that they can note your international travel. Otherwise you can run the risk of them freezing your account due to unusual behavior.
---
---
---
16) Driver's License
– A great way to see much of the country on your own timeline is by renting a car. It's fairly easy, with many major car rental companies in Costa Rica. Most accept a driver's license from your respective country, but make sure to check with the company just in case.
---
Other packing list items to bring
---
What not to bring:
---
FAQ
---
1) Drink the water?
It's technically safe to drink the water in much of the country, however many accommodations will still provide filtered water for your comfort and peace of mind. Once you venture into more rural locations you're less likely to be able to drink from the tap, so bottled water is recommended.
2) When should I to visit?
For a majority of the country, the dry season is from December to April. However, with the diverse terrain, there are several microclimates throughout. The Go Visit Costa Rica site has a helpful guide depending on where you're headed.
3) Where to go and what to do?
Trekking: from a simple stroll to a guided night hike, there's a spectrum of options when it comes to seeing Costa Rica's natural beauty up close. Most treks are 2-3 hours long, and you can book a guide through your accommodations.
Surfing: From Playa Hermosa to Playa Tamarindo one thing you won't find is a lack of good surf spots. If you're a first timer, there are schools in many of the beach towns.
Beaches: The list is nearly endless. Your first choice will be Carribbean vs. Pacific. From there, it's easy to simply rent a car and find them for yourself.
National parks and reserves: With more than two dozen national parks in the country, you should save time to savor the ecological diversity they provide. There's the chance to see nesting sea turtles to spider monkeys. One of the most popular spots is the Monteverde Cloud Forest.
Check out Costa Rica's neighbors: If you're on the backpacking trail, Costa Rica's neighbors are two spots that are worth the look. Nicaragua and Panama offer unique culture and food — with equally beautiful sites. It's best travelled by bus.
4) Are any vaccinations recommended?
Besides the routine vaccinations for anywhere — measles-mumps-rubella (MMR) vaccine, diphtheria-tetanus-pertussis vaccine, varicella (chickenpox) vaccine, polio vaccine, and your yearly flu shot — the CDC recommends Hepatitis A and Typhoid if you're planning to travel to Costa Rica. Additional suggestions are Hepatitis B, rabies and Yellow Fever depending on length of stay and if you intend to travel elsewhere.
5) What is medical care like?
There is a fairly high quality of medical care available in Costa Rica. However, keep in mind, many U.S. insurance policies do not cover some international incidents, so best to check with your provider. Trip insurance is also recommended in case of last minute cancellations due to emergency.
6) What's the best way to get around?
When we visited, we rented a car — a popular choice to be able to see much of the country on your own. There were days we simply just drove along the coast stopping at several beaches along the way. The car was a stick shift, so best to make sure you check ahead of time or know how to drive one. Some of the roads could get a bit tough at times. Another option would be to book ahead with your accommodation or hire a driver.
7) Do I need a plug adaptor?
Costa Rica electrical outlets run on 110 volts — the same as the United States.
8) Do I need a visa for Costa Rica?
U.S. passport holders do not need a visa to travel to Costa Rica, however you are required to show proof of onward travel. Check the embassy website for requirements of other nationalities.
9) What's the food like?
Fresh seafood, beans and rice are staples of the diet here. One of my favorite dishes here was the simple arroz con marisco — or rice with seafood. Ceviche is also very popular here. You'll get plenty of fresh tropical fruit. Costa Rica is also known for it's coffee, so make sure you enjoy a cup…or three.
For the perfect mix of relaxation and adventure, pack your bags for Costa Rica and enjoy "la pura vida".
You may also like these other packing lists…
---
---
---
---
---
---