Updated on by Lyric Fergusson
S
pain is a wondrous mix of the old and new. To help navigate this great country, I put this packing checklist together.
At the end you'll also see a section on what to wear in Spain as well as a list of items NOT to bring and other FAQs.
Spaniards have style and taste — and that goes for every aspect of their lives. To fit in, make sure you pack accordingly, and don't forget your appetite, endurance, and appreciation of life's simple pleasures.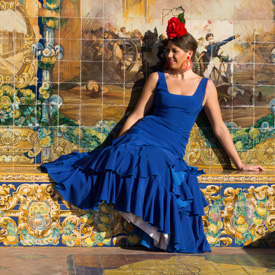 What to Pack for Spain – 17 Essentials
---
Neck Wallet

---

Spain Power adapter

---

Lipstick-Sized Portable Charger

---

Gorgeous Outfit

---

Packing Cubes

---

Jet Lag relief

Virtual Private Network (VPN)

Through some recent bad experiences where I had my credit card number stolen while staying at an Airbnb in Paris I've learned that a VPN is essential for any travel.

A good VPN (like NordVPN) gives you an added layer of security so that you can keep all your sensitive data such as passwords, credit cards and even your identity from being hacked. I've learned that whenever you go on someone else's WiFi whether it's at a cafe, airport, Airbnb, or hotel, you're potentially putting your data at risk. With a VPN, you can protect any device with the push of a button.

---

Pashmina Shawl/Scarf

---

Hanging toiletry bag

---

Deodorant Wipes

---

Travel Insurance for Spain

Travel Insurance is so important when heading overseas, and TravelInsurance.com is our top choice for finding the perfect policy for your needs. Travel insurance will cover your costs if your luggage gets lost or stolen, or if cancellations to your flights occur… But perhaps most importantly, it will front a medical bill if by chance you end up needing to see a doctor for an accident, injury or other kind of emergency. We simply don't travel without it.

Compare policies at TravelInsurance.com ➜

---

Comfortable flats

---

Stylish Backpack

---

Activated charcoal

---

Quick-dry towel

Water bottle with built-in filter

---

Solid shampoo
Don't forget these other items for a Spain vacation:
---
What to wear in Spain
---
How to locals dress in Spain? From fiestas to the flamenco, Pablo Picasso, and Antoni Gaudí, Spain is a vibrant country with a lot to offer. Whether you are visiting the major cities like Barcelona or Madrid or planning a coastal getaway in Andalusia or the Canary Islands, you will find that Spaniards have a great sense of fashion.
Bring clothes that are well fitted in muted colors. Dress on the conservative side and choose versatile outfits that can be worn in museums and churches during the day and then to restaurants, concerts, and dancing at night.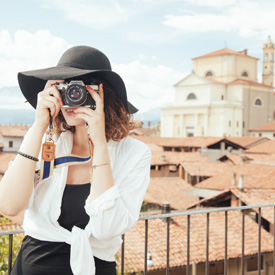 What should WOMEN wear in Spain? – (Click to expand)
Below is a sample women's clothing list.
(All items link to Amazon.com for your convenience).
Women in Spain have a great sense of style, with a smart casual look that is on the conservative side. Start by packing footwear which is comfortable and can easily be worn for many hours such as fashion sneakers. Many local women wear ankle boots from fall to early spring and wedge heels during the summer evenings. Skinny jeans are very popular in any season and the trendy wide leg plants look great in spring and summer. On top, bring camis to pair with long sweaters, cardigans, or a nice blouse. During the warmer months add some style to your outfits by packing jumpsuits and long maxi dresses. For outside, pack a light hooded jacket and retro band shades. Lastly, boho earrings make great accessories for any outfit along with leather band bracelets.

What should MEN wear in Spain? – (Click to expand)
Below is a sample women's clothing list.
(All items link to Amazon.com for your convenience).
Up your style when visiting Spain. Start with a pair of comfortable shoes to wear in the day and leather wingtip shoes in the evening. Pants are worn in every season even when it is hot outside so pack a few pairs such as skinny fit jeans and/or tapered trousers. A nifty leather money belt protects you from pickpocketers by being able to store your cash inside the belt. On top, choose short sleeve dress shirts and polos for warmer months and oxford long sleeves and cardigans for the cooler months. Bring clothes that are well fitted and in muted colors without graphics. Outside wear a light hooded jacket with sunglasses. If it is cold pack beanie hat and scarf. Bring an RFID minimalist wallet for your credit cards and pack it in a rucksack for day exploring.

There's a prevailing myth that the weather in Spain is perfect all year round. While many parts of the country enjoy wonderful weather much of the time, every part of Spain endures some rougher weather and seasonal changes. The golden rule is to do some research on the specific region you'll be visiting, but the guidelines below should be more than enough for most travelers.
SPRING

– March, April, May:

Spring in Spain is lovely, and a hot time for tourism. When winter finally lets go, the air warms and the weather stays mild, so sun is plentiful. In certain parts of Spain it's not uncommon to have a few days that are warm enough for beach time, but don't plan on spending all of your time sunbathing in a bikini.

Most of Spain enjoys breezes and temps comfortable enough to dine outside without a jacket, but remember that rain is not uncommon in spring.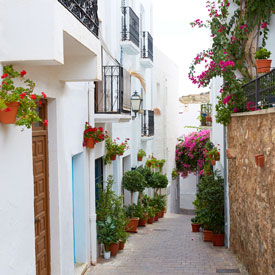 Pack a good rain jacket and a windproof travel umbrella so that you'll be prepared should you be caught in a rainshower. A layering shawl is ideal to protect you from the chill of cooler evenings. Temperatures average between 55°F and 65°F (13°C to 18°C) with earlier months being the coldest.
SUMMER

– June, July, August, part of September:

This season brings heat to the whole country, though the northern areas are much milder than the southern regions. Rain can still be expected, especially in the north, so bring a rain jacket and a good umbrella!

Pack light layers to ward off occasional breezes and to protect your skin from the sun, but expect to tolerate some higher heat, too. A sunhat, sunglasses, and beachwear (swimsuit, swimsuit cover up, flip flops) are definitely appropriate – just keep beachwear at the beach and the pool. Summer is kind of a shoulder-season to the two primary spring and fall tourist seasons, but you can expect to still see a lot of tourists. Temperatures average between 70°F and 85°F (21°C to 29°C).
FALL

– September, October, November:

A magical and mild time in Spain, the fall brings some crispness to the air and the changing of the leaves. When packing for a fall trip, be sure to include a light jacket and a scarf or shawl – you'll want to have something to ward off the evening chills that can also keep you cozy on colder days.

Crowds are prevalent since the weather is so nice (this is a high-season, after all), so you'll encounter throngs of eager visitors at attractions.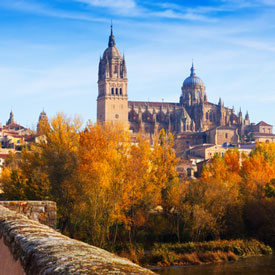 Sometimes winter tends to sneak in a bit early, so it's a good idea to check local weather forecasts right before you go and to pack accordingly. Temperatures average between 55°F and 70°F (13°C to 21°C) with later months in the colder ranges.
WINTER

– December, January, February, part of March:

Winters in Spain tend to be drier than other places in Europe, and are fairly mild with regard to weather. Obviously, this is the coldest season of the year, so pack accordingly, and don't forget to bring layering items that can be mixed and matched so that you can avoid bringing too much clothing!

You may only need a fleece or a mid-weight jacket if you're used to the cold, but if you come from a place where cold is uncommon you may want to opt for a heavier coat and a hat and gloves. Certainly if you're planning to ski or take part in other snow sports while on your trip, you'll need to pack appropriate gear. Temperatures average between 45°F and 50°F (7°C to 10°C).

How to dress for different activities in Spain – (Click to expand)

Religious Sites – Catholicism has been very prominent in Spain for hundreds of years and as a result, beautiful churches and cathedrals can be found throughout the country. Santiago de Compostela Cathedral is known as one of the greatest works of architecture and Seville Cathedral is the largest gothic cathedral in the world. As these are religious sites, it is important to pay attention to the dress code and wear outfits that are more on the conservative side. Both men and women need to have their shoulders covered. If you do choose to wear shorts (though not recommended), ensure that it goes below the knee. Anything that exposes cleavage, the midriff or back should be avoided. Just keep in mind that locals normally save shorts for the beach so pants are always a better option along with shoes instead of sandals.

Gourmet Food – From Spanish tapas to the coastal seafood, charcuterie, and roasts, the cuisine in Spain is packed with flavor. Spain is a gourmet food destination with some restaurants even gaining a Michelin star (many of which are located in San Sebastian). El Celler de Can Roc, Akelarre, and Arzak are some of the top rated and have three Michelin stars. Whether you are at a fine dining restaurant or out for a night of tapas, take a smart casual approach to how you dress. For casual restaurants, men can wear dark fitted jeans with a t-shirt and blazer and for fancier restaurants, go with trousers and a dress shirt. For footwear, choose a nice pair of leather shoes. Women can wear maxi or cocktail dresses with a pair of wedge heels. For colder months, wear ankle boots, with black skinny pants, a blouse and nice sweater. Makeup and jewelry are also common for a night out.

Beaches – From powder sand beaches to crystal clear waters, Spain has plenty of beaches for a relaxing holiday. Costa Brava, Gran Canaria, Majorca, and Costa Del Sol are just some parts of Spain offering fantastic beaches. Finally, these are places where you can dress in shorts! Getting to the beach though, you will want to blend in with locals so wear a flowing dress overtop or shorts and a tank. For women, bikinis are the most popular choice. Men tend to wear swim shorts that go above the knee and are more fitted. Watch out for pickpocketing though as beachgoers are a prime target. Do not take any valuables with you and by bringing an RFID wallet to throw in a bag with many pockets. It's also a good idea to bring a microfibre towel that is lightweight for packing and quickly dries.

Football (Soccer) – Football is the most popular sport in Spain where it's practically considered a religion and some of the worlds best clubs like Real Madrid and FC Barcelona compete. If you are already a fan of the game, wear your favorite teams' jersey. If you want to go the extra mile, throw on some face paint! If you just want to experience Spanish football, pick a side and dress in their colors. It's easiest if you pick the home team to avoid unwanted comments from passionate fans. Jeans are the most popular choice for bottom wear and don't forget to bring a pair of sunglasses.

What NOT to bring to Spain:
---
1)

DON'T TAKE flip flops with the intention of wearing them anywhere other than the beach:
You'll be among a fashion forward crowd in Spain, so it's best to dress the part. Blending in and being respectful will require a step up in the wardrobe, and that includes keeping those flip flops strictly at the beach.
3)

DON'T BRING valuables: Crime can be a problem in the touristy parts of Spain's major cities, and even in some smaller cities and towns. Leave valuables at home or locked in a safe at your accommodations – you really won't need them anyway. When carrying money and passport, it's also best to use a Passport Pouch.
5)

DON'T PACK so much that you don't have space for souvenirs: Spain has some magnificent shopping, and you'll definitely want to bring home some items that you purchase. Whether it's an extra bottle of wine or some bottles of Spain's incredible olive oil, you'll want some room to spare in your checked luggage.

2)

DON'T BRING a hairdryer:
Even with an adaptor, some of your more powerful appliances won't do so well with the electrical conversion. It's best to leave your hair dryer at home. Many accommodations will provide one. Otherwise just take advantage of the arid climate and air-dry your hair.
4)

DON'T TAKE books – opt for a Kindle: Books take up a lot of space and weight, but a Kindle will allow you to read without the extra load. If you must have print books, you can look up spots along the way (like cafes and hostels) to swap out an old book for a new one — meaning less to carry.
6)

DON'T PACK immodest clothing: Spain is fashion-forward, but it's also a pace where most people are fairly religious or at least conservative with their clothing. You may see some people wearing shorts but it's uncommon, and you certainly won't see short shorts or other revealing clothing anywhere but the beach.

What clothing should I NOT wear in Spain? – (Click to expand)
The people of Spain have a great sense of fashion. To not stand out as a tourist, dress on the conservative side and never wear shorts or sandals unless you are going to the beach. Avoid baggy clothing, sweatpants, sweatshirts, work out clothing, graphic tees, bright colors, baseball caps, and sneakers. You will be doing plenty of exploring around Spain, so do not bring any shoes that are uncomfortable for walking. Women should also avoid tops with plunging necklines, crop tops, short dresses, and shorts. Lastly, never wear an opposing teams jersey in a city.

FAQs about traveling in Spain
---
What is the weather like in Spain?

Spain has hot summers and cool, dry winters, so plan your trip and your outfits accordingly. Spain's high seasons for tourism are in the spring and fall, but really, there isn't much of a "bad" time to visit. Southern Spain can get too unbearably hot for some, while Northern Spain is considerably cooler. One thing to note is that many residents of Spain take their vacations in the month of August and so quite a few shops and restaurants may be closed during the heat of that month.

What kinds of transportation are available in Spain?

Taxis are common in the major cities of Spain. If you want to venture out on your own, make sure you're comfortable with manual transmissions, as that's what you'll find in most rental cars, and remember the strict Spanish laws regarding footwear while driving! You can find bicycle-sharing systems in cities like Barcelona. But overall, walking is a pleasant and efficient way to see the cities.

Is a visa required to visit Spain?

For American citizens, a visa is not required for stays under 90 days. However, your passport needs to be valid for at least three months beyond your planned departure date.

How much of a time difference can I expect?

Depending on where you are in Spain, you'll be Western European Time or Central European Time — five or six hours ahead, respectively, of east coast time in the U.S.

Is it safe to drink the water in Spain?

The water is safe to drink in the urban areas of Spain and some more developed towns. If you get more remote, you may want to bring bottled water with you, or simply carry a refillable water bottle with a built-in filter so that you don't have to worry about the quality of the water wherever you go!

How is the healthcare?

Healthcare in the country is very high-quality, and pretty easy to access. It is important, however, to make sure you check with your insurance regarding coverage or add a supplemental policy to cover the time you'll be traveling in Spain.

What's the food like?

Spain is well known for tapas, or small plates. They are shareable and delectable, from patatas bravas (potatoes) to omelets to croquettes. You'll likely have heard of Paella as well – a rice and seafood dish that is simple but delicious. Paella is local to the Valencia region and can be widely found there, but it's not quite as common in other regions. Fret not – there are many other amazing dishes to look forward to! The country is also known for its Jamón ibérico, or aged ham, which is a delicacy everyone should try at least once. Dinner is much later than Americans are used to – these lighter tapas meals often start after 9 pm.

What are typical accommodations like in Spain?

You have a range of options to choose from in Spain — from five star resorts to boutique hotels to budget hostels. One option to keep in mind is home-sharing platforms like Airbnb. You can find great deals in the center of the action, and they're often much easier on your budget.

What kinds of things are there to do?

Depending on your interests, you have endless options in Spain.

Whether you want to go full-tourist and check out The Sagrada Familia or spend the afternoon with a chilled bottle of cava and a plate of aged manchego cheese, make sure that you slow down and enjoy.

There are beaches to relax on, gardens to roam and churches to see, streets to walk and shops to explore. Grab your Lonely Planet Guidebook and enjoy the journey.

Do shops really close for siesta?

Depending on where you are, the community may or may not take advantage of the afternoon
siesta. In the major cities, you'll find that things continue to operate more or less as normal. There's even
been debate over changing the working hours for Spaniards — ending the day at 6 pm rather than 7 pm, effectively eliminating the practice. However, in the smaller towns it's more common for businesses to shut down from about 2 pm to 5 pm, and you should plan accordingly.

Can I get dinner at 7 pm, or do I really have to wait until the Spanish eat at 9 pm?

Yes, you can typically still find some places to eat at "regular" dinner times, but they will be fairly empty (aside from those catering specifically to tourists).

However, some restaurants do modify their opening times and won't open until later (8 or 9 pm). So if you have your heart set on a spot, it's best to check ahead of time. And if you want to see how the city really lives, wait a couple more hours – snack on some Jamón and wine while you're waiting!

What kind of power outlets are in Spain? Do I need an adapter?

Plugs are type F with the standard voltage around 220 V and 50 Hz frequency, so bring a Spain power adapter – it's essential if you plan to charge anything while you're there.

Spain Travel Packing List

---

As a summary, here is our recommended ten day packing list for Spain (including what to wear):
One carry-on case
One normal suitcase
One or two pairs of fashionable walking flats
Two sundresses or nicer outfits
Three or four modest but fashionable tops
One or two pairs of nice pants
One shawl or pashmina
Underwear and socks
Four of five T-shirts
One swimsuit
One swimsuit cover-up
One sunhat
One fabulous going-out outfit
One pair of fashionable closed-toe shoes
Fashionable boots
One concealable passport pouch
Nice-looking daybag
RFID-blocking wallet
One compact portable charger
Two power adapters for Spain
Headphones
Headphone splitter
Spain guidebook
Virtual Private Network
Kindle or other eReader
Toiletries
Hanging toiletry bag
Jet Lag relief pills
Deodorant Wipes
One Windproof Umbrella
Packing cubes
Mosquito wristbands
Insect Repellent
Travel insurance
Credit cards (ideally with zero transaction fees)
Passport
Visa (if applicable)
Small amount of cash
Other Europe packing lists you may like…
Amsterdam | Barcelona | Camino de Santiago | Croatia | Europe | France | Germany | Greece | Hungary | Iceland | Ireland | Italy | London | Mediterranean Cruise | Norway | Paris | Poland | Portugal | Prague | Rome | Scotland | Switzerland | Turkey
Please note: We have over 200 packing lists covering practically every popular travel destination in the world. Access them all on our packing list overview page ➜