Updated on by Asher Fergusson
M
any people don't realize that Nassau, Bahamas is only 50 miles from the coast of Florida! This means you can get to a tropical getaway and start enjoying the beach or poolside in very little time. The Bahamas are made up of hundreds of tropical islands, dozens of which are inhabited, and everywhere you look is the beautiful, clear blue Caribbean Sea.
If this is your first time visiting the Bahamas, knowing what to pack may be difficult, so we've compiled a Bahamas packing list to help you out. Below you'll also find helpful sections on what to wear in the Bahamas, what NOT to bring and some answers to FAQs.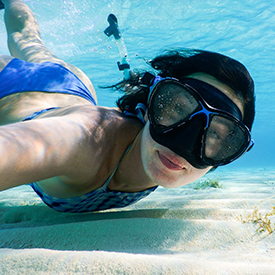 What to Pack for Bahamas – 18 Essentials
---

This ultra-lightweight towel will pack up into a tiny bag – perfect to fit into your luggage without taking up too much space. It's super absorbent, but dries quickly – ideal for the tropical climate of the Bahamas. You'll find a ton of uses for it and will appreciate just how small it packs up.
---

Hopefully while you are in the Bahamas you'll get to enjoy some time on the water – kayaking, snorkeling, or playing at a water resort. Protect your phone from water damage with this inexpensive and lightweight pouch. It will also keep the sand out while at the beach!
---

I've been using packing cubes for all of my travel for the past few years, and now I will never pack without them! I use one for undergarments, one for tops, one for bottoms…you get the idea. This set also comes with laundry bags, which is perfect when you don't want your dirty clothes mixed in with your clean. Each person in your family can choose their own color to keep your luggage organized
---

If you are planning to go out to dinner or for drinks while in the Bahamas, you'll want to look amazing and still feel comfortable. This maxi dress has it all – it's incredibly lightweight, easy and comfortable, and fits all body types. Throw on some sparkly jewelry to dress it up for dinner. Choose black for the most versatile, easy look, or red if you want to stand out in a crowd.
---

Beat the Carribbean heat with these handy cooling towels. Whether you're relaxing on beaches or boats these towels can cool you off in an instant. Simply wet the towel, wring it out, and you have a refreshingly cold towel that is 20-30 degrees cooler than outside temperatures!
---

Many of the nicer restaurants and casinos in the Bahamas (especially upscale restaurants in Nassau and Freeport), will require men to wear a jacket to dinner. Pack a lightweight, neutral blazer like this to dress up most outfits. The linen gray and light khaki colors will go with everything and still maintain an island vibe.
---

Although the Bahamas is known for its sunny beaches, it also gets frequent (but brief) thunderstorms, depending on the season. It sometimes even rains while the sun is still shining! If you do get caught in a sudden downpour, you will be happy you packed this lightweight umbrella – small enough to fit in a handbag and guaranteed for life.
---

Hopefully, your trip to the Bahamas will include lots of time at the beach and pool! This charger comes in handy when you spend so much of your time away from your hotel room, and since it's about the size of lipstick, it fits in almost any small bag. With enough power to recharge your phone, you'll wonder how you ever traveled without it.
---

The sun in the Bahamas can get intense – you NEED to wear sunscreen if you are going to be outside. This is my favorite sunscreen – it's reef friendly, vegan, UVA/UVB, and comes in both an 8oz and 3 oz bottle, the latter being a perfect size in case you just want to bring a carryon. Bonus: people say it smells like summer.
---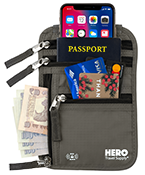 Big enough for your passport, cards, cash, and phone, but small enough to wear under your clothes, this pouch is perfect for international travel. The RFID lining adds an extra level of security, and the ripstop nylon means it won't wear out. If anything does go wrong, it's guaranteed for life!
Available on HeroTravelSupply.com with an exclusive 15% discount using the coupon code "HERO".
---

This lightweight and packable beach blanket can make all the difference for your day in the sun. It's large enough to stretch out on, but packs up into a tiny pouch, which takes up very little room in your luggage. It's also waterproof and sandproof, making your beach day that much more enjoyable.
---

A trip to the Bahamas would be much less enjoyable without a stylish and functional sun hat. This hat goes with every outfit and features UPF protection and a full brim – perfect for the sunny beaches of the Bahamas. It's also foldable and packable, so you can pop it right out of your suitcase and head to the beach. There is also a removable neck strap for windy days.
---

When packing for a day at the beach, it seems like the pile keeps growing – sunglasses, towel, snack, water bottle, Kindle, sunscreen…! A beach bag like this makes bringing all the supplies a breeze. It's washable, waterproof, and has enough pockets for all your essentials, all while still looking cute!
---

One of my favorite things to pack while traveling. I don't know about you, but it feels so good to clean my face after a long plane ride. These wipes revitalize your skin, leave it feeling soft and clean, and smell great. These have literally saved me after a much-longer-than-expected trip to the airport during a heat wave.
---

It can be a pain when traveling to try to find and then connect to unstable WiFi, and you never know what kind of security you are getting with public wireless connections. Traveling with a reliable and safe connection can make a huge difference in your peace of mind. With NordVPN, you can protect yourself with just one click, and be assured your private data is secure.
---

Because you'll be spending so much time poolside or at the beach, a coverup is essential. You can quickly throw it on to take a stroll or grab a drink. This adorable coverup is lightweight and neutral, and comes in different colors. It works for different body types and comes in sizes Small – XX Large.
---

When traveling abroad, travel insurance is a must. If your luggage gets lost, your flight gets canceled, or you have unexpected medical costs, World Nomads travel insurance will have you covered. Having it will bring you extra peace of mind and let you enjoy your vacation even more.
Compare policies at TravelInsurance.com ➜
---

Although the water in the Bahamas is generally safe to drink, we still recommend a filtered water bottle. You'll want to stay hydrated in the Bahamian sunshine, and resorts and hotels often over-chlorinate their water. Carry a filtered bottle like this one and enjoy clean-tasting water throughout your whole trip.
Other Bahamas packing list items not to forget
---
What to wear in the Bahamas?
---
The weather in the Bahamas is sunny and warm almost all year round, so you'll want to keep that in mind when packing clothing. Your packing list may vary depending if you are staying at a more upscale resort, but in general, beach attire is fine for the daytime, with dressier options for night. Make sure you choose lightweight and versatile pieces that you can layer when chilly, and pack away easily when warm.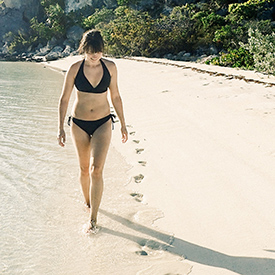 What women should wear - (Click to expand)
Below is a sample women's clothing list.(All items link to Amazon.com for your convenience).

You'll definitely want to pack a few swimsuits, as your trip will hopefully involve a lot of time at the beach and pool. However, you'll want at least a coverup if venturing anywhere else, and a sundress if you are going for lunch or shopping. Choose lightweight pieces and natural fabrics that allow your skin to breathe in the warm climate. A big sun hat and tote bag will be the perfect accessories for your daytime adventures. A neutral crossbody bag is appropriate for the Bahamas nightlife.
Sandals are appropriate everywhere – choose dressier for dinner and flip flops for more casual activities. Beachside restaurants will be fine with casual wear like shorts and sundresses. If your trip includes dinner in nice restaurants, you'll want to bring some more elegant dresses and jewelry or nice sandals to dress them up.
What men should wear - (Click to expand)
Below is a sample men's clothing list. (All items link to Amazon.com for your convenience).
The weather in the Bahamas is warm. Be sure to bring multiple pairs of shorts – for swimming, hiking, and everything else. Choose either moisture-wicking athletic fabrics (for outdoor adventures and active excursions), or natural, breathable fabrics (for dining, lounging, and relaxing). Don't forget a hat – the sun in the Bahamas can get intense.
Shorts will be acceptable almost anywhere for the daytime and at casual restaurants. While you don't need to pack a suit, be sure to throw in a lightweight blazer and pants for dinner or when visiting casinos.

Winter

– December, January, February, March, April

Winter is the warm, dry season, and is the best time to visit the sunny Bahamas – with beautiful weather and sunny skies. You'll want comfortable lightweight clothing, with a few light layers for cooler nights. Think a long sleeve linen shirt or pashmina wrap to throw on over your beachwear. Average highs range from 77°F-82°F, or 25°C-28°C). The lows in this season average around 63°F or 17°C.
Summer

– May, June, July, August, September, October, November

Summer is considered the hot, wet (rainy) season in the Bahamas, which means hotter temps. June through November is also hurricane season, which may dissuade some travelers from going then. Most hotels in the Bahamas have a Hurricane Cancellation Policy, but getting travel insurance is a good idea if your trip is during these months. You'll want to dress for the warm weather in summer – just shorts, skirts, light dresses, and swimwear. You should not need any heavier clothing during the summer months. Averages highs during the Summer range from 82°F-90°F (30°C-32°C), with average lows around 74° F or 23°C.

Dressing appropriately for the activity - (Click to expand)

Beach/Pool – Ideally, most of your vacation in the Bahamas will include beaches, pools, and relaxing in the sunshine. You'll definitely appreciate a sun hat, and high SPF sunscreen is a must. You should bring a coverup or light layers with you each day to throw on when you venture away from the pool.

Fun on the water – If your trip includes snorkeling, sailing, or diving, you'll want some specific items. A rash guard will help protect you from the sun and elements, and sunscreen is a must. Bring a water bottle and quick-dry towel, and pack everything in a lightweight daypack.

Dinner/Casinos – While much of the Bahamas is relaxed beach attire-appropriate, you'll want to bring a nice outfit or two for finer dining or special nights. The Bahamas feature upscale restaurants, resorts, and casinos, and many of them require a jacket for men and appropriate clothing for women. This doesn't have to be too formal – women can pair a nice sundress or maxi dress with heeled sandals and accessories, and men can throw a lightweight jacket on with their shirt and slacks

What NOT to bring to the Bahamas
---
1)

DON'T BRING Expensive jewelry:
Although you'll want to look your best for the nightlife of the Bahamas, don't bring your most expensive or valued jewelry. You don't want to risk losing anything, and if you throw on some less-expensive blingy accessories, you'll still look great.
2)

DON'T TAKE Beach chairs: Believe it or not, some people try to travel with beach chairs….don't! Whether you are staying at an Airbnb, affordable hotel, or luxury resort, it's likely there are chairs for you to use. If not, there are usually places to rent them nearby.
3)

DON'T PACK Full size towels: Towels take up way too much valuable space in your luggage. If your resort doesn't provide towels (most do), it may be a better plan to pick up some cheap ones at a local shop instead of sacrificing your luggage space. You can always toss in a quick-dry towel such as the one linked above.

4)

DON'T BRING a Hairdryer:
Almost all hotels will have a hairdryer available for guests. And, you may want to forego the hairdryer altogether – sun-dried beach waves are always a good look when visiting tropical locations!
5)

DON'T TAKE Books: Rather than packing heavy, bulky books in your luggage, bring a Kindle and have as many books on hand as you want.
6)

DON'T PACK Heavy shoes: Heavy shoes weigh down your luggage and take up far too much room. Although you can go on some beautiful hikes in the Bahamas, you'll likely want to wear your lightest shoes or sandals all the time. Better yet – plan on going barefoot as much as possible!

What NOT to wear – (Click to expand)
When visiting the Bahamas, you definitely don't want to wear bulky or heavy clothes. Even if you are chilly and want to layer up, you'll want lightweight sweaters or scarves, and linen pants. Bulky clothes will take up too much space in your luggage, won't fit the island vibe, and will simply be too hot to wear most of the time.
FAQ about traveling to the Bahamas
---
1. What language is spoken in the Bahamas?

English is the official language of the Bahamas, although you'll hear some island dialects when speaking with locals.

2. What islands should I visit?

There are actually dozens of islands in the Bahamas, but most people choose to visit New Providence (which includes Nassau, the capital city), Paradise Island, and Grand Bahama. If you are feeling more adventurous, the smaller islands of Eleuthera, Bimini, and Harbor Island offer a less-crowded escape with the same breathtaking Caribbean views.

3. Is the drinking water safe?

Yes, the drinking water is safe in the Bahamas, and many resorts filter and chlorinate their own water. We always recommend bringing your own water bottle, and if you pick up one with a filter, you'll be sure to have access to clean, fresh water no matter where you are.

4. What should I do in the Bahamas?

If you like the ocean, you'll never run out of things to do on a vacation to the Bahamas! Snorkeling, diving, sailing, fishing, windsurfing….you name it, you can do it on the water in the Bahamas. Resorts such as Atlantis feature incredible water parks, which you can visit even if you aren't staying there. Make sure to find time to relax in the sun on the beach or at the pool.

5. What is the best time of year to visit?

If you are trying to save money, the summer is much less expensive than the winter. However, winter in the Bahamas is like nowhere else – warm, dry, sunny, and tropical. Because it's such beautiful weather in the winter, many more tourists choose then to travel, and prices will be much higher than in the summer months.

6. What currency do they use in the Bahamas?

The Bahamian dollar is the official currency of the Bahamas. You'll often see it written as "B$" to distinguish it from the US dollar. The US dollar is widely accepted on the islands, and the two currencies are considered equivalent in most places, meaning many businesses will accept either.

7. Do I need to worry about hurricanes?

Depending on when you visit the Bahamas, you may want to watch the weather forecasts. While the Bahamas are within some hurricane paths, they are only the direct target of storms occasionally. Many hotels offer a Hurricane Cancellation Policy, which may make you feel better about traveling during these months. We always recommend travel insurance such as World Nomad to protect your trip.
Other Central America packing lists you may like…
Aruba | Bahamas | Belize | Cabo San Lucas | Cancun | Caribbean | Caribbean Cruise | Central America | Costa Rica | Cozumel | Cuba |Dominican Republic | Guatemala | Jamaica | Mexico | Mexico City | Nicaragua | Panama | Playa del Carmen | Puerto Rico | Puerto Vallarta | Punta Cana | Virgin Islands |
Please note: We have over 200 packing lists covering practically every popular travel destination in the world. Access them all on our packing list overview page ➜