Updated on by Asher Fergusson
Info on power adapter plugs for Thailand
With world-famous beaches, legendary nightlife, and centuries of history and culture, it's not hard to see why Thailand is one of the world's top travel destinations. If you go, you're in for a treat. Just be sure to pack the right clothes and accessories for this climate and culture, as well as any electronic devices you plan to use and everything you'll need to plug them in.

Which power outlets do they use in Thailand?
Four different types of electrical outlets are used in Thailand. Type A and B, which are the two outlet types found in the U.S., are both used there; the only difference is that Type A sockets are ungrounded, while Type B has a round grounding plug. Type C sockets, which have two round holes and are commonly used in Europe, are also found in Thailand. Lastly, there are Type O outlets, which are used exclusively in Thailand.
They have two round holes and a third slightly larger grounding hole; even though these sockets don't exist elsewhere, they're compatible with any of the two-pronged European plug types.
The good news is the outlets that are most common in Thailand, both in Bangkok and throughout the country, are actually multi-type sockets that can accommodate each plug type.Unlike the U.S., but like most other countries, Thailand's electrical grid uses a frequency of 50 Hz and a voltage of 220V.
What kind of power adapter do I need for Thailand?
A common question most travelers ask is, "What plug do I need for Thailand?" Because many of the electrical outlets found in Thailand are multi-type, you won't always need an adapter. However, you may also encounter Type C or Type O sockets that can only accommodate the plug type with two round pins.
Your safest bet is to bring a Universal Adapter that will have covered no matter what type of plug you encounter as you travel through Thailand.
What's the electricity and power supply like in Thailand
Compared to most of Southeast Asia, the electrical grid in Thailand is very well developed. The vast majority of the country has electricity, although some remote villages do not; but, you'll probably only end up there if you go trekking.
However, there's a reasonable chance you'll experience a power outage at some point, as they can occur in Bangkok, on the islands, and elsewhere. Unless it's caused by a storm or planned maintenance, though, it probably won't last long.
Something to be aware of is that electric water pumps are common in Thailand – that means that if the power's out, the water will be off as well. Lastly, plugging in too many devices at once can easily cause the circuit breaker to trip, especially in older buildings.
Do I Need A Voltage Converter for Thailand?
Most of the devices you'll likely bring to Thailand – like a phone, laptop, or tablet – can operate on a voltage up to 240V, meaning they don't require a converter. However, certain American appliances are only rated to 120V, including hairdryers, electric razors, and straightening irons. If you plan to bring any of these, you'll need a US to Thailand voltage converter to use them safely. Trying to plug one of these devices straight into the wall will destroy it, and it could shock you or start a fire.
If you plan to go abroad frequently, you could also order a travel version of the devices you want to bring. These will either be rated to 240V or they'll have a setting that allows you to switch the voltage.
Other Thailand Packing List Items
In addition to your US to Thailand power adapter these items will help you on your travels:
---

Pickpocketing is unfortunately fairly common in crowded touristy areas, especially in Bangkok. To protect your valuables, keep them in a wallet around your neck instead of in your pocket or bag; they'll be much less likely to be stolen this way.

---

Packing cubes are extremely helpful for staying organized and for preventing your bag from exploding when you open it after it has been thrown around during a long trip. Just fold your clothes into the cubes and then pack the cubes in your bag, making more efficient use of your luggage space. You'll have a far easier time finding things when you need them.

---

You'll probably use your phone frequently in Thailand, to take photos, use maps, call a Grab, or just stay in touch with people at home. You'll want to be absolutely sure the battery won't die while you're out, so bring a small portable charger to juice it up during the day.

---

It rains in Thailand throughout the year, but can be especially heavy during the rainy season from May to early November. During the rainy season it often rains over 8 inches per month, so it's best to be prepared with a reliable, compact travel umbrella that you can easily throw in your daypack. The one we recommend even comes with a zip case that keeps your other items dry when storing your wet umbrella.

---

Thailand is 11 hours ahead of the East Coast of the U.S., which means jet lag is almost inevitable. Bring some jet lag relief pills to help you cope with the time difference, or you might find yourself falling asleep before dinner.

---

Using a VPN is always a good idea because it will protect your privacy, which is especially important if you're using lots of public Wi-Fi networks. A VPN will also let you access sites the Thai government has banned, usually due to criticism of the royal family or discussion of separatist movements.

---

Thailand is a very safe country to visit, but unexpected things can happen. If you get sick or injured and need to see a doctor there, your U.S. health insurance probably won't cover it. To make sure you don't get stuck paying medical bills out of pocket, sign up for a travel insurance plan before you go.
Other FAQs about traveling in Thailand
---
1. When to Travel to Thailand
High season in Thailand runs from December to February, when the weather is slightly cooler and mostly dry. Popular destinations can get extremely crowded then, and prices go up, especially in southern Thailand. In most of the country, November is the ideal month to visit. The peak season crowds (and prices) haven't yet arrived, the temperatures are nearly as cool as they'll get, and the rainy season is ending. On the Gulf Coast, though, the best choice is probably March, when the rains and peak season will both be over. Be sure to check current Thailand travel advisories before you go.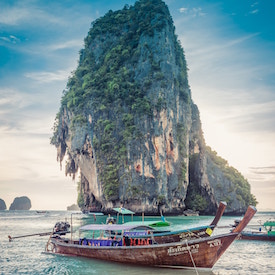 If at all possible, avoid northern Thailand between February and May, when the farmers burn their fields in preparation for the upcoming season, creating hazardous air quality.
2. What is the weather like in Thailand?
Thailand has a tropical climate, so the weather is mostly hot and humid year-round, and it doesn't vary much throughout the country. Seasonal differences are also minimal, though the hottest month is generally April, while December to February are the coolest.
Mae Hong Son in the northwest corner is the coolest part of the country in wintertime, but highs are still in the mid-80s and lows rarely dip below the mid-50s. Rainy season runs from May to October, except on the Gulf Coast, where it typically lasts from September to December. Most destinations see some rain year-round, though, especially in the south.
3. What to do in Bangkok?
Bangkok is the most-visited city in the world, and with good reason. You could go to a new temple every day for years, but some of the most interesting are Wat Arun, Wat Pho, and Wat Suthat. Don't miss the Grand Palace, either. There are several museums worth a visit, including the Bangkok National Museum, the Museum of Contemporary Art, and the Bangkok Art and Culture Center. For shopping, browsing, or just people watching, check out both the markets like Chatuchak Weekend Market and Pak Klong Talad (the flower market) and the malls like Siam Paragon and CentralWorld.
4. What to do in Thailand?
Many of the top things to do in Thailand are available in most of the country's popular destinations: visiting temples, browsing markets, taking a cooking class, and getting a massage, for starters. Some of Thailand's top destinations include the history- and culture-packed Chiang Mai in the north, as well as nearby Chiang Rai, home of the famed White Temple and Blue Temple. For ruins a la Angkor Wat, head to Ayutthaya or Sukhothai.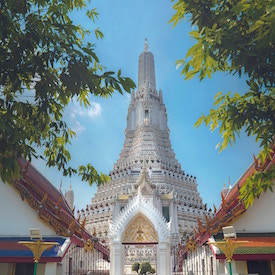 If you're looking for a beach vacation, you can choose from dozens of islands. Do a retreat on Koh Samui, party on Koh Phi Phi, chill on Koh Lipe, or get away from the crowds on Koh Kood. No matter which islands you choose, diving and snorkeling will almost certainly be available. One thing to skip in Thailand?The wildlife attractions like elephant rides and tiger temples, which are, unfortunately, rarely ethical.
5. How to get around in Thailand?
Thailand is very well-connected with many transportation options. To go directly between the north and south, flying is the most feasible, and domestic flights on airlines like Nok Air and AirAsia are usually inexpensive. Thailand also has an extensive rail network, and all but the cheapest classes are extremely comfortable. The second-class overnight train is especially popular for travelers going to and from Bangkok.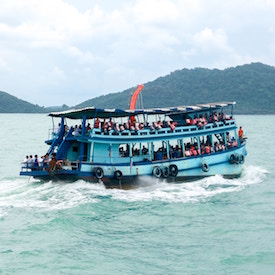 Many companies run buses all around Thailand as well; they're far less comfortable than the train (and not as safe), but they can be much cheaper and are often even faster. Various ferry companies connect the islands with the mainland, and boats running to the most popular islands are usually quite comfortable.
Bangkok has a very sophisticated public transportation system, with easy-to-use underground and elevated trains connecting much of the city, as well as dozens of bus routes. Songthaews(public pick-up trucks) also operate in many areas, but you'll have to ask a local to point you in the right direction. The city has a system of boat taxis as well, which can be very efficient since they avoid the traffic. Other big cities like Chiang Mai also have bus and songthaew systems, and the ride-sharing app Grab is now available in most major towns.
You may also like our other power adapter pages…