Updated on by Asher Fergusson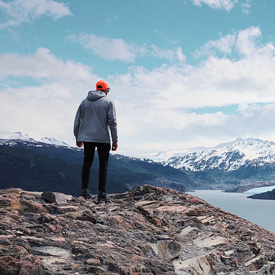 Patagonia is the gorgeous, rugged mountainous region encompassing the southernmost tip of South America, shared by Argentina and Chile.
The Argentine side includes a semi-arid climate, grasslands and deserts, while the Chilean side boasts breathtaking glacial fjords. Despite Patagonia's insanely unpredictable weather, adventurers from all over the world flock to the region to experience world-class trekking, ice climbing, and much more.

What to Pack for Patagonia – 17 Essentials
---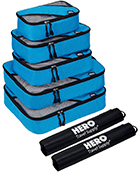 Especially if you're backpacking, you'll want to keep your pack light and only bring the essentials. The best thing to keep you organized and prevent overpacking is a good set of packing cubes! These colorful cubes come in a variety of sizes and even include separate cases for dirty laundry and shoes.
---

If you're planning on hiking anywhere in Patagonia (I recommend Torres del Paine National Park!), packing hiking boots is an absolute must. Make sure that they are waterproof, come up to your ankles, and are suitable for scrambling over jagged rocks and crossing streams. Your hiking boots will become your best friend once you break them in. These ones are my all-time favorites.
---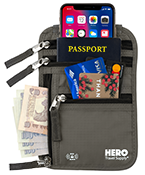 A neck wallet will come in handy on long days of trekking when you want to keep your essential belongings secure, organized, and accessible. This one's great because it can easily fit your phone, passport, wallet, and anything else you might need and tucks conveniently beneath your clothing.
Available on HeroTravelSupply.com with an exclusive 15% discount using the coupon code "HERO".
---

The wind in the Patagonia region can be so strong that it can literally push you over, let alone give you a chill. Bring a totally waterproof windbreaker jacket with a hood, preferably with some padding, to keep you warm. This one is a great option.
---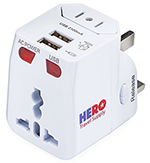 If you're not visiting from South America, you're going to need a good universal power adapter. This one's amazing because it allows you to plug in your electronics safely in nearly any country in the world, and has USB outlets so you can charge multiple devices at once.
---

It can get extremely cold and windy in Patagonia, especially if you visit during June or July. Make sure you bring a warm hat and a good pair of gloves for your adventure. They will make you a million times more comfortable while walking around town, hiking, or ice-trekking among glaciers.
---


Whether you're connecting to WiFi at hotels, airports, or in Patagonian lodges, it's always smart to use a trusty VPN. With the touch of a button you'll keep yourself protected from potential hackers aiming to steal your sensitive information, such as passwords and credit card numbers. This will also help you access websites from your home country if there is censorship in the country you're visiting.
---

Long hikes and trekking trips in Patagonia definitely call for heavy duty trekking poles. The notoriously jagged, steep uphill and downhill sections of trails will have your knees aching and thighs burning. The use of trekking poles will help distribute your weight, give you some extra balance, and make hiking a little easier.
---

Whether you get caught in the rain or snow, or decide to take a dip in one of the many glacial lakes (season and weather permitting), it pays to have a reliable waterproof action camera. This one is great because it's affordable and waterproof for up to 30 meters. You'll definitely want to capture the best of your experience in Patagonia.
---

Bring all the clothing essentials that you would pack for a multi-day hiking trip. This means leggings, water-resistant pants, base layer tops, fleece pullovers, and a shell jacket. With Patagonia's ever changing weather conditions, you may find yourself getting warm while trekking and want to peel off a few layers, or vice versa when it gets chilly in the evening. Try to bring moisture-wicking or dri fit clothing. This warm insulating jacket is the perfect layer for a Patagonian trekking adventure.
---

For a hiking trip in Patagonia, pack medium-weight wool socks with cushioned soles like these ones. Wool socks are great for regulating your temperature, dry quickly, and won't slide down into your boots like most socks. Try to avoid cotton socks as they don't dry quickly and will not keep your feet warm. These ones are my tried and true favorite wool socks, and come in a variety of colors.
---

An absolute must-have when traveling in Patagonia is good travel insurance. A destination known for unpredictable weather and conditions, you'll need to make sure you're protected in case of any type of emergency. World Nomads is always our number one choice, as they'll cover you for a variety of adventure activities as well as the costs of emergency medical, lost or stolen luggage, and flight cancellations.
View their plans at WorldNomads.com ➜
---

Since this base layer will be in direct contact with your skin at all times, it should be made from synthetic fabric. Long underwear is perfect for keeping your body warm and your temperature regulated. This pair of long underwear is perfect for your adventure in Patagonia.
---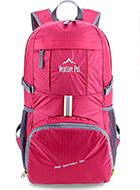 If your plans in Patagonia have you staying in town and embarking on day treks, or if you have a base camp and plan to hike a daylong circuit, you'll want a good day pack to hold all your essentials. This daypack from Osprey is great because it's lightweight, reliable, and large enough to hold anything you may need during the day.
---

One of the best things about adventuring through Patagonia is that you can literally drink water straight from the source. Bring a reusable water bottle that you can refill over and over again with cold glacier water. This LifeStraw water bottle is perfect because it comes with a built-in filter to ensure your water is safe before you drink it.
---

A lot can go wrong on any trip, even if its a quick out-and-back day hike. Be prepared for blisters, splinters, cuts, and other blunders with a well-stocked mini first aid kit. Keep this lightweight one in your daypack so that you can whip it out in case of emergency.
---

Hikes during the early morning hours (and moonlit night hikes) call for headlamps. If you're on an overnight hike, there will be times when you'll need to put up or take down your tent in the dark, and you'll need light (and both hands) to get it done. A good headlamp is necessary on your Patagonian adventure, and you'll use it much more often than you think.
Other Patagonia packing list items to consider bring to Patagonia
---
What to wear in Patagonia
---
In a climate of fluctuating and extreme temperatures like Patagonia, always dress in layers. Wearing several layers of clothing is the best way to stay warm in chilly weather, and it will also give you necessary flexibility in a changing climate. Start with a base layer of ski underwear, then go for leggings, trousers, fleece insulating layers, and down jackets, building up as necessary.
What should WOMEN wear in Patagonia? – (Click to expand)
For all of the outdoor activities you'll be engaging in in Patagonia, you will want to wear mostly casual, athletic clothing. Pack a couple of sports bras, and enough underwear for a week. Bring a few pairs of leggings, which can be worn for hiking, or "dressed up" with a tunic while wandering around one of the region's cute towns. You won't be needing fancy dresses or anything formal.
What should MEN wear in Patagonia – (Click to expand)
All of the above goes for men, too. A synthetic short-sleeve t-shirt is a good base layer, and if it's any colder you can layer up with a midweight synthetic or fleece long-sleeve top. As far as bottoms, lightweight synthetic trekking pants (zip-offs) are a good call. Hiking pants can also be worn in casual situations like travel days or to dinner

The absolute best time to visit Chilean Patagonia is November to early March, when the weather is perfect for exploring Torres del Paine National Park and Tierra del Fuego. Prepare for comfortable temperatures and mostly sunny days. The time periods of September, October, and November, as well as March, April, and May, offer similarly mild temperatures but fewer crowds. June and August are crazy cold, and most attractions close. No matter when you visit, remember to pack your layers and a solid windbreaker for the year-round winds, and ample rain gear for unexpected downpours!
How to dress for activities in Patagonia – (Click to expand)
Day hiking​
– Always wear synthetic fabrics, so that they don't trap moisture. A solid synthetic short-sleeve t-shirt is a good idea. If it's chilly, make sure to bring a midweight synthetic or fleece long-sleeve top to layer on top.
Overnight trekking​ – Dress as you would for a day hike, but make sure to bring all the necessary accoutrements for camping out, like a tent, sleeping bag, and definitely extra warm layers for night time. Don't forget your gloves.
Ice climbing​ – Double up on wool socks, bring driving boots and ice climbing boots, crampons, wool or synthetic long underwear, waterproof pants, gaiters, and your harness!
Sightseeing ​- Casual or athletic clothing is fine. Wear comfortable walking shoes, or your hiking boots if you're looking to save space in your backpack or luggage. A scarf, beanie, and sunglasses are all good ideas.

What NOT to bring to Patagonia
1. Bulky sleeping bag​ – If you're camping out during your hike, don't bring an old-fashioned bulky
sleeping bag. With so many compressible options available now, save your precious backpack
space for other items.
2. Too much stuff in your backpack ​- The lighter you pack the more comfortable you'll feel.
3. Cotton clothing ​- Always wear synthetic fabrics. Sweat-wicking and quick-dry are best.
4. Jeans​ – Denim and athletic endeavors simply do not mix.
5. Anything white ​- The best part of trekking is getting down and dirty!

What NOT to wear in Patagonia
While adventuring in majestic Patagonia, avoid cotton clothing, and instead opt for synthetic fabrics. Sweat-wicking and quick-dry are best. Also avoid wearing denim, as it is heavy and traps moisture, which can be dangerous if you're sweating while hiking in the cold. There is no need to dress to impress on a hike, so leave the nice dresses, dress shoes, and anything like that at home.

FAQs about Patagonia vacations
Should I bring my passport?​
Definitely. Patagonia spans two countries (Argentina and Chile), so if you plan a day trip to either place, this will be a necessity when crossing over the border.
Should I bring cash, or just my ATM card?​
Believe it or not, the ATMs in certain areas of Patagonia frequently run out of money! Take out an ample amount of cash before your journey, and make sure to keep it somewhere safe.
What kind of adapter do I need to bring?​
Argentina and Chile use plug Type I.
Argentina | Brazil | Ecuador | Galapagos | Machu Picchu | Peru | South America
Also see Central America packing lists…
Aruba | Bahamas | Belize | Cabo San Lucas | Cancun | Caribbean | Caribbean Cruise | Central America | Costa Rica | Cozumel | Cuba |Dominican Republic | Guatemala | Jamaica | Mexico | Mexico City | Nicaragua | Panama | Playa del Carmen | Puerto Rico | Puerto Vallarta | Punta Cana | Virgin Islands |
Please note: We have over 200 packing lists covering practically every popular travel destination in the world. Access them all on our packing list overview page ➜