Updated on by Asher Fergusson
W
orld-class skiing, four national parks, super hip cities – Colorado really does have it all. And with bucket list-worthy activities for both summer and winter, it's a year-round destination. When you're planning a trip to the Centennial State, you'll probably be asking, "What should I take to Colorado?"
This packing list has you covered with all the essentials, including specifics on what to wear in Colorado. At the bottom of the post, we also included a list of things you can leave at home and answered some FAQs about Colorado to help you plan your trip.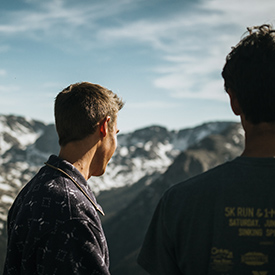 What to Pack for Colorado – 18 Essentials
---

There are two ways to pack: putting every item into your bag individually, or putting them into packing cubes first. When you use the cubes, you'll be able to keep your things more organized and quickly find what you're looking for, and your whole bag won't explode when you unpack. This set comes with five cubes in multiple sizes, plus two laundry bags so you can separate out your dirty clothes.
Available on HeroTravelSupply.com with an exclusive 15% discount using the coupon code "HERO".
---

It's critical to be prepared any time you head into the outdoors, especially in remote areas. A paracord bracelet will provide many of the things you'd need in case of an emergency in the backcountry – a whistle, fire starter, knife, and compass, along with 12 feet of durable cord. Plus, it barely weighs anything and fits conveniently around your wrist.
---

Colorado has a relatively dry climate, but it still gets some rainy days, especially in the spring and summer. It's always smart to pack an umbrella in case you get caught in the rain, and this one is lightweight and portable, making it ideal for travel.
---

If you do any backcountry hiking or camping in Colorado, you'll have to collect – and treat – your own drinking water from rivers or lakes. There are lots of ways to purify water for drinking, but using a LifeStraw bottle has got to be the easiest. Just fill up the bottle from any source, and it automatically purifies as you drink, taking no additional time or effort.
---

For hiking, rafting, or camping trips, a travel towel is another one of the essentials to take to Colorado. You'll need to be able to towel off when you get out of the water (or out of the campground shower), but a regular towel from home will just get gross on the road. A thin travel towel will dry out much faster, and it'll take up less room in your bag as well.
---

Unless you're only visiting Denver, you'll probably be doing quite a bit of driving around the state, so a cooler will be one of your Colorado packing essentials. Use it to keep your road trip snacks fresh and your drinks icy cold, or pack a whole picnic to take to the park.
---

As the snow begins to melt, Colorado heats up fast. Keep yourself cool under the intense sun as you're exploring Colorado's great outdoors. Nothing is more refreshing or convenient than a cooling towel. They are compact and easy to use. As soon as you feel yourself getting too hot, wet the towel, wring it out, and place it around your neck or elsewhere for immediate ice-cold relief.
---

Colorado is packed with incredible vistas, as well as wildlife you may never have seen before. Put a pair of binoculars on your packing list for Colorado, and you'll be able to get a better view of everything you encounter.
---

An upcoming trip is a good time to invest in a solid shampoo bar if you don't already have one. They're super convenient for traveling because there's no risk of leaking in your bag, and if you're traveling carry-on, you won't eat into your TSA-approved capacity for liquids. Shampoo bars also create less plastic waste, so they're really a win-win.
---

When you're out in the woods in Colorado, you might be hours from running water. But hygiene is vital, especially when you stop for snacks on the trail or sit down for a picnic lunch. For those times, and whenever there's no soap available, hand sanitizer is one of the most essential things to take to Colorado.
---

Hiking is easily one of the top things to do in Colorado, so you'll want to come prepared to hit the trail. One key part of a hiking outfit for Colorado is the right pants. Since you'll be getting sweaty, possibly walking through creeks, and could end up getting rained on, choose hiking pants that will dry out quickly.
---

Colorado is known for its sunny weather; in fact, Denver is considered one of the sunniest cities in the U.S., enjoying around 300 days of sunshine per year. With that in mind, sunscreen is definitely one of the top Colorado packing essentials, no matter what time of year you visit.
---

The good news is that Colorado's relatively dry air and high elevation cut way down on insects. But being out in nature, especially during the summer, can still expose you to mosquitoes and plenty of other bugs. Make sure to pack some insect repellent just in case you need it.
---

When you're out for the day, whether it's navigating the neighborhoods of Denver or climbing rugged trails in the backcountry, you'll want to be able to keep your phone charged. Fortunately, this compact portable charger will let you juice it up while your out, and it's so small and light, you won't even notice it's in your bag.
---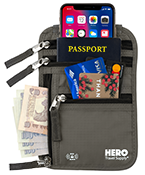 Not many things will ruin a trip faster than having your valuables stolen, which can be a risk in touristy areas and at crowded attractions. To make sure it doesn't happen to you, remember a neck wallet when you're packing for Colorado. You'll be able to keep your cash, credit cards, and other valuables secure, and you'll enjoy the extra peace of mind.
---

Whether you're planning to go for a hike, take a day trip, or head to the ski hill, you'll definitely need a daypack on your trip. A small pack is best, since you don't want it to take up too much space in your main bag. Just make sure there's room for things like a water bottle, snacks, sunscreen, and your camera.
---

While you're traveling in Colorado, you'll want to be able to keep your essential devices charged, especially your phone and camera. There won't be an outlet to plug them into when you are out camping, so a solar charger is a good idea if you're camping for more than one night. During the day, just attach the charger to the outside of your backpack or set it out in the sun to juice it up.
---

Too many people overlook travel insurance, but it's vital if you're coming from abroad or your health insurance has limitations. If you have an accident or get ill during your trip, you want to be absolutely sure that your expenses will be paid. Travel Insurance.com will help you find coverage that covers not only medical bills, but also stolen property and trip interruption, making it one of the most comprehensive options.
Compare policies at TravelInsurance.com ➜

Other Colorado Packing List Items Not to Forget
---
What to Wear in Colorado?
---
What to wear in Colorado will depend on a lot of factors, including where in the state you go, when you visit, and what you plan to do during your trip. Below are more details on the right clothing for Colorado for specific activities and seasons, but in general, clothes that are casual and comfortable are the way to go. It's always smart to bring easy layers like a scarf or sweater, and activewear or other quick-drying clothes are best for anything outdoors. And no matter what you have planned, make sure the shoes you bring are comfortable.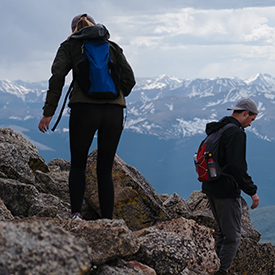 SPRING

– March, April, May:

The days get warm by May, especially at lower elevations, but spring in Colorado can be pretty chilly otherwise. During these months, you'll want to wear long pants and layers, and make sure to bring a rain jacket.
SUMMER

– June, July, August:

Summer highs can be in the 60s or in the 90s, depending on what part of the state you're in. If you're in a warmer area (including Denver), lightweight clothes like T-shirts, shorts, sundresses, and sandals will be most comfortable during the day. You'll still want a sweater or jacket . for the evenings, and make sure to bring a rain jacket as well.
FALL

– September, October, November:

September days are still warm in much of the state, but temperatures start to drop off after that. Pack your long pants, sweaters , and closed shoes , but dress in layers when possible. The fall months tend to be drier, so you probably won't need your rain jacket this time of year.
WINTER

– December, January, February:

Winter in Colorado means below-freezing temperatures all over the state, so make sure you come prepared for the cold. Plan on long pants , sweaters , a winter coat, and insulated shoes or Boots , and don't forget a hat and gloves .

Dressing Appropriately for the Activity – (Click to expand)

Nightlife:

Denver and Boulder, in particular, are known for their wide variety of bars, restaurants, concerts, and other nightlife. Most places are still fairly casual, but you may want something a little nicer or trendier if you're planning a night out. Women could wear a dress, but otherwise jeans, a blouse or button-down, and flats or loafers will be nice enough for all but the most upscale places.

Snow sports: Colorado is a haven for all kinds of winter sports and snow-based activities: skiing, snowboarding, cross-country skiing, snowshoeing, sledding, and more. For most of these and other winter activities, the best clothes are similar. Start with a warm, sweat-wicking base layer and an insulating mid-layer, like a sweatshirt or fleece jacket. Over that, you'll need a winter coat and snow pants, as well as a hat and gloves. If you're going downhill skiing or snowboarding, don't forget your goggles.

Water sports: Water sports in Colorado are nearly as ubiquitous in the summer as snow sports are in the winter. For kayaking, canoeing, stand-up paddle boarding, jet skiing, and so forth, quick-drying clothes made of lightweight fabrics are the most comfortable. Choose things like activewear, tank tops, board shorts, and snug-fitting water sandals, as well as sunglasses and a hat.

Hiking: Hiking is another of the most popular things to do in Colorado, and there are great trails all across the state. If hiking will be part of your trip, make sure your Colorado packing list includes a quick-drying T-shirt or tank top, a pair of hiking pants, and sturdy hiking shoes or boots.

Horseback riding: For many visitors other parts of the U.S. or abroad, going on a horseback ride in the western U.S. is a bucket list activity. Pants for horseback riding need to be fitted and durable but still have some give, so jeans made with some spandex are the best bet. You'll also need sturdy, close-toed shoes, ideally some type of boots with a small heel.
What NOT to Bring to Colorado
---
1)

DON'T PACK books:
You might want to do some reading during your trip, especially if you have long flights or car rides to get there. But physical books will quickly weigh you down, so bring an e-reader instead.
2)

DON'T PACK too many clothes: Most people tend to bring too many clothes, and end up with a heavy bag that's hard to drag around. Pare down your Colorado wardrobe before you leave – a lighter bag will make a difference during your trip.
3)

DON'T TAKE a bath towel: Especially if you're planning on camping or swimming during the trip, you'll definitely need a towel. But the ones you use at home are too bulky and slow to dry for traveling. Quick-drying microfiber towels are much smaller and more convenient.

4)

DON'T TAKE unnecessary valuables:
Colorado is generally very low-crime, but there's no reason to take valuables you don't need and risk having them stolen from your car, tent, or hotel room.
5)

DON'T BRING gear you won't use: It can be tempting to put every possible accessory for a dozen activities on your Colorado packing list. But try to avoid bringing gear you won't actually use; it'll just weigh you down and make it harder to find the things you need.
6)

DON'T BRING lots of cash: You can pay with a credit card nearly everywhere in Colorado. You might want to take some bills for small purchases at local businesses, like grabbing coffee at a local café. But you definitely won't need a big wad of cash.
What NOT to Wear in Colorado – (Click to expand)
With the exception of a few upscale places in Denver, most of Colorado is quite casual. That means you probably don't need any formal attire for your trip. Something else that's not recommended? Dressing up like a cowboy. Visitors often envision Wranglers, a big belt buckle, and a cowboy hat as being the quintessential clothes for Colorado – but in reality, it's just a way to stand out as a tourist, so it's best avoided. Lastly, you'll probably be doing a lot of hiking and walking, sometimes on uneven ground, so leave any uncomfortable shoes at home.

FAQs about taking a trip to Colorado
---
1. What is the weather like in Colorado?

For the most part, the weather in Colorado is marked by hot summers, cold winters, and lots of sunshine. In the mountains, you can expect even more snowfall in the winter and cooler temperatures year-round. Outside of the mountains, including in Denver, average summer highs are in the low-90s, while average lows are below freezing from November through March. Most of Colorado has a semi-arid climate, but it does get rain in the spring and summer.

2. When is the best time of year to visit Colorado?

The best months to go to Colorado will depend on what you're planning to do there. For ski trips, the season typically lasts from mid-November through early-April, but exact dates vary significantly among the different resorts. In any case, March is generally the best month for skiing in Colorado, because temperatures are warmer and snow conditions are still good. However, it's also the most crowded; if you can stand colder weather, February has great skiing conditions and far fewer crowds to contend with. Otherwise, summer is the busiest time in Colorado, thanks to the warm temperatures and optimal conditions for outdoor activities. If you visit in the late-spring or early-fall instead, you'll be able to enjoy good weather, fewer crowds, and lower prices.

3. How can I get around Colorado?

The vast majority of visitors to Colorado either drive there or fly in and rent a car. Winter driving conditions notwithstanding, Colorado is fairly easy to drive around, and it's the perfect state for a road trip. But there are quite a few options for getting around without a car. In Denver, the public bus and light rail system provide access to much of the city, plus the six surrounding counties. Long-distance buses also serve Denver, Boulder, Colorado Springs, Grand Junction, Durango, Breckenridge, Pueblo, Keystone, and many other areas. Lastly, two Amtrak lines pass through Colorado, stopping in Denver, Grand Junction, Lamar, and elsewhere.

4. What are the best places to go in Colorado?

There are more places to visit in Colorado than you could ever get to on one trip, but no matter where you go in this state, you're in for a treat. Denver and neighboring Boulder are hip, trendy cities full of great food, culture, and nightlife. Vail, Aspen, and Breckenridge are iconic ski resorts with charming towns that are fun summer destinations, too. Colorado has four national parks that are all worth a visit, but if you only have time for one, Rocky Mountain is probably the most impressive (although Great Sand Dunes is certainly the most unique). Other incredible natural wonders include Garden of the Gods, Cave of the Winds, and Broadmoor Seven Falls, all near Colorado Springs.

5. What are the best things to do around Denver?

There are seemingly endless things to do in Denver, Boulder, and the surrounding area. Stroll through the popular Larimer Square, relish in nature at the Denver Botanic Gardens, or have a picnic in City Park. Lots of places in the area offer interesting tours, including the Celestial Seasonings factory in Boulder, the Coors Factory in Golden, and the Denver Mint. You could spend days touring all the museums in the Denver area, but start with the Kirkland Museum of Fine and Decorative Art, the Denver Art Museum, the Clyfford Still Museum, and the Molly Brown House Museum. For music lovers, Red Rocks Amphitheatre is right outside of the city and has a busy summer schedule of concerts and other events. Lastly, you can't visit Denver these days without eating at one of its hip food halls like Avanti or The Source.

6. What are the best ski areas in Colorado?

Deciding on the best place to ski in Colorado is a big task – there are a whopping 32 hills to choose from. Aspen, Vail, and Breckenridge are by far the most famous, but Keystone, Telluride, and Steamboat aren't far behind. All of them offer unparalleled terrain, but iconic resorts come with big crowds and high price tags. If that doesn't sound like your idea of a dream ski trip, try a local favorite like Winter Park, Arapahoe Basin, or Crested Butte instead.

7. What national parks are in Colorado?

Colorado has four national parks – Rocky Mountain, Black Canyon of the Gunnison, Great Sand Dunes, and Mesa Verde. Rocky Mountain is by far the biggest, most popular, and most accessible, at just an hour and a half from Denver. It has over 350 miles of trails, is home to the highest paved road in the country, and has tons of spots for kayaking, cycling, whitewater rafting, horseback riding, and more. Black Canyon of the Gunnison, on the other hand, is one of the least visited national parks in the country. Most visitors drive, camp, and hike along the rim, although experienced backpackers can obtain a wilderness permit to explore the inner canyon. In Great Sand Dunes, you'll seriously question whether you're in the U.S. or the Sahara. The main things to do in the park are to climb up the sand dunes and hike, sled, or sandboard back down. Backcountry permits are also available for hiking and camping among the dunes. Mesa Verde exists primarily to protect the 5,000 Pueblo archeological sites in the area, which are among the best-preserved in the country. Scenic drives and hiking trails pass by cliff dwellings and other archeological sites, some of which can be visited on a guided tour, and the park also has its own museum.

8. What are the best breweries in Colorado?

With over 400 breweries, the Colorado beer scene is nearly unmatched. It's nearly impossible to choose the best breweries in the state, but really, you can't go wrong. In the Denver area, some of the best options include Denver Beer Co., Bierstadt Lagerhaus, Dry Dock in Aurora, Cannonball Creek in Golden, and 4 Noses in Broomfield. But the rest of the state has just as much craft beer enthusiasm. Broken Compass in Breckinridge, Odd13 in Lafayette, and Ska in Durango are all breweries worth seeking out.

9. What kinds of wildlife does Colorado have?

Colorado is one of the best states for spotting wildlife. Some of the most memorable animals you could see on your trip include bighorn sheep, mountain goats, bison, elk, moose, antelope, and black bears. If you're lucky, you could spot a bald eagle or wild horses. But it's important to be smart about wildlife viewing. Do not approach any wild animals, and lock up all your food and scented items if you're camping.

10. How can I save money when visiting Colorado?

Accommodation is one of the biggest expenses on most trips, so take some time to price out different options. Camping part of the time, choosing a vacation rental instead of a hotel, or staying away from the tourist areas will cut down on expenses as well. You can also plan to pick up groceries and prepare some of your own food instead of eating out all the time, which will make a big dent. Prices in most places will be lower in the off-season and consider going to the more touristy places during the week, which will usually be cheaper than the weekends. Colorado ski trips tend to be particularly pricey, but you can save by heading to a less touristy ski area and choosing accommodations away from the hill.
Other North America packing lists you may like…
Alaska | Arizona | Appalachian Trail | Austin | Banff NP |Beach | California | Canada | Camping | Chicago | Cruise | Day Hike | Denver | Desert Trip | Destination Wedding | Disney | Florida | Glacier NP | Grand Canyon NP | Grand Teton NP | Havasupai | Hawaii | Honeymoon | Kalalau trail | Kauai | Key West | Lake trip | Las Vegas | Maui | Miami | Moab | Myrtle Beach | Nantucket | New York | Oregon Coast | Orlando | Pacific Crest Trail | Portland | Quebec | Road Trip | RV Trip | San Diego | San Francisco | Seattle | Sedona | Texas | Washington, D.C. | Wisconsin Dells | West Coast Trail | Yellowstone NP | Yosemite NP | Zion NP
Please note: We have over 200 packing lists covering practically every popular travel destination in the world. Access them all on our packing list overview page ➜