Updated on by Asher Fergusson
T
his incredible city of ancient ruins is fascinating and breathtaking. The way you pack for this trip can make a big difference in your comfort and enjoyment, especially if you'll be hiking or walking a lot.
I've put together a guide to help you decide what to wear to Machu Picchu, what NOT to bring, and other important FAQs.
Enjoy the jaw-dropping scenery and amazing feel of the remnants from long ago!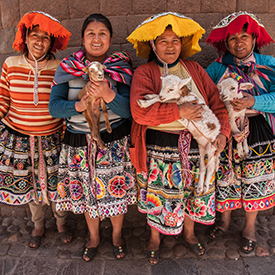 What to Pack for Machu Picchu – 17 Essentials
---

Packing for all weather is recommended in Peru, especially rain, as it can come out of nowhere! A good windproof travel umbrella will most likely prove very useful during your visit. This one's great because it's reliable and can fit two people underneath it.
---

If you are not a Spanish speaker, it's always handy to have a Latin American Spanish phrasebook with you. Whether you're dealing with booking buses and hotels or just asking for help in a supermarket, a phrasebook will help you interact with the locals and ensure your trip goes much more smoothly!
---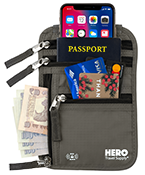 A neck wallet is an invaluable item to pack for your trip to Machu Picchu. Keep your belongings close and organized by wearing them in this handy pouch around your neck and under your shirt. This way you won't have to worry about your valuables getting lost or stolen as you hike or when you're in a crowded part of Machu Picchu.
---

A trip to Machu Picchu involves high altitude. You never know how your body will deal with the change but many people who are not used to it can find themselves feeling the effects of altitude sickness. Make sure you have these tablets around before you need them as it won't be fun trying to find medication if you are already suffering!
---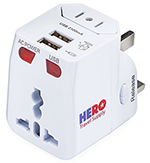 Plugging in your electronics in Peru can be a bit tricky because in some places they use the same type of outlet as in the US, but in other places, outlets requiring rounded prongs are used. Bring along a universal power adapter so you're prepared in any situation. This one is great because it includes built in voltage protection and comes with multiple USB ports so you can charge several devices at once.
---

When traveling for long periods it's not always easy to keep your devices fully charged. Power banks like this one are reasonably priced and can hold an impressive amount of power. This one is quite small, uses standard USB charger cables, and will be an absolute lifesaver when you need it!
---


Using a VPN is essential when connecting to public sources of WiFi abroad. Whether you're in an airport, cafe, or hotel, you'll want to make sure your sensitive information, like credit card numbers and passwords, are protected from potential hackers. It will also allow you to access websites that may be blocked or censored in Peru. This VPN is cheap and easy to use, we never travel without one!
---

Machu Picchu involves a lot of walking even if you don't opt to hike the Inca Trail. As the complex is built on a mountain, you'll want to be wearing decent footwear. The weather in the area can also get very wet so it's worth buying sturdy shoes like these that are water resistant to save an uncomfortable visit.
---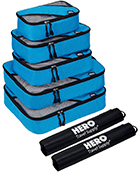 Using packing cubes is a great way to stay organized and avoid overpacking when preparing for your trip to Machu Picchu. You'll never have to dig through your luggage in search of clean socks again, as you can just pull out the specific pouch that they're in!
---

Mosquitoes are present at Machu Picchu and the surrounding areas. They like to come out around the early evening as the sun goes down so it's worth protecting yourself from itchy bites and disease! Put one one of these insect repelling wristbands and stay bite free during your entire visit.
---

It can also get very cold in Machu Picchu, especially at night. Giving yourself the option to put on a fleece, with or without a rain jacket is a good idea. Peru is definitely a country where it is best to pack layers that you can put on and take off as the weather changes.
---

It's a good idea to have travel insurance whenever you travel internationally. The best planned trips can go wrong and emergency medical assistance can be expensive, especially in rural Peru if medical transport is required. Give yourself peace of mind by having a comprehensive travel insurance policy.
Compare policies at TravelInsurance.com ➜
---

For the most comfortable experience in Peru's mountainous landscape, you will need a good pair of wool socks. Good socks can save your feet from blisters and keep your feet in good condition so you can concentrate on exploring all that Machu Picchu has to offer! This set is comfortable and great for spending a day hiking or walking around.
---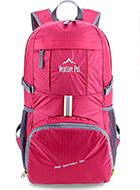 You're definitely going to want to bring a solid daypack for your excursion to Machu Picchu. Things like extra layers, camera, snacks, and water are always recommended to keep nearby. A good daypack will allow you to have all these things handy and also leave room for souvenirs!
---

Machu Picchu is stunningly beautiful and makes for wonderful pictures during your trip. The ancient complex is a great site for hobby photographers to capture the amazing historic ruin and landscape around it. Bring a good waterproof camera like this one that can withstand the rain and wet weather!
---

In Machu Picchu, it's a very good idea to keep hydrated, especially when hiking. Filling up a reusable water bottle like this one will help protect the environment and keep you feeling good. This LifeStraw water bottle is great because it comes with a built-in filter to ensure the water you're drinking is safe.
---

The food and water in Peru can be disagreeable to travelers. I absolutely love and recommend trying the local cuisine, but be prepared for your stomach to punish you for indulging. Activated charcoal can help with the symptoms of a bad stomach and keep you on your feet during your trip.
Other Machu Picchu packing list items not to forget
---
What NOT to Bring to Machu Picchu
---
1)

Heavy Books
– When packing for Machu Picchu you need to think of your mobility. There's a lot of moving around at high altitude and you will likely regret packing anything heavy and unnecessary like books. This is where the Kindle comes in handy!
2)

Unnecessary Electronics – Keep it to what you need. Not only will it be easier to carry around, there will also be less to worry about getting stolen, lost or broken. Take only what you need.

3)

Expensive Jewelry
– Machu Picchu is not flashy, it's old ruins on top of a hill. As well as looking out of place with expensive jewelry you will also make yourself a target for pickpockets and scammers.
4)

Lots of Cash – While it's worth having small amount of emergency backup cash with you, don't over do it. The ATM's in the towns in the vicinity of Machu Picchu tend to charge a fee, so it's worth getting a few days cash out at a time. If for any reason the ATM's are out of service, hotels will offer cashback services on your credit or debit card for a small fee.

FAQs about Machu Picchu travel
---
1) Where can I stay near Machu Picchu?
Most tourists stay in Aguas Caliente, a short bus ride from Machu Picchu up the mountain. It's a busy tourist town with lots of hotels, restaurants and souvenir vendors.
2) Will the locals speak English?
Many of the locals working with tourists will speak English. There are also lot of English speaking guides. This does not mean everyone you will encounter speaks English, though it's unlikely an English speaking local won't be nearby. Basic Spanish is recommended, but not necessary.
3) Will I be able to get a pass to visit Machu Picchu?
If you are planning on travelling during peak season (July & August) it is recommended you get your pass online in advance, there will always be crowds during this time. If you are going in the quieter months you can be more flexible. You can buy the passes in Aguas Caliente, you just need to take your passport and pay the fee. If you have planned ahead and know your dates, it's always worth buying it online in advance. There are different passes that allow you to go up to different vantage points around the complex, the more popular ones sell out quickly. Government Machu Picchu Visitor Website.
USE THE BELOW CODE FOR ALL SOUTH AMERICA LISTS
Other South America packing lists you may like…
Argentina | Brazil | Ecuador | Galapagos | Patagonia | Peru | South America
Also see Central America packing lists…
Aruba | Bahamas | Belize | Cabo San Lucas | Cancun | Caribbean | Caribbean Cruise | Central America | Costa Rica | Cozumel | Cuba |Dominican Republic | Guatemala | Jamaica | Mexico | Mexico City | Nicaragua | Panama | Playa del Carmen | Puerto Rico | Puerto Vallarta | Punta Cana | Virgin Islands |
Please note: We have over 200 packing lists covering practically every popular travel destination in the world. Access them all on our packing list overview page ➜