What should I bring on my Hawaii trip?
---
---
---
---
---
---
---
---
---
---
---
---
---
---
---
---
---

17) Virtual Private Network (VPN)
– This item may be a surprise to you to find on a Hawaii packing list but I've found having a good VPN is essential
for any travel
. I learned this the hard way when I recently had my credit card number stolen after using what I thought was a secure Wifi network at an Airbnb rental.
I've learned that whenever you go on someone else's WiFi whether it's at a cafe, airport, Airbnb, or hotel, you're potentially putting your passwords, credit card, and identity at risk of being hacked.
The good news is that with a VPN like NordVPN you protect yourself on any device with 1-click. The other benefit of having a VPN is that if you ever travel somewhere that censors the Internet such as Thailand or parts of Europe then you'll still be able to access all your favorite websites. I highly recommend you check it out before your next travels in order to guarantee the safety of your sensitive data.
View NordVPN.com Options ➜
---
Other packing list items to consider bringing to Hawaii
---
What should I wear in Hawaii?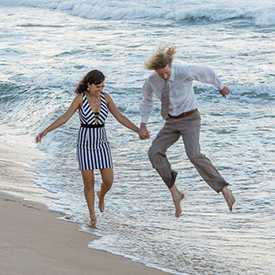 What you should wear in Hawaii varies a bit depending on what you'll be doing and what areas of the state you'll be in.
In general, though, Hawaii is warm and fairly casual. You'll be most comfortable if you stick to clothes made of breathable, lightweight fabrics, and shorts, sundresses, and sandals are acceptable for most occasions.
If you're planning on going out for nice dinners or attending shows, you might want a couple of dressier outfits for evenings. Also, note that if you don't want to look like a tourist then don't wear a Hawaiian shirt! 🙂
Many parts of Hawaii can get chilly at night too, so a lightweight jacket is a good idea, and it's a must if you're planning on visiting any higher elevations.
If you're going to do any substantial hiking, you'll probably want to wear long pants and hiking shoes.
What NOT to take to Hawaii
FAQs about travel in Hawaii
---
1) When is the best time of year to visit Hawaii?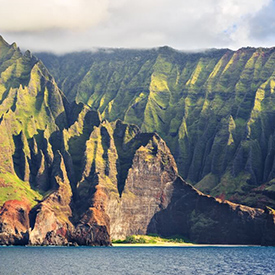 The weather in Hawaii is fairly consistent year-round, so you don't need to plan too much around the climate. The spring and fall months tend to see the fewest tourists, making them the best times to escape the crowds and get good discounts.
2) Which Hawaiian Islands are the best to visit?
Hawaii is made up of eight main islands (and over a hundred smaller ones), but the four most popular islands to visit are Maui, Kauai, Oahu, and the Big Island of Hawaii.
3) What is there to do in Hawaii away from the water?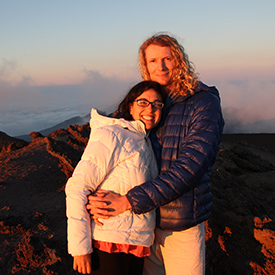 Hiking is a very popular activity in Hawaii, and all four of the main islands have plenty of options. Hawaii is also home to two national parks, Haleakala National Park on Maui (pictured at sunset) and Hawaii Volcanoes National Park on the Big Island, and there are five active volcanoes in the state. Viewing the lava flow at Halema'uma'u crater on the Big Island is one of the most popular tourist activities, and it's especially breathtaking before sunrise or after sunset. Other common attractions include luaus, museums, and cultural centers, Pearl Harbor tours, nightlife, spas, and lessons in hula dancing, ukulele, and lei-making.
4) What is the weather like in Hawaii?
Hawaii's weather varies by the island and by elevation, but the average monthly temperatures are generally in the 70s. The weather is fairly consistent year-round, though it's slightly cooler and rainier in the winter months. Also, it depends on where you are on an island. Generally, the northern and eastern coasts are wetter, while the southern shores (where most hotels are) is very dry year round.
5) What is the best way to get between the islands of Hawaii?
There are some boat options for inter-island travel, particularly to and from Maui, but flights are much more common. Six airlines operate within Hawaii, and most flights last under one hour.
6) Are there any health concerns for visitors to Hawaii?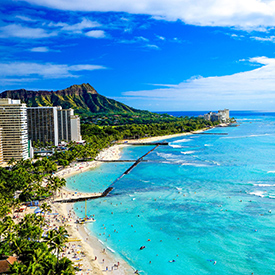 Visiting Hawaii poses no more health risks than visiting the continental U.S., and common sense will protect you against most potential issues, like dehydration.
7) How much does it cost to travel in Hawaii?
Options for both budget travel and luxury travel are plentiful in Hawaii. On the expensive end, there are hotels that run several hundred dollars a night and rental cars can cost around $75 per day. It's easy to spend $50 or more on dinner at nice restaurants, and adventure tours can cost $100 per person for a half-day. On the other hand, Hawaii has B&Bs costing $50-$100 and hostels for less than that, and public transportation is widely available on Oahu. You can dine cheaply at local diners or pick up groceries at a farmer's market or grocery store, and visiting the beach is free. If you're really pinching pennies, you can probably travel in some parts of Hawaii on a budget of $75 a day. Of course, flights to Hawaii are non-negotiable; they can start around $400 from major West Coast cities (depending on the time of year) and go up from there.
8) Where is a good place to travel off the beaten path in Hawaii?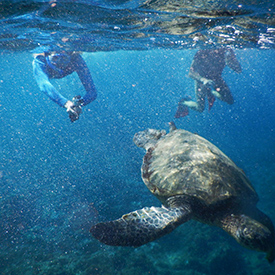 To find less touristy destinations in Hawaii, skip the four most popular islands (Kauai, Maui, Oahu, and the Big Island). The island of Molokai is the least visited and the least developed– there are no resorts, no fancy restaurants, not even a stoplight. There aren't many attractions, but that's part of what makes it so peaceful. My wife and I went camping on Molokai for a week and it was such a wonderful experience. We particularly liked the Pala'au State Park on Molokai.
9) What are the best hikes in Hawaii?
There are far too many great hikes in Hawaii to list, but some of the best are: Kalalau Trail and Hanakapiai Beach Hike (Kauai); Pipiwai Trail (Maui); Manoa Falls Trail and Diamond Head Crater Summit Trail (Oahu); and Muliwai Trail and Kilauea Iki Trail (the Big Island).
10) Where should beginners learn to surf in Hawaii?
There are great surfing spots on many of Hawaii's islands, but the most popular for learning are on Oahu (Waikiki Beach and the North Shore) and Maui (Lahaina and Kihei).
You may also like these other packing lists…
---
---
---
---
---
---