Updated on March 1, 2019 by Asher Fergusson
What should I bring on my Hawaii trip?
What to pack for your trip to Hawaii:
---
This case is a MUST if you want to bring your phone to the beach, on boats, hiking near waterfalls or anywhere where it can get wet, fall into the water or where it can get damaged by sand. It even makes it possible to take underwater photos and videos (with sound)!!

---

If you want to take better quality pictures than with a smartphone (and don't want a more expensive GoPro) then this is a great little camera that won't break the bank. With the beaches, the turtles, the rain forests and the waterfalls, there are plenty of things you'll be dying to take pictures of in Hawaii. But all of these activities require a camera that is waterproof and that's why we recommend this little beauty!

---

If you're going to bring your waterproof phone case or underwater camera out on a boat, while snorkeling or while paddle boarding etc then you have to have this flotation strap so that it'll float if you drop it!!

---

Hawaii is a super popular travel destination, so there are tons of guidebooks available. But if you want a guidebook which will give you the true local, insider tips and "secret spots" this series is a must-have. The locals on the different islands weren't very happy with the author for revealing all the hidden gems but as a tourist it's great! There is a separate book on each of Maui, Kauai, Oahu, and The Big Island. Several editions have come out, so be sure to get the latest one.

---

Swimsuit cover-ups are a must have for Hawaii. You can go for a swim, throw it over your suit, and then head to lunch without much thought. This one pictured is the one that my wife owns and loves. It's attractive on all body types, the lightweight fabric dries quickly and is breathable — plus it'll take up very little room in your suitcase and comes in several colors.

---

Lots of time in the sun and salt water may be the staple of a Hawaii vacation, but it can wreak havoc on your hair. To protect your hair from the elements and keep it from drying out too much, bring a leave-in conditioner to apply at the end of your beach days.

---

Hiking in Hawaii is beautiful, but it can be intense and often covers muddy terrain. Instead of bringing heavy hiking shoes to Hawaii we highly recommend these lightweight, mesh, water shoes. They are breathable (meaning your feet won't get too hot) and the "water grain" sole provides exceptional traction in wet and slippery conditions.

---

If you want to spend your Hawaii vacation exploring the islands and not nursing a painful sunburn, you absolutely need to pack sunscreen. But I urge you to PLEASE only use "reef safe sunscreen" that is safe for the reefs and turtles too. Hawaii has a very fragile ecosystem and studies have shown that the chemicals in normal sunscreen destroys the coral reef! In fact, there are even plans to ban oxybenzone-based sunscreen from Hawaii altogether.

---

This one from Earth Pak is our top pick. It's inexpensive, cleans easily and most importantly it works! It can be dropped in water (and even submerged) without your belongings getting wet. I recommend it whether you are heading to the beach, going on a day trip on a boat, or planning to do a more extensive water based excursion. Before I knew about dry bags, I got my backpack soaked on a day trip to Molakai because the boat got splashed by the waves and drenched the deck.

---

Though last year saw an outbreak of Dengue fever, there's generally very little risk of mosquito-borne diseases in Hawaii. That said, there are still mosquitoes, and you'll want to protect yourself against bites. These natural insect repelling wristbands last for up to 300 hours. Note: I also recommend you use insect repellent in addition to the bracelets if you want to minimize the chances of getting bitten.

---

Beach blankets are always necessary in Hawaii, but the wrong blanket will get blown around, filled with sand, and will be hard to dry at the end of the day. This Wellax beach mat is made of parachute material so it's quick-drying and lightweight. It also folds up very compactly for packing purposes. There are sand weights on the edges, too, so it won't blow around in the beach breeze! It even has pockets for your belongings and comes with a bonus cellphone case.

---

The sun in Hawaii is surprisingly strong even in the winter, and "rashies" are popular amongst locals. If you are fair-skinned (like me!) or this is your first time in the sun for a while you will be glad to know this one has an UPF sun protection of 50+. I wear mine religiously, especially when paddle boarding. My wife, who is very olive skinned, also swears by it because when you are in the Hawaiian sun for many hours it's just really easy to get burned.

---

A good beach bag is key because (more often than not) where you park your car is a bit of a walk to the beach; and in many cases beaches can be far from food and drinks etc. This Aruba Mesh beach bag is great because it comes with an insulated cooler at the bottom which is key for keeping your snacks and drinks cold in the sun. It also easily fits towels and changes of clothes, yet isn't bulky.

---

I recommend bringing one nice outfit on your trip. Inevitably you will want to grab a cocktail or a nice dinner somewhere and a sundress won't quite cut it. My wife loves this dress, and personally owns it. It doesn't wrinkle, it's easy to throw on after a long day at the beach, its super sexy on all body types, and comes in a variety of colors. It's also very inexpensive but doesn't look it when you put it on.

---

Whether you're traveling with a suitcase or a backpack, a few packing cubes will make it so much easier to stay organized. Instead of having to dig around for your swim trunks or bikini top, just grab the cube your swimsuits are packed in and you'll be ready to hit the beach. We've tried 5 different brands and Shacke Pak are the best quality and the lowest price.

---

These little devices are a marvelous invention. They are a highly effective way at relieving sea sickness and all kinds of motion sickness. I never get sea sick but when my wife and I took an early morning ferry from Maui to Molokai I did get sick! They work by applying pressure on the Nei-Kuan acupressure point on each wrist by means of a plastic stud that work to restore balance in the body with no negative side effects.

---

This item may be a surprise to you to find on a Hawaii packing list but I've found having a good VPN is essential for any travel. I learned this the hard way when I recently had my credit card number stolen after using what I thought was a secure Wifi network at an Airbnb rental.

I've learned that whenever you go on someone else's WiFi whether it's at a cafe, airport, Airbnb, or hotel, you're potentially putting your passwords, credit card, and identity at risk of being hacked.

The good news is that with a VPN like NordVPN you protect yourself on any device with 1-click. The other benefit of having a VPN is that if you ever travel somewhere that censors the Internet such as Thailand or parts of Europe then you'll still be able to access all your favorite websites. I highly recommend you check it out before your next travels in order to guarantee the safety of your sensitive data.
Other Things to Take on a Trip to Hawaii: Packing List Essentials
---
What do you wear in Hawaii? Clothes for Hawaii for women and men
---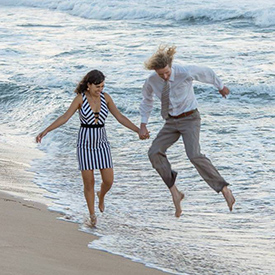 What you should wear in Hawaii varies a bit depending on what you'll be doing and what areas of the state you'll be in.
In general, though, Hawaii is warm and fairly casual. You'll be most comfortable if you stick to clothes made of breathable, lightweight fabrics, and shorts, sundresses, and sandals are acceptable for most occasions.
If you're planning on going out for nice dinners or attending shows, you might want a couple of dressier outfits for evenings. Also, note that if you don't want to look like a tourist then don't wear a Hawaiian shirt! 🙂
Many parts of Hawaii can get chilly at night too, so a lightweight fleece is a good idea, and it's a must if you're planning on visiting any higher elevations such as Mt. Haleakala or Mauna Kea.
If you're going to do any substantial hiking, you'll probably want to wear long pants and hiking shoes.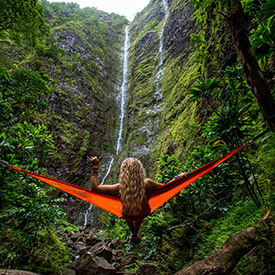 SUMMER – May, June, July, August, September, October:
Summer can be very warm in the dry areas near tourist resorts and beaches. These sides of the islands tend to be where mountains block or break up rainfall-carrying clouds. Dress for hot and dry, but don't forget that many parts of the islands are downright tropical and will still have substantial rainfall – and mosquitoes! Good hiking shoes are a must, and a rain jacket is still wise.
Bring a sun hat and good sunglasses, plus don't neglect your skin – apply reef-safe sunscreen frequently! Temperatures out of the water average between 80°F to 90°F (27°C to 32°C). Summer water temps are often near 80°F (27°C) in most areas.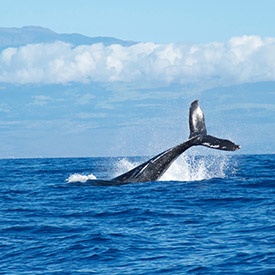 WINTER – November, December, January, February, March, April:
This is a slightly cooler time in most parts of most islands. If you're staying or adventuring on windward sides of an island, plan for higher wind and a little chill. A light sweater and a rain jacket are a good idea.
If you're planning to climb to some higher elevations (like any of the taller mountains in Hawaii), you WILL need a fleece jacket or something similar. A hat and light gloves aren't a bad idea for such adventures, either.
Waterproof hiking shoes are ideal for this time of year in Hawaii! Tropical areas will enjoy more rain and fairly steady temps. Sunny, dry areas (like those near most tourist resorts) will typically have cooler but dependably calm weather. Temperatures out of the water average between 70°F to 80°F (21°C to 27°C). Winter water temps on Maui and Oahu are usually around 77°F (25°C).
What NOT to Take to Hawaii
Travel FAQs and Hawaii Vacation Tips
---
1) What is the best month to visit Hawaii?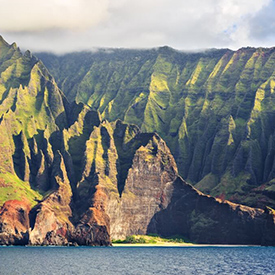 The weather in Hawaii is fairly consistent year-round, so you don't need to plan too much around the climate. The spring and fall months tend to see the fewest tourists, making them the best times to escape the crowds and get good discounts.
2) Which Hawaiian Islands are the best to visit?
Hawaii is made up of eight main islands (and over a hundred smaller ones), but the four most popular islands to visit are Maui, Kauai, Oahu, and the Big Island of Hawaii.
3) What is there to do in Hawaii other than the beach and water sports?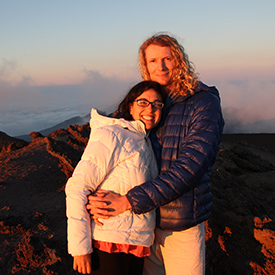 Hiking is a very popular activity in Hawaii, and all four of the main islands have plenty of options. Hawaii is also home to two national parks, Haleakala National Park on Maui (pictured at sunset) and Hawaii Volcanoes National Park on the Big Island, and there are five active volcanoes in the state. Viewing the lava flow at Halema'uma'u crater on the Big Island is one of the most popular tourist activities, and it's especially breathtaking before sunrise or after sunset. Other common attractions include luaus, museums, and cultural centers, Pearl Harbor tours, nightlife, spas, and lessons in hula dancing, ukulele, and lei-making.
4) What is the weather like in Hawaii?
Hawaii's weather varies by the island and by elevation, but the average monthly temperatures are generally in the 70s. The weather is fairly consistent year-round, though it's slightly cooler and rainier in the winter months. Also, it depends on where you are on an island. Generally, the northern and eastern coasts are wetter, while the southern shores (where most hotels are) is very dry year round.
5) What is the best way to get between the islands of Hawaii?
There are some boat options for inter-island travel, particularly to and from Maui, but flights are much more common. Six airlines operate within Hawaii, and most flights last under one hour.
6) Are there any health concerns for visitors to Hawaii?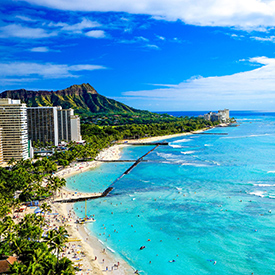 Visiting Hawaii poses no more health risks than visiting the continental U.S., and common sense will protect you against most potential issues, like dehydration.
7) How much does it cost to travel in Hawaii?
Options for both budget travel and luxury travel are plentiful in Hawaii. On the expensive end, there are hotels that run several hundred dollars a night and rental cars can cost around $75 per day. It's easy to spend $50 or more on dinner at nice restaurants, and adventure tours can cost $100 per person for a half-day. On the other hand, Hawaii has B&Bs costing $50-$100 and hostels for less than that, and public transportation is widely available on Oahu. You can dine cheaply at local diners or pick up groceries at a farmer's market or grocery store, and visiting the beach is free. If you're really pinching pennies, you can probably travel in some parts of Hawaii on a budget of $75 a day. Of course, flights to Hawaii are non-negotiable; they can start around $400 from major West Coast cities (depending on the time of year) and go up from there.
8) Are there cruises from California to Hawaii?
Yes! There are many different cruise lines that typically do 15 night itineraries from Los Angeles to the Hawaiian Islands and back. Some longer cruises even go down to Tahiti as well. If you enjoy many cruising days at sea then it can be a great way to see all the islands without having to pack up your hotel each night. Be sure to check out our packing list for a cruise to get all our tips on what to bring.
9) Where is a good place to travel off the beaten path in Hawaii?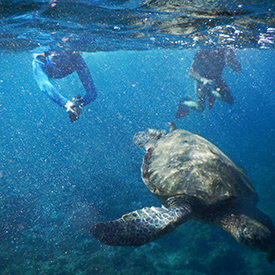 To find less touristy destinations in Hawaii, skip the four most popular islands (Kauai, Maui, Oahu, and the Big Island). The island of Molokai is the least visited and the least developed– there are no resorts, no fancy restaurants, not even a stoplight. There aren't many attractions, but that's part of what makes it so peaceful. My wife and I went camping on Molokai for a week and it was such a wonderful experience. We particularly liked the Pala'au State Park on Molokai.
10) What are the best hikes in Hawaii?
There are far too many great hikes in Hawaii to list, but some of the best are: Kalalau Trail and Hanakapiai Beach Hike (Kauai); Pipiwai Trail (Maui); Manoa Falls Trail and Diamond Head Crater Summit Trail (Oahu); and Muliwai Trail and Kilauea Iki Trail (the Big Island).
11) Where should beginners learn to surf in Hawaii?
There are great surfing spots on many of Hawaii's islands, but the most popular for learning are on Oahu (Waikiki Beach and the North Shore) and Maui (Lahaina and Kihei).
12) What are the best souvenirs from Hawaii?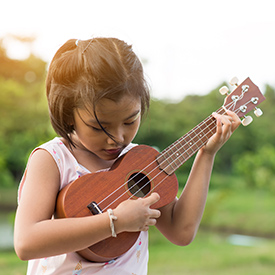 Everyone you know is sure to want a gift from your Hawaiian travels. These are a few of the best things to bring home:
Hawaiian fashions like shirts, skirts, and muumuus
Artwork
Coffee
Coconut oil products
Hawaiian music
Sea salt products
Hawaiian quilts
Koa wood
Jewelry
Lauhala hats
Ukuleles
13) What is there to do on each Hawaiian island?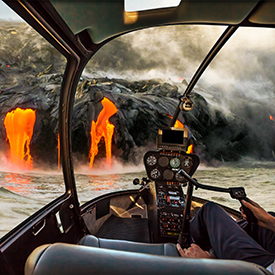 Planning a Hawaiian trip can be tough because there are multiple islands to choose to visit with amazing locations and opportunities on each one. I've narrowed it down to one must-do adventure for each island.
The Big Island: Volcanoes National Park
Kauai: The Na Pali Coast
Oahu: Pearl Harbor
Maui: The Road to Hana
Lanai: Horseback riding
Molokai: Kalaupapa National Historic Park
You may also like these other packing lists…
---
---
---
---
---
---