Updated on by Asher Fergusson
J
ordan is a fascinating country, full of rich history and home to Petra, one of the Seven Wonders of the World. Whether you're headed to the bustling streets of Amman or taking a ride through the rocky desert, you're sure to be delighted by all that Jordan has to offer.
It can be really hard to know what to pack for your trip to Jordan, so we've put together a comprehensive checklist to make your life easier! We include helpful sections on what to wear in Jordan, what NOT to bring, and answers to all your top Jordan frequently asked questions.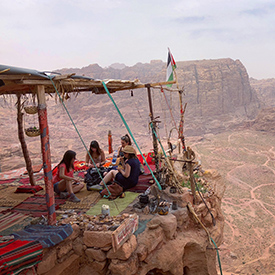 What to Pack for Jordan – 17 Essentials
---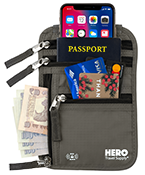 You'll be glad you brought a neck wallet with you on your trip to Jordan. It will keep your most important belongings organized and secure and safely tucked away out of sight for pickpockets. This neck wallet is great because it's large enough to hold your credit cards, passport, smartphone, and more.
---

You can't go wrong packing a lipstick-size portable charger for your trip. You're likely to be using your smartphone and camera throughout the day and won't want to have to stop what you're doing to recharge. Simply toss this in your backpack and charge your devices on the go.
---

You'll need a daypack during your Jordan trip. Carry it with you to bring along everything you'll need on excursions and activities, like a water bottle, jacket, sunscreen, sunglasses, and anything else you might want. This one is durable and comfortable to wear.
---

If Jordan is a long way from home for you, you'll be glad you brought these homeopathic jet lag relief pills with you! They work both as a prevention and a cure to help you get through the nasty symptoms of jet lag and enjoy the first days of your trip.
---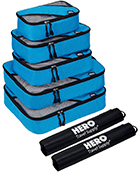 Packing cubes will help you stay more organized than ever before! Not to mention they'll help you to avoid overpacking. These cubes come in a variety of sizes and colors so you'll never have to dig through your luggage searching for one specific item again.
---

A pashmina shawl will prove endlessly useful in Jordan. Whether you're planning to enter a mosque or holy site or if you want to make your outfit a bit more conservative, you can throw this shawl over your head or shoulders and feel instantly more comfortable.
---


A VPN is useful for so many reasons when traveling abroad. It can be used to get around paywalls on popular news sites and will help you access information from your home country that may be blocked or censored in Jordan. It will also keep your private information safe from hackers whenever you connect to WiFi in public.
---

If you don't experience too much rain in Jordan, you'll certainly be glad you brought a windproof travel umbrella to deflect the sun! It's sure to be hot and sunny during your time in Jordan's infamous desert, and this handy umbrella will help keep you comfortable.
---

A long skirt is absolutely essential for your trip to Jordan. Many mosques and holy sites will require you to cover your knees upon entering, so you'll want to be prepared with a modest skirt like this one. It's also light and breezy so it'll keep you cool in hot temperatures.
---

The last thing you want is for your trip to get ruined by food or water poisoning! Take these activated charcoal tablets at the first sign of an upset stomach to expel any toxins in your body and keep you on your feet.
---

Jordan can get very hot and you'll need to make sure you stay properly hydrated. Be sure to bring some electrolytes like these to put into your drinking water which will help your body to absorb the vitamins and minerals it needs.
---

Give yourself some peace of mind when traveling to Jordan by purchasing travel insurance before you go. We never travel without World Nomads, which has a ton of great, affordable plans for any type of traveler.
View their plans at WorldNomads.com ➜
---

You'll definitely want to have a reusable water bottle during your trip to Jordan. This one is great because it comes with a built-in filter to ensure the water you're drinking is safe and clean. It'll also save you money on bottled water, and is much better for the environment, too!
---

Solid shampoo is an absolute must-have for your trip to Jordan. Especially if you plan to move around the country to various locations during your trip, you won't want to lug around a ton of liquid shampoo and toiletries. This is biodegradable and safe for the environment as well.
---

In the intense Jordan sun, you're sure to get hot and stinky! Toss a pack of these handy deodorant wipes in your purse or daypack and pull them out whenever you need to refresh quickly while you're on the go. Trust us, these will be a lifesaver during your trip!
---

If you plan to visit Petra or spend any time in Jordan's vast, rocky desert, you'll definitely need a sturdy pair of hiking shoes. Make sure you break them in properly before you go so you'll be comfortable spending long days on rough terrain.
---

Protect your smartphone from the elements by using this convenient waterproof phone case. Keep your device safe from the rain, dirt, and dust which you're sure to encounter in Jordan, and travel with a bit more peace of mind.
Other Jordan Packing List Items Not to Forget
---
What to Wear in Jordan
---
Jordan is a conservative country, so it's really important to respect local customs and norms while visiting. Women should be sure to wear loose-fitting clothing that covers their shoulders and chest down to their knees. Temperatures can get hot, so opt for lightweight, breezy cotton pieces that will keep you cool in the heat!
Jordan experiences mild to hot weather throughout the year, with slight changes during the four seasons. Regardless of when you're traveling, be sure to dress in non-revealing clothing that's loose fitting and comfortable in the heat and respectful of the culture.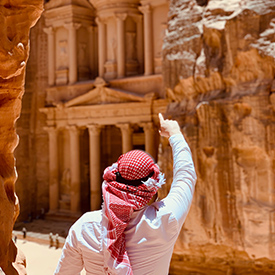 What Should WOMEN Wear to Jordan? – (Click to expand)
Below is a sample women's clothing list.
(All items link to Amazon.com for your convenience).
Jordan experiences hot temperatures but women must wear conservative clothing while in the country. Be prepared with loose-fitting, breezy clothing like long skirts, maxi dresses, and loose tops to keep you modest and comfortable during your time in Jordan.

What Should MEN Wear to Jordan? – (Click to expand)
Below is a sample men's clothing list.
(All items link to Amazon.com for your convenience).
Jordan is known for hot temperatures, so men should opt for lightweight, breezy clothing. On the whole, Jordan is a conservative country which also loosely applies to men. Be sure to have your shoulders covered and pants are not uncommon for men year-round. Things like t-shirts, longer shorts, and bohemian style pants are what you'll be most comfortable in.
WINTER

– December, January, February:

The heat begins to subside during the winter months in Jordan and temperatures are mild, ranging from 13 °C (55 °F) to 4 °C (39 °F). Evenings can be a bit chilly so be sure to bring layers and a light jacket to keep you comfortable. You can't go wrong bringing a pashmina shawl to throw on during cooler days and nights.
SPRING

– March, April, May:

Spring temperatures begin to heat up, though you're likely to experience comfortable warm weather rather than searing heat. Be prepared, as always, with modest clothing including maxi dresses, long skirts, and flowing tops. You may experience a small amount of rain, so bring an umbrella!
SUMMER

– June, July, August:

Summer in Jordan will be HOT to be sure to dress accordingly! Women will still need to be covered from their shoulders down to their knees, however, so loose-fitting, breezy clothing like maxi dresses, skirts, and bohemian style pants will work best.
FALL

– September, October, November :

Fall is a nice time to visit Jordan as temperatures have begun to cool off from the summer and are a bit milder. You may want to bring a light jacket for cooler evenings, and be sure to remain conservatively dressed.

How to dress for different activities in Jordan – (Click to expand)

Petra

– Located in the middle of the desert, Petra will be hot, dusty, and rocky. Be sure to wear sturdy shoes that are comfortable for walking around all day and clothing that can withstand the heat and dust. Long pants, flowing tops, and a sun hat are your best bet.

Exploring the Cities – Men are free to wear t-shirts and shorts while exploring Jordan's larger cities, but women should still dress conservatively by covering themselves from the shoulders down to the knees, though head coverings won't be required unless entering a mosque or holy site.

The Dead Sea – This area will be hot and humid year-round and you'll definitely want to take a dip in the sea! Be sure to bring a swimsuit, trendy swimsuit cover-up, sunglasses, sunscreen, flip flops, and plenty of water.
What NOT to bring to Jordan
---
1)

DON'T PACK white clothing:
Jordan can be windy and dusty, especially in the desert, and your white clothes are likely to become much less white very quickly! Opt for darker colored clothing instead which will have a longer shelf life.
3)

DON'T TAKE full-size liquids: Save space in your luggage by packing travel-size liquids instead of full-size toiletries. These are cheap to replace or refill and will make your trip run much more smoothly.
5)

DON'T BRING expensive jewelry or electronics: Don't risk your expensive valuables getting stolen, lost, or broken during your trip. Bring only the absolute essentials and leave the rest of your treasured items at home!
2)

DON'T BRING a winter coat:
Even in Jordan's coldest months, you likely won't ever have a need for a winter coat. Temperatures are mild to hot year round, so at most you should bring layers to accommodate changing temperatures.
4)

DON'T PACK too much stuff: You won't want to lug an overstuffed suitcase all over Jordan! Pack only what you need and bring versatile, neutral-colored clothing that can be layered and worn again and again.
6)

DON'T TAKE revealing clothes: It's customary and respectful to wear conservative clothing while in Jordan. You won't want to draw unnecessary attention to yourself by wearing revealing clothing, so be sure to cover up!

What clothing should I NOT wear to Jordan? – (Click to expand)
Avoid wearing white and light-colored clothing during your trip to Jordan, as it can be dusty and windy, particularly in the desert and at Petra, so you run the risk of ruining your clothes. Also, don't wear clothing that is too tight or revealing, as you'll draw unwanted attention to yourself and it's considered culturally disrespectful.

FAQs for Going to Jordan
---
1. What are some fun things to do in Jordan?

Some of Jordan's most popular attractions include Petra, lovely seaside resorts, the Dead Sea, and checking out the bigger cities like Amman.

2. What's the best way to get around in Jordan?

The most popular way to get around Jordan is by public bus. However, tourists may be more comfortable and safer arranging private cars and taxis.

3. What currency is used in Jordan?

The Jordanian Dinar (JOD) is the currency used in Jordan.

Other Middle East packing lists you may like…

Abu Dhabi | Dubai | Egypt | Israel | Jordan | Turkey

Also see our Europe packing lists…

Amsterdam | Barcelona | Camino de Santiago | Croatia | Europe | France | Germany | Greece | Hungary | Iceland | Ireland | Italy | London | Mediterranean Cruise | Norway | Paris | Poland | Portugal | Prague | Rome | Scotland | Spain | Switzerland

Please note: We have over 200 packing lists covering practically every popular travel destination in the world. Access them all on our packing list overview page ➜