Updated on by Asher Fergusson
W
e love cruises because they're the best of both worlds: you get to see many destinations and attractions – and yet you still have the same accommodations, reliable tasty food, and comforts every night. They are also awesome for families. Our two toddlers still talk about how much they loved the "big boat!"
Since the majority of cruises are chartered for warm destinations, many of our packing recommendations will reflect that.
Below you'll also find suggestions on what to wear on a cruise, our list of 17 top items to bring and what NOT to pack. Bon voyage!

What to Pack for a Cruise – 18 Essentials
---

These things are absolutely incredible! I normally get seasick and the days out at sea can be quite hard for me. I've tried so many different sea sickness remedies from sea bands to homeopathic pills to Dramamine (which has quite horrible side effects). But these new motion sickness patches work like magic. On our last cruise I was getting so so sick and then remembered I had them. I simply stuck them behind my ears and BAM! I wasn't sick the rest of the trip!
---

Often your cruising adventures involve water and sand. Even if you are just hanging with the fam on the beach it's likely you'll want to keep your phone with you… So how do you ride a zodiac to a private secluded beach without soaking your phone? Use this super inexpensive phone case! It's awesome to have because waterproof, sand and scratch proof, scratch-proof, and will allow you to continue to use your camera and touchscreen while your phone is safely protected inside it.
---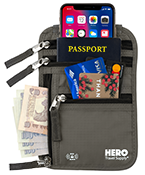 Whenever you leave the boat you will be told to bring your SeaPass (your room key) and a photo ID like your license or passport. This convenient little pouch safely stores you passport, drivers license, cash, credit cards and travel documents. If you happen to be stuck in a traffic jam (this happened to us!) or your taxi breaks down on the way back to the port and you miss your boat you'll be happy you have your passport with you!
Available on HeroTravelSupply.com with an exclusive 15% discount using the coupon code "HERO".
---

Alcohol and sun are not a good combo and when you're cruising you may find yourself getting a lot of both. These natural hangover prevention pills made with vitamins, electrolytes and other safe ingredients like Dihydromyricetin actually help a lot! Dihydromyricetin has even been studied by the National Institutes of Health and shown to "counteract acute alcohol intoxication". The one we like is called Cheers and was featured on Shark Tank. Even if it's a placebo, it worked for us!
---

Most cruise destinations are for warm locations so travelling with this cooling towel is a must for me. I hate feeling overheated and even though the comfort of air conditioning is available on the ship, it's not always the case at the port or on the deck. If I'm strolling through the streets, visiting markets or other tourist attractions I carry this towel with me. For relief, I simply wet the towel, wring it out and apply to my neck or shoulders for instant comfort. The towel is chemical-free and comes in a handy case preventing the other items in my daypack from getting damp.
---

Cruises often take you to crystal clear water and underwater cameras are really fun to have in tow. We got so many great pics of my little son in the waves, my hubby snorkeling, and me hanging on the beach thanks to ours. We really like this little camera because it's a fraction of the price of a GoPro but still works beautifully. This camera will help you document all those breathtaking moments or that priceless underwater family selfie.
---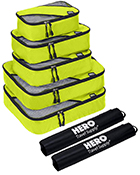 Organization is key when packing for a cruise because unless you can afford a penthouse your stateroom will be tiny! These storage "cubes" are flexible and zippered so that you can pack them full and place them neatly into your luggage and then into the tiny drawers and compartments in your room. They compact your items down and keep them contained so that you never have to rummage around for what you need. They also free up space for that duty-free merchandise you may be bringing home!
---

Do not leave home without these charcoal tablets. Cruising often offers a false sense of security. You think, "oh I'm on a boat, food will be safe. there shouldn't be any problem with food poisoning or stomach virus, right?" Wrong. You will most likely be visiting foreign countries like Mexico, Jamaica, Honduras, Greece etc. and all of these places are known for serious travelers diarrhea. And cruise ships are notorious for folks getting sick at the buffets. These puppies will save the day. The moment you start feeling sick, take the suggested dose and you will be so much better off. No one wants to spend their whole cruise in the tiny ship's bathroom. Trust me!
---

Most cruises all go to ports that experience a surprising amount of rain. On the several cruises we've done, there have always been rainy days where we wished had a travel umbrella because we got drenched! When you're out at sea it's often windy too so you'll want an one that is windproof! The additional benefit of an umbrella is you can also use it for sun and UV protection on those really hot days that will likely burn you otherwise.
---
10. Long-sleeved Swim Rash Guard: Women's & Men's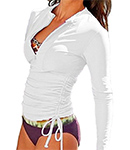 The sun in Mexico, Puerto Rico and the Caribbean is harsh. I almost never burn and I turned red like a tomato on our first trip. It was a good reminder of the importance of covering up whether on the boat during cruising days or lounging at the beach. My husband is fair skinned and cannot go to the beach without using a men's rash guard. This one (pictured) is super stylish and flattering for women while offering serious UPF/UV sun protection. You can't go wrong with it in my opinion.
---

If you're on a cruise, you're gonna go to the beach. Having a good beach bag will make your life much more enjoyable. This one from Aruba Mesh is perfect for carrying swimsuits, snacks, changes of clothes, snorkels etc and even comes with an insulated cooler at the bottom for keeping your drinks nice and cold. Plus it's compact and weighs next to nothing when empty.
---

Having good coverage is absolutely critical (especially in the age of COVID). Cruising often makes you think that you're still in America (or home country) because that's often where the boat starts its journey. But think about where you're going and if you'd like to be in a local hospital in an emergency. We recommend SquareMouth.com for comparing and finding the right plan. This is one of those situations where I'd rather have the insurance and never need it than have even one issue without coverage. Emergencies of many kinds (urgent trips home, medical problems, thefts, etc.) are all typically covered, so it just makes sense to be safe instead of sorry. You can even get coverage for hurricanes & inclement weather and many plans have the option of "cancel for any reason" which is handy to have these days!
Compare plans at SquareMouth.com ➜
---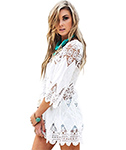 I seriously love this cover up! It's my go to whenever cruising. I just throw it over my swimsuit and feel totally comfortable traveling through the boat to the beach or on an excursion. It's sexy but modest and comfortable enough to wear while walking around the cruise ports or walking around the boat. The lightweight material makes it dry super quick and it's breathable – plus it'll take up no room in your suitcase.
---
14. Slip-on Mesh Water Shoes: Women's and Men's

In tropical locations it's likely that you'll be in and out of the water while you're exploring or taking part in activities, and flip flops are not going to cut it. You'll want something comfortable that can go from land to sea so that you can wear them while walking around beachside towns or trails and then hop right into the water for some snorkeling. You don't want to have to worry about getting sand or water in your best hiking shoes, and there are many beaches and reefs where it's really not a good idea to go barefoot, so these mesh water shoes are a great solution.
---

Mosquitoes are an issue in most of the places frequented by cruise lines, simply because all of the most sought-after tropical locations are perfect for these flying pests. To protect yourself, be sure to bring mosquito-repellent of some kind. I always recommend a deet-free option to keep chemical exposure to a minimum. These wristbands are safe and effective, and are easy to wear without having to reapply a spray over and over.
---

A good quality beach blanket is super helpful when cruising. The towels provided by your cruise lines will not really be suited for the beach because it'll fill with sand and will be hard to dry at the end of the day. However, this one by Wellax is made of parachute like material that drys in no time and sand can't stick to it. It folds up into a little carry bag and even has a pocket for your belongings such as keys and cell phones.
---


When stopping at ports you'll likely want to get on various WiFi's at restaurants and beachside hangouts but if you don't have a VPN then there is a chance you'll compromise your security. This means potentially putting your passwords, credit card details and online identity at risk of being stolen by hackers who prey on unsuspecting tourists.
A simple tap on your phone or click on your laptop is all you need to activate the VPN on-the-go, and you can then browse the Internet worry-free. Plans are incredibly inexpensive, so it's really a no-brainer for any kind of travel.
---

Ships – even really big, stable ones like cruise ships – tend to move a bit and can rock back and forth. Because of this, leaving your toiletries or makeup out and on the counter in your room is not a great idea. A hanging toiletry bag makes packing extremely easy, and keeps items organized and in-place so that you always have access to what you need. When you're ready to pack it away, all you do is fold it back up and go!
Other items to remember for a Cruise vacation
---
Other cruise packing lists you may like:
Mediterranean cruise
|
Caribbean cruise
|
Disney cruise
What to wear on a Cruise
---
Setting sail on a cruise is the trip of a lifetime. On the high seas, you may find yourself relaxing by sparkling pools on the top deck, docking for day trips to different coastal cities, exploring the world's cultural gems, and dancing to live music on the ship. Be sure to pack for every occasion – think swimsuits, breezy cotton clothing, sun hats, and a few spiffier outfits to wear to dinner.
There are cruises that go to almost every corner of the globe. No matter where you're going, get ready to pack your bags, hop on board, and set sail.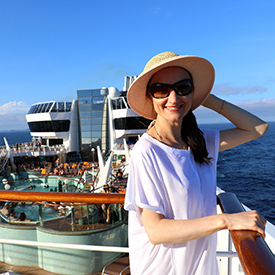 What should WOMEN wear on a cruise? – (Click to expand)
Below is a sample women's clothing list.
(All items link to Amazon.com for your convenience).
On your cruise, definitely keep it casual during the day. You'll be spending your days outside mainly, so dress for the weather (hopefully tropical!). Bring swimsuits, tank tops, loose shorts, cover ups and sundresses. Make sure to bring the right accessories, like sunglasses, sun hats, or visors. Sandals are a cruise staple. Bring some athletic clothes and comfortable closed-toed shoes to wear while exploring the cities you'll dock in, and in case there is a rock climbing wall
on board! Dining attire is usually "cruise casual" in ship restaurants, so bring some casual-cute clothing like simple dresses, and nice flats. Make sure to bring a beach bag to take to the pool or out sightseeing.

What should MEN wear on a cruise? – (Click to expand)
Below is a sample women's clothing list.
(All items link to Amazon.com for your convenience).
Men should wear casual and comfortable clothing on a cruise. Bring swim trunks, tank tops, cotton shorts, and loose button-downs. For day trips to explore port cities, bring walking shoes and clothes that are comfortable to hike in. As far as shoes, you should pack slip-on sandals, athletic shoes or sneakers, and
maybe a pair of loafers to wear around the ship. If you're planning on dressing up for dinner, bring a nice pair of khakis, and a few good shirts.

Knowing what to pack for different types of cruises can be tough – we go into detail about the most common cruise types below.
Caribbean Cruise
​ – Get ready for some seriously tropical weather if you're headed on a caribbean cruise. Bring extra sunscreen, aloe, a couple extra swimsuits, and a sarong or two.
Luxury Cruise​ – Higher-end cruises come with all sorts of special amenities. Depending on the ship, some come with rock climbing walls, ziplines, ice and inline skating, surf and skydiving simulators, water slides, and basketball and volleyball courts. Pack a wide variety of clothing for these, including athletic gear and fancier dinner attire. Dresses, suits, dress shoes, and heels are a good call.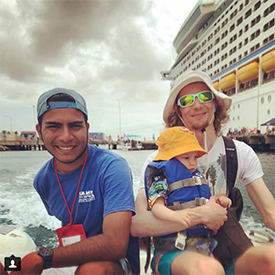 Adventure Cruise​ – Some cruise lines seek out exotic itineraries in the Arctic, Antarctica, Galapagos, Amazon, and other less mainstream destinations. If you're going on one of these once-in-a-lifetime adventures, check the weather and pack accordingly. This may mean packing rain jackets, waterproof pants, wetsuits, etc.
Disney Cruise​ – Disney really understands what parents and small children need on vacation, from entertainment and dining to childcare. If you're headed on a Disney Cruise, check out this packing list for all our tips.
How to dress correctly for activities on a cruise – (Click to expand)
Day Trips & Sightseeing​
​ – – Cruises frequently make pit stops at different port cities and islands. Usually, you will have the day to explore the area, and give your sea legs a break. Sightseeing, dining, souvenir shopping and walking around are all popular activities on cruise stops. You may even get to spend the day at the beach. Bring comfortable clothing, walking shoes, sunglasses, a daypack, and always check the weather before you leave the ship.
Pools​ – Almost every cruise ship has at least a few pools and hot tubs. Bring your swimsuit, obviously, and a few cover-ups. Sun hats, sunglasses, and sunscreen are must-haves.
Ship Restaurants​ – Going to dinner on the ship is a great excuse to dress glamorously. Keep it classy with a little black dress, sundress, or nice jeans and a tank top. For men, chic slacks and button-downs are key.
Outdoor activities​ – – ​If you have any outdoor activities or tours planned during any of your cruise stops, make sure you pack accordingly. Consider bringing comfortable walking or hiking shoes, and workout attire. It may be a good idea to bring some athletic clothes, in case you want to rock climb, spelunk into a cave, or pursue any other outdoor adventure on your trip

What NOT to take on a Cruise
---
1)

DON'T PACK too much:
An overstuffed suitcase is always more trouble than it's worth. Avoid bringing along things you're not going to need like excessive amounts of clothes or shoes. Besides, a suitcase that's already crammed full of stuff leaves you with no room for souvenirs.
2)

DON'T TAKE expensive jewelry:
Although there might be some nights where you're expected to dress up a bit, you're better off leaving any expensive or heirloom jewelry at home. After all, it's far too easy to lose things when you're constantly moving around, and the risk of theft is not worth taking.
3)

DON'T BRING uncomfortable shoes:
This one is a bit obvious but it also goes for pairs that haven't been properly broken-in. If you plan on buying brand new shoes to wear on your trip, start using them a couple of weeks prior to your departure date. Otherwise, you'll have to deal with painful blisters when you should be enjoying yourself instead.
4)

DON'T PACK basic grooming products:
You can leave the shampoo, conditioner, and soap at home since these will be provided. The same is true for things like hairdryers and irons. The only reason you'd want to bring your own along for the ride is if you're picky about these products or you need more generous quantities of them than most hotels normally provide.
5)

DON'T TAKE anything prohibited by the cruise line:
The vary widely but the lists are ALWAYS made available to travelers, so you'll be able to research the items you can't take. Fire hazards, certain chemicals, weapons… the logical items that you can't normally travel with anyway.
6)

DON'T BRING heavy items:
You're already going to be lugging around bags so save yourself (and your back) some trouble by leaving heavy books and electronics at home. If you're a reader (and there's a lot of lounge time on the ship!), opt for a
Kindle
or a similar e-reader.
What NOT to wear on a cruise – (Click to expand)
It's hard to go wrong with what you wear on a cruise. Leave the warm winter jackets and ugg boots at home, if you are going somewhere tropical. Super nice clothing is not necessary, unless you are going on a luxury cruise and want to dress to the nines.

FAQs about going on a Cruise
---
1) How long do most cruises last?
It can vary greatly. There are overnight trips to nearby destinations and then there are some round the world cruises that can take a year to complete. However, most cruises run about a week, give or take a few days. Longer cruises often have a majority of their days at ports, of course, but there may be a couple of travel days where you're on the water and have to seek entertainment on the ship itself. Don't worry – cruise ships are infamously well-stocked with various entertainment.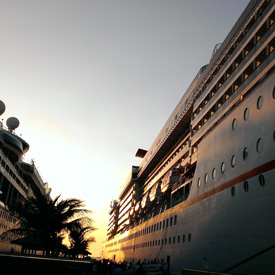 2) What is included in the basic cost of a cruise?
The basic fees typically include a cabin on the boat, most of your food, some onboard activities, and water-based beverages like tea, lemonade, hot chocolate, and basic coffee drinks. The quoted rate doesn't usually include things like sodas or alcoholic beverages. Some cruises do include alcohol and excursions but others don't – the ones that do will charge higher fares, so you'll have to consider how much you'll be taking advantage of those free drinks. For some, it's well worth it, but for others it's wiser just to plan on paying for each drink out of pocket. Be sure to carefully read over the official documents so that you know precisely what your money is going to get you.
3) How much should I budget for additional expenses?
Of course, travelers will need to factor the cost of transportation to and from the port. This might also include airfare and baggage fees for folks that can't drive to where the ship departs. How much you want to budget once you get on the boat varies based on what activities you want to try out. Depending on how many places a ship docks, the port fees can also vary from trip to trip. Some shore excursions are naturally pricier than others. In additional to those things, there's often an additional charge for internet usage while you're onboard the ship so you may need to factor that into your calculations as well.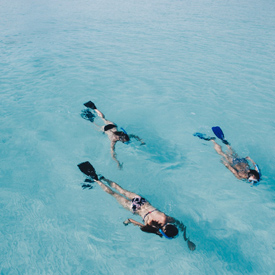 One of the best things about cruises is that you're largely in control of how spendy you need to be – you can do activities at every port that cost money, or you can lounge around at inexpensive or free beaches and chill in the sand.
A number of cruise lines even have onboard restaurants that are not included in their meal plans so you have to pay separately for them. If you plan on going to the spa or doing some shopping while you're on the cruise, you'll need to adjust your budget accordingly. Most American cruise ships also charge gratuities per guest on a daily basis. The rate does vary slightly from company to company. Travelers should also be aware that onboard spas and bars automatically charge extremely high percentages as "tips" when it comes to their services. If you plan on using them, be prepared to pay more than the listed rates.
4) Is it better to arrange my own excursions or take the ones offered by the cruise line?
Arranging your own excursions is certainly cheaper than taking the ones sponsored by the cruise line. However, if the port is located far enough away from the nearest city, you might be better off to take the cruise's official excursions rather than risk missing your boat. Budget travelers might instead choose to walk around the port city for free, or head to the nearest available beach rather than go on prepackaged excursions. Some people might even opt to stay on the boat during their stay in port in order to have all the ship's attractions to themselves.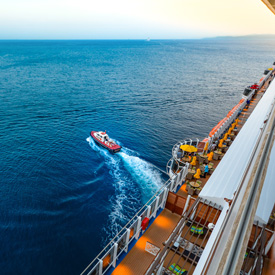 5) When is the best time of year to go on a cruise?
It depends entirely on where you're going. Different destinations are at their peak at different times of the year. Read up on the places that your cruise ship will be visiting and adjust your plans accordingly.
6) Do you have tips for making a cruise more enjoyable?
Perhaps the most sensible tip is to arrive at the city nearest to your departure port a day or two ahead of time. This will give you enough time to recover from your flight, possibly enjoy the city itself, and not worry so much about getting to the boat before it leaves. You'll also want to check and double check to be sure that you have the proper paperwork that you need to embark before you get to the gangplank. When the boat is on the move, there are a number of things you can do to improve the quality of your stay. If you're not a big fan of children or crowded spaces, check out the adults-only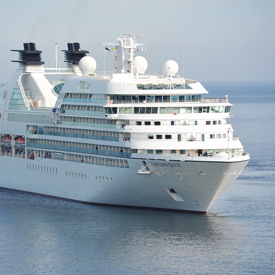 areas. These spots tend to be less crowded and less noisy than areas where families are welcome. If you don't like making conversation with strangers, you might want to dine out while you're in port rather than eat in the main dining area. Night owls might also want to check out the discos on board, even if that's not normally their scene, since not much else happens on the boat after midnight. Also: check out
this article
as well as
this one
for even more tips.
7) Do I need a passport to go on a cruise?
Americans don't need a passport if the cruise they're going on begins and ends in a US port. For cruises that end or begin in a foreign port, you'll need a passport.
However, most cruises do require an official ID of some sort before they let people onboard so make sure you see what documentation they will expect.
8) What about for shore excursions?
If the cruise will be stopping in other countries and you plan on disembarking while you're there, you probably need a passport. American-run territories like the US Virgin Islands, the Northern Mariana Islands, American Samoa, Guam, and Puerto Rico are the main exceptions to this rule.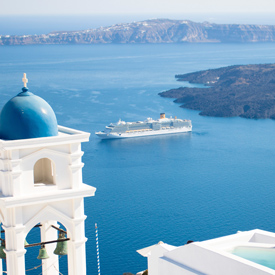 Of course, you can still get off the boat at any port stops in the United States if you're an American citizen.
9) How can I avoid spending a fortune on drinks?
The easiest way to do this is to take as much as you're allowed with you. The amount does vary by company so read the fine print. Most cruise lines will typically allow travelers to bring one or two bottles of wine. Or you can drag along soda or beer, if that's more your speed. The restrictions tend to apply more to alcoholic beverages than soft or sports drinks. Therefore, you might be able to keep bringing more on as your supply runs out. Just keep in mind that some cruise lines won't allow this.
As
was pointed out here
, using flavored powder for the complimentary water onboard is another good way to get around the bizarre drink regulations. You can even take your preferred brands of coffee, hot chocolate, and tea to brew up the drink of your choice. All the same, most of these drinks are available for free so there's really no need to bother, unless you have very specific beverage preferences. Another good idea is to buy a bottle of wine and have it marked with your room number so that you can drink the rest of it later.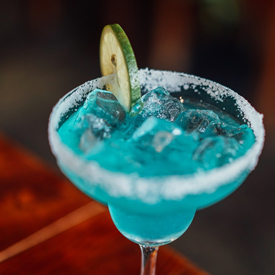 You might even want to look at getting a beverage card that allows you to pay a flat rate per day instead of paying for them individually. However, do the math to make sure that it will save you money. It often doesn't. This can likewise be the case with the daily drink specials, which might not actually be any cheaper than they were originally.
10) How can I avoid other sneaky fees?
Do your internet browsing while you're in port instead of on the boat to avoid paying for pricey service while you're onboard. Switch your phone to airline mode (which turns off the internet features) in order to avoid scary roaming charges. Meanwhile, take advantage of the free activities and food. Don't pay for "special" meals or snacks that are just going to cost you extra. You'll also want to minimize your participation in any activities that require additional funds like visiting the casino or seeing onboard shows.
11) How can I get a good deal on a cruise package?
Keep in mind that shorter cruises tend to be cheaper overall and they often have a lower per-night price rate than longer ones. It's no secret that inside cabins tend to be cheaper than ones with a view or a balcony. Prices also tend to be lower for groups, especially since these travelers can share cabins and buckets of overpriced beer. It's certainly not surprising that it's cheaper to traveling during hurricane season since the itineraries at such times change based on where the storm is going. (Relax! It's not headed where you are.)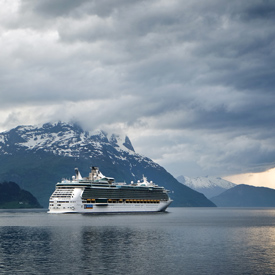 Prices also go down when school is in session and you're far less likely to encounter wild children running loose in the hallways than you might be at other times of the year.
12) What are some ways to stay within my budget?
You'll want to bring along everything that you'll need so that you don't have to purchase anything from the pricey stores onboard or deal with the limited selection in some ports. Of course, it's always a good idea to avoid visiting any shipboard stores if you're low on funds. The same is true of places like the casino where, like in the Hunger Games, the odds are definitely not in your favor.
Don't go overboard when it comes to purchasing souvenirs either. Get only one or two affordable items while you're in port. It's even better if the things you buy can be used later.
I personally like to buy cooking supplies or clothes as mementos because they don't collect dust at my house. Seashells from the beach are likewise good (free!) souvenirs, and you can bring them back on the airplane if they're cleaned up and there are no animals still living inside them.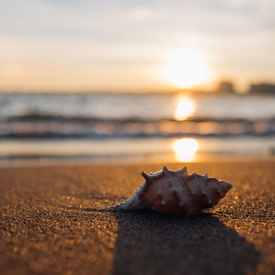 However, check the local laws before you do this. Some places won't let you pick up shells off the beach and you certainly don't want to get slapped with a scary fine for what was supposed to be a free souvenir.
13) Are cruises safe?
Yes. News about cruise mishaps has cropped up in the past few years, but believe it or not it's extremely rare for big problems to occur on cruises. They're quite safe, they've been operating for decades, and they seldom have big problems. That said, it's always better to opt for the more reputable cruise lines when possible, and travel insurance is a good idea no matter where, when, and how you're traveling.
One factor to take into consideration is which destinations your cruise will be stopping in: if there are issues or travel warnings about those countries, it may be better to choose another cruise route. Cruise services, though, are actually quite good about modifying their routes to avoid any danger, so it's not a huge issue.
Other packing lists you may like…
2-Week Trip | 3-Day Trip | Baby Packing List | Baby Travel Gear | Bachelorette | Backpacking | Beach | Birthright | Bonnaroo | Burning Man | Business Trip | Cabin | Camping | Canoe Trip | Car Camping | Carry-On | Castle Trip | Cheerleading Camp | College Dorm | Convention | Day Hike | Deer Hunting | Desert Trip | Destination Wedding | Diaper Bag | Digital Nomad | Disney | Disney Cruise | Elk Hunt | Fall | Float Trip | Flight | Girl Scout Camp | Girls | Glamping | Golf Trip | Honeymoon | Hostel | International | Island Vacation | Kids | Lake House | Long-term | Men's Packing List | Minimalist | Motorcycle | Moving Abroad | Music Festival | Overnight | Peace Corps | Resort | Road Trip | Round The World | Ski Trip | Snowboarding | Spring Break | Study Abroad | Summer Camp | Summer Vacation | Teen | Theme Park Trip | Toiletries | Toddler | Tropical Vacation | Ultralight | Wedding | Winter Vacation | Weekend | Zoo Trip
Please note: We have over 200 packing lists covering practically every popular travel destination in the world. Access them all on our packing list overview page ➜