Updated on by Asher Fergusson
What to Pack for Australia – 17 Essentials
---

This item is at the top of the list for a reason. This universal-fit case protects your phone from dirt and dust, water, scratches, and some impacts while also still allowing full use of your device even underwater including the camera! Perfect for an underwater selfie at the Great Barrier Reef – haha!
---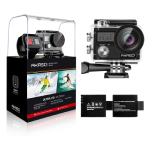 This camera is tough and waterproof down to 30ft. Practically all major cities in Australia are on the coast, which puts water activities such as snorkeling, surfing, or scuba-ing at the top of menu. If you want a much less expensive option than the GoPro, this is the camera to check out.
---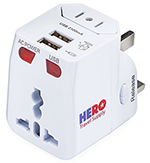 The Australian Type I power outlet is one of the lesser-used in the world so if you want to keep your electronics charged you'll need to bring a power adapter. I recommend bringing a universal power adapter that also has USB ports and built-in fuse protection. This adapter works in almost 100 countries.
---
4. Slip On Mesh Water Shoes: Women's and Men's

Water sports are huge in Australia. You may snorkel, you may take a hike among tidal pools, or you may simply spend a day (or many) at the beach, but regardless, you don't want to do those things in your regular shoes. You'll want something sturdy and reliable, quick-drying and comfortable. These shoes are extremely handy and versatile, and will save you from having to ruin your best walking or hiking shoes.
---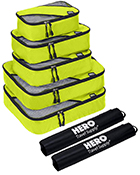 These packing and storage cubes have made life so much easier while traveling. They allow you to pack items in a way that's organized, accessible, and compact without adding any bulk. I find that locating the exact item I'm looking for is a breeze with these, since my belongings aren't simply packed all together in my suitcase – TOTAL LIFE CHANGER!
---

Travel insurance is a necessity – any experienced traveler will tell you that it's better to be safe than sorry. Theft, medical emergency, etc. are covered under most plans, and they're not much of an extra cost – it's a price worth paying for the peace of mind you'll have while on your trip. World Nomads comes very highly recommended by myself and many other well-traveled individuals.
View their plans at WorldNomads.com ➜
---

A combination of jet lag, new food, and new environment seems to be a recipe for digestive upset. Almost every traveler has experienced traveler's diarrhea at some point – if you haven't, it's not a fun way to spend your trip. Activated charcoal helps tremendously with this problem, and also serves as a great remedy for food poisoning, should that be something you encounter during your travels.
---

Drinking water regularly is even more important in Australia than it is in the States. Heat, dry air, and beating sun combine to make it hard to stay adequately hydrated, so carrying your own supply of water with you is a great idea. This bottle has a built-in filter, too, so that you don't have to worry whether the water from the tap is already filtered or safe to drink on its own.
---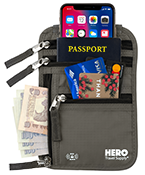 Australian cities such as Sydney and Melbourne are known for their pickpockets. The way to ensure you're not the next victim is to use a neck wallet like the one pictured. This pouch securely stores your passport, credit cards, cash and plane tickets, etc so that you can conceal them under your clothing. After having some pretty scary experiences myself, I never do long-distance trips without my neck wallet and this is especially important for Australia since the travel time and jet-lag can be so bad. When you're a tired tourist getting off the plane into a new city you have a target on the back of your head but with a neck wallet, it's practically impossible for thieves to steal from.
Available on HeroTravelSupply.com with an exclusive 15% discount using the coupon code "HERO".
---

Believe it or not, in my experience, you need a good VPN for all travel.
If you ever use WiFi in a foreign place, whether at a cafe, airport, rental property, or a hotel, you could be putting your private info in danger of being hacked. I found this out the hard way when my credit card number was stolen after using the WiFi at a Paris Airbnb.
If you use a quality VPN such as NordVPN you can protect yourself on any device with 1-click.
---

Allergens and pollen are surprisingly tough to adapt to in Australia, so it's best to remember to pack some non-drowsy allergy medicine so that you don't have to spend your best travel days sniffling and sneezing. Likewise, jet lag is a fierce foe when you're on the opposite side of the world from home so I highly recommend this natural jet lag remedy to counteract its effects. Use it before and at the beginning of your trip and you'll arrive feeling much more ready to dive right in to exploring!
---

This small, user-friendly portable charger is powerful and extremely handy. Charge it while you're resting in your accommodations, and bring it with you to recharge your other devices while on-the-go! It's the size of a tube of lipstick and just as sleek, and it uses a USB cable so it's compatible with any device that can use a charger cable with a USB end on it.
---

I never travel without a sarong. I've used mine for a beach cover-up, a privacy screen, an emergency towel, a cover for a questionable pillow, and a lightweight blanket while riding the train. These thin, tapestry-like items are so handy, and so easy to bring with you – I highly recommend bringing one or two on your trip.
---

Anywhere there's water you'll need a towel, and this one is absorbent, quick-drying, and easy to pack. It's also nice to have if you find that the hostel or room you're staying in doesn't provide truly clean towels, or even any towels at all!
---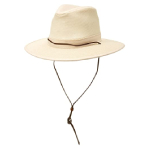 A hat is a key piece of travel gear while exploring Australia. It provides extra protection from the sun and the heat, and it happens to look pretty stylish as well. This hat is perfect for men or women and is incredibly well-reviewed and accessibly priced.
---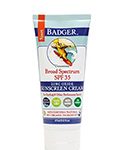 Three words: Great Barrier Reef. It's important for the health of the aquatic environment that you wear sunscreen that's free of damaging chemicals. In fact, in some places it's actually mandatory that the sunscreen you wear (and you WILL need to wear sunscreen – the sun in Australia is incredibly strong) be reef safe to avoid causing damage to the already fragile aquatic ecosystem. Even if you're not going to the famous GBR, you'll likely be doing activities that involve the ocean, and you don't want to leave chemical residue in the water wherever you go.
---
Other packing list items for Australia
---
What should you wear in Australia?
---
Australian weather can be thoroughly enjoyable, and likely will be for most if not all of your trip! There are some things to plan for just in case, though, and they can vary by season and location on the continent.
Spring

– September, October, November:
Australia during springtime for the most part is warm. The temperature will feel especially pleasant to those visiting from colder climates! Depending on where you are in Australia the temperature will vary somewhat but expect it to be warm and not overly hot during the day.
Mornings and evenings can still be rather chilly and crisp. Summer clothes will be just fine, but it is always handy to have a sweater or extra layer for the evening as night time sees a drop in temperature. Swimwear, shorts, t-shirts, and sun gear are all necessary. Temperatures average between 60°F and 80°F (15°C to 26°C).
Fall

– March, April, May:
Fall in Australia will be warm and sunny for the most part, with a sense of Winter creeping in and a slight drop in temperature, particularly at night. It is important to pack cozy layers, warm-enough pajamas, and summer clothes for the daytime.
You may wake up to sunshine and warm temperatures many days, but prepare for all weather here. Swimming is definitely doable in the North, and sun protection is still a must. Temperatures average between 60°F and 70°F (15°C to 21°C).
What NOT to take to Australia
---
FAQs about traveling to Australia
---
1) Do I need to worry about dangerous animals?
2) What is the best way to get around in Australia?
The bigger Australian cities have extensive transport systems including trains, trams, and buses. Smaller cities usually have less consistent buses but public transport is usually available in some form. Uber is popular in Australia and is usually cheaper than taxis.
For interstate travel, it is often easiest to fly. There are a few low-cost carriers that make longer journeys affordable. Greyhound buses have an extensive network and offer passes for multiple destination trips, and even offer hop-on-hop-off style passes. Many people choose to rent cars or camper vans to give themselves more freedom. Most towns have camping areas with access to restrooms and even outdoor public barbecues.
3) Is Australia an expensive place?
Australia is an expensive country by most western standards. Cities like Sydney and Melbourne are comparable with London or New York for traveling. This does not mean you cannot travel on a budget, but you should be prepared for a larger daily budget than many countries. The supermarkets are competitive and there are dining options for people on smaller budgets. It's advisable to get familiar with the prices in Australia before you travel and be sure that you have the available funds, as many people are surprised by some of the prices of everyday items.
4) Do I need to tip in Australia?
Tipping is never required in Australia and is never expected, as even the minimum wage is substantial enough for fair living. Waiters in higher-end restaurants will appreciate a 10% gratuity but the majority of locals don't tip. This includes hotel staff, hairdressers, and taxi drivers.
5) Do I need a visa to visit Australia?
6) Is the tap water safe in Australia?
Australian tap water is safe to drink in most places. In certain rural towns, the water will not be drinkable so it is worth asking if you are unsure. Most towns and cities provide free water fountains in pedestrian areas, parks, and beaches, and you can also bring a water bottle with a built-in filter to avoid any question about water safety.
7) How can I be respectful of Aboriginal culture?
The Aboriginal people are the original inhabitants of Australia and many of the popular tourist spots are sacred to the Aborigines. The most famous of these is Uluru (also known as Ayers Rock). There are usually signposts with guidance on how to be respectful to the local culture, and be sure never to remove anything from their sacred land as a memento. Due to certain beliefs that they have, many Aborigines will not allow their photo to be taken – it's considered a serious offense if it's done without express permission.
8) What are the top things to do in Australia?
There are the classics like visiting the Great Barrier Reef and visiting Uluru, but there are also quite a few things off the beaten path to do all over Australia. There are a few islands to visit, several incredible coastal natural parks and beaches, and even rainforest areas to explore! Research the area you're visiting and decide how far outside that spot you're willing to day-trip so that you can determine which activities will be right for your plans.
Other Oceania packing lists you may like…
Hawaii | Kalalau Trail | Kauai | Maui | New Zealand
Also see our Asia packing lists…
Asia | Annapurna | Bali | Cambodia | China | India | Indonesia | Japan | Nepal | Philippines | Southeast Asia | South Korea | Sri Lanka |Thailand | Vietnam
Please note: We have over 200 packing lists covering practically every popular travel destination in the world. Access them all on our packing list overview page ➜