Updated on by Asher Fergusson
M
y wife and I (pictured) absolutely love Paris. It's our favorite city in the whole world because of its art museums, exquisite Michelin-rated food, amazing architecture, and CHOCOLATE!
Many friends were asking us what to bring to Paris so we wrote this detailed checklist.
We also include what to wear in Paris, what NOT to take, and cover important frequently asked questions about traveling there. Enjoy the city of love!
What to Pack for Paris – 21 Essentials
---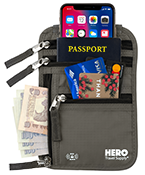 Paris is notorious for its pickpockets and this wearable neck wallet makes it next to impossible for them get your valuables. It fits your passport, phone, cash, credit cards, and important travel docs neatly and you can have it concealed under your clothing when you want to be on "stealth mode". Places, where pickpockets are most likely to operate, are any crowded areas such as on public transport or around the Eiffel Tower and in any museum, etc.
Available on HeroTravelSupply.com with an exclusive 15% discount using the coupon code "HERO".
---

The ability to carry extra device charges with you seems so high-tech, and so convenient. This little charger makes that incredibly easy to do. It uses regular USB cables and is portable so you can charge devices on-the-go instead of having to return to your accommodations to plug them in.
---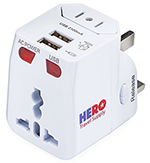 The French power outlets are quite different from those in the US, so you'll definitely need an adapter. It's good to choose a quality one that works in many countries so that if you go to other destinations like London you will also be able to charge your devices. This one (pictured) works in almost 100 countries and has built-in device protection via a safety fuse.
---

Long flights to Europe, plenty of shuffling from place to place, and time changes really tend to mess with your sleep schedule and health. These jet lag relief tablets can help prevent and treat jet lag so that you don't waste valuable vacation time trying to recover from the flight over. Even if it's a placebo, they work for us!
---

It rains in Paris roughly 15 days per month every month and often without warning. Having a compact, high-quality umbrella like this one is a must have for keeping dry in this gorgeous city. When my wife and son were visiting recently we got caught off guard when it started raining heavily even though when we left the hotel it was sunny!
---


If I'd had a VPN when I went to Paris recently, I could have saved myself from having my credit card number information stolen while using what I thought was a secure WiFi at our Airbnb.
A good VPN like NordVPN allows you to add a layer of encryption to your Internet connection that makes it impossible for hackers to get your sensitive info. It also allows you to access any censored websites. An affordable price and one-click activation from any device make a VPN a no-brainer for any travel!
---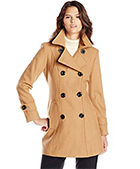 The daily temperature in Paris averages around 41°F in the winter and 65°F in the summer. Therefore, no matter what time of year you go, you'll want a nice coat. We recommend checking out a pea coat for the perfect blend of warmth and style while not breaking the bank.
---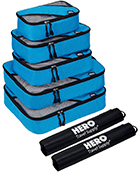 Packing cubes make life so much easier while traveling. You'll know exactly which "cube" your belongings are in without having to rummage around, and you can even switch the smaller ones from your suitcase to your daybag without having to unpack and repack them. Additionally, these ones come with an index card on the back so you can know EXACTLY where your belongings are even when you're jetlagged.
---

French food is divine. Although certain dishes can be rather interesting such as snails, raw veal and frog's legs etc. It's worth trying these delicacies but we recommend having activated charcoal on hand in case your stomach doesn't agree and needs a "reset". Trust me, we know from experience! 🙂
---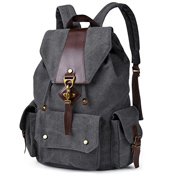 You'll be carrying things with you, but you don't want to ruin your stylish appearance in such a fashionable city. Try this attractive daybag to carry your shopping purchases, water bottle, camera, phone, rain jacket, umbrella and anything else you may need while exploring. It's also very affordable.
---

Parisian summers get hot and muggy; and a lot of apartments, and even businesses, don't have AC. To avoid ruining your vacay by getting crabby from heat exhaustion while waiting in line to see the Eiffel Tower, or sitting for crepes at an outdoor cafe, I suggest bringing this game-changing cooling towel which is 100% non-toxic and stays 20-30 degrees cooler than the outdoor temperature. You just wrap it around your neck and you will feel instant relief. It's saved me and my kiddos from melt-downs on numerous occasions!
---

Unfortunately, many of the best things to see and do in Paris also have loooong lines. But if you've pre-booked special tickets that allow you to skip the lines then you won't have to wait! That's where Get Your Guide comes in. They are an amazing, affordable platform for booking tickets and short tours in advance. So if you're planning on visiting the Louvre, going to the summit of the Eiffel Tower, exploring Versailles, cruising the River Seine at twilight or simply looking for something interesting to do in Paris then check them out!
See all Paris attractions at GetYourGuide.com ➜
---

Whenever you travel overseas and find yourself wandering around a beautiful but unknown city like Paris, a travel towel is a handy addition to any daypack. It's lightweight, super absorbent, and can be great for impromptu picnics, day trips, or outdoor yoga sessions. Parisian hotels can also be kind of seedy (even the pricey ones!) and it's nice to have your own, clean, quick-dry towel in case of emergency.
---

Paris is a fashionable place, and it's also a place where you're likely to do a lot of walking. Wearing sneakers or "tennis shoes" is a dead giveaway that you're a tourist, so opt for something more fashionable but still comfortable instead. These shoes offer a nice balance, and are comfortable enough to walk around all day in.
---

Pashmina scarves are one of the best accessories to have with you when you travel to Paris. They're fashionable and useful, and very light and easy to pack. They'll keep you a little warmer when you're feeling chilly, they can be draped over your shoulders when you need to dress more modestly to visit churches, and they can be used to dress up an outfit should you decide to have a nicer dinner without going back to your room to change. This one is ultra soft but also affordable.
---

We've had our fair share of sketchy experiences in Paris especially with our housing. Having travel insurance gave us peace-of-mind even when things started getting weird. Additionally, medical emergencies and other unexpected trip problems happen, and you don't want that to ruin your vacation or make a huge dent in your pocketbook because you didn't pay the small cost of having insurance. Just like you wouldn't have a home without home insurance, you also shouldn't travel without travel insurance.
Compare policies at TravelInsurance.com ➜
---

Most water in Paris is potable, but it never pays to take chances. It's best to carry water with you rather than spend money on it. Having the built-in filter will give you peace of mind if you have to get water from a less trustworthy source.
---

This bag is indispensable. You know you'll be bringing a lot of toiletries and you want to keep them organized – this is the solution. It has plenty of room and a spot for everything. It also unfolds and hangs easily so that you have access to all of your toiletries without unpacking them completely. It's the perfect option for both women and men.
---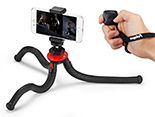 This clever little tripod from Fotopro is incredible. It comes with a bluetooth remote so that you can easily place your phone or camera in the perfect spot to capture you and yours in front of the Eiffel Tower without having to spend €500 on a photographer. It's strong enough to be used with a DSLR and can be gripped to railings, branches or simply placed on a flat surface. Plus it's super inexpensive.
---

Pick-pocketing isn't uncommon in Paris. Keep your bags secure with TSA-approved locks. This 4-pack ensures that you can lock each of your bags including your checked suitcases, carry-on, and even a day bag. They are extremely durable and even have a lifetime warranty. You don't want anyone to be able to get into your bags but you also don't want to be worried all the time either. Locks give you peace of mind knowing that your belongings are safe and secure so that you can go out and enjoy Paris fully.
---

It's hard to know what kind of weather you're going to get in Paris. Some days it's hot and sunny while other days it's cold, rainy, or humid. While the weather can be unpredictable, that doesn't mean your hair has to be too. Having a good leave-in conditioner like Sun Bum's keeps your hair moisturized and frizz-free rain or shine. It also helps prevent split ends and frustrating tangles so that you'll have a good hair day every day you're in Paris.
---
Other Paris packing list items not to forget
---
What should I wear in Paris?
---
Even though Paris is known worldwide as a fashion capital, don't be intimidated while packing for your trip. The typical dress code in Paris is classy, sleek, and color neutral. Bring staple items like dark-wash jeans, neutral breezy scarves, and comfortable but fashionable walking shoes. Think dark, slim pants, simple blouses, and elegant button-downs.
Weather can be unpredictable, so make sure to pack a jacket and umbrella, no matter what time of the year it is.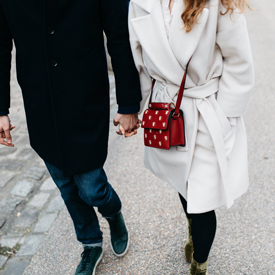 What should WOMEN wear in Paris? – (Click to expand)
Below is a sample women's clothing list.
(All items link to Amazon.com for your convenience).
Women in Paris dress noticeably nicer than you might find in other big European cities. As a visitor, keep it classy by wearing dark, tailored, ankle-length pants, a sleek blouse, and comfortable ankle boots or neutral-colored sneakers (sneakers are very trendy right now among Parisians). Plan to dress in layers and bring along a lightweight jacket or scarf. In the summer, try pairing white sneakers with a sundress. In the winter, keep it simple with black and neutral colors, and add pops of color with your accessories.

What should MEN wear in Paris? – (Click to expand)
Below is a sample men's clothing list.
(All items link to Amazon.com for your convenience).
Parisian men are just as fashion-conscious (if not more so) as Parisian women. The dress code in Paris for men revolves around nice shirts and ties during the workweek, and casual clothing like polos on the weekends. Go for well-fitting, tailored slacks and nice shirts in a neutral color palette. Jeans are okay too, as long as they are dark and fit well. As far as shoes, plan on bringing a few pairs of comfortable sneakers, and a pair of dress shoes. Ditch the baseball cap, and opt for a trendy fedora instead. Keep your style simple and fresh.

Seasons in Paris are similar to those in much of Europe. Temperate seasons and a fair amount of rain year-round mean that rain gear is important and that each season has its own particular allure.
SPRING

– March, April, and May

Spring is one of the two rainiest seasons in Paris, with about 9 days/month of rainy weather.

Bring a cute raincoat and closed-toed shoes for wet days, and fashionable pants or jeans and tops for everyday wear. Bring a cardigan or two and a shawl/scarf to give you an extra layer in case you get chilly. Temperatures average from 60°F to 70°F (16°C to 21°C).
SUMMER

– June, July, and August

Summer in Paris is the least rainy season, but not by much. You can still expect a couple of rainy days per week, but the rest of the time will be nice and warm. This is also tourist high-season, so plan for lines and elevated prices.

Shorts are not common other than at beaches, so stick to nice shirts and pants or skirts. Sundresses are perfect for nicer days. Be sure to bring a cardigan or a shawl in case there's a chill in the air.

For shoes, the key is to prioritize comfort without sacrificing fashion.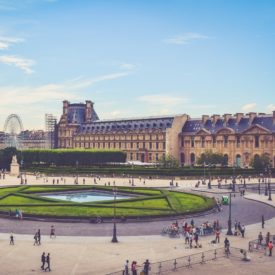 Cute
flats
and
sandals
are always a good idea, and maybe a pair of comfortable, easy-to-walk-in
heels
if you plan to go to any fancier places. A
rain jacket
is also a good idea.
Temperatures average from 70°F to 80°F (21°C to 27°C).
FALL

– September, October, and November

Autumn in Paris can be quite magical as the air cools and the leaves turn. It's a wet season, but it's not yet too cold to enjoy taking walks outdoors. Some days – especially in September – will still be fairly warm.

A cute rain coat is essential, as are closed-toed shoes for walking on chillier days. Most people don't yet need a hat, gloves, or a scarf, but if you're not accustomed to the chill you may want to pack some just in case. It's wise to bring a light jacket or a nice peacoat, as there will definitely be times when you'll want the warmth. Temperatures average from 55°F to 65°F (13°C to 18°C).
WINTER

– December, January, and February

Winter is very wet in Paris, tied with spring for the rainiest season.

Bring your fashionable rain coat, a windproof travel umbrella, and fashionable boots and shoes. A hat, gloves, a scarf, and warmer clothing are important. Nice pants and slacks, quality leggings, sweater dresses, cardigans, and long-sleeved shirts will help keep you presentable and comfortable. Temperatures average from 45°F to 55°F (7°C to 13°C).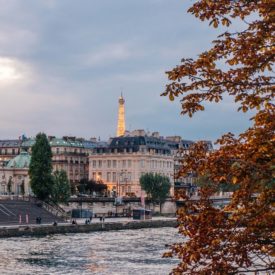 How to dress for the activity in Paris – (Click to expand)
Sightseeing
– Especially if it's your first time in Paris, you'll definitely want to spend a few days checking out all the iconic Paris sights like the Eiffel Tower, the Louvre, Notre Dame, and the Luxembourg Gardens. For full days of sightseeing, the most important things you can wear are comfortable shoes (you'll be standing in lots of lines, and stumbling through endless subway terminals!), and a practical crossbody bag or backpack so that you can keep all the essentials on your person (ID, cash, subway tickets). Pack casual, sleek clothing like a black sundress or dark jeans and a tee.
Museum hopping​ – The Musée du Louvre and Musée d'Orsay are just two of many museums in Paris you won't want to miss out on. Museums everywhere are usually freezing, so bring a sweater or cardigan to wear over your clothing, and consider wearing closed-toed shoes. Some museums will not allow visitors to bring in bulky handbags, so go for a small purse instead.
Visiting cafes, markets, and restaurants​ – Paris is home to thousands of cute cafes, fresh farmer's markets, and charming restaurants. Stylish but practical clothing will suit you well for this. Think striped shirts, dark pants, and flats.
Going out at night​ – The nightlife of Paris includes everything from intimate wine bars to the most upscale clubs in the world. It depends on where you are going for the night, but you can't go wrong with a black dress, minimal makeup, and heels. For men, think nice button-downs and tailored slacks. Always check the dress code before getting ready! Tie and jacket may be required in some places.
Taking an afternoon walk​ – One of the best (and most romantic) things to do in Paris is to go for a long walk through one of the city's many historic neighborhoods. Choose between the romantic Montmartre, the stylish Marais, the free-spirited Canal Saint-Martin quarter, the eclectic Latin quarter, or the historical Saint Germain. Wear comfortable walking shoes, a breezy dress, a sunhat, and bring and your camera!

What NOT to bring to Paris
---
1)

DON'T PACK heavy items:
It's worth remembering that you'll be doing a lot of walking, and that bags can start to feel too heavy very quickly when you have to lug them everywhere. I don't recommend bringing heavy books, heavy equipment (computers, etc.), or even excessively heavy shoes – trust me, your back will thank you for following my advice.
2)

DON'T BRING too many clothes and shoes:
You only need about a week's worth of outfits and two pairs of shoes. Most of the places that you'll be staying will have somewhere that you can either wash your clothes or have them washed. This does cost about $5 a load, but doing three loads of laundry is still less expensive than paying for even one checked bag.
3)

DON'T TAKE unseasonable clothing:
It just adds a lot of weight and bulk to a suitcase that's likely already going to have limited space. Look up the weather forecast for the locations you'll be staying before you go, and pack a couple of extra layering items if you think they're needed.
4)

DON'T PACK camouflage clothing:
It's a cultural norm here in many parts of the States, but camo gear and clothing is reserved for military personnel in most of Europe, and you certainly don't want to look like a member of that group.
5)

DON'T PACK skimpy clothes or beachwear:
Clothing such as cut-off jean shorts and skimpy tank tops aren't appropriate if you want to fit in with the locals. The only place they're acceptable in Europe is
at
the beach, and there aren't any near Paris. Feel free to bring appropriate attire for swimming if your hotel has a pool, but don't plan to wear it out of the hotel.
6)

DON'T BRING excessive amounts of cash:
ATMs are widely available and tend to have pretty good exchange rates (bring your ATM card and let your bank know you're traveling before you leave), and carrying too much cash is asking for trouble. It's easy to secure excess cash in a safe in your room, or you can simply resupply with cash in smaller increments.
7)

DON'T TAKE anything that screams "Hapless Tourist!" :
A good example of this is a fanny pack. You may not look like a local, but you certainly don't want to advertise far and wide that you're a tourist. Doing so makes you look inexperienced, and again, marks you for potential pickpocketing. It's not as common, but it still happens, and it's not a chance worth taking.
8)

DON'T BRING expensive items or nice jewelry:
It's tempting to bring valuables, but it's never worth the risk. Bringing these kinds of items makes you a more likely target for theft, and you could just as easily lose them yourself by mistake. It happens, and it's better to lose cheaper versions of your favorite items than it is to lose your expensive jewelry collection.
What should I NOT wear in Paris? – (Click to expand)
As a guest in Paris, try not to wear lots of flashy colors all at once. Shoot for blacks, tans, whites, and grays. Avoid wearing athletic clothes, as you will be immediately identified as a tourist. For shoes, skip the stilettos (at least during the day). You will be walking along cobblestone streets most of the time, so you want your feet to be comfortable. Also, ditch the flip flops, and instead bring your sturdy sandals with straps.

FAQs about traveling to Paris
---
1) About how much money will I need daily to enjoy Paris?
That depends on what you plan on doing while you're in town since some hobbies are more expensive than others. Even so, a basic daily budget of $80 per day should cover meals, metro tickets, some attractions, and a night in a hostel dorm. Travelers who want their own room should allot about $60 extra per day, just to cover the change in accommodation costs. Of course, splitting the price of a private room with a traveling companion or two can help your budget in this regard. It's also worth looking into reliable vacation rentals to cut down on accommodation costs. But, if you've got the money, Paris is definitely a place with plenty of spending options.

2) Do I need to tip servers in restaurants in Paris?
Leaving the coins you're brought back as change is the standard reward for good service. However, it's perfectly acceptable to leave nothing at all since waiters' salaries are already factored into the overall cost of dining out in Europe. Even so, failing to leave at least a 5% tip in a very fancy restaurant might indicate that you're cheap.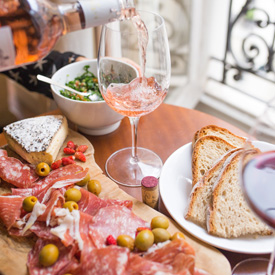 3) What are some good day trips from Paris?
Versailles is the best known day trip from Paris but nearby Giverny and Chartres are also nice places to visit if you have the time. Another good thing is that all of these towns can be reached using public transportation so you don't have to rent a car to get to them.
4) Is the "Paris Pass" or the "Paris Museum Pass" worth it?
The only way to tell for certain is to do the math yourself. However, if you are a marathon traveler who can easily see multiple attractions in a day without collapsing from exhaustion, one or both of these passes might be a good deal.

On the other hand, if you are someone who likes to meander and only needs to see one or two iconic places per day, the passes might end up costing you money instead.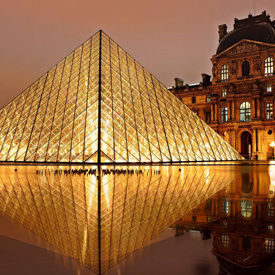 5) What is the best way to get around Paris?
The subway is usually an effective means of transportation but it's a bit pricey. You can still save some money by purchasing your metro tickets in sets of 10 instead of buying them individually. Walking is another good way to get around and it is certainly cheaper than taking the metro.
6) How can I avoid lines at popular Parisian attractions?
Buy your tickets online and in advance. Sometimes doing this will even get you small monetary discounts as well.
7) What is the best time of year to visit?
The weather in Paris is at its warmest during the summer months but the city is extremely crowded from June to August when the tourist hordes descend in full force, causing the prices for attractions and accommodations to shoot upward. Even the locals leave town at this point if they can. Paris sees far fewer crowds and more affordable prices during the spring and autumn months but the weather can be temperamental at times. Spring in particular is known for its wet weather. So perhaps the most reliably pleasant time to visit Paris would be in either September or October.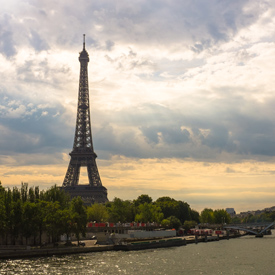 8) How can I save money while traveling in Paris?
There are plenty of ways! You can:
Take advantage of free admission days at some of the museums.
Cook your own meals or at least nosh on takeout since in Europe you pay extra for just sitting down and eating in restaurants. If you do eat out, try to aim for lunchtime instead of dinner, since prices tend to be lower at lunch.
Eat the free hotel/hostel breakfast if one is available. It might not be the stuff dreams are made of but it will fill you up enough to get you to dinner.
Buy carnet books rather than purchase subway rides individually.
Walk between attractions rather than use the subway
9) Which areas of the city are best avoided by tourists?
Most of the main tourist areas are fine but there are some neighborhoods on the fringes that aren't a great place for outsiders to stay. In some instances, this is because they're a long way from the action and there isn't much to see nearby. Other arrondissements (districts) may be a little on the "dodgy" side for tourists – I encourage you to do your own research on this subject before setting out to ensure that you are making decisions with up-to-date information.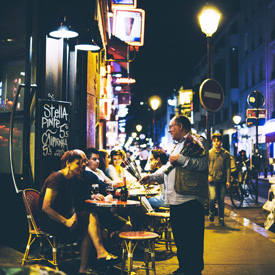 Some places to avoid include the areas around these metro stops: La Courneuve, Mantes-la-Jolie, Les Halles, Pigalle, Place Blanche, Strasbourg St-Denis, Gare du Nord, Gare de l'Est, Barbès-Rochechouart, and Château Rouge. However, traveling through most of the subway stations listed here should be fine as long as you're not attempting to pass through them unreasonably late at night. Other places to avoid after dark include the Champ de Mars, the Belleville neighborhood, the Seine Banks, the Bois de Boulogne Park, the Saint Blaise area, and portions of the Rue Saint-Denis. Travelers will also want to watch out for pickpockets near popular tourist attractions such as the Eiffel Tower.
Don't get the wrong idea – Paris is much like any large city: there are pockets that any outsider should avoid, but the majority of the city is welcoming and fun to explore.
10) What are my options for getting from the airports to the city center?
From Charles De Galle (CDG) and Orly (ORY) airports, the quickest and easiest way to get into Paris is to take the RER subway trains. You'll just need to keep an eye on your bags because pickpocketing can be a problem on these routes. While numerous buses travel from these airports into Paris, using them can be a time-consuming process. However, those traveling from Beauvais (BVA) airport will have to use a bus to get into town if they don't want to pay for a taxi since there isn't a convenient train station nearby.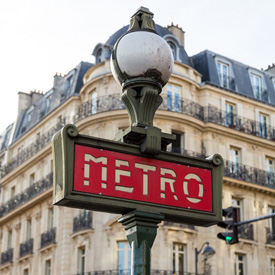 11) Is it safe for women to travel alone in Paris?
Yes! For the most part and in most areas, it's perfectly safe. It's never wise for women (or any tourist, really…) to walk around alone at night, especially in any less-than-nice neighborhoods, but basic safety precautions will protect you just fine during the day. Don't carry loads of cash, try to blend in when possible, and avoid taking unnecessary risks. Try to plan your transportation in advance and be sure about where you're going – you'll look like you know what you're doing and feel much more confident.
Also see our Europe packing lists…
Amsterdam | Barcelona | Camino de Santiago | Croatia | Europe | France | Germany | Greece | Hungary | Iceland | Ireland | Italy | London | Mediterranean Cruise | Norway | Poland | Portugal | Prague | Rome | Scotland | Spain | Switzerland | Turkey
Please note: We have over 200 packing lists covering practically every popular travel destination in the world. Access them all on our packing list overview page ➜