Updated on by Asher Fergusson
A
ruba's exotic feel and lush, tropical climate make it an ideal place for a getaway. Relaxation, exploration, and excitement are everywhere here.
But knowing what to pack can be tough, especially if it's your first trip to a place like this. I've been asked this question many times, so I've put together a list to help you! In it you'll find tips for seasons and what to wear in Aruba, plus what NOT to bring and answers to your Aruba FAQs.
Prepare for bliss and keep your sense of adventure handy – this destination will be like a dream come true.
What to Pack for Aruba – 17 Essentials
---

You and your cell phone never need to be parted with one of these handy phone cases. This one allows you take pictures and video underwater (with sound) so that your selfie game will be off the charts! Additionally, it's always a gamble leaving your phone alone on the beach while you swim, but with this, you won't have to.
---

A waterproof action camera is just what you need for a beach vacation! You can bring home footage of all the incredible sea creatures, and take plenty of action shots as you splash around in the pool. These awesome cameras are really compact and won't add extra weight to your day bag plus it's super affordable.
---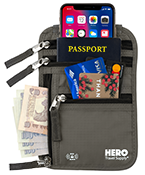 Especially important when traveling to a foreign place, a neck wallet is really a godsend. Large enough to hold your passport, phone, wallet, and keys, this handy pouch can be worn beneath your clothes to keep your valuables organized and secure.
Available on HeroTravelSupply.com with an exclusive 15% discount using the coupon code "HERO".
---

A must-have item on any overseas vacation is a convenient lipstick-sized portable charger. Perfect for tossing into your beach bag or purse, you'll never have to worry about your smartphone running out of battery. This works as a great backup if you plan to use your phone all day while you're out and about and don't want to stop to charge it.
---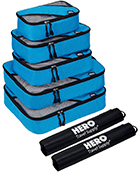 These packing cubes make the packing and unpacking process infinitely more manageable. You can pack your clothing into segments and only take out what you need when you need it! They really are the best way to keep your luggage organized and contained.
---

A sarong is an ideal accessory for a beach vacation. Sarongs are great because they're versatile and compact. You can use it as a beach towel, a dress, or throw it around your shoulders for extra sun protection.
---

Don't travel to Aruba without packing a quick dry towel! Useful on so many occasions, this microfiber travel towel is lightweight, compact, and can easily be tossed into your beach bag or daypack for whatever adventure awaits you. Use it on a hike, at the beach, or as a bath towel; with endless possibilities, you'll be glad you packed it!
---


An often overlooked but truly essential item to make sure you have on any trip abroad is a reliable VPN. Use it when connecting to WiFi in public places like hotels and airports to protect your passwords, credit card numbers, and other sensitive information from potential hackers. This will also give you access to websites from home that might be blocked or censored in the host country.
---

Whenever we travel to a foreign country, we never do so without packing a healthy supply of activated charcoal pills. There's no doubt that in Aruba you'll want to enjoy your vacation and eat to your heart's content. That said, your body may not be used to the germs and ingredients on the island, so you'll want to protect yourself with activated charcoal which will quickly absorb and expel any toxins in your body.
---

The weather in Aruba can be unpredictable, and though you'll hopefully experience plenty of sunshine, you'll need to be prepared in case of rain. This handy windproof travel umbrella is perfect to throw in your daypack so you can pull it out at the first sight of rain clouds.
---

The tap water is safe to drink in Aruba, and you'll want to stay hydrated while protecting the environment with a reusable water bottle. This LifeStraw bottle has the added bonus of filtering any toxins out of the water, ensuring you're safe from bacteria.
---

As in any tropical destination, expect to come in contact with bugs and mosquitoes. We've found that the best way to protect against pesky and potentially disease-carrying bugs is with these mosquito repelling wristbands. They last for up to 300 hours so you can just slip it on and not have to think about it again.
---

Travel insurance is vital whenever you're traveling abroad. Airlines aren't exactly known for treating luggage delicately, and it would be a shame to have any of your possessions damaged (or lost) in transit. Your vacation will be that much more relaxing knowing that you're covered in the event of injury or theft.
View their plans at WorldNomads.com ➜
---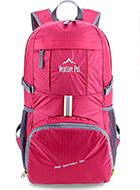 A compact daypack is a must-have on every trip. This one is awesome because it fits everything you could possibly need for a day out in one compact space. Leave what you don't need secure in your hotel room and just bring the essentials in your convenient daypack.
---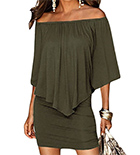 In a tropical destination like Aruba, you'll want to keep your clothing light and breezy while at the same time looking your best. This gorgeous dress can be dressed up or down with the right accessories, and is perfect for a night out to dinner or drinks. You can't go wrong with bringing at least one stunning outfit on your trip to Aruba.
---

A stylish yet practical beach bag is the best way to port your belongings from the hotel to the pool (or beach), and back. This option has plenty of room for everything you might need, including reading material, a towel, and a snack. Plus, the insulated bottom compartment is perfect for keeping your beverages cold while you lounge in the sand.
---

Sunscreen is a no-brainer for keeping you safe from burns as you frolic in the tropical sun. This biodegradable option is environmentally friendly and won't harm the precious sea life around you.
---
Other Aruba packing list items not to forget
---
Sleep Mask
Passport
Hard copies of vital documents
ATM or credit cards with no international fees
Over the counter medications

What should I wear in Aruba?
---
The Caribbean island of Aruba features some of the world's best beaches, and an ideal climate to match. The consistent year-round temperature and the laid back feel of the island make packing for your trip an easy feat. Favor beach attire, and mix in some resort-wear pieces for dinners at elegant restaurants.
Remember that due to the heat, you will be sweating a lot, so be sure to pack a few extra outfits to change into in the evenings. Take care to protect yourself from the sun, as you're sure to be spending extended time near the water.
What should WOMEN wear in Aruba? – (Click to expand)
When visiting Aruba, women should favor lightweight, breathable fabrics. The weather is consistently hot, so beach attire is ideal. Sundresses, shorts, and t-shirts, or maxi dresses are the name of the game. Sweat-wicking athletic attire is great for active days, but generally, you'll feel cooler in loose-fitting, airy clothing. Linen, lightweight cotton, and silk are all great options.
The vibe on Aruba is mostly casual, though, swimsuits should be worn at the beach and pool, and not to explore beyond. Be sure to have a swimsuit coverup or sundress to throw on overtop. You may also wish to bring one or two more elegant outfit choices for dining out in nice restaurants.
When it comes to purses, a crossbody is great most of the time, but you may wish to pack a beach tote for carrying your belongings between the hotel and pool or beach. Sandals will be the ideal footwear for the majority of your stay. However, for active days you may prefer closed toe sandal options or lightweight running shoes to protect your feet.
What should MEN wear in Aruba? – (Click to expand)
Beach attire is ideal for Aruba. Men will feel most comfortable in light, airy clothing, like shorts and t-shirts. Though there's no need to pack dressy clothes, it's good to have a couple of nice, button-down shirts and a nice jacket for dinners out and visiting casinos. You're bound to sweat a lot during the day, especially if your vacation is action-packed, so ensure you have a couple of extra, clean outfits to change into in the evenings after the day's activities are done.
If you plan to spend a lot of time on the water, a rashguard is a wise investment. It will help protect you from a devastating sunburn. A sunhat and polarized sunglasses are also essential.
---
Wet Season (October, November, December, January)
Aruba's wet season lasts just 4 months, and despite the designation, it shouldn't present any real obstacle to your visit. Yes, there will be sporadic downpours, but they generally don't last very long. If you visit during this time of year, keep these showers in mind by packing contingencies like a compact rain poncho to stick in your purse. Wear synthetic clothing that will be easy to dry if you get caught in a shower.
Dry Season (February, March, April, May, June, July, August, September)
The dry season in Aruba brings hot temperatures along with gusty winds to keep you feeling comfortable. During this time of year beach attire is ideal, but take precaution to protect yourself from the sun. Sun hats, high SPF sunscreen, and polarized shades will be welcome additions to your packing list.
How to dress for activities in Aruba
---
Snorkeling/Diving – For snorkeling or diving excursions, a daypack will help you transport everything you need for the outing. Be sure to pack a water bottle, sunscreen, a change of clothes and a towel or sarong. Flip flops are the perfect footwear because you can slip them on and off quickly as you're in and out of the water.
Beach/Pool – There's no question that much of your trip to Aruba will be spent by the water. Be sure you protect yourself from the sun. Polarized sunglasses, a sunhat, and high SPF sunscreen will prevent overexposure. A swimsuit coverup or long sleeved linen shirt will offer additional sun protection if you need it.
Casino Night – Aruba's casinos offer a fun change from the sun and sand you'll be experiencing during the day. If visiting a casino, be sure to wear a well-composed outfit. For women, a sundress or maxi dress paired with sandals or heels is perfect, and for men, a button shirt and jacket are ideal.
Arikok Park – Whether hiking or 4-wheeling through this national park, be sure you bring the appropriate footwear. Closed-toe shoes or sandals are ideal for protecting your feet as you explore. Athletic wear is a good option for staying cool, but shorts and a t-shirt will suffice as well. Whatever you wear, be sure to apply (and reapply) plenty of sunscreen.
What NOT to bring to Aruba
---
1)

Excess Cash
– Carrying large quantities of cash isn't necessary for Aruba, as ATMs are relatively easy to find, whether in banks or casinos. Save yourself the stress of carting cash around, and plan to make a withdrawal part of the way through your trip.
2)

Expensive jewelry
– Traveling with expensive jewelry is never wise. While your valuables won't necessarily be at risk on Aruba, they won't be necessary either. Rather than risk losing something special during your trip, leave your jewels safely at home.
3)

Bulky Clothing
– While there may be the rare occasion that calls for a light sweater or an evening jacket, bulky clothing isn't needed on Aruba, where the temperature rarely dips below 75 degrees.
4)

Books
– Books are a bulky addition to your luggage. Rather than sacrifice valuable space in your suitcase to paperbacks, pack a Kindle and leave room for souvenirs!
5)

Boots
– Even if they're part of your signature look, boots are far too hot to be worn comfortably on Aruba. Instead pack practical footwear such as flip-flops and lightweight, breathable sneakers.
6)

Hairdryer
– Most hotels will provide hair dryers for your use. While they may not be as deluxe as the one you would have brought from home, using them will save you tons of room in your luggage. Better yet, go for an authentic beachy look and let the Caribbean breezes air dry your hair!
What NOT to wear in Aruba
---
When visiting Aruba, be sure to leave behind any heavy clothing. The average temperature is about 80 degrees, so you're not liable to need pants unless they're linen and used as sun protection. Leave your bulky clothes at home in favor of breathable beach attire. On that note, try not to wear anything too revealing when you're exploring the resorts and communities. Bikinis and boardshorts are just fine for the pool or the beach, but when visiting local businesses, it's best to cover up.
FAQs about traveling in Aruba
---
1. What is the best time of year to visit?
There is really no time of year that is bad to visit Aruba when it comes to weather. However, the prices can skyrocket during high season, November through January. To get the best rates, plan your visit for outside of that period.
2. What language do they speak in Aruba?
The official languages of Aruba are Dutch and Papamiento, a language that evolved from Spanish and Portuguese. Though, due to the presence of tourists from North America, and Latin America, it's common for locals to speak English and Spanish.
3. What is the local currency?
Aruba's currency is called the florin. However, most businesses will also accept US dollars.
4. What type of food is eaten in Aruba?
The food of Aruba is influenced by Caribbean, Latin American, and Dutch culinary styles. Expect to encounter plenty of seafood, soups, stews, and tropical fruits incorporated into dishes.
5. What is the legal drinking age?
The legal drinking age in Aruba is 18 years, and drinking on beaches is permitted, but be sure to collect your empties at the end of the night, because littering is not.
6. Is it safe to drink the tap water?
Aruba gets water from a desalination plant, which is a clean and reputable source. The cost of importing bottled water on the island is quite high, so it's highly recommended to drink the tap water.
Other Central America packing lists you may like…
Bahamas | Belize | Cabo San Lucas | Cancun | Caribbean | Caribbean Cruise | Central America | Costa Rica | Cozumel | Cuba |Dominican Republic | Guatemala | Jamaica | Mexico | Mexico City | Nicaragua | Panama | Playa del Carmen | Puerto Rico | Puerto Vallarta | Punta Cana | Virgin Islands |
Please note: We have over 200 packing lists covering practically every popular travel destination in the world. Access them all on our packing list overview page ➜