Updated on by Asher Fergusson
K
ey West, the farthest west of the Florida Keys, boasts year-round sunshine and warm temps, in a beautiful island setting. The southernmost city in the U.S., Key West can be a great destination for those looking for fishing, snorkeling, pub crawls, museums, and beautiful beaches. It can be both a family-friendly destination and a vibrant weekend getaway for couples or friends, depending on how you choose to spend your time.
Because Key West offers a lot of different options for vacationers, it can be hard to know exactly what to pack. We've put together a list of 19 essential items you should be sure to pack including what to wear in Key West, what NOT to pack, and answers to FAQs to help you make the most of your trip.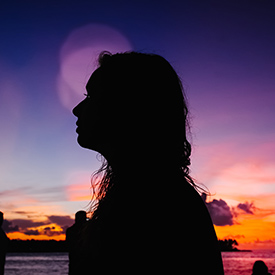 What to pack for Key West – 19 Essentials
---

Packing cubes are the new travel essential. By putting your clothes in the various size cubes, you keep your luggage organized and tidy. I like using a different one for each type of clothing (tops, underwear, swim), and having each person traveling use a different color. These come with laundry bags to help keep your clean and dirty clothes separate, and offer a lifetime replacement guarantee.
---

Whether you are out on the water, in town shopping, or checking out some local bars, carrying a travel hand sanitizer such as this means you'll always know your hands are clean, even when you can't wash up. They are small and compact, so you can throw one in your purse and one in your backpack and always have it on hand.
---

Keep yourself comfortable in the heat during your relaxing days in Key West under the sun. You never know when the heat will be too much to handle so packing one of these compact cooling towels will ensure your comfort no matter where, no matter how hot. To use, just wet the towel, wring it out, and enjoy a cold towel that is 20-30 degrees cooler than the outside temperature.
---
4. Mesh Slip-On Water Shoes: Women's and Men's

We like these shoes for their versatility – you can wear them in and out of water and for various activities. These are the perfect shoes for Key West's water activities, like kayaking, fishing, and boating. I like that they are extremely lightweight and breathable, which is great for Key West's warm weather. The soles provide traction in slippery conditions, and best of all, they're comfortable!
---

A trip to the Keys is all about the fun you'll be having on the water. From lazy days on the beach to exciting boat rides, you're going to need a towel to keep you dry and comfortable. Opt for a travel towel over a traditional one. Travel towels dry faster, are more compact, are odor-resistant, and are extremely absorbent.
---

If you're planning a day at the beach or out on the water, this is a great bag to keep your drinks, snacks, and picnic lunch cold all day. It's foldable and packs up small when not in use, and easy to clean and wipe down after a day at the beach.
---
7. Rashguard: Men and Women

These shirts are great for a variety of activities. We like that they dry quickly, meaning you won't be feeling like you are wearing a sticky wet shirt all day. They protect from the salt, sand, and water, and offer a UPF 50+ protection from the sun.
---

Sunscreen is a MUST in Key West, as the sun can be very intense, with a high UV rating. This is our favorite sunscreen: it's oil-free, not greasy, reef-friendly, paraben-free, and cruelty-free. It's great for everyday wear, and offers UPF 50 protection. Best of all, it smells like summer!
---

When visiting Key West beaches, you'll probably want to grab a drink at a local bar or snack from a nearby café. Pack a cute coverup like this one to throw on over your suit. This coverup is adorable on its own or with some cutoff shorts, and looks great on all body types.
---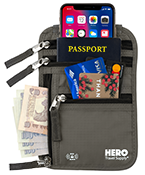 Keeping your important items nearby is a must, and a neck wallet such as this is perfect because it can be worn over or under your clothing. It's large enough for your cash, cards, and passports, while still being slim and not bulky. It's also got RFID for an extra layer of protection, and tough, ripstop fabric for an added measure of safety.
Available on HeroTravelSupply.com with an exclusive 15% discount using the coupon code "HERO".
---

If you are planning a day at the beach, a beach blanket is a must. This blanket folds down into a small pouch, so you can throw in your beach bag, but opens up large enough for a few adults to spread out. We love that it's water-resistant, and sand-resistant, so you won't be bringing the beach home with you at the end of your day.
---

I love using these wipes for everything – cleaning up hands, wiping down our bags, and most of all, washing my face. They smell great, and leave your skin feeling clean and revitalized. After a day at the beach or on the water, these really help you feel refreshed and cleaned up. Throw a pack in your beach bag for the day, and freshen up before grabbing a drink in the afternoon.
---

If you plan to be out on the water fishing, kayaking, snorkeling, sailing, or just hanging on the beach, consider bringing a dry bag like this for your valuable possessions. This bag is completely waterproof. It fits your phone, wallet, keys, packable towel, or anything else you need to keep dry and out of the ocean. It's also dirt-resistant, which can be great for a long day on the sandy beach.
---

The sun and saltwater can damage and tangle your hair pretty seriously in a place like Key West, especially if you plan to spend all day out in the weather. Spray with this leave-in conditioner in the morning (no need to rinse), and you'll protect your hair all day. We like it because it's paraben-free, cruelty-free, and vegan, so you can feel good about using it. For all hair types.
---

No matter how well you plan, the unexpected can happen, and that's why we like to use TravelInsurance.com. It will protect you against cancellations, unexpected medical costs, and weather events, and provides an extra peace of mind during your Key West vacation.
Compare policies at TravelInsurance.com ➜
---

Key West is known for its sunny weather, but it's also known for sudden, almost daily downpours (don't worry – they usually don't last long). This umbrella packs up small and is lightweight, so you can throw it in your bag and be protected from a quick shower. You'll be glad you packed it!
---

If you plan to be out and about all day, the last thing you want is a dead phone halfway through the day. Throw a charger like this one in your dry bag, daypack or beach bag and you'll be glad you did. It can charge your phone completely, but is only about the size of a lipstick.
---

It can be hard to get a reliable and secure connection while traveling, no matter where you are. Packing a portable VPN such as this will ensure that you have reliable access and a safe and secure connection. This means one less thing you need to worry about, letting you relax and enjoy your trip even more.
---

Because Key West is very casual, you can get by with a sundress or shorts almost everywhere. However, if you'd like to look nice for a night out, we recommend packing a beautiful and comfortable dress like this one. Throw on some heels and a few accessories, and look and feel sexy. This dress looks great on almost any body type, and comes in many colors and prints.
Other Key West packing list items not to forget
---
What to Wear in Key West
---
The dress code in Key West is very casual. Shorts, island wear, sundresses, and sandals are all appropriate. When packing, think mix-and-match, lightweight items that pair with each other and can be worn for more than one type of activity. And, since you will likely be spending a lot of time near the water, don't forget to bring a few bikinis or bathing suits of your choice.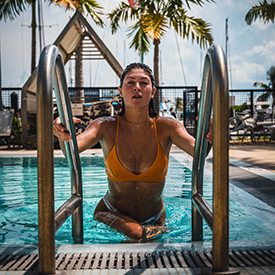 SPRING

in Key West – March-May and September-November

The weather is warm year-round in Key West, so your packing won't need to change much throughout the year. You may want to bring layers for the evenings but plan on shorts and sundresses throughout the day. The average highs are around 83° F (28° C), and the average low this time of year is around 75° F (23° C).
SUMMER

in Key West – June-August

is warmer still, and so you'll want to plan on spending time at the pool or beach. Pack shorts, tanks, and sundresses, along with sandals and flip-flops. You will find that summer is the off-season in Key West, and so rates may be lower in the warm weather, with average highs around 89°F (31° C), and average lows near 81° F (27° C)
WINTER

in Key West – December-January

is a great time to visit Key West if you want slightly cooler temps. It's still pretty warm, but you'll need to pack lightweight layers for morning and evening. In winter months, the average high is about 76° F (24° C), with temps around 68° F (20° C) for the average low.

Dressing Appropriately for the Activity – (Click to expand)

Fishing and watersports –

Key West is a great place to visit if you like spending time out on the water. Fishing, snorkeling, kayaking, and sailing are all favorite activities on Key West. For day trips like these, pack your swimwear, hats, sunscreen, water shoes, a water bottle, towels, and snacks. You'll definitely want a daypack to hold everything and stay organized.

Roaming on Duval Street – Duval Street is Key West's main drag, with shops, restaurants and cafes, galleries, and of course, bars. Pack comfortable shoes for walking, and can plan casual wear like tank tops and shorts. Remember to choose lightweight fabrics, and to keep it casual, which is Key West's style.

Outdoor festivals and live music venues – If you plan to attend any outdoor festivals, live outdoor music, or street fairs, you should pack necessities for being outside all day. These include sunglasses, sunscreen, hats, blanket, a water bottle, and a backpack to hold it all.

What NOT to Bring to Key West
---
1)

DON'T BRING a surf board:
The Florida Keys are not known as a great surf destination. The calm waters are great for other activities, but most surfers will be disappointed here.
2)

DON'T PACK Heavy clothing: Key West is warm year-round, and you'll want to be outside almost the whole time you are there. Bulky, heavy clothing will be too warm and you'll regret bringing it.
3)

DON'T TAKE Expensive jewelry: Although crime in Key West is not really a problem, you won't need fancy or expensive jewelry when going out, so leave it at home. The casual-vibe of Key West means you can get by with a few inexpensive accessories.
4)

DON'T PACK Uncomfortable, formal clothing: Key West is extremely casual, and there is almost no need for formal clothing. Throw in a nice dress or jacket for dinner out, but plan casual clothing almost all the time.

5)

DON'T BRING Full size towels:
Wherever you stay, whether a hotel or Airbnb, should have towels for you, and bringing your own would take up way too much space in your luggage.
6)

DON'T TAKE Beach chairs: You can rent beach chairs right at most beaches, and even if you are traveling by car and not plane, they take up too much space and are awkward to travel with.
7)

DON'T PACK Books: Books will take up too much room in your luggage, and add unnecessary weight. If you're planning to read on the plane or at the beach, bring a Kindle and you'll have portable access to thousands of books.
What NOT to wear in West (Click to expand)
Don't plan to pack formal wear. Key West is very causal, and there is no need for formal dresses or suits. Women should pack one nice dress that can be dressed up with accessories, and men should include a lightweight jacket for a nice dinner out. Other than that, plan to wear shorts, tees, and sundresses no matter where you are on Key West and a swimsuit with a coverup for the beach or pool. Please also don't pack inappropriate or revealing clothing. Although it is known as a party town, Key West is popular with families, and many locals live here year-round, so inappropriate clothing is not appreciated.

FAQs about Key West travel
---
1. How do I get to Key West?

Visitors can fly directly into Key West International Airport from other cities in Florida. There's also an express ferry from Ft. Myers. Another popular route is to fly into Miami and drive US Route 1 out through the Florida Keys (Key West is the last one). The drive takes 3-4 hours, but is an experience in itself, covering over 100 miles, 42 bridges, and connecting 34 islands.

2. What is the best time of year to visit?

The best time to visit Key West is between March and May when the weather is perfect. You'll find lower rates in the off-season (summer), and cooler temps in the winter months. Almost any time of year means great weather and sunshine.

3. What should I do in Key West?

Key West is known for bars, so if you are into barhopping and nightlife, definitely consider a trip there. If you aren't into the bar scene, there is still plenty to do on a Key West vacation. Surrounded by beautiful ocean, Key West boasts great snorkeling, sailing, fishing, and sunbathing. The Ernest Hemingway Museum attracts many visitors, and walking Duval Street is a great way to spend the day exploring shops, cafés, and galleries. Take time to leave the main drag of Duval Street, as both New Town and Old Town have restaurants, boutiques, and bars worth checking out.

4. What should I avoid in Key West?

There are definitely tourist-traps in Key West, especially the many t-shirt and souvenir shops. If you are planning to enjoy the island's nightlife, you should also avoid being an overly obnoxious tourist – there are many locals born and raised on Key West (known as "Conchs"), and they don't appreciate partiers who approach the nightlife with a "What happens in Key West, stays in Key West" attitude.

5. Is Key West safe?

Yes, it is. Although there is a large bar scene, Duval Street and Key West are very safe, with a strong police presence.

6. Do I need to worry about hurricanes?

Key West is located closer to the Caribbean than the rest of Florida and can be in the path of hurricanes. However, many people travel to Key West in the fall (hurricane season) with no trouble at all, and historically, it is not a hard-hit hurricane area. With advances in weather forecasting, there is usually plenty of notice of impending storms, and many tourist destinations offer hurricane cancellation policies. To have extra peace of mind during your trip, consider Travel Insurance
Other North America packing lists you may like…
Alaska | Arizona | Appalachian Trail | Austin | Banff NP |Beach | California | Canada | Camping | Chicago | Colorado | Cruise | Day Hike | Denver | Desert Trip | Destination Wedding | Disney | Florida | Glacier NP | Grand Canyon NP | Grand Teton NP | Havasupai | Hawaii | Honeymoon | Kalalau trail | Kauai | Lake trip | Las Vegas | Maui | Miami | Moab | Myrtle Beach | Nantucket | New York | Oregon Coast | Orlando | Pacific Crest Trail | Portland | Quebec | Road Trip | RV Trip | San Diego | San Francisco | Seattle | Sedona | Texas | Washington, D.C. | Wisconsin Dells | West Coast Trail | Yellowstone NP | Yosemite NP | Zion NP
Please note: We have over 200 packing lists covering practically every popular travel destination in the world. Access them all on our packing list overview page ➜