Updated on by Lyric Fergusson
When getting ready for a golf game, there are few things that are essential. While most people think to bring extra golf balls, tees, markers, etc., many people forget to bring a golf towel. A golf towel helps absorb moisture and dry golf balls (and sweaty hands). While it may seem like a simple item to pack along for your game, it can make a world of a difference in how you play.
From fast-drying microfiber towels to performance towels meant explicitly for athletes, my seven favorite golf towels are:
The Best Golf Towels For All Conditions
---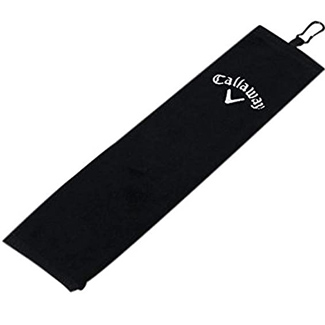 Why it's great: Because Callaway is a golf company, this towel was made with golfers in mind. The embroidered towel is absorbent, soft, and high quality, so you won't have to worry about ditching it for a new one within a few months. It's also long, so you will have plenty of clean spots to use throughout your game.
Ladies, if you're looking to add a little color to your golf game, the towel also comes in a light pink color!
Keep in mind: The carabineer that can be used to hook the towel on your bag can be a bit weak if tugged on too hard. To avoid this, simply replace it with a sturdier metal hook or be careful during your game.
Good for: Golfers who take their game seriously!
---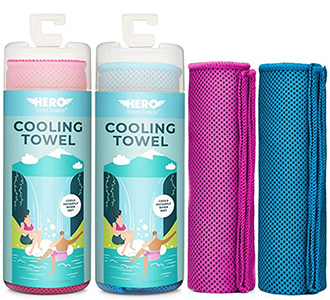 Why it's great: I'm a big fan of cooling towels when I am doing anything outdoors in the sun. This goes for golfing as well. Soak the cooling towel in cold water, wring it out, and wrap it around your neck for instant heat relief. This is great for when you're playing during those warmer summer months. Nothing is more distracting than having sweat drip down your face while you're concentrating on making that birdey.
It comes in five different colors and includes a great reusable case for transporting it without getting other items in your bag wet.
Keep in mind: To maximize cooling effect, submerge towel in water every 30-60 minutes.
Good for: Golfing in the hotter temperatures
---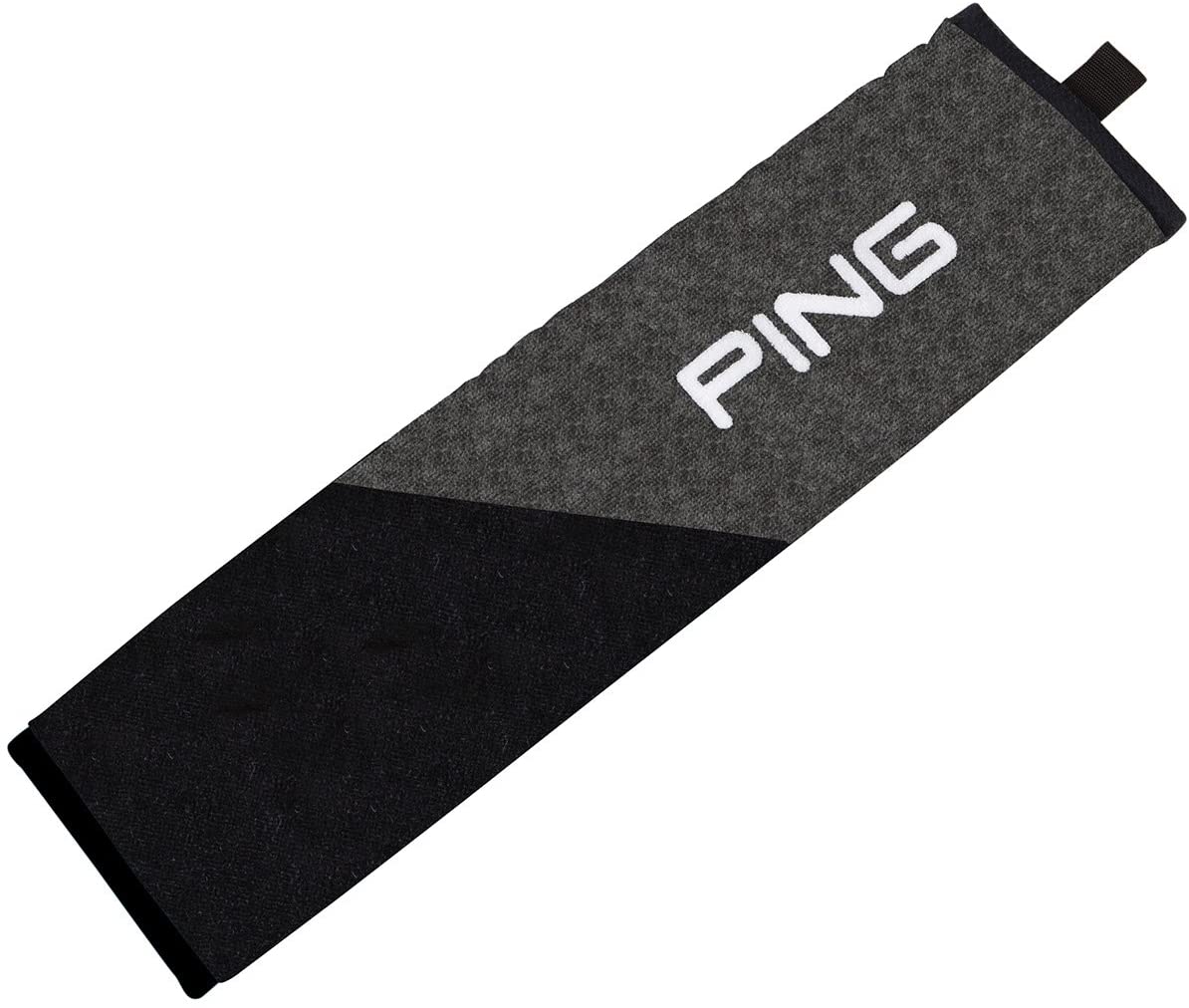 Why it's great: This PING tri-fold golf towel is another great one for those looking to look like pros during their rounds. The length fits any golf bag perfectly (it's long without getting in the way), it's soft, and it's absorbent.
Keep in mind: It is a bit pricier than other golf towels on the market.
Good for: Those looking to look like the pros
---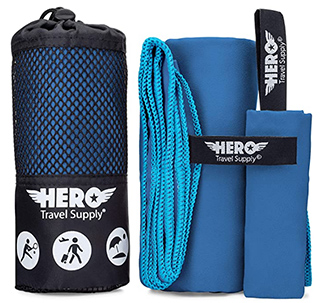 Why it's great: This is a towel that is great for all activities. Available in several different colors, the towel is compact, convenient, super absorbent, and fast-drying. I recently used this towel on a trip to California and was amazed at how it absorbed sweat quickly and dried almost immediately after use. I kept it wrapped around my neck for easy use and broke it out anytime I felt like I need a wipe down. It dried with no odor, and I packed it back up in its carrying its travel pack in a matter of seconds.
Keep in mind: It is thinner than you may be used to, but don't let that deter you. It still absorbs well and dries much faster than any other towel I have used in the past.
Good for: The everyday golf game
---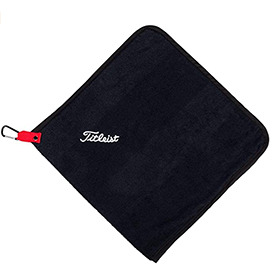 Why it's great: This towel is unique because it has two different materials. On the exterior, you have a sheared velour terry, and on the interior, there is a patterned microfiber with club groove cleaners. The terry exterior is perfect for simple wipe downs, while the inside microfiber does an excellent job of cleaning golf balls and clubs thanks to the grooves.
Keep in mind: If not washed on delicate, the black velour terry can become stringy and unraveled. Be sure to hand wash or wash on the delicate setting of the washing machine.
Good for: The everyday golf game
---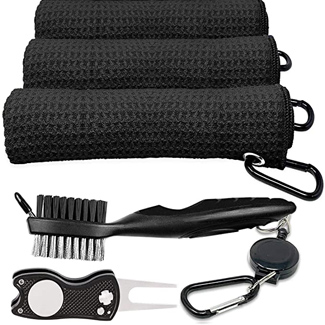 Why it's great: The ToVii towels are a great purchase because you get the best bang for your buck. The set not only includes three towels but also comes with a foldable divot tool and a club brush. As for the towel itself, the waffle pattern helps remove dirt, sand, and grass. Because it comes in a pack of three, you'll always have a clean towel on hand should you need it, making for a smooth game.
Like other towels mentioned in this list, these also have metal carabineers attached, making clipping them to your golf bag a piece of cake. If you've never used a golf towel or don't know where to begin, this set is the best set for you.
Keep in mind: Rather than black, the towels appear to be more of a dark blue color. They're also a bit smaller than some of the other towels listed.
Good for: Golfing beginners
---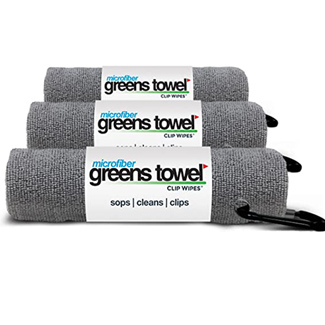 Why it's great: Out of all of the towels, the Greens microfiber towels are the best value. And, they're also a favorite with athletes. Pro golfers rely on these towels because they are affordable but don't sacrifice quality. They're incredibly absorbent, stay wet if needed, and clip to golf bags so you won't ever lose them.
Whether you're using these towels for the first time or for the 160th time, they don't show wear, and they look brand new no matter how dirty you get them.
Keep in mind: Stray grass and twigs tend to stick to these easily, so you'll want to be careful not to drop these, or you'll be spending your post-golf afternoon plucking out blades of grass.
Good for: Golfers on a budget
---
FAQs about golf towels
---
1. Why do you need a golf towel?
As mentioned earlier, having a golf towel will help you out for multiple different reasons. They're used for wiping dirt off your hands and clubs, cleaning your gear, and wiping off sweat if golfing on a warm day.
---
2. How many towels should be in a golf bag?
There is no "right" or "wrong" answer when it comes to how many towels you should have with you. Something that I like to keep in mind is that you will likely want towels for different reasons. For example, a smaller personal towel is excellent for wiping sweat or dirty hands. A larger golf towel is great for cleaning your gear. I would not recommend using the same towel for everything as gear can get pretty messy, and the last thing you want is to wipe said dirt on your face when you're trying to clear it of sweat.
---
3. What's the difference between a regular towel and a golf towel?
If you were to ask a golfer what comes to mind when you say golf towel, they'll likely say a towel with a grommet in the corner so that it can be attached to a golf bag. As far as material goes, most golf towels are made of microfiber or cotton. So while there are no significant differences, the small details make a big difference.
---
4. What is the best way to clean a golf towel?
Because most towels are made of microfiber or cotton, cleaning them is extremely easy. Throw them in the wash with similar colors and you should not run into any problems. If a towel is a bit more delicate, change the washing machine settings and you will be all set!
Conclusion
---
Whether you've been golfing for years or it's something that you are looking to pick up as a hobby, having a golf towel will drastically help your game. In fact, they're so important that even the United States Golf Association allows its golfers to have a towel wrapped around their clubs during games. They help you grip clubs, avoid slippery sweaty hands, clean off dirty clubs–which is especially crucial during a rainstorm, and wipe the sweat off during a hot game.
When it comes to picking a towel, think about what is most important to you. Do you live somewhere warm, and your main focus is to stay cool? Or do you want the towel to be super absorbent to help you stay dry? Once you determine which towel is best for you, you'll be amazed at just how much better you end up playing!