Updated on by Asher Fergusson
What should I bring on Birthright?
What to Pack for Birthright – 17 Essentials
---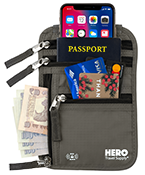 A neck wallet is one item you'll be glad you brought with you on your Birthright trip. You'll be able to safely and securely carry around your most important valuables, including your smartphone, keys, credit cards, cash, passport and more. Tuck this neck wallet under your t-shirt for maximum protection.
---

Keep your phone and camera fully charged all day long with a handy lipstick-size portable charger. Toss it in your purse or daypack and use it as an external battery to charge up your devices while you're out and about.
---

Depending one where you're traveling from, Israel can be very far from home! Be sure to bring along this homeopathic jet lag relief to keep you feeling your best during the first days of your trip. This stuff is great and can be used both as a prevention and as a cure.
---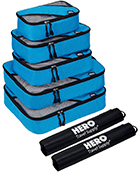 Don't forget to use packing cubes for your Birthright trip! These will help you stay organized and will make packing and unpacking much easier and more efficient. On Birthright you'll be changing locations often, so packing cubes will help make packing a breeze.
---

A pashmina shawl will come in handy on many different occasions during your Birthright trip. Use it to cover your shoulders or chest when entering a synagogue or holy site, use it as a curtain in shared accommodations, to spice up an outfit, or keep you warm on a chilly evening.
---

Depending on when you travel, you may or may not experience some rain (or even a bit of snow!) during your Birthright trip, so you'll definitely want an umbrella. If you're traveling during the summer, an umbrella will come in handy to protect you from the intense rays of the sun, as well.
---

You'll definitely want to have a reliable VPN for your trip to Israel. This will protect your private information from potential hackers and will also allow you to access content from your home country that may be blocked or censored. It'll also help you get around paywalls on popular news sites.
---
8. Slip-On Mesh Water Shoes: Women and Men

Water shoes are an absolute must-have for Birthright, as you'll be spending plenty of time in and out of the water, whether you're rafting down the Jordan river or swimming in the Mediterranean Sea. These shoes will keep your feet safe from rocks and branches while keeping you comfortable.
---

Be sure to bring a trendy swimsuit cover up with you on Birthright! This one is perfect to throw on after a dip in the Mediterranean to enjoy a snack or drink at one of Tel Aviv's many beach bars and cafes. You'll feel more comfortable and will look super chic with this cute cover up.
---

Whether your trip has you enjoying a night out in Jaffa, Tel Aviv, or Jerusalem, you'll definitely want to pack at least one gorgeous outfit for your Birthright trip. You'd be surprised by how lively Israel's nightlife scene is and you're sure to want to look your best.
---

It's a great idea to bring a waterproof phone case with you on Birthright. Whether you're hiking to waterfalls or floating in the Dead Sea, you won't want to risk your device getting ruined by the elements. This one is reliable and can be used in the water.
---

You never know what can happen any time you're traveling abroad, so it's a good idea to be prepared with travel insurance. World Nomads is great because they'll cover the costs of lost luggage, flight cancellations, emergency medical, and more.
View their plans at WorldNomads.com ➜
---

Israel can get HOT, especially during the summer, which is a popular time for Birthright trips. You'll definitely want to be prepared with electrolytes to add to your water to keep you hydrated after a long day of exploring or after a night of drinking!
---

Activated charcoal will come in handy if you eat or drink something that doesn't agree with you during your Birthright trip. You should take these at the first sign of discomfort to rid your body of any toxins and keep you feeling healthy.
---

A daypack is essential for any Birthright trip. You'll be spending long days that take you from the desert to the sea, so you'll need to have several items on you all day long. This one's great to hold your water, sunglasses, change of clothes and shoes, and anything else you might need.
---

After long days of exploring Israel, you're sure to be hot and sweaty! Your new friends will thank you for bringing along handy deodorant wipes in your daypack to quickly and easily refresh while you're on the go.
---

You'll have plenty of opportunities to partake in water activities during your trip, so be sure to bring an affordable underwater camera like this one to capture your favorite memories both in and out of the water! This one is compact and durable which is perfect to bring on Birthright.
Other Birthright Packing List Items Not to Forget
---
What to Wear on Birthright
---
Dressing for the Seasons on Birthright
---
Israel has a Mediterranean climate, which means hot summers and mild winters. You'll want to dress for the season you're planning to travel in, but make sure to bring relatively conservative clothes for special occasions regardless of the season. You'll be comfortable wearing casual clothing throughout your trip, but bring a few nicer outfits for nights out on the town!
WINTER

– December, January, February:

If you're planning to travel in the winter, expect mild to cold temperatures, especially at night. Bring plenty of layers to be able to comfortably adapt to changing weather and don't forget a medium-weight jacket. Places like the Dead Sea and Eilat will remain hot year round, though.
SPRING

– March, April, May:

Springtime in Israel experiences mild to warm temperatures, and you may encounter a bit of rain. This is a great time to go on Birthright as it's not too hot or too cold to explore the entire country. Be sure to bring an umbrella and plenty of layers.
SUMMER

– June, July, August:

You can expect summer in Israel to be dry and hot. Be sure to wear clothes that are lightweight, breezy, and sweat wicking or water repellent as you'll be spending a lot of time outside during your trip. Don't forget your sun protection, too!
FALL

– September, October, November:

Fall weather is similar to that of the spring, so be prepared for mild to warm weather with cooler evenings. This is a nice time to visit Israel, so be sure to bring plenty of layers to adapt to the weather if this is when you're headed on Birthright!
What NOT to bring on Birthright
---
FAQs for going on Birthright
---
1. What types of things will I do on Birthright?

You'll take a comprehensive tour of Israel on your Birthright trip, which will include visiting the main sites, such as Jerusalem's Old and New Cities, Tel Aviv, Jaffa, the Dead Sea, Masada, and more. Your trip will likely be a good mix of hiking, swimming, and touring cities and significant sites.

2. Should I go on Birthright alone or with a friend?

Many people choose to go on Birthright alone, as it's very easy to make new friends and there are lots of activities to encourage relationship building with your fellow Birthright attendees. However, it's not uncommon to sign up with a friend or two, which is fun, too. It really just depends on your preference!

3. How long does a Birthright trip last?

Birthright trips typically last anywhere from 7 to 10 days, depending on which trip you choose. They have trips that leave throughout the year, so you'll have plenty of options to pick from.

4. Is Israel safe?

Yes, Israel is safe. It's situated in a somewhat precarious part of the world surrounded by countries that are relatively unfriendly to it and its people, but Israel is the strongest Western ally in the Middle East and takes some of the world's most impressive security measures, so you are not likely to feel unsafe at any point during your trip. As with anywhere, avoid walking around alone at night and always look out for pickpockets in big cities.

5. Will I have to pay for anything on Birthright?

You will have to pay for some of your own meals, drinks, and any gifts or souvenirs you want during your trip. Other than that, the entire trip is completely free!
You may also like these other packing lists…
---
---
---
---
---
---