Updated on by Asher Fergusson
T
he Kalalau Trail is life changing. The breathtaking hike takes you along Kauai's stunning Na Pali coast to arrive at quite possibly the most magical valley and beach in the world, secluded in the middle of the Pacific Ocean.
The hike is challenging and demanding. To make sure you are prepared, we have created a Kalalau Trail Packing list that covers all of the essentials, along with what to wear to the Kalalau Trail. Additionally, we also share what NOT to bring and other answers to FAQs.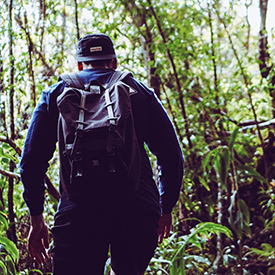 What to Pack for Kalalau – 17 Essentials
---

Your journey starts with a good backpack. Because the hike is long and strenuous, it's essential that your backpack is lightweight and comfortable. Make sure your backpack can handle wet weather, as when hiking on a tropical island like Kauai, there's always a chance of getting soaked. It's also important to buy for your gender as women's backpacks are fitted for the female body whereas men's backpacks distribute the weight differently. Osprey backpacks are fantastic quality, and this one has anti-gravity suspension to make your load feel lighter, which is a lifesaver.
---

A Lifestraw water bottle filters and purifies water on the go. This is all you need for the Kalalau trail, as you can fill up from any of the numerous streams along the trail as well as the river in the valley. The water in Kauai is wonderful, so it's definitely preferable to filter with a Lifestraw rather than to use purification tablets which can ruin the taste. Many people drink Kalalau's running water directly, however this is dangerous as the rivers may contain life threatening bacteria. A Lifestraw will keep you safely hydrated.
---

An emergency paracord bracelet is a hiking essential. In addition to 12 foot long paracord fashioned into a nifty, lightweight bracelet, this one also has a built-in emergency whistle, small knife, compass and fire-starter. It's inexpensive and fits on any wrist.
---

This travel towel dries quickly and packs small, so it's ideal for hiking and camping. You can use it after splashing in the waves, swimming in the river, or bathing under a waterfall, and then hang it over a tree to dry. A travel towel is much more practical for camping than a normal bath towel.
---

There is no cell service anywhere on the trail or valley. However, if you do pack your phone, definitely make sure to travel with a waterproof phone case. You're likely to get wet during your hike, whether you get hit with rain or slip during a river crossing. Keep your phone protected! This case is so good that you can even take underwater pictures!
---

If you carry a camera, make sure it is waterproof. Between rain and river crossings, there is simply too much risk in packing a camera that will damage when wet. The views you'll see along the trail, on Kalalau beach and in the valley are likely to be the most beautiful of your life – so a waterproof camera is quite important!
---

It's important to wear good waterproof shoes when you explore the valley so that you can jump in and out of the river. Normal hiking shoes are not an option for this. These slip-on water shoes are lightweight, quick drying and breathable, and will be no hassle to carry with you. They also have fantastic grip, which is extra important for slippery trails.
---

Obviously, there is no electricity anywhere in Kalalau! If you want power for your electronics, use the sun. There is no shortage of sunshine in Kalalau, so you'll have no problem with solar charging. This charger is very quick-charging and efficient, and also comes with the added bonuses of a built-in flashlight, strobe, and compass, so it's perfect for the outdoors.
---

These waterproof compression sacks serve a dual purpose of saving room in your backpack and also keeping your belongings dry. These sacks compress your clothes, sleeping bag and towel, removing air to pack down smaller. In a tropical downpour, you'll be especially grateful for added rain protection, particularly for any valuables you might carry with you.
---

Of course, your tent will be your home in Kalalau! This Marmot tent is top of the line. It's lightweight, spacious, easy to set up, and durable for wet weather. What I especially like is that on a cloudless night you can keep the rainfly off to stargaze and feel the beautiful, fresh air of Kalalau.
---

For sleeping, pack a comfortable, lightweight sleeping bag. While you don't need a particularly warm sleeping bag, nights can get chilly so it's nice to have lightweight down that can keep you comfortable. This sleeping bag is also water resistant, and dries quickly in case it does get wet, which are important features for tropical island camping.
---

To really take your experience in Kalalau to the next level, I advise packing a travel hammock. These are small and lightweight, so they aren't difficult to carry, and are quick and foolproof to set up. Setting up your hammock by Kalalau beach at sunset after a long day of hiking is priceless. It can be very comfortable to sleep in too, either on a clear night or for an afternoon nap.
---

A headlamp is essential for after dark. It's so much easier than carrying around a flashlight, especially for tasks like cooking. This one is comfortable, lightweight, waterproof and durable. It stays charged for 36 hours, so it should last throughout your trip.
---

It's essential to wear sunscreen during your hike and while at Kalalau beach, as the sun is strong and often you won't be shaded. However, most sunscreen isn't safe for Hawaiian reefs and is an absolute no-no to wear during your visit to the islands. Make sure to pack sunscreen that is reef-safe, so that you can protect yourself and ocean ecosystems too.
---
Particularly if you explore the Kalalau Valley, the mosquitos are intense. I once emerged from a day in the valley with my entire body covered in bites. These easy to wear deet-free mosquito wristbands to minimize bites. These mosquito repellent wrist bands remove the hassle of bites. They're comfortable and light to wear, and unlike spray they won't leak chemicals into the river or wash off when you swim.
---

This lightweight mess kit comes with everything you need for comfortable eating and drinking in the valley – a pot, a pan, a kettle, two stainless steel cups, and a cutlery set. It all folds together and packs into a mesh bag so that it's easy to hike with. All the pieces are nonstick, durable and easy to clean.
---

Make sure that you have great travel insurance for hiking the Kalalau trail. The trail is dangerous, particularly in wet conditions, and anything can happen. Don't skimp on your insurance for a trail as risky as Kalalau. TravelInsurance.com will help you find a plan specifically designed for hiking so that you can be prepared for anything.
Compare policies at TravelInsurance.com ➜

Other Kalalau Trail packing list items not to forget
---
What to wear in Kalalau
---
For hiking the Kalalau Trail, plan to wear lightweight, sweat-wicking hiking clothes, including shorts and a t-shirt. With such warm weather, you'll be uncomfortable hiking in anything with long sleeves. Crucially, make sure that you wear good hiking shoes that are quick-drying or waterproof and have fantastic grip. Certain parts of the trail, such as Crawler's Ledge, can be very dangerous without the right shoes. Quick-drying shoes are particularly important for rain, mud, and river crossings on the trail.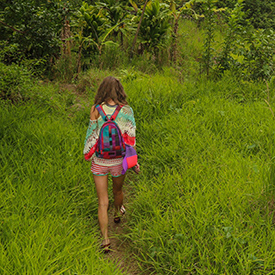 When in Kalalau, the vibe is casual, relaxed, and bohemian, freed, and hidden from society. Some people in Kalalau don't even wear clothing at all! Pack quick-drying and comfortable beachwear for when you're relaxing, recuperating, and exploring. Keep your clothing to a minimum though, to keep your backpack as light as possible. I simply re-wear the same comfortable, quick-drying outfits when I'm in Kalalau.
What women should wear in Kalalau – (Click to expand)
Below is a sample women's clothing list. (All items link to Amazon.com for your convenience).
For the hike, women should wear waterproof, quick-drying, and breathable hiking shoes with a fantastic grip, as well as comfortable hiking shorts and a moisture-wicking t-shirt. Meanwhile, for Kalalau beach, women should have a swimsuit, swim shorts, and a beach cover-up. A rashguard can also be good to keep cool and for protection from sunburn. Mesh water shoes are fantastic for exploring the valley and swimming in the Kalalau river. Nights can get slightly chilly, so it's a good idea to also pack a lightweight hoodie as well as breathable lightweight pants that are comfortable enough to sleep in.

What men should wear in Kalalau – (Click to expand)
Below is a sample men's clothing list.
(All items link to Amazon.com for your convenience).
For the hike, men should wear waterproof, quick-drying, and breathable hiking shoes with fantastic grip, as well as comfortable, quick-drying hiking shorts and a moisture-wicking t-shirt. They should also pack swim trunks for the beach, as well as a rashguard to keep cool and protected from the sun. For exploring the valley, men should wear mesh water shoes for swimming in the river, along with their swim trunks and rashguard. Nights can be slightly chilly, so loose and comfortable lightweight pants may be comfortable for stargazing, sitting by the fire, and sleeping. It's also a good idea to pack a lightweight long sleeve shirt, as well as a comfortable flannel.

Dressing for the Seasons – (Click to expand)
Kauai has two seasons: rainy and dry. The wetter months are October through March, which is also when days are slightly shorter with the sun setting earlier. During the drier season, April through September, the rain is less frequent and days are warmer and longer. The summer months, June through September, are particularly dry and hot. Though the heat makes hiking less comfortable, it is much safer to hike the Kalalau trail during these drier summer months, as too much rain can make the trail slippery and dangerous, with potentially hazardous flash flooding at the river crossings.
Rainy season: Average temperatures during the rainy season, from October through March, are 77-79°F (25-26°C). The air is cooler and wetter with frequent rain. This wet weather can make hiking the Kalalau trail very dangerous, so it is not advisable to hike the Kalalau trail during the rainy season. Particularly if you are an inexperienced hiker, wait until the dryer summer to hike the Kalalau trail. If you do hike the trail during the rainy season, be sure to pack a rain jacket men women as well as a poncho , along with quick drying hiking shorts men women and t-shirts men women The nights can be slightly chilly, so pack a comfortable hoodie for sleeping men women or a flannel as well as warm hiking socks
Dry season: With average temperatures ranging from 82-85°F (27-29°C), the dry summer season is very hot, particularly from June through September. You can hike in lightweight athletic shorts mens women and tank tops men women and be sure to wear a good hat for added sun protection.

Dressing appropriately for the activity – (Click to expand)
Hiking:
For hiking, it's most important that you wear amazing hiking shoes. They should be waterproof and quick-drying, and they should have a suitable grip for wet and unstable terrain. Wear quick-drying hiking shorts, a moisture-wicking t-shirt, and a hiking hat to keep you cool and comfortable in the sun and when you sweat.
Beach: For the beach, wear swimwear, including a rashguard to keep cool and protected from the sun. Women can pack a cute beach dress, sarong, or cover-up as well. Sunglasses will be necessary during certain parts of the day, as well as reef-safe sunscreen and a hat. The sand can be very hot in the middle of the day, so you may be more comfortable wearing water shoes when walking the beach too.
Exploring the valley: Definitely wear water shoes as well as waterproof swimwear for exploring the valley, as you may want to alternate between walking through the forest and dipping, swimming and crossing the river.
Campfires: At night, you may find yourself sitting by a fire or stargazing on the beach. For night activities, wear comfortable, breathable and loose-fitting long pants and long sleeves, as nights may get just slightly chilly. A lightweight hoodie or flannel may also be good for sitting out at night and sleeping.

What NOT to bring on the Kalalau Trail
---
1)

Too many clothes
There's really no reason to overburden yourself with too much clothing for the Kalalau trail. Instead, bring clothing that is moisture wicking, quick drying and athletic that you can wear repeatedly.
2)

More than one book You may want one book for a relaxing beach day once you're in Kalalau, otherwise books are heavy and risky to pack in. You're likely to get wet on the trail one way or another, which means your books might get soaked. Anyway, there is far too much to do and see to spend a lot of time reading.
3)

Electronics There's no cell service or Wifi in Kalalau or anywhere on the trail, so keep your electronics to a minimum. There's no reason to bring in speakers or headphones either, as you should really just enjoy the natural sounds and respect the quiet. Electronics are a big risk to carry in, and unless they're important to your safety, like a headlamp, they're really not necessary!
4)

Bath towel
A bath towel is heavy, bulky and impractical for Kalalau. To dry yourself, pack in a practical and quick drying travel towel instead.
5)

Pollutant washing liquid/shampoo/soap If you bathe in Kalalau, you will do so under a gorgeous waterfall. Likewise, there is nowhere but in nature to wash your dishes. For this reason, pack eco-friendly camp soap that won't pollute the pristine valley and beach with chemicals. Camp soap can clean both your body and your dishes so that you don't have to pack in too much.
6)

The wrong sunscreen It's important to wear sunscreen, but it's essential not to damage Hawaii's reef and ocean ecosystems when you do so. Make sure that you wear specifically reef-safe sunscreen for the Kalalau trail.

What NOT to wear in Kalalau – (Click to expand)
Most essentially, everything that you wear in Kalalau and on the trail should be quick drying. Do NOT pack any shoes that are impractical and that don't dry quickly. Even flip flops are a bit inessential and are better replaced with more practical and durable mesh slip-on water shoes. There is no need for any uncomfortable clothing, and fashion should certainly take a backseat to durability, coolness, and waterproofing. Leave any heavy materials behind.

FAQs about hiking the Kalalau Trail
---
1. What skill level do I need to hike the Kalalau Trail?
The Kalalau trail is strenuous and very dangerous at certain parts. You should be a fairly experienced hiker and reasonably fit to hike the Kalalau trail. If you are inexperienced, at least hike in with someone who is or who has hiked the trail before. It's also important to familiarize yourself with risks of the trail and tropical weather before hiking, including flash flooding and river-crossing safety. Many hikers will feel more comfortable splitting the hike into two days by camping at Hanakoa on your way in and out. Hanakoa has a stunning waterfall and is a beautiful place to spend a night and ease your hike!
2. What safety precautions should I take?
Check the weather forecasts before you hike. If too much rain is predicted, the hike is too dangerous. I've been caught at Crawler's Edge in heavy rain and have sworn to myself never to do that again! In rain, take extra care when crossing rivers, as flash flooding can happen unexpectedly and can be fatal even to experienced hikers. With strong waves and dangerous currents, Kalalau beach, as well as Hanakapiai beach along the trail, is normally not safe for swimming. The summer months can be calmer for swimming, but make careful judgments and be aware at all times when entering the water. Do not swim far unless you are highly experienced and comfortable in the ocean.
3. What are the best months to hike the Kalalau Trail?
The Kalalau trail is best in the drier summer months when it is safer. May is especially great because it is dry but also slightly cooler than deeper in the summer, making the hike and beach more comfortable.
4. How can I be respectful of the trail, the valley, and the beach?
The trail, valley, and beach are pristine and absolutely gorgeous. When hiking and camping, it is essential to respect the sacred beauty of this part of the island. Do not leave any trash, and take in what you take out. Wear reef-safe sunscreen, and stick to natural insect repellents and eco-safe soaps that won't leak chemicals into the environment. Make sure that you have a permit to camp in Kalalau, as this regulates the number of campers in order to keep camping sustainable, and you can also receive an astronomical fine if you get caught camping without a permit. Keep in mind that Kalalau is sacred to Hawaiians. There are heiaus along the trail, near the beach, and in the valley. These are Hawaiian temples and may be difficult to identify for unfamiliar eyes. For this reason, do not move any stones or alter the environment in any way. Treat the trail with gratitude and respect.
Other North America packing lists you may like…
Alaska | Arizona | Appalachian Trail | Austin | Banff NP |Beach | California | Canada | Camping | Chicago | Colorado | Cruise | Day Hike | Denver | Desert Trip | Destination Wedding | Disney | Florida | Glacier NP | Grand Canyon NP | Grand Teton NP | Havasupai | Hawaii | Honeymoon | Kauai | Key West | Lake trip | Las Vegas | Maui | Miami | Moab | Myrtle Beach | Nantucket | New York | Oregon Coast | Orlando | Pacific Crest Trail | Portland | Quebec | Road Trip | RV Trip | San Diego | San Francisco | Seattle | Sedona | Texas | Washington, D.C. | Wisconsin Dells | West Coast Trail | Yellowstone NP | Yosemite NP | Zion NP
Please note: We have over 200 packing lists covering practically every popular travel destination in the world. Access them all on our packing list overview page ➜