Updated on by Lyric Fergusson
Where to Stay on Maui – Locals Guide
We just moved back to Maui with our two young kiddos after being away for almost five years! It's one of the most magical places in the entire world. We love it so much.
When most people think of a Maui vacation, peaceful beach time comes to mind. But actually, the island is incredibly diverse. It has six individual microclimates, each one different. Even the beaches vary dramatically. For example, Maui is known for its wind. Some spots are awesome for kite or windsurfing — but are terrible for a peaceful swim or casual walk on the beach. So, before you book a hotel or short-term rental it's important to make sure that what you are wanting from your vacation lines up with where you are staying on Maui.
Also, check out our sections at the bottom of the page on what to bring, what to wear, our favorite restaurants, and other awesome tips from us "locals." 😉

1. Best Areas For Families On Maui
Napili, Kaanapali, and Wailea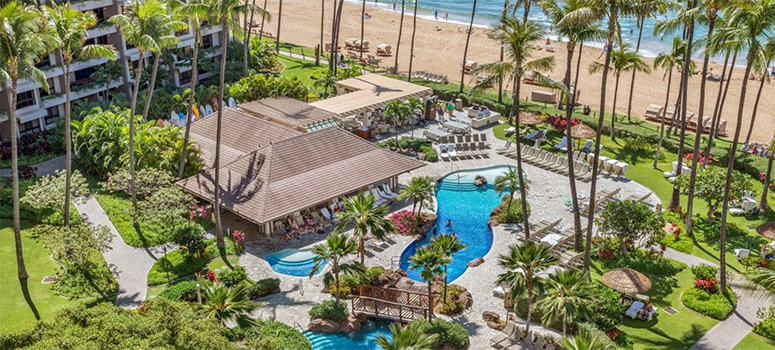 Why these areas are great: You'll rarely find strong currents, big waves, or winds that blow sand up into your face in these areas. There's awesome snorkeling, a peaceful relaxing vibe, and an abundance of delicious restaurants. Plus, if you have teens looking for a surf, the "1,000 Peaks" surf break in Olowalu isn't far (20-30 minutes) and is great for beginners and intermediate surfers.
Keep in mind: If you are just wanting to relax at your hotel and head to the beach, local transport will be fine. But, it's good to have a rental car in these areas if you want to explore the rest of the island. Also, be aware that these areas — in general — are more expensive than others.
Maui's Coolest Hotels For Families
Luxury: Montage or The Four Seasons, Wailea
Mid-Range: Hyatt Regency or Kaanapali Alii
Budget: Kaanapali Ocean Inn

2. Best Place for Nightlife on Maui
Lahaina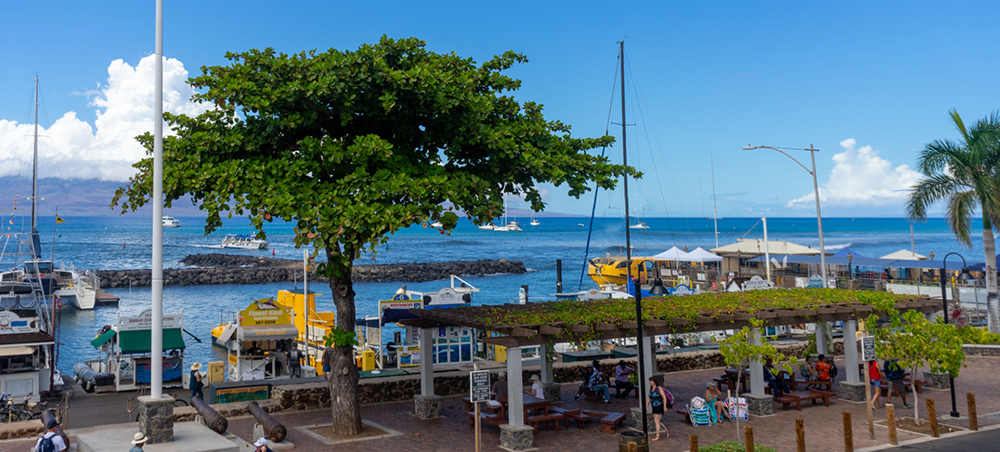 Why it's great: Lahaina's Front Street comes alive after dark. It has endless shops, restaurants, bars, and live music. You could even get lucky and meet Mick Fleetwood at his restaurant, Fleetwood's on Front Street! It's often busy and has a busy/fun party vibe.
Keep in mind: Lahaina is a nice place for families to visit during the day and early evening, but after about 10 pm things can get really rowdy with a lot of drunk college students, especially during winter and spring break. The vibe is also less relaxing than other parts of the island. If you like to party, this is your place.
Our Favorite Maui Hotels for Nightlife
Luxury: Puunoa Beach Estates
Mid-Range: Lahaina Shores Beach Resort
Budget: Best Western Pioneer Inn

3. Where to Stay on Maui for Quiet & Relaxing Vibes
Paia, Makawao, and Kula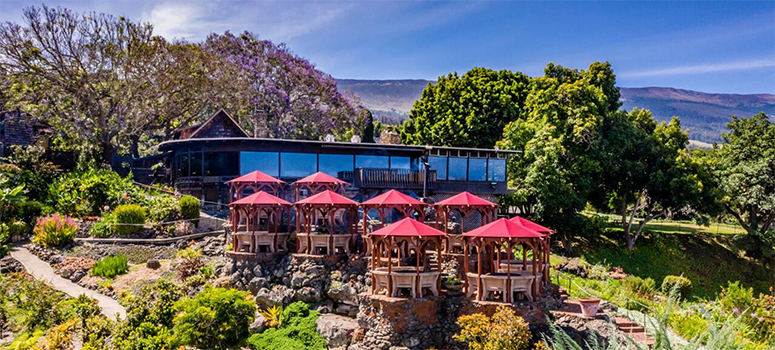 Why these areas are great: Upcountry is magical. Although not the typical "beach vacation", time spent in the mountains of Maui is rejuvenating, peaceful, and only a short drive to Paia beaches, North Shore surf, and classic Paia and Makawao town centers. Don't forget to check out Haleakala's dormant volcano, Makawao's pine forest, and Iao Valley's lush rainforests and waterfalls. Also, the incredibly scenic road to Hana is right there easily accessible.
Keep in mind: You will need a rental car for all these locations as everything is about a 10-45 minute drive. If you are visiting during the winter months Upcountry can be quite cool, so bring hoodies and sweatpants. Makawao can stay misty and cloud-covered, but as soon as you hit Kula (higher elevation) or head down to the Paia beaches, the mist clears. Haiku is notorious for massive mosquitos, while in other areas of Upcountry or Iao Valley insects are more sparse.
Maui's Coolest Hotels for Quiet & Relaxing Vibes
Luxury: Lumeria, Maui
Mid-Range: Iao Valley Inn
Budget: Kula Lodge

4. Best Places for Foodies
Wailea and Lahaina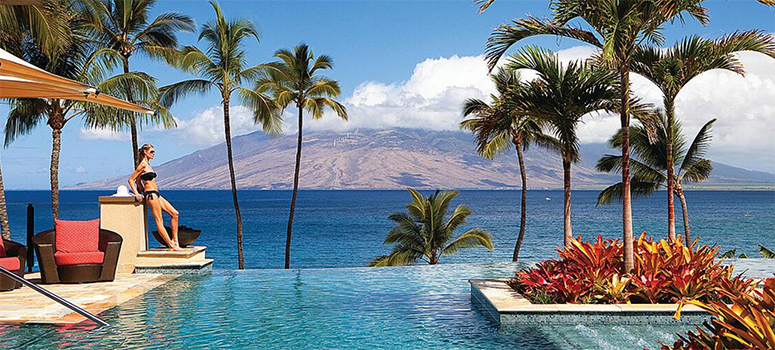 Why these areas are great: Maui is spread out with incredible gourmet and local gems scattered throughout. This said, if you want to be centrally located near lots of choice restaurants, I suggest Wailea and Lahaina. The Four Seasons, Maui, alone has multiple stellar options with views (like the one above) from your dinner table. Lahaina offers a wider range of nearby choices; and although less refined, will definitely leave you satisfied.
Keep in mind: Wailea and Lahina have the highest concentration of yummy restaurants but it would be good to rent a car no matter where you stay so you have the opportunity to explore some of the fantastic places that aren't super close by. Paia also has some delicious less expensive (casual) choices.
While on Maui, be sure to check out these restaurants: Morimoto Maui, Merriman's, and Hali'imaile General Store.
Our Favorite Hotels for Foodies
Luxury: The Four Seasons, Wailea
Mid-Range: Hyatt Regency
Budget: Best Western Pioneer Inn

5. Where to Stay on Maui on a Budget
Kahului and Kihei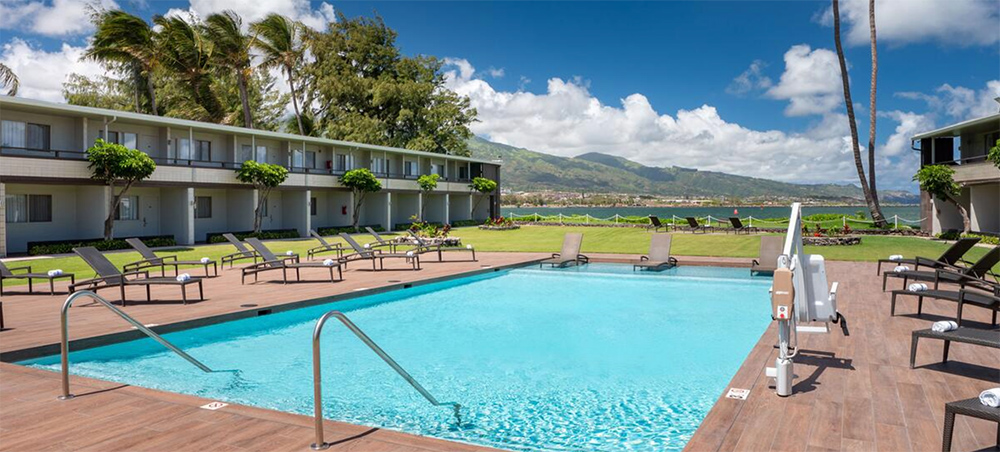 Why it's great: Kahului is not the most majestic spot on Maui, but it's nearby everything and remains one of the cheaper areas to find accommodations. We lived near Kahului for two years in Wailuku. We enjoyed the fact that it is centrally located and easy to get anywhere across the island. Even though it is a budget area, it almost always felt safe. The same goes for Kihei. Kihei has calm beaches and a decent nightlife with a variety of yummy restaurants to choose from.
Keep in mind: Kahului isn't the Maui that you see on the postcards. It's a larger town. It's where Walmart and Costco are. It's convenient and near everything but you don't feel the vacation vibe. This is where the average local working folks live. I know, because we used to live there! We've slightly avoided Kihei over the years because Monsanto does chemical testing nearby and I've been concerned about the run-off into that area. But, I believe the Maui government has imposed slightly stronger restrictions in recent years.
NOTE: If you are looking for a hostel experience, scroll down to find our Best Hostels on Maui section. 🙂
Our Favorite Budget Hotels on Maui
Budget 1: Maui Seaside Hotel
Budget 2: Deluxe Kihe Beach Condos
Budget 3: Kihei Oceanfront Condos

6. Best Neighborhoods For a "Local" Experience
"Upcountry", Paia, Kihei, Kahului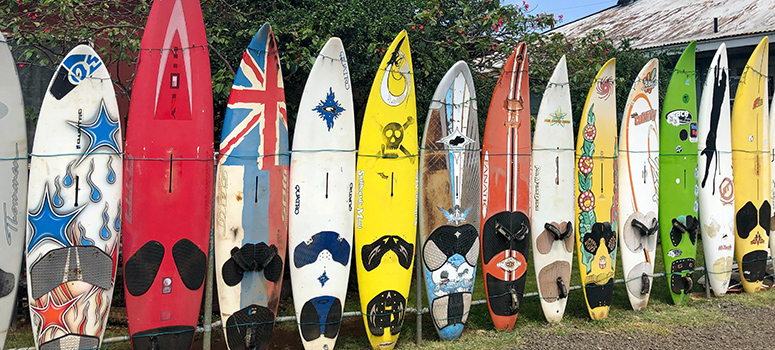 Why it's great: Maui's neighborhoods are as diverse as its terrain. Where you should stay will depend on what kind of "locals experience" you are wanting. Paia feels like a small hippie beach town (because it is!) "Upcountry" feels like a secluded rainforest retreat. Kihei is a bit of local and tourist mash-up – but the beaches are calm and there are many casual restaurants nearby. And… Kahului is straight locals with slightly urban budget hotels that are a short drive from decent beaches.
Keep in mind: Make sure to pick your local vibe neighborhood based on what you are looking for in your vacation. Don't go for Upcountry or Paia if you want to be super close to beaches without big waves — pick Kihei in that instance. If you are a surfer and want to be near the north shore… or don't mind a 30 min drive to Wailea (for calmer beaches and snorkeling) then Upcountry and Paia are awesome choices. On the other hand, Wailea and Lahaina have a pretty strong tourist vibe — so it's not ideal for a locals experience.
Maui's Coolest Hotels for Local Vibes
Luxury: Lumeria, Maui
Mid Range: Maui Coast Hotel
Budget: Maui Seaside Hotel
7. Best Places to Stay in Hana
Why it's great: Hana is a must-see. There is a long winding road on the edge of the island that takes you there, or you can fly directly into their tiny airport. The drive to Hana is itself an awesome experience. You'll pass waterfalls, rainforests, and epic hikes that are not to be missed. For everyone traveling to Maui, Asher and I suggest checking out THIS BOOK. It gives the best insider tips, tricks, and locations to visit on the island.
If you want to spend more than just a day trip around Hana, check out the below hotel. It's on the pricey side but it will give you time to enjoy a part of the island that is unique and less traveled.
Keep in mind: Hana is FAR from everything. And the only road to get there is Hana Hwy, which though beautiful, is extremely winding and not something you can do multiple times a day — unless you want to spend your entire day driving! Hana is perfect if you want a retreat experience. But it's not perfect if you want to enjoy the different areas of the island and sample different restaurants or do a lot of day trips.
Best Hana Hotel: Hana Maui Resort
Best Hostels on Maui
Why it's great: Hostels are a perfect, safe, budget way to visit Maui. There are actually several to choose from depending on what you want out of the experience. Many have private room options if you want more of a hotel type experience, or dorm type situations if you are on a tight budget.
Keep in mind: Maui is known for it's high price points and the hostels reflect that. You're not going to find a $20 a night situation. BUT you will find a more affordably way to travel around the island and have a wonderful time meeting new people and not breaking the bank. On the flip side, be wary of the cleanliness and possible mold. Be sure to read reviews and ask specific questions before booking.
Our Recommended Hostels on Maui
Best Location: Aloha Surf Hostel (Paia)
Best for Single Travelers: Hakuna Matata Hostel (Lahaina)
Best Location for Surfers: The Northshore Hostel (Northshore)
Best Party Hostel: Banana Bungalo Hostel (Wailuku)
Where NOT to Stay on Maui
Keep in mind: Be sure to do your research when it comes to both budget hotels and short-term rentals. Mold is a known issue on Maui at large and unless you are staying at an upper-end hotel it's something to be aware of. Be sure to read detailed reviews of past travelers and pay close attention to make sure the place you book is clean. Also, be cautious of inexpensive places in Wailuku (like the picture above!) or Kahului, as there are a few rough neighborhoods in these areas. Just do your due diligence and read the reviews. If you are really on a budget, I would suggest going for a well-known hostel.
Other than that, Maui is generally very safe. Because of its diverse terrain and cultural experiences, it's more about getting what you want out of where you stay. We hope our above descriptions help you narrow it down!
What to Bring to Maui
Ok, so when you are heading to Maui a few essential items come to mind: Swimsuit probably being at the top of the list! But, we've found that when heading to Maui the below items are equally essential! If you want a more comprehensive list, check out our full Maui Packing List and What to Wear on Maui page.
Water shoes are ideal for activities that take in and out of the water or on slick trails. They're quick-drying and lightweight, and the fact that they can be used both on land and in the water means you don't have to lug around a second pair of shoes throughout the day.
Although most of the gear you're going to bring to Hawaii with you is lightweight and doesn't take up much space, you'll likely want to give in to the urge to overpack. Instead, use packing cubes to avoid overpacking and help keep you organized! You won't have to worry about digging through your luggage looking for something specific. You can simply pull out the cube you know it's in thanks to the included index cards.
A swimsuit cover-up is an absolute must-have for any part of Hawaii. You'll want something easy yet trendy to throw on over your swimsuit so that you don't have to completely change before grabbing a bite to eat or going shopping.
A cooling travel towel is absolutely essential for any trip that is going to be spent hiking or spending time in the direct sunshine. Use it to keep you cool during a hike, kayaking trip, or a long tanning session. It's lightweight, compact, and dries quickly so you can easily toss it in your daypack before and after use.
At 63 square feet, this travel beach mat is much larger than other beach blankets and it's made of sturdy parachute material so it's compact and lightweight when packed. Plus the side pouches are sand-anchors to keep it weighed down so it won't go flying away or fold up on you every time the breeze blows. It even has pockets to keep your items safe while you're taking a walk on the beach.
When traveling, I tend to spend a lot of time on my phone. Long days spent doing activities means a drained battery, and I don't want to have to go back to my accommodations every time I need a device recharge. This small travel charger is roughly the size of a tube of lipstick and can hold multiple charges. It is compatible with standard USB charger cables and can recharge my items even while it's tucked safely away in my beach bag.
You always want to make sure your valuables are secured and safely tucked away, no matter where you are traveling. This wonderful neck wallet is a great way to keep your phone, passport, credit cards, cash, and other important items organized and easily accessible, ideal for when you're always on the go.
FAQs About Maui Travel
1. When is the best time to visit Maui?
The best time to visit Maui is the spring–March to May–and the fall–September through November. While the weather in Maui averages in the mid-80s year-round, spring and fall are shoulder season, so you'll be able to enjoy the weather without the crowds. Thinner crowds also mean cheaper hotel and flight rates. It's important to note that if you are visiting with children who will be spending a lot of time swimming, you may want to consider going in the summer when the water is the calmest.
2. What are the best things to do in Maui?
Maui is one of our favorite Hawaiian islands because it's the perfect mix of low-key yet full of activities. Some of the best things to do in Maui include taking a catamaran snorkeling trip to Molokini, driving the road to Hana, watching a luau, visiting Haleakala National Park, zip-lining, and going on a whale watching tour.
3. What are the best places to eat in Maui?
Budget Options:
Mid-Range Options:
Foodie Splurges
4. What should you wear in Maui?
The most comfortable clothes to wear in Maui will be items that are breathable and casual. Fabrics like linen, rayon, merino wool, and cotton blends are ideal for the tropical climate. You'll find that most visitors live in shorts, tank tops, and flip-flops which are usually widely accepted. It is recommended to bring an outfit or two (such as nice dresses and button-ups) for nice dinners or nights out.
5. What are some fun season events in Maui?
6. What are some good local things to keep an eye out for?