Updated on by Asher Fergusson
What is a personal item bag?
---
Most airlines these days allow passengers to bring two things onto the plane with them: a carry-on, which goes in the overhead compartment, and a personal item bag, which goes under the seat in front of you. The difference between the two basically boils down to size, since the personal item needs to be small enough to fit under the seat.
Why do you need a personal item bag for travel?
---
1) Because a personal item is more convenient than a larger carry-on.
If you only bring a carry-on bag that has to go in the overhead compartment, it'll be much more difficult to get to during your flight. You'd have to stand up in the aisle, struggle with lifting a heavy bag overhead, and risk things falling out onto your head if the plane hits a bump. Plus it's not allowed near the beginning and end of the flight or if there's turbulence. Depending on when you board, you may not even be able to store that bag in a compartment near your seat. Being able to grab things from below the seat in front of you is much easier and can be done at any time during the flight (except takeoff and landing!), and without any glares from the flight attendants.
2) Because a personal item can double as something else you'll need during your trip.
As long as your bag is small enough to fit under the seat in front of you, it can be a personal item. That means purses, shoulder bags, briefcases, laptop cases,shoulder bags, small backpacks, and duffel bags can all work as personal items, and you may need them during your trip anyway. Choose a personal item that matches your travel style and other needs, and you'll get way more use out of it.

Here are our top 7 best personal item bags:
---
1) Ecosusi Weekender Bag
(Most Professional and Most Fashionable – $$)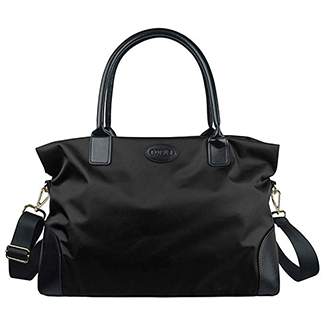 Why it's great: This silky black bag is professional and fashionable, so it's perfect for business travel or any time you want a sleek style. The nylon fabric is water-repellent and feels durable, and there are convenient interior and exterior pockets. The shoulder strap is detachable and fully adjustable, although the handles can be worn over the shoulder instead if you prefer. This bag is large enough that you may not even need to pack any additional luggage, depending on the length of your trip. If you have a roller suitcase as well, the outer pocket on the Weekender will slide easily over the handle.
Keep in mind: This bag's biggest downfall is the lack of interior organization; apart from a small Kindle-sized sleeve, the inside is just one giant compartment. But if you need more organization, just add your own divider or use packing cubes.
Good for: Business travelers and the style-conscious.
---
2) Samsonite Wheeled Underseater
(No Heavy Lifting Required – $$$)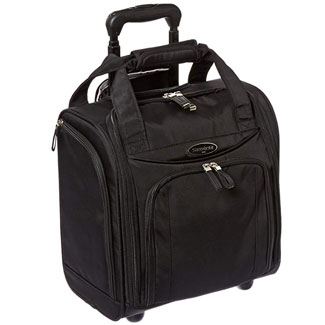 Why it's great: Samsonite is one of the most respected names in luggage, so you can be confident you're getting a sturdy, high-quality bag that will last. Inside this bag are flaps with zippered mesh and plastic pockets that essentially function as a toiletry bag, and the plastic-lined pockets on the sides are also great for carrying liquids or any messy items. If you have another larger wheeled suitcase, the Underseater has a flap on the back that will slide over the handle, making it easy to roll both of them together.
Keep in mind: Compared to the typical rolling suitcase, this one is tiny. That's exactly why it's one of the best personal items, but just be realistic about how much you'll be able to fit in it.The organizational flaps inside take up some of the space, further cutting down on how much the bag can hold, although one of the two is detachable if you don't want to use it. Though the Underseater is small for a roller, itstill may not fit under the seat on all airlines and planes, so be sure to double check the allowable dimensions before your flight.
Good for: Anyone who wants or needs a bag that rolls.
---
3) Bluboon Canvas Weekender
(Most Versatile – $$)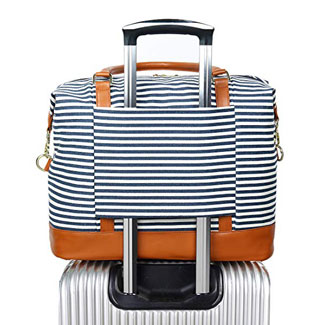 Why it's great: This shoulder bag is small enough to fit under a plane seat, but still large enough to carryquite a bit of stuff. It can hold everything you'd need for a typical weekend trip, so it may be the only bag you'll need to bring. If you do have another suitcase with you, the outer pocketwill slide over the handle of a roller bag. It also has interior and exterior pockets, and comes with handles and a detachable shoulder strap. The shape of this Weekender and the striped fabric give it a stylish look, and it's great for all kinds of everyday use, from going on picnics or beach trips to taking to the gym or the office.
Keep in mind: For some reason, the shoulder strap that comes with this bag is almost comically long– even the shortest possible length is way too long for someone of average height. But you can easily poke a new hole to make the strap exactly the length you want it, or just wear the handles over your shoulder and leave the strap at home.Like the Ecosusi Weekender above, this one doesn't have any interior organization, so you may want to use your own divider or packing cubes. Lastly, because the fabric is canvas, this bag isn't very waterproof – something to keep in mind if you're visiting a rainy destination.
Good for: Anyone who wants a versatile bag for everyday use.
---
4) Wandf Foldable Travel Duffel Bag
(Best Budget Option – $)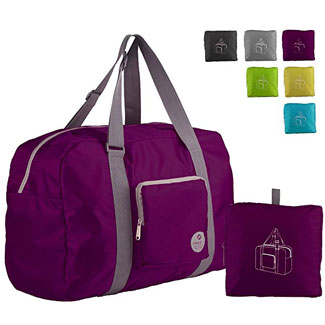 Why it's great: This bag is incredibly lightweight and, as the name suggests, it foldsup into a tiny pouch that'll take up almost no space in your main bag. There aren't a ton of bells and whistles, but this is a solid, basic duffel bag, and a great budget-friendly option. The water-resistant fabric makes it a good choice if you'll be visiting a rainy destination. It comes with a detachable, adjustable shoulder strap and,unlike any of the other duffels on this list, it also has adjustable handles. If you're carrying a rolling suitcase as well, the strap on the back of the bagwill slide over the handle.
Keep in mind: Be careful not to over pack this bag and try to force it closed or the zipper may not hold up well. It doesn't have any interior pockets or dividers, and the outside pocket is a little risky to use because it folds nearly all the way open when unzipped. This duffel also doesn't have much structure to it – but that's the trade-off for such a lightweight, packable bag.
Good for: Bargain hunters.
---
5) Mancro Laptop Backpack
(Most Tech-Savvy – $$)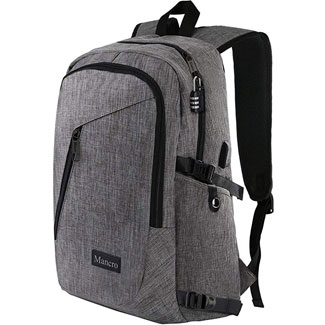 Why it's great: If you prefer to wear your personal item on your back, the Mancro is a compact, lightweight option. It's comfortable to wear and is made from a nice-looking water-resistant fabric. There are multiple interior and exterior pockets, and the inside has a laptop sleeve as well. What's really unique about this backpack is the built-in USB port and charging cable; you can plug a power bank into the cord inside the backpack and then charge your device by plugging it into the port on the outside. That way, you can keep your phone handy and easily use it while it's charging.
Keep in mind: The main downside to this backpack is that it has several straps and buckles onthe sides that aren't very functional and make it look clunky.
Good for: Tech-lovers.
---
6) Narway Foldable Travel Duffle Bag for Spirit Airlines
(Most Lightweight – $)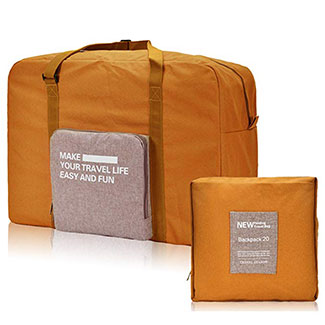 Why it's great: This bag is extremely lightweight and packs down to almost nothing, but it's surprisingly large. Plus, you can't beat the price.
Keep in mind: The reason this bag weighs so little is because it's made of extremely thin fabric – but it isn't waterproof and doesn't feel very durable. This should mainly be a concern if you'd plan to pack a ton of weight into this bag or use it constantly. Like many duffel bags, it lacks pockets and dividers, but you can always use your own dividers or packing cubes if needed. There's one zippered pocket on the outside, but it folds wide open when unzipped, so you may not want to keep too much in there. Lastly, this bag has writing on the outside, so take that into consideration as well.
Good for: Light packers and infrequent travelers.
---
7) Veegul Doctor-Style Backpack
($$)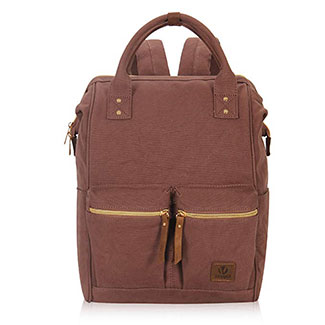 Why it's great: The Veegul is a nice-looking and compact backpack, and it can be worn on your back or carried by the handles. It doesn't weigh much when empty, and it has convenient zippered pockets on both the inside and outside.
Keep in mind: The size and position of the carrying handles are odd for a backpack – when you have it on your back, the handles stick straight up behind you. This doesn't really affect the backpack's functionality, but it does look a little strange. There's no laptop sleeve or other dividers on the inside, although this is less of an issue for a backpack than a duffel bag. The Veegul also isn't intended to hold a ton of weight, so it's probably not the best choice if you have a lot to carry. Lastly, be aware that the canvas fabric is not waterproof.
Good for: Light packers.
Don't forget these must-have accessories:
---
FAQs about Personal Items
---
1) How big can a personal item be?
The allowable size of personal items varies by airline, aircraft, and even individual seat. In general, the maximum dimensions are usually 16-18 inches tall, 10-15 inches wide, and 7-9 inches deep. If you're concerned about the size of your personal item, just double-check with the airline before your flight.
2) How much can a personal item weigh?
Very few airlines place limits on the weight of personal items, as they are much more concerned with whether they fit underneath the seat.
3) What kinds of bags qualify as personal items?
A personal item can be pretty much any type of bag, as long as it adheres to the size limitations. Many people carry their purses, laptop bag, or briefcase as their personal item, but shoulder bags, duffels, small backpacks, and even some rolling bags can also be used as personal items.
4) What should I put in my personal item?
Your personal item is the place to store anything you'll want easy access to during your flight. These are a few things to consider packing in your carry-on:
Devices like your laptop, tablet, or phone
Other entertainment, such as a book, magazine, or journal
Items to help you sleep, including an eye mask, ear plugs, and neck pillow
Clothing to layer, such as a sweater, scarf, or socks
Snacks and a water bottle
Any medication or toiletries you'll need while in the air
Conclusion
---
When choosing a personal item, make sure you consider what type of bags you generally prefer to carry. Do you like wearing backpacks and having the weight evenly distributed? Would you rather have a rolling bag you don't have to carry at all? Do you prefer the dressier look of shoulder bags, or the more casual look of duffels? How much stuff do you want to carry in your personal item? Will you want to be able to use the bag throughout your trip, or even in everyday life?
There are advantages and disadvantages to each type of personal item, but by choosing the one that best fits your needs and preferences, you'll be on your way to having a hassle-free flight and an enjoyable trip.