Updated on by Lyric Fergusson
Nobody wants to shell out hundreds of dollars on luggage or compromise on helpful features. It can seem impossible to find reliable luggage at a reasonable price. When looking for a balance of cost-effectiveness and functionality, don't be fooled by luggage that looks like a bargain and won't last.
With global travel restrictions still in place, now is actually the perfect time to find a great deal on your next travel companion. Here are the 7 best cheap luggage sets that are under $50.
The Cheap Luggage Sets
---
(Best value)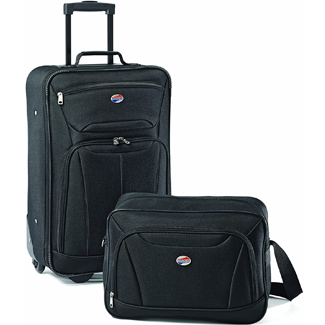 Why it's great: The American Tourister luggage set has reinforced corners to protect against harsh traveling conditions. Additionally, this luggage listing includes the options for three-piece and four-piece sets for longer excursions. They also come in three colors; black, purple, and red.
But the best part about this set is the number of pockets and storage to help keep you organized. This set is also lightweight and comes with inline wheels, so long trips have never been more leisurely!
Keep in mind: Some customers said that the inside lining is thin.
Good for: A customer who is looking for a lightweight carry-on set.
---
(Most color variety)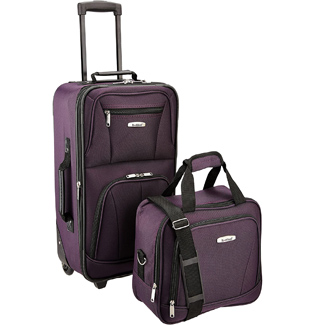 Why it's great: The Rockland Fashion Softside Luggage Set is a great option that unifies all the qualities you want with a low price tag. The set includes one upright rolling suitcase and a carry-on flight tote.
You can choose from 38 different colors and patterns, making it an excellent option for families who want to express themselves on the go. It has inline skate wheels and a stability bar that help with long runs through the airport.
Keep in mind: Some colors and patterns are currently out of stock.
Good for: Customers who are looking for a gift set.
---
(Most professional)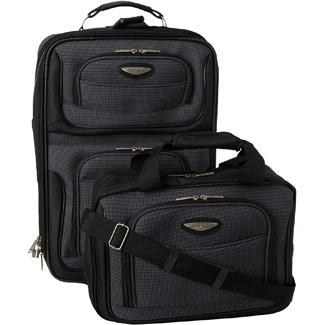 Why it's great: If you need an affordable suitcase that is fashionable and functional, look no further than the Travel Select Amsterdam luggage set. It's great for traveling because of its expandable feature that makes additional space.
This luggage set is also padded for added protection during travel. This product comes in 5 different colors; black, gray, navy, orange, and burgundy.
Keep in mind: This luggage set can also be bought as a single suitcase, a 4-piece set, or an 8 piece set.
Good for: The colorful options are great for spotting your bags at baggage claim.
---
(Best rating)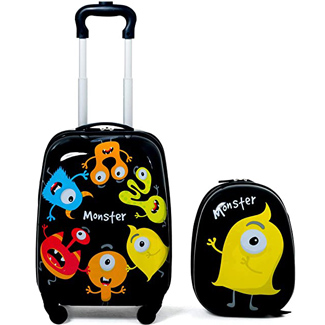 Why it's great: Family vacations may never be the same after getting this adorable kid luggage set! This two-piece set was designed with children in mind. It comes in a variety of cute designs to match your kiddo's personality.
In addition to the cute design, this luggage has a durable hard outer layer and a height-adjustable handle to grow as your little one does. The rolling suitcase has four wheels for easy maneuvering.
Keep in mind: For this set, it is recommended to use for carry-on travel only.
Good for: This set would make an excellent present for young travelers.
---
(Most high-tech)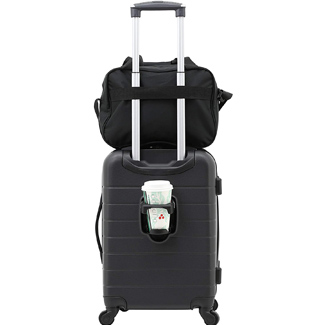 Why it's great: People can't get enough of the Wrangler Smart Spinner luggage set. Equipped with a USB port, drink holder, and phone stand, this set makes traveling easy.
This set has a sturdy hard outer layer for protection and expands to make extra room for packing. Another great feature of this rolling suitcase is that it has 4 wheels that can turn 360 degrees. Additionally, the traveling tote bag is great for computers and other electronics that you may want to reach for during a long flight.
Keep in mind: You will need to purchase a battery pack to use the USB phone charging port.
Good for: The customer who travels for short business trips.
---
(Most durable)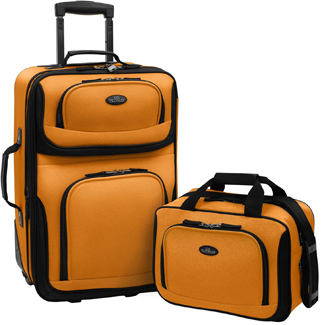 Why it's great: The U.S. Traveler Rio luggage set is a fun, fashionable, and inexpensive option for all travelers. It comes in black, green, orange, purple, red, and royal blue. The set includes one rolling suitcase and a matching tote bag.
This product is excellent because it is so lightweight and can easily fit into an overhead bin space. The tote bag is perfect for all your carry on items like books, electronics, and paperwork.
Keep in mind: Check with your airline carrier to make sure this can be used as a carry-on.
Good for: Someone looking for lightweight luggage for quick trips.
---
(Best for little ones — $$$)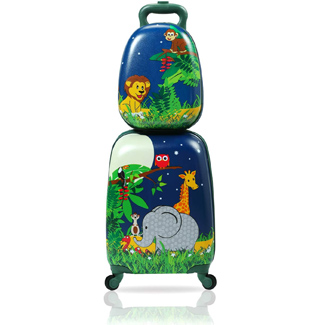 Why it's great: If you're looking for durable luggage for your little ones, look no further than the Sandinrayli luggage set. This adorable set is made from strong ABS material that is anti-abrasion and impact resistant. This suitcase has an adjustable handle to accommodate your little one's height.
The backpack and rolling suitcase have cute kid-friendly designs for boys and girls! You're bound to get a great reaction from your little ones.
Keep in mind: This set may be best for kids over the age of 3 due to its size.
Good for: Customers with young travel enthusiasts.
---
FAQs about Luggage
---
1. Which wheels are best for traveling??
When picking out the luggage, it is easy to forget that the wheels play a big part in whether a suitcase is suitable for travel. If you're a frequent flyer, you are going to want something that rolls with ease. Luckily, all of the products above have great wheels. Either they have inline skate wheels or 360-degree rotation that help make maneuvering to your next gate no hassle. I recommend looking at the reviews before investing in new luggage to determine what will work best for your needs.
---
2. Will hard shell suitcases protect my belongings?
Yes! Hardshell luggage is designed to handle impact and keep your belongings safe. Most hardshell luggage uses ABS material that is anti-abrasive and sturdy. If you're traveling with fragile items, hard shell luggage is for you. There are now many great lightweight hard shell suitcases available.
---
3. Will my child be able to travel with a suitcase?
This depends on your child. No one knows your little one like you do, but the kid-friendly options above are designed with kids in mind. They are hard shell luggage sets that can handle even the roughest kids, so you don't have to worry about rips and tears. As for the rolling suitcases, they both have four 360 degree wheels and adjustable handles that make them easy to guide and control. The hard shell backpacks make an excellent carry-on for toys and whatever else your little ones might need to reach for during your trip.
---
4. What are the key features to consider when buying a luggage set?
Functionality is the most essential feature to consider. Make sure to research the protection you would personally want from a luggage set. Another thing to consider is the size of your luggage. Can you fit it in an overhead bin? Will it weigh a lot when I check a bag?
Moreover, you want to consider how much you can fit in the suitcase without having to compromise on your traveling necessities. However, it can be equally as important to find the right style for your personal needs to some. All of the options above have different colors, patterns, or designs to pick from! When picking out a luggage set, consider the cost, your taste, and the functionality of the luggage.
---
5. What are the baggage restrictions for airlines?
All airlines have different baggage requirements but generally, there are a few rules to abide by. Some airlines may charge for checked bags or even carry-on luggage; however, many do not. Luckily, the bags above are sized appropriately for easy and inexpensive travel! For reassurance, make sure to visit your airlines' website for more insights on specific luggage restrictions.
Conclusion
---
Truthfully, finding the right luggage piece at a $50 price point can be difficult. But having matching, high-quality luggage does not have to break the bank. The products highlighted above are great highly-rated options for inexpensive yet fashionable luggage.
No one needs to compromise on functionality either. These luggage sets are great because they are just as equipped as another expensive set. All of them have great wheels that make running through the airport a little less scary. They also have padding or hard shells to keep the content of your suitcase safe from harm!
Furthermore, you are bound to find the perfect set to match your personal and aesthetic needs! Once you pick the right product for you, you'll be traveling with ease and style.
You may also like our other product reviews…
2 in 1 Laptops Under $300 | 3D Printers Under $300 | Acoustic-Electric Guitars Under $500 | AV Receivers Under $500 | Binoculars under $100 | Binoculars Under $200 | Binoculars Under $300 | Bookshelf Speakers Under $200 | Bookshelf Speakers Under $500 | Bookshelf Speakers Under $1000 | Bluetooth Speakers Under $200 | Beginner Record Players | Cameras Under $200 | Projectors Under $500 | Record Players Under $100 | Routers Under $100 | Shower Speakers | Soundbars Under $300 | Speakers for Vinyl | Turntables Under $200 | Turntables Under $300 | Turntables Under $500 | Turntables Under $1000 | TVs Under $300 | Vlogging Cameras Under $300 | Wireless Headphones Under $200 |