Updated on by Asher Fergusson
E
cuador is one of the most unique countries in South America, brimming with fantastic natural landscapes and bustling metropolitan cities. From the tropical Amazon Rainforest to the active Cotopaxi volcano, travelers will surely be amazed by Ecuador.
With so much to see and explore, it can be difficult to know what to pack for Ecuador. So, we have put together this packing list equipped with what to wear in Ecuador, what NOT to bring, and answers to your top Ecuador FAQs.
Don't forget to bring an open mind, adventurous spirit and plenty of patience!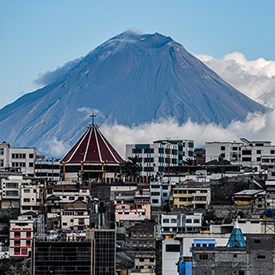 What to Pack for Ecuador – 17 Essentials
---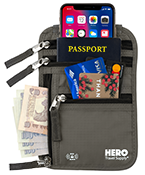 A neck wallet is an essential item to bring on your trip to Ecuador because it provides a safe and secure place to keep your credit cards, phone, passport, cash, and other essential valuables. Keep it tucked safely beneath your clothes and out of reach from pickpockets and petty thieves.
---

The tap water in Ecuador is not safe to drink, so you'll need to make sure you take extra precautions while keeping hydrated. Instead of spending tons of money on plastic water bottles that harm the environment, consider packing a reusable water bottle like this one. It even comes with a built-in filter as a layer of added protection.
---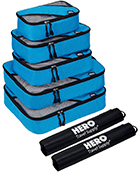 Every traveler should invest in a good set of packing cubes like these! They'll help you to stay organized while traveling and will keep you from overpacking for your trip to Ecuador. We love this set because they come in a variety of fun colors and include cubes in different sizes.
---

An infinitely useful item to bring with you on your trip to Ecuador is a lipstick-size portable charger. You're likely to be using your camera and smartphone every day for things like photos, videos, navigation, music, communication, and more, and you won't want to stop your day to recharge your devices. Simply toss this charger in your purse or daypack and you'll be good to go!
---

Don't get caught in the rain in Ecuador without a proper windproof travel umbrella! Whether you're strolling through the streets of Quito or trekking through the rainforest, you'll be glad you brought a reliable umbrella to keep you and your belongings safe and dry. This one's great because it can withstand the wind and is large enough to cover two people.
---

Ecuador is one of those places where you'll want to be prepared with everything possible to prevent and treat food and water poisoning. I got both while I was there and let me tell you, I wish I had thought to bring these activated charcoal pills with me! They will quickly expel the toxins in your body and flush them out, keeping you healthy and feeling good.
---


A VPN is an underratedly useful thing to have with you on international trips. Not only does it protect your personal information, like credit card numbers and passwords, from potential hackers, but it also allows you to access websites from your home country that may be blocked in the place you're visiting. It can also be used to get around paywalls on popular news websites that require subscriptions.
---

Electrolytes are another necessity for any trip to Ecuador. Add some electrolytes to your drinking water to replenish the vitamins your body loses through sweat, alcohol, or food poisoning to keep you hydrated and safe.
---

In Ecuador, you will have lots of opportunities to swim and participate in water-based activities, whether it be soaking up the sun in Montañita or snorkeling in the Galapagos Islands. You'll want to have a high quality and affordable underwater camera like this one to capture all your favorite South American moments.
---

Be sure to bring a sturdy pair of hiking shoes on your trip to Ecuador. There are plenty of places to explore throughout the country, and you'll need to make sure you've got a comfortable pair of shoes like these ones that will hold up during all of your adventures.
---

One of the smartest things you can do for yourself is invest in Ecuador travel insurance before you leave on your trip. TravelInsurance.com is a wonderful company trusted by travelers around the world to help compare and find comprehensive and cost-effective plans. They will help you find plans that cover your costs for lost or stolen luggage, emergency medical care, and flight cancellations, among many other things.
Compare policies at TravelInsurance.com ➜
---

Ecuador tends to be a bit more conservative than you may have expected and in most churches and cathedrals throughout the country you'll want to cover your chest and shoulders out of respect for local customs. Bring a pashmina shawl with you for this purpose, and also use it to spice up an outfit, and keep you warm on a chilly evening or on a long bus ride.
---

You'll have plenty of opportunities to swim during your time spent in Ecuador, from the thermal baths of Baños to the beaches along the Pacific Coast. Be sure to bring a trendy swimsuit cover up like this one to throw on over your suit when you're done at the beach and want to stop into a cafe for a snack or drink.
---

Make sure your smartphone is protected from the elements in Ecuador by keeping it in this handy waterproof phone case. Bring your phone to the Amazon Rainforest or Cotopaxi volcano without worrying about damage from dust, dirt, or water.
---

A daypack will come in handy during your trip to Ecuador. Use it to carry everything you'll need with you on day trips and excursions, including a water bottle, change of clothes, snacks, sunscreen, and a hat. This daypack is awesome because it's durable, comfortable, and will keep you organized.
---

A Latin American Spanish Phrasebook will be super useful during your time in Ecuador. Just learning a few basic Spanish phrases will help you immensely both in getting around and communicating with the locals. Pull out this phrasebook whenever you have downtime and maximize your experience in Ecuador!
---

A quick dry travel towel is an excellent alternative to bringing a large, bulky towel that takes a long time to dry. A microfiber towel like this one is compact and lightweight, which is perfect for throwing in your daypack for a day at the beach or a hike through the rainforest.
Other Ecuador Packing List Items Not to Forget
---
What to Wear in Ecuador
---
Ecuador has only two seasons, wet season and dry season. Depending on when you travel, it will be important to dress accordingly! Ecuador also tends to be a more traditional and conservative country, largely due to its roots in Catholicism. This means you should opt for clothing with more coverage, or at least bring a jacket or shawl to cover up when necessary. On the whole, Ecuadoreans dress pretty casually, so you won't want to be too fancy unless you're traveling for business or are headed to a special event.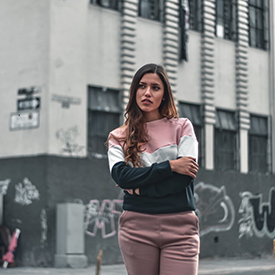 What Should WOMEN Wear to Ecuador? – (Click to expand)
Below is a sample women's clothing list.
(All items link to Amazon.com for your convenience).
Because there are only two seasons in Ecuador and the temperature remains mild to warm year round, women should dress for warmer weather and be prepared for rain. This means shorts, t-shirts, layers, and plenty of breathable clothing. Don't forget a swimsuit and a good pair of hiking boots, too!

What Should MEN Wear to Ecuador? – (Click to expand)
Below is a sample men's clothing list.
(All items link to Amazon.com for your convenience).
Men should dress for mild temperatures year round and prepare for plenty of rain. That means packing shorts, tshirts, a rain jacket, and a sturdy pair of hiking boots. Don't forget your swimsuit and sunglasses too, as you'll definitely have the opportunity to swim!

Because Ecuador lies along the equator, it experiences mild temperatures year round and only has two seasons, the dry season and the wet season. The climate is tropical humid, so you'll want to be prepared for rain and bring plenty of lightweight, breathable clothing. The Andes Mountains and regions at a higher altitude will experience cooler temperatures, so be prepared with warmer clothing and layers, too.
WET SEASON

– October, November, December, January, February, March, April, May:

You can expect warm temperatures, lots of rain, and higher humidity during Ecuador's wet season, which extends through the majority of the year. Be prepared with a good windproof travel umbrella, a raincoat, and sturdy, breathable sandals.
DRY SEASON

– June, July, August, September:

Because the seasons are reversed in the Southern Hemisphere, the dry season in Ecuador is considered to be winter. During this time you can expect less rain and mild to warm temperatures. Bring lightweight clothing, shorts, t-shirts, and sturdy sandals, but still come prepared for the occasional rainfall.

How to dress for different activities in Ecuador – (Click to expand)

Ecuador's Coastline – Typically, the coastline experiences mild to hot weather year round, so dress in casual, beachy clothing. This area is known for awesome beaches, swimming, and surfing, so definitely bring sunscreen, sunglasses, and a rashguard, too!

Galapagos Islands – The Galapagos will be warm and mild throughout the entire year, though you can expect a significant amount of rainfall as the islands lie along the equator. Bring a swimsuit, warm weather clothing, and some rain gear to be safe!

Sierra Region – This region tends to be a bit cooler, so you'll want to bring a rain jacket, warm socks, hiking boots, and a warm jacket, though a full winter parka won't be necessary. Be prepared with a warm hat and gloves, too.

The Amazon – The Amazon Rainforest is wet and tropical, so bring lightweight, breathable, and sweat-wicking clothing with you. Don't forget a swimsuit and some sturdy sandals, like Tevas, which dry quickly and are perfect for trekking in and out of the water.
What NOT to bring to Ecuador
---
1)

DON'T PACK too much stuff:
Ecuador is a magnificent country filled with tons to do and see. You won't want to be bogged down by heavy luggage as you make your way through the country. Pack light and leave room for souvenirs!
3)

DON'T TAKE a winter coat: You likely won't need one at all. Instead, opt for layers when you're headed to the country's cooler destinations. Layers will take up much less space and will be much more useful and versatile throughout your trip.
5)

DON'T BRING perishable food from home: You won't be allowed to bring it through customs. Plus, Ecuador has a ton of delicious fruits and vegetables to try that are sold cheaply at markets throughout the country. If you want to bring food from home, make sure it's non-perishable, like granola bars or trail mix.
2)

DON'T BRING expensive jewelry or electronics:
Avoid making yourself an easy target for pickpocketing and petty theft by leaving your valuables at home! You won't want to risk your expensive items getting lost or stolen and ruining your trip.
4)

DON'T PACK clothing that's too tight or revealing: Ecuador tends to be a more conservative destination, so avoid wearing clothing that will draw too much attention to yourself. Opt for clothing with a bit more coverage to help you blend in and respect cultural norms.
6)

DON'T TAKE high heels: Ecuador's cities are full of hills and cobblestoned streets, so make your life easier by avoiding wearing high heels. Instead opt for flats or sandals, which will keep you much more comfortable on evenings out.
What clothing should I NOT wear to Ecuador? – (Click to expand)
Avoid wearing clothing that is overly fancy or will out you as a tourist, as that's the easiest way to make yourself a target for pickpockets! For the same reason, also leave your most expensive and expensive-looking jewelry and valuables at home. Unless you're visiting the Sierra, avoid bringing heavy or overly warm clothing, as you're not likely to need it during your trip.
FAQs for Going to Ecuador
---
1. Is Ecuador safe?

On the whole, Ecuador is safe to visit, though you should be wary of theft, pickpocketing, and some violent crime. Be sure to keep your wits about you and avoid walking around alone at night. Try to blend in as best as possible and avoid standing out as a tourist.

2. Can you drink the tap water in Ecuador?

No, do NOT drink the tap water in Ecuador!! Instead opt for bottled water, or refill your reusable bottle with filtered water which will be available throughout the country. Also avoid eating fruits or vegetables that may have been washed with local water, as well as drinking lukewarm soup that may be made with tap water.

3. What currency is used in Ecuador?

The US dollar is the currency used in Ecuador. However, things tend to be much cheaper in Ecuador than in the United States.

4. What's the best way to get around in Ecuador?

Ecuador has an extensive bus system that runs through the country and is very inexpensive. However, distances are long and busses can be unsafe, particularly overnight busses. Flights are the safest and fastest way to get around the country, though they will be more expensive than busses or renting a car.

5. Do I need a visa to visit Ecuador?

US citizens do not need a visa to enter Ecuador, though they will need a passport that is valid for at least six months past departure. If you're visiting from outside the United States, be sure to check ahead of time whether or not you will need a visa for entry.

Other South America packing lists you may like…

Argentina | Brazil | Galapagos | Machu Picchu | Patagonia | Peru | South America

Also see Central America packing lists…

Aruba | Bahamas | Belize | Cabo San Lucas | Cancun | Caribbean | Caribbean Cruise | Central America | Costa Rica | Cozumel | Cuba |Dominican Republic | Guatemala | Jamaica | Mexico | Mexico City | Nicaragua | Panama | Playa del Carmen | Puerto Rico | Puerto Vallarta | Punta Cana | Virgin Islands |

Please note: We have over 200 packing lists covering practically every popular travel destination in the world. Access them all on our packing list overview page ➜