Updated on by Asher Fergusson
T
he Galapagos is a magical archipelago off the Ecuadorian Coast. Visiting this archipelago is undoubtedly a thrilling adventure. Its stunning volcanoes, beaches, and precious wildlife make it any traveler's dream.
An adventure does require some thoughtful packing! There are essentials you cannot forget when venturing to the Galapagos. Luckily, we've created a Galapagos packing list that will ensure you have your most epic trip yet. We've also included sections on what to wear on the Galapagos Islands, what NOT to bring and answers to FAQs.
Explore the Galapagos efficiently with this comprehensive packing list and travel guide. Your adventure awaits!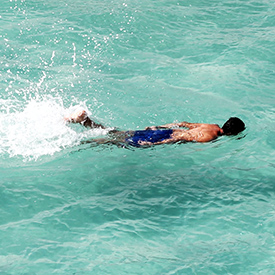 What to Pack for the Galapagos — 17 Essentials
---

Traveling light is the best way to explore the Galapagos. Light and durable backpacks can hold everything you need, without any backaches. This backpack has enough compartments to store your necessities for your daily excursions around the islands. It is also weatherproof, keeping your belongings safe and dry.
---

The organization is key for any travel adventure. Packing cubes simplify finding what you need for each daily excursion. These cubes in particular come with index cards to label all your belongings allowing you to stay extra organized. Also, the cubes keep your belongings safely together.
---

You do not need to worry about losing your phone on a boat or snorkeling trip. A waterproof phone case keeps your phone by your side at all times. You do not need to hesitantly leave your phone on the boat or beach ever again. And, let's not forget the awesome underwater Instagram and Facebook stories you can create!
---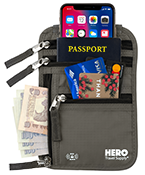 It is always best to keep your money close by, no matter what. While traveling around the Galapagos, ATMs are not often accessible. Keeping your cards and cash in reach is a priority. This wallet has multiple compartments, providing room for all types of cards and currency. It also has innovative RFID blocking technology, keeping your credit and debit cards safe from any unsolicited scans.
---

Hydration is always key. Whether it is hiking or swimming, you will be very active while exploring the Galapagos. Having water on hand at all times will keep your energy up and ready for the next adventure. Also, buying water bottles can not only be costly but increase your carbon footprint. Promoting sustainability is a must in the Galapagos, especially to preserve all its unique wildlife.
---

Random rain showers should not ruin any day trips. This windproof umbrella is essential. It is light-weight and durable. It can fit in any bag, whether a light backpack or tote bag. Bringing this umbrella is necessary if you visit the Galapagos during its wet season.
---

You will spend a lot of time outside in the Galapagos. It is always important to protect your skin. Reef safe sunscreen is the best choice. It is made without oxybenzone and octinoxate. These ingredients are toxic to coral reefs and can be skin irritants as well. Using reef-safe sunscreen keeps both marine life and your skin safe.
---

Temperatures can often vary during travel. Convertible hiking pants give you the best of both worlds. Whether it's crazy heat or a rainstorm, these pants prepare you for any weather changes thrown your way. Convertible hiking pants are lightweight and water-resistant. They also provide sun protection, helping to conserve your sunscreen.
---
9. Slip-on Mesh Water Shoes: Women's and Men's

The Galapagos terrain can be pretty rugged. We definitely advise protecting your feet at all times. Water shoes keep your feet from any undesirable cuts and scrapes. No one likes to constantly put on bandaids! These shoes let your feet breathe and dry very quickly. This makes them excellent for boating and beach exploring, as they are very easy to pack.
---

You are definitely going to want to photograph the exquisite marine life in the Galapagos. An underwater camera lets you capture high-quality images and videos. It also helps you snap some amazing action shots, whether it's a vibrant school of fish or a massive manta ray. This AKASO Brave Action camera links up to its own App so that you can edit photos on the go. Nothing like seeing and editing your snorkeling adventure while still at the beach.
---

This is the simplest way to avoid mosquito bites. While bug spray is a great option, wearing a wristband offers a longer period of mosquito protection. These wristbands are also eco-friendly – a very important factor when visiting the Galapagos. With plant-based and non-toxic ingredients, you can easily and sustainably avoid those annoying bites.
---

When traveling, we discovered it's always better to be safe than sorry. Investing in travel insurance keeps your mind at ease. Especially when in more remote places, insurance offers you the coverage that's necessary. Anything could happen while traveling. Whether it is a stolen bag or a medical emergency, we advise insuring yourself before you depart.
Compare policies at TravelInsurance.com ➜
---

Have you ever had wet socks in your shoes? It is pretty uncomfortable. Waterproof socks make all the difference. They keep your feet insulated and dry. You can wear them with your hiking shoes, sneakers, or even sandals. The best part is that they do not stick to your feet like wet socks. This checks another potential inconvenience off your list!
---

The Galapagos offers some dazzling water, which can encourage a spontaneous swim! A travel towel is great to have on hand. It works for any circumstance. It is lightweight and soft, making it a lovely supplement to a relaxing beach day. It also dries fast, if you are on the go and need to make it to your next destination.
---

There is a plethora of gorgeous marine life to see in the Galapagos. Snorkeling gear often is pricey to rent at the beach. Having it on hand not only saves you money but lets you take advantage of fantastic snorkeling opportunities at any time. Also, you can keep your snorkeling gear adjusted to your needs so that it will fit right when you need it.
---

There are a lot of small wonders to be seen in the Galapagos. It is also awesome to see wildlife at various distances. Therefore, binoculars are a must, no matter what your day's plans are. These binoculars are compact and easy to throw in your backpack for any day trip. Do not miss a spectacular sight on a hike or boat trip again.
---

Trip protection extends further than proper luggage and travel insurance. A lot of times we have to rely on public WiFi networks for service. A VPN ensures your security when dealing with sensitive information, like passwords and account numbers, on open networks. Also, some countries do not permit access to the same websites. VPNs thus are an excellent tool to easily access websites from your home country.
Other Items Not to Forget for the Galapagos Islands:
---
What to Wear on the Galapagos Islands?
---
Comfort is key when visiting the Galapagos. You will spend a lot of time on your feet while seeing the archipelago's stunning natural wonders. Accommodating clothing that leaves you feeling light and free is the best way to go. You do not want anything weighing you down on a long hike!
What you wear in the Galapagos will vary by season. The Galapagos has both a wet and a dry season. Thus, it is most practical to wear layers. There will be times when you need to pack an extra rain jacket or even shoes.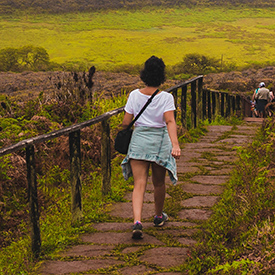 What Women Should Wear? – (Click to expand)
Below is a sample women's clothing list.
(All items link to Amazon.com for your convenience).
When walking and hiking, lightweight t-shirts, hiking pants, and hiking shoes are a must. These are all water-resistant, keeping you cool and dry. With varying elevations, it is great to dress and be prepared for temperature changes. A sports bra is essential, as it is sweat absorbent and offers easy support. A down jacket should always be packed. It is essential during the dry season when temperatures are cooler, especially at higher elevations. A sporty crossbody bag makes walking super easy and stylish. To keep your head cool, a cotton bandana is great as a headband. It is soft and doesn't irritate your skin. Its cotton material makes it super easy to handwash as well!
When spending time at the beach, outfits can be more fun and flexible. An athletic bathing suit is very useful. You will most likely be active at the beach with a slim tolerance for wardrobe malfunctions. Cargo shorts, lightweight t-shirts, and sandals are staples for beach comfort. Don't forget to wear a brimmed hat and sunglasses. The sun on the Galapagos can get pretty intense! Pair your outfit with an eco-friendly tote bag, to carry a sarong and any emergency undergarments.

What Men Should Wear: ?– (Click to expand)
Below is a sample men's clothing list.
(All items link to Amazon.com for your convenience).
Layers will be key for comfort for more active days on land. Dressing in convertible hiking pants, sleeveless t-shirts, and a button-up hiking shirt will suffice for most temperature fluctuations. It is always great to pack a fleece or lightweight down jacket when visiting during the dry season. Hiking volcanoes can bring cooler temperatures and may require another layer. Hiking shoes are the recommended shoe choice. Sneakers or boots will work, as long as the shoe is lightweight.
When venturing to the beach or going on a snorkeling trip, pack your most reliable pair of board shorts or swim trunks. The best bet is to pack an extra pair of shorts or trunks. Pairing this with a short sleeve shirt will keep you cool all day long. Hiking sandals work super well on the beach, but a pair of flip flops are convenient to have as well. A waterproof watch is a great accessory, especially if you have a random cliff jumping urge. And, do not forget a pair of polarized sunglasses. These are necessary, as the sun is hard to escape while exploring the Galapagos.

DRY SEASON

– (June to December)

During these months, you will expect the lowest temperatures in the Galapagos. This is due to the Humboldt Current, bringing in cooler winds to the islands. This creates Spring-like weather. The ocean water is also chillier. It is best to pack layers, including lightweight tops, fleeces, and down jackets. Jeans are also helpful for a potential stroll in the markets. It is never a bad idea to pack a swimsuit – swimming is still a possibility, as some days can still be hot.
WET SEASON

– (December to May)

This is the warmer season of the two. This is the time to dress on the lighter side. You can probably leave your down jacket at home. However, layers are still recommended, as there will be many rain showers. A packable rain jacket and convertible hiking pants are very helpful. Also, the Panama Current brings warm waters to the Galapagos. This creates ideal swimming and snorkeling temperatures, so do not forget your bathing suit, cover-up, and flip flops.

Dressing for Galapagos Activities: – (Click to expand)

Boating – There is a ton to see via boat when visiting the Galapagos. From marine life to snorkeling, there are tons to see and to do. You can even spend your trip entirely on a boat if you'd like! Nevertheless, for the best boating experience, you should not forget to apply ample sunscreen. Supplement this with a comfy sun hat for optimal sun protection. Keep your clothing light, wearing things like loose t-shirts, swimsuits, and shorts. You should also bring water shoes, as they ensure complete foot protection on and off the boat.

Snorkeling – Snorkeling in the Galapagos is an unforgettable experience. You got to do it! Pack lightly for your snorkeling adventure. An athletic swimsuit, loose t-shirt, and flip flops will get you by. For women, it is useful to bring a sarong or cover-up along as well. Remember to leave your jewelry and random accessories behind. You do not want those to get lost at sea.

Cliff Jumping – There are some impressive cliffs to take advantage of in the Galapagos. If going on a cliff-jumping adventure, all you need is an athletic bathing suit and water shoes. If you feel a little daring, bring your phone in an underwater case along as well. You never know what you will find once you splash into the gorgeous waters.

Hiking – There are some amazing hikes to take advantage of throughout the archipelago. It is a great idea to pack lightly so that you do not feel weighed down on your adventure. An ultra-lightweight backpack is necessary. Also, hiking is when you will experience the largest temperature changes. Therefore, it is always best to wear layers and pack an extra jacket. If it is the dry season, put a lightweight down jacket in your backpack. If it is the wet season, pack a rain jacket and umbrella. Do not forget your binoculars as well to spot all the incredible wildlife.

Market Strolling – There are some casual, less active experiences in the Galapagos too! Strolling through the food and farmers' markets is a fabulous cultural experience. You will be in sensory overload, as you smell and taste all the wonderful local delicacies. A t-shirt and a comfortable part of linen pants or jeans are enough to feel comfortable. Do not forget comfortable sandals and a tote bag or cotton grocery bag to carry all your market treats.

What NOT to Bring to the Galapagos Islands:
---
1)

Skincare containing toxic ingredients:
There is a lot of precious wildlife in the Galapagos. Therefore, you should be mindful of the skincare products you bring. Make sure your products are water-soluble and non-toxic. Avoid body care products (lotions, creams, etc…) that contain microbeads, synthetic fragrances, and parabens. This also goes for makeup and bug repellant as well.
2)

Disposable Drinkware: It is best to avoid bringing most disposable things to the Galapagos. You want to refrain from producing as much waste as possible. Anything that can end up on land or sea could pose danger to the archipelago's precious wildlife.
3)

Stylish handbags: While handbags look fashionable, they will become annoying to carry around. Stick to simple lightweight bags that can strap on easily. That way your shoulders and back will feel relaxed your entire trip.

4)

Heeled shoes:
Heels are infamous for causing pain and blisters. Also, the Galapagos is very rugged. Heels increase your chances of tripping and potentially hurting yourself. Make your trip simple by wearing comfortable hiking shoes, sandals, and sneakers.
5)

Jewelry: You will be very active on your trip to the Galapagos. It is best to avoid losing any jewelry, whether on a hike or while snorkeling. It is best to keep your body light and free while exploring the islands.
6)

Extra electronics: As with jewelry, it is best to pack lightly. Extra devices will weigh you down as you explore. It is best to keep it as simple as possible. We advise just to bring your phone, camera, and necessary charging devices.

What NOT to Wear to the Galapagos: – (Click to expand)
There is a lot you can leave at home when packing for the Galapagos. There are three key things to remember for your trip: simplicity, comfort, and sustainability. Simple is above all key for your trip. You can leave most jewelry at home, except for essential things like watches and wedding rings. Avoid complicated shoes, like heels or strappy sandals. A shoe that could lead to blisters will become a nuisance on your trip. Clothes that lack breathability, like items made of nylon, should be left behind. These will make you sweat and stick to you, giving you discomfort on long walks and hikes. It is also best to avoid wearing makeup. Ingredients like glitter are known to be toxic to marine life if it enters the water.

FAQs about the Galapagos Islands:
---
1. When is the best time to travel to the Galapagos?

This depends on what activities you hope to engage in. Both the dry and wet seasons are enjoyable times to explore the Galapagos. If you are hoping for more ideal beach and snorkeling weather, the wet season is your best bet. It will provide the warmest waters to swim in. The dry season is a better choice for hiking, as you will experience less random downpours.

2. How far in advance should I book my trip?

Galapagos is a remote and popular destination. It is best to book your travel well in advance to assure affordable prices and flexible dates. We suggest booking at least 9 months ahead.

3. Is it better to explore by land or by boat?

This is completely up to you! We advise both. This allows you to see all the beauty of the islands. But, if you feel more comfortable on a cruise, there are some great and eco-friendly tourist boats to choose from.

4. How much time should you spend in the Galapagos?

We advise at least a week. First, it takes some time to get to the Galapagos. You will want a moment to get adjusted once there. Also, flights there are a little costly and you do want to make it worth it. Not to mention the plethora of natural sites to see and adventures to have – you will never get bored!

5. Can you camp in the Galapagos?

For the most part, no. The majority of the Galapagos is a National Park. This means you cannot set up camp just anywhere since the land is thoroughly protected. If you do wish to camp, you most likely need to obtain authorization. This may come with an additional fee(s.)

6. What currency do they use in the Galapagos?

The U.S. Dollar.

7. Should I bring cash or debit/credit cards?

We advise you to bring both. When bringing credit cards, stick to Mastercard and Visa – these are the most commonly accepted. Having cash on hand is always useful, however. You can avoid potential card fees. Also, small businesses often only take cash. There are only a few ATMs readily accessible in the Galapagos. Therefore, withdrawing cash before you travel is the best option.

8. Is the water safe to drink in the Galapagos?

The tap water is not generally safe to drink in the Galapagos. We suggest bringing along a water bottle with a reliable filter to avoid any potential waterborne illness.
Other South America packing lists you may like…
Argentina | Brazil | Ecuador | Machu Picchu | Patagonia | Peru | South America
Also see Central America packing lists…
Aruba | Bahamas | Belize | Cabo San Lucas | Cancun | Caribbean | Caribbean Cruise | Central America | Costa Rica | Cozumel | Cuba |Dominican Republic | Guatemala | Jamaica | Mexico | Mexico City | Nicaragua | Panama | Playa del Carmen | Puerto Rico | Puerto Vallarta | Punta Cana | Virgin Islands |
Please note: We have over 200 packing lists covering practically every popular travel destination in the world. Access them all on our packing list overview page ➜