Updated on by Lyric Fergusson
I spend most of my time outside, especially camping. So I tend to carry a towel with me pretty much 24/7. When I'm hiking the mountains of the world or even just taking a quick shower at my campsite, I have to have one with me. Who likes dripping sweat or having to air dry? I know I don't. These seven camping towels have completely changed the way I view camping, and I can't recommend them enough.
If you're like me and love being one with nature, consider using a towel specifically made for camping. They not only help you stay dry, but they also help you feel refreshed, which is much needed when you're roughing it.
Best Camping Towels
---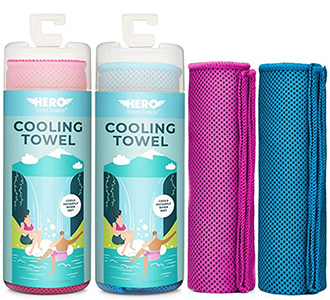 Why it's great: While I try not to be biased, this cooling towel may just be one of the best camping towels that I have come across. Wet it to start the cooling process or keep it dry and simply wipe away sweat with it as you go. I know that there's nothing I love more than a refreshing towel around the neck during and after a long hike.
Keep in mind: To keep the towel at an optimal level of effectiveness, re-wet it every 30-60 minutes.
Good for: Strenuous hikes
---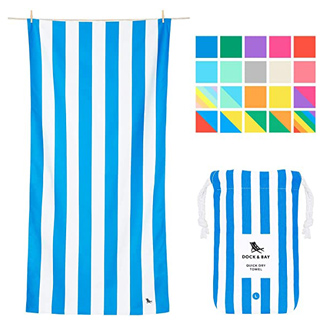 Why it's great: When camping, having a beach towel is always wise. There's nothing better than a dip in the lake or admiring waterfalls after all. The Dock & Bay beach towel is the original sand-free beach towel because it dries 3x faster than a standard cotton towel. It's super absorbent, extremely lightweight, and soft to the touch.
While a beach towel may seem bulky and inconvenient to pack when you have limited space, this towel is surprisingly compact and even comes with a travel accessory pouch. Hang it up to dry using its handy hook before packing it away with the rest of your camping gear.
Keep in mind: Like many other towels, the colors may bleed during the first wash. It's best to wash this towel separately before it's first use.
Good for: Days at the lake
---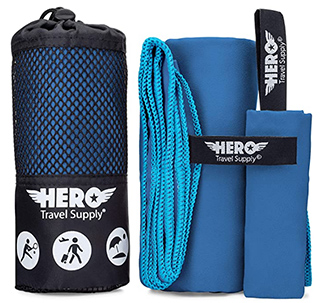 Why it's great: This is a towel that works for anything and everything. It's available in multiple colors, it's compact, super absorbent, and fast-drying. I've used this towel in the past for hikes, runs, and dips in the lake, and it did a great job of keeping me dry. After it was wet, it dried with no odor.
Keep in mind: It's on the thinner side when compared to your average bath towel. It may take some time to get used to this, but don't worry it's still very effective for its size. It dries extremely quickly.
Good for: Backpacking
---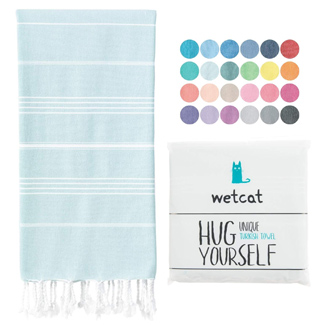 Why it's great: Not only is the Wetcat Turkish towel quick-drying (I'm talking dries in minutes when hung up), it's by far the most stylish towel on this list. Although it is thinner than terrycloth, it's a must-have after a day in the water. It's pre-washed–which means you don't have to worry about it shrinking–and ideal for delicate skin, all while remaining absorbent.
At 37×71, it's perfect for picnics, camping, and days on the water. Don't let its large size deter you, though. Its foldable design makes it ideal for days on the go. It can be easily compacted, so it fits in a backpack or purse.
Keep in mind: Because of its thinness, it does not feel like the fluffy towels you are most likely used to. Use it a few times, and it will quickly become your favorite towel.
Good for: Sandy beach days
---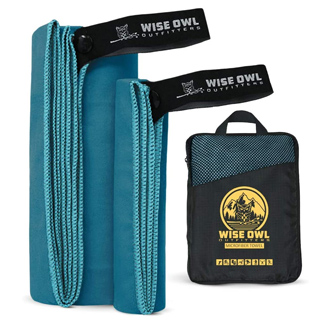 Why it's great: Designed in the USA, family-owned and operated, the Wise Owl Outfitters has been featured on Forbes, BuzzFeed, CNN, and more. The company started making hammocks and has since turned into one that is focused on creating useful yet affordable outdoor gear. Their travel towels are made with a suede-like microfiber that is lightweight, packable, and absorbent.
On a recent camping trip, I brought this towel along with a run of the mill beach towel, and I was incredibly impressed by how much better this one performed. After a few days of hiking, swimming, and sweating, the Wise Owl Outfitters towel stayed soft, didn't smell, and remained mostly clean.
Keep in mind: You will want to wash this towel with like colors before first use. After every wash, you will also want to hang the towel using the attached snap loop. This will help the longevity of the towel.
Good for: Long camping trips
---
Why it's great: After four senior outdoor enthusiasts took a trip to Yellowstone National Park, they quickly realized that a lot of the gear on the market was overpriced and lacking quality. So they figured, why not make their own functional yet affordable gear? And thus, 4Monster was born. The 4Monster camping towel is made of microfiber, which is super lightweight and portable.
When purchasing these towels, you get four towels, a large travel case (including a zipper and handle, which makes for easier transporting), and one small mesh bag for moments when you're conserving space. The carrying case even includes instructions for folding, so you'll never lose it, and you'll never struggle to get it back in its bag.
Keep in mind: They do not recommend that you use this towel at the beach. It is not sand-proof, so sand will cling when wet.
Good for: RV camping
---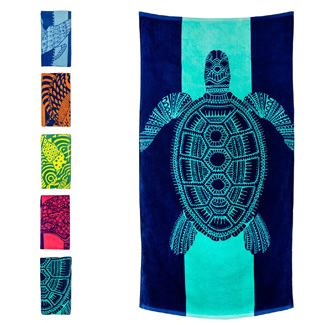 Why it's great: If you don't mind a less compact towel, consider the Nova Blue turtle beach towel. At 34 x 63 inches, this towel is a lot like your traditional beach towels. However, because it is made of 100% velour cotton, a natural fiber, it's much softer and more absorbent than the other towels on the market. And the turtle design is a plus!
Use this towel as a beach towel, to cover a sun lounger, or to dry off after a shower at the campsite. No matter how you choose to use it, you'll be amazed by how quickly you'll dry off. Oh, and did I mention that they're made in an OEKO-TEX standard 100 factory, which means that high environmental and safety standards are met.
Keep in mind: As I mentioned earlier, it is not compact. So if saving space is a big concern of yours, you might want to opt for one of the other towels on this list.
Good for: Short camping trips
---
FAQs about camping towels
---
1. Why are camping towels essential?
Camping towels are not technically essential, however, if you are camping for extended periods of time or you plan on spending time on the water, you are going to want a towel for showers, hikes, and days on the lake or river. They help dry you after a rinse or after an intense sweat.
---
2. What are camping towels made of?
Typically camping towels are made of either cotton or microfiber. Microfiber tends to be more absorbent than cotton, and cotton tends to be softer than microfiber. Both are good options!
---
3. What are the qualities of a good camping towel?
With all of the camping towels on the market, choosing the best one can seem like a very overwhelming decision. There are some qualities that you want to keep in mind when purchasing. Important features include absorbent, compact, and quick-drying.
---
4. What's the best way to take care of your camping towel?
Most towels come with washing instructions. However, I highly recommend washing your towel with like colors before using it, regardless of the directions. This will help prevent color bleeding. Aside from that, you will want to see what is recommended for water temperature, detergent, etc.
---
5. Can a hand towel double as a camping towel?
Technically yes. While hand towels will dry you off some, they are not meant to be incredibly absorbent the way camping towels are.
Conclusion
---
Camping towels genuinely are a gamechanger when out in the great outdoors. They can help you stay cool, prevent you from getting dehydrated, and help you dry off after a strenuous hike or dip in the water.
Getting a camping towel that is right for you truly depends on what you're looking for. While all towels can pretty much accomplish the same thing, each towel is not created equally. Think about what's most important to you–size, how absorbent it is, how soft it is, etc., and go from there. Use one of these seven towels, and I think you'll be one happy camper (no pun intended)!
You may also like our other product reviews…
Calf Compression Sleeves | Compact Home Gyms | Cooling Towel | Diving Watches Under $500 | Electric Bikes Under $1000 | Elliptical Machines Under $500 | Football Towels | Heavy Bag Gloves | Hiking Towels | Hybrid Bikes Under $500 | Smartwatches Under $50 | Sports Towels | Tennis Towels | Treadmills Under $500 | Treadmills Under $1000 | Weighted Vests | Weightlifting Belts |