Updated on by Lyric Fergusson
If you've been following the blog for a while, then you know that I like to spend most of my time outdoors with my family. That's why I carry a towel with me pretty much everywhere I go. There's nothing worse than dripping sweat and not being able to do anything about it. This is especially true when playing a game of tennis. I've tried out my fair share of towels, and these seven have completely changed my game. I can't recommend them enough.
If you're like me and hate feeling overheated, consider using one of these tennis towels. They'll not only help you stay dry, but they also help keep your equipment tidy and easy to handle–something that's extremely crucial to your tennis game! And, unfortunately, your kitchen towel won't cut it.
Best Tennis Towels
---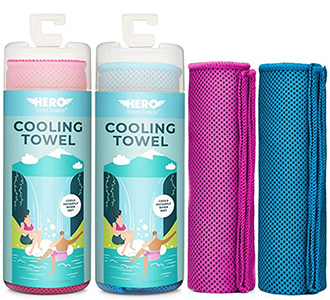 Why it's great: Cooling towels are truly a lifesaver with every outdoor activity. Simply soak it in water, wring it out, and wrap it around your neck for quick relief from the heat. Nothing feels better during or after an intense round of tennis.
Keep in mind: To ensure the towel keeps you cool, submerge it in cool water every 30-60 minutes.
Good for: A tennis game in the direct sun
---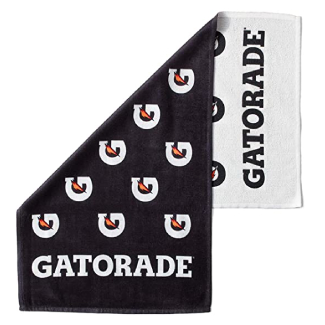 Why it's great: If you've ever watched any sports game, then you've probably seen this Gatorade sideline towel. There's a reason so many athletes use and trust it. The towel's black side is nice and soft, while the white side is more of a terry-cloth fabric meant for absorbing. I like using the black side to wipe dirt off my racquet since it doesn't stain, and the white side to wipe sweat away.
I've already washed this towel multiple times, and the color has yet to fade. It's also kept its softness. Although I've had it for a short while, I can tell that this is a towel that will last a long time.
Keep in mind: The black towel may bleed on your first wash, so wash it with darks or in a load of its own.
Good for: Wannabe tennis pros
---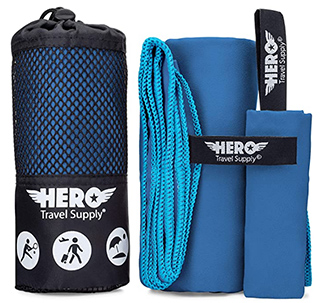 Why it's great: This is a towel that can be used for anything and everything. Every time I have used this towel, it has dried with no odor, which I find pretty impressive considering my experience with other towels I have put through the wringer.
Keep in mind: It is thinner than your standard bath towels, but is still effectively absorbent.
Good for: The everyday tennis game
---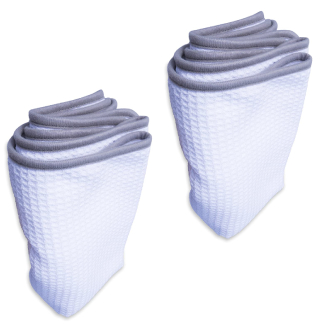 Why it's great: Desired Body's fitness gym towels are some of my favorite everyday towels that I have used. I've used them for every activity you can think of–from kayaking to hiking to an afternoon bike ride. They're super lightweight, absorb sweat quickly, fit in a gym bag perfectly, and even come with a loop that makes for super easy drying. While this may not seem like much, it's important because microfibers towels can get ruined with high heat–so the less I dry this, the longer it will last. It's quickly become my tennis go-to.
Keep in mind: The instructions for these towels do say to air dry them (hench the drying loop), so you won't want to throw this in the dryer, which may be frustrating if you're used to throwing your gym towels in with your regular laundry.
Good for: A light-hearted round with the family
---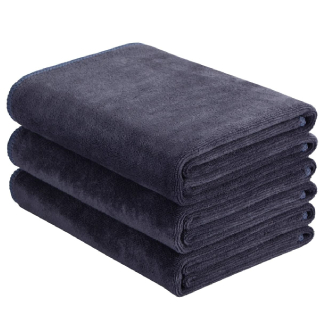 Why it's great: The HOPESHINE microfiber towel is absorbent, thin, and an excellent choice for those that get a little extra sweaty. I've used mine plenty of times and washed it multiple times, and it's still as soft as the day that I got it. It compact when it rolls up, which means it can fit in a tiny duffle bag, yet it's the perfect length for wrapping around the neck when unrolled. If you're a fan of Lululemon but not a fan of their prices, you will love this towel. It's comparable to "the small towel."
Keep in mind: Be sure to listen to the washing directions when you first receive the towels. The color will likely bleed, and there will also be lint. If you'd like to avoid ruining any other clothing items, wash these in their own load following the given instructions.
Good for: All tennis players
---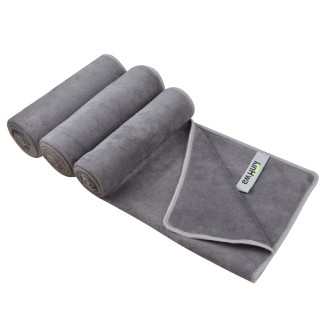 Why it's great: Although it may not sound like much, the combination of fabrics–80% polyester and 20% polyamide–makes this towel absorbent, lightweight, quick-drying soft, and ultra-compact. And although it may feel thinner to the touch, it's surprisingly strong and durable–two characteristics that are essential characteristics for tennis towels.
I love this towel because it not only has a loop to air-dry, but it also can be thrown in with your everyday laundry loads, so you don't need to focus on any special washing instructions, unlike some of the other towels on this list. In fact, the more time these towels spend in the dryer, the softer and fluffier they will be.
Keep in mind: There are large seams on the edges, so it's smart not to scrub your face with too much pressure with these towels. It will help avoid any unnecessary scratches. The color may also bleed on the first wash, so it's best to wash separately before the first use.
Good for: Keeping in your tennis bag
---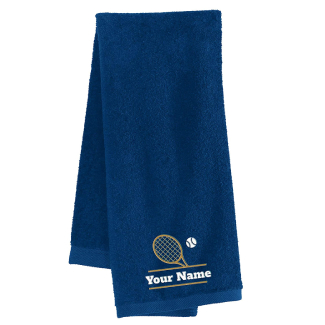 Why it's great: Who doesn't love having their name on things? I know I do. Especially if it's an item that I know could be accidentally used by someone else–which is the last thing that you want if it involves bodily fluids. Aside from the personalization, this towel also does a great job absorbing sweat (rather than pushing it around) and is nice and soft. Despite being washed a few times, the towel has held up well. It doesn't get much better than a customized towel that does its job well and is extremely reasonably priced.
Keep in mind: If you want the embroidery to last longer, try not to wring it out. This can tear or damage the fibers of the fabric.
Good for: A gift to a fellow tennis lover
---
FAQs about tennis towels
---
1. What is a tennis towel?
A tennis towel is one of the essential pieces of equipment that a tennis player can have. Although it may seem similar to a hand-towel, there are a few characteristics that differentiate the two.
---
2. Why is a tennis towel necessary?
While wiping sweat may not seem like a big deal, moisture can make or break a game. Think about it–you are holding a racquet for the duration of the game. If you get slippery wet hands, you can't handle it as well. A tennis racquet slipping out of your hand mid-game (especially if you're playing teams) can cause some severe injuries.
---
3. What makes a good tennis towel?
With all of the tennis towels on the market, choosing the best one may seem overwhelming. There are some qualities that you want to keep in mind when purchasing. Essential features include quick-drying, absorbent, bacteria-resistant.
---
4. What size should a tennis towel be?
If you plan to have an intense round of tennis where you know that you will be heavily sweating (or you know that it will be warm out), you will want a more oversized towel. If you are just looking for an everyday towel that will swiftly do the job, you can get away with something on the smaller side.
---
5. How do you care for a tennis towel?
When caring for a tennis towel, I always recommend checking the care instructions that come with it. Some require hand-drying, while others can be thrown in with other loads of laundry. When first receiving a towel, look at the instructions before use. There are times when you will need to wash it in a load by itself before using it for the first time to prevent color bleeding from sweat. The last thing you want is a black forehead because you forgot to wash it.
---
Conclusion
---
Your life will be genuinely improved when you start using a tennis towel. They help you stay fresh and help prevent unwanted bacteria and germs.
Getting a tennis towel that is best for you truly depends on how often you are playing and how intense the games are. Each towel is not created equally. Think about what's most important to you–absorbancy, size, fabric, etc., and decide from there. Use one of these seven towels, and I promise you'll end the day happy and dry!
You may also like our other product reviews…
Calf Compression Sleeves | Camping Towels | Compact Home Gyms | Cooling Towel | Diving Watches Under $500 | Electric Bikes Under $1000 | Elliptical Machines Under $500 | Football Towels | Heavy Bag Gloves | Hiking Towels | Hybrid Bikes Under $500 | Smartwatches Under $50 | Sports Towels | Treadmills Under $500 | Treadmills Under $1000 | Weighted Vests | Weightlifting Belts |