Pollution in India – A tourists perspective
1) Burning plastic
Unfortunately people are often burning all kinds of strange toxic things such as plastic. They do this to help stay warm at night. You can see my friend, Joey, sitting at such a fire in the picture below! This is mostly confined to cities and during the winter time. It can be so obnoxious that it is asphyxiating! In Chennai I was in a cheap hotel that didn't have AC and I woke every night coughing uncontrollably. So I highly recommend avoiding cities as much as possible in the winter time which is December through mid February.
2) Smoke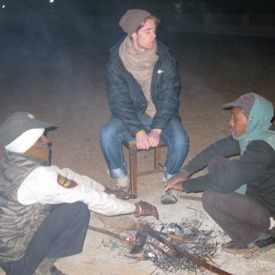 Similar to the plastic there are plenty of other things being burned in the winter. Common fuels are cow dung and wood which are used for cooking and for staying warm. These fuels can cause a lot of smoke (like in my photo above) and pollution in the air which again can be asphyxiating.
3) Exhaust fumes
With the explosion of vehicles on the Indian roads there is a gigantic amount of pollution from exhaust fumes. In the cities it can be incessant and I highly recommend bringing some kind of filter to breath through like a bandana or dust mask.
The whole country blanketed in smog even over the ocean off the Southern tip. I know this from flying planes all over the country. If you are really sensitive to pollution or have weak lungs then may be best to avoid going to India altogether…