What is a travel stroller?
A travel stroller is a lightweight, easily portable, and compact folding stroller that is perfect for air or car travel. Travel strollers are easy to open, comfortable for your child, and don't take up much space, so they are convenient to store when not in use. For ages newborn to 4.
Why do you need one for travel?
While you might already own a jogging stroller or other bulky standard size stroller that is great for neighbourhood walks and daily life, a travel stroller is a must have accessory for travel once you have a child (or two!). Why?
1) Because you do not want to lug a hefty (and expensive!) jogging stroller on your next family vacation. Even though it might have a smooth ride and luxurious accessories, bringing your bulky stroller on a flight is not a walk in the park. Between worries about it being damaged in cargo and anxiety over who has to carry it up the flights of stairs at your vacation apartment, it just isn't worth the trouble.
2) Because you will enjoy your travel more if you know what to expect. No one wants to arrive at the airport and find out, after their cab has driven away, that their stroller doesn't fit within the airline's size limits. Avoid this headache entirely by bringing a lightweight travel stroller instead. When you know that you will have the comfort and ease of your own travel stroller ready for your destination, you can relax a bit and focus on what really matters, enjoying a trip with your young ones.
Here are my top 7 picks for the best travel stroller (you might wish you had them all!):
Option 1
The GB Pockit Stroller ➜
(If weight and portability are your main concerns)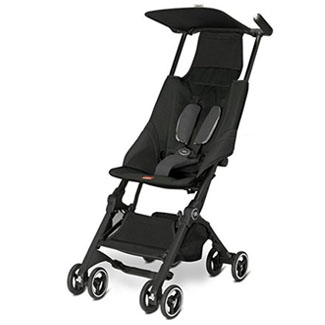 Pros: This stroller will literally fit in your purse. Need I say more?! It weighs under 10 pounds and it is by far the most portable stroller option on the market. You can actually pack this stroller in your luggage if you need to… it's that small. THe convenience factor is really high with this one!
Cons: The price tag isn't the lowest out there, but for such a compact option it isn't bad. Although this stroller does not recline, some moms say it is still cozy and comfortable enough for naps. Also, because it is so tiny when collapsed, it isn't able to have a lot of storage or a big sun canopy.
View on Amazon.com ➜
---
Option 2
Summer Infant 3Dllite ➜
(If price is your main concern)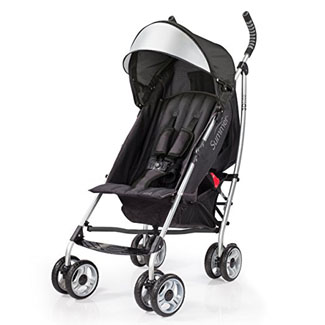 Pros: This stroller retails for less than $60, so this budget option is perfect if you are looking for a stroller that won't break the bank. The 3Dlite also reclines into several positions, it is fairly lightweight at only 13 lbs., and it folds down to be not that much longer than an actual umbrella. Because of the super low price point, you won't get too mad if the baggage handlers aren't as gentle with your cargo as they should be!
Cons: THe low price tag does come with a few setbacks. Some moms have complained that the low ride prevents older children from being as comfortable as a young toddler, since they will have to bend their legs to keep from dragging. And while this stroller does fold down, it isn't the most compact on the market, and you will not be able to put it into the overhead bins.
---
Option 3
Baby Home Emotion ➜
(If comfort and style are your main concerns)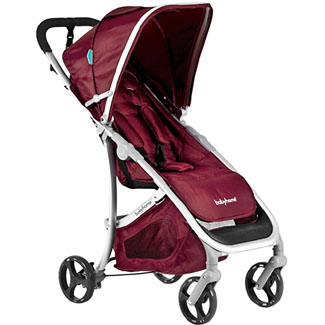 Pros: This super lightweight (only 13 lbs.) and luxurious stroller is extremely well made and easy to maneuver around any city street. It has the look and feel of a full sized everyday stroller, but with the heft. The larger than average wheels help to ensure a smooth ride even on rough terrain, and the style of this stroller just can't be beat. It also features an adjustable 5 point harness and a 150 degree recline, making this a great option for kids of all ages.
Cons: This super lightweight (only 13 lbs.) and luxurious stroller is extremely well made and easy to maneuver around any city street. It has the look and feel of a full sized everyday stroller, but with the heft. The larger than average wheels help to ensure a smooth ride even on rough terrain, and the style of this stroller just can't be beat. It also features an adjustable 5 point harness and a 150 degree recline, making this a great option for kids of all ages.
---
Option 4
UPPAbaby G Luxe ➜
(If using it for an infant is your main concern)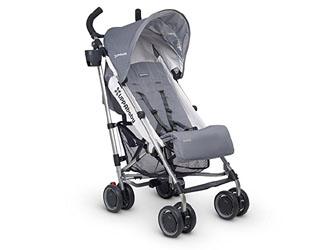 Pros: The UPPAbaby is unique in that it can handle an infant as young as three months… without an annoying and bulky bassinet attachment! Most other travel strollers will require a bassinet if you need to have your younger infant go for a ride, which really limits your options when it comes to both air and car travel. Bassinets are substantial and unwieldy. The UPPAbaby eliminates that need by implementing a very solid recline, great for sleeping infants and even toddlers that prefer to nap on the go. Bonus: the canopy on this stroller is quite large, which keeps the sun off of baby's skin, so you don't have to worry about extra sun protection!
Cons: This stroller is a bit on the heavier side for a travel stroller, but the recline offered really does make up for the extra few pounds you will have to carry.
---
Option 5
Maclaren Volo ➜
(If weather resistance and protection is your main concern)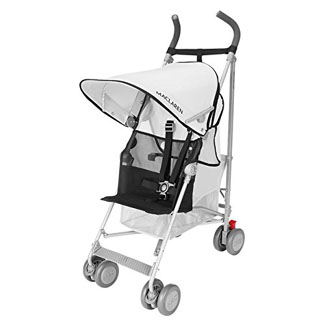 Pros: This stroller seems like it was just made for inclement weather. The mesh seat will help keep baby cool and keep air flow going even when the sun is blazing, and the expandable canopy and extra sun visor have built in 50+ SPF. The Volo also comes with a wind resistant rain cover, and four wheel suspension for covering bumpy walkways during those random thunderstorms. These weather resistant features will keep your child happy no matter what the skies decide to rain down on your vacation! The low price point doesn't hurt either!
Cons: This one isn't great for younger children since it doesn't recline at all, and some taller parents might prefer a stroller with longer reach – the handles on the Volo are not extendible.
---
Option 6
Mountain Buggy Nano ➜
(If design and convenience are your main concern)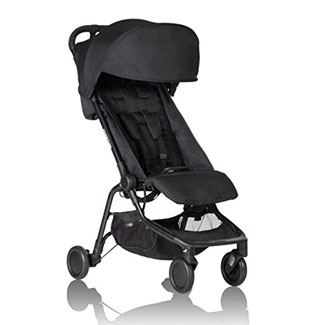 Pros: This stroller will actually fold up into the size of a rolling carry-on piece of luggage, making it extra convenient for flights. The Nano comes with its own carrying case and shoulder strap, which just goes to show that this stroller really is perfect for any kind of travel. The narrow design makes it an excellent option for European travel, and the added feature of being compatible with infant car seats really makes this stroller a wonderful choice.
Cons: Fortunately, I can't find much to complain about with the Mountain buggy, although some will argue that the foam handlebar takes away a bit from the rest of the rather flawless design!
---
Option 7
Joovy Groove Ultralight Umbrella Stroller ➜
(If you need a double)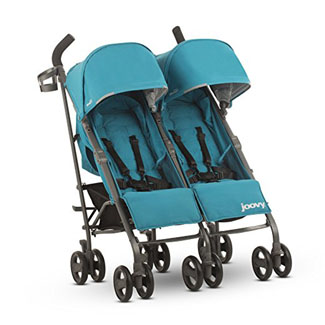 Pros: If you have twins or children close in age, you will want a double stroller for travel, and this Joovy easily fits the bill. This double stroller weighs only 26 lbs and comes with a carrying strap, making it extremely easy to fold up and carry up or down stairs when needed. The modern design and sleek colors help give this stroller a high-end look, and the nearly flat recline means that it is suitable for newborns as well. The extra large canopies provide shade and protection, and the multiple storage pockets make this even more convenient for travel!
Cons: While this stroller is great for the younger crowd, older kids may find the seats less comfortable. It has a 100 lb. weight limit, so they can certainly fit, but they might have to squeeze in.
FAQs about Travel Strollers
---
1) Is it better to check your stroller at the gate or during check in time?
This one will definitely depend on your needs. If you are traveling solo with the kiddo, you may want to keep the stroller until you get on the plane, checking it at the gate at the last minute. This way you can use it to help contain your child and even help store your things as you have to wait in line at various points. If you don't need the extra helping hand, then consider checking it in at the counter with your luggage, so it will be waiting for you when you go pick up your bags after a long flight.
2) I'm worried about the weight of these strollers, will it be too much for me to handle when I am traveling with my child?
These strollers are all incredibly lightweight, especially compared to a traditional stroller or jogger. Think of it this way, a lot of stuffed diaper bags weigh in heavier than these strollers! If you can carry a packed purse you can handle a travel stroller.
3) Isn't it easier to just rent a stroller at my destination?
Not for most people. When you rent at your destination, you never know exactly what you will get. Rental companies run out of the stroller you thought you reserved, and then what? You are just plain out of luck. Strollers also make airports, rental car pick ups, and long walks through the city to get to your hotel a whole lot easier, so for most people, the convenience is worth it.
4) Should I have a separate stroller for home and for travel?
This really depends on your needs and where you live. Most of the strollers listed here would work just as well as an everyday option, so if you can only afford to buy one, it makes a lot of sense to get an ultralight travel stroller instead of a bulky jogger. If you are a mom who spent a lot of cash on a fancy luxury stroller, you probably don't want to risk damaging it on an airplane, and it will be best to have a travel stroller as backup.
5) If I'm traveling with a young infant, do I really need a stroller?
Even avid babywearing mamas will enjoy having the option to lay baby down and her them nap in the stroller once in a while. Strollers also have storage pockets and even drink holder accessories, something that wraps and carriers just can't offer. When traveling you always want to be prepared!
6) Will I need to pay extra to check my stroller?
Not likely, as almost every US airline will check a stroller, car seat, and baby crib for free! Definitely check with your airline before you go, and be prepared for different rules when out of the country.
7) Can I take my stroller directly onto the airplane?
Unfortunately, with most strollers, this is not an option. Airlines will require you to check your stroller curbside, at counter check in, or at the gate, so strollers will not be allowed into the cabin with you. However, if you have one of the travel strollers that folds up into purse or carry on size, you will likely be able to place it in the overhead bin!
8) What if I need to check my car seat? Can I check a stroller too?
Yes! Almost every US airline will allow you to check large baby items for free, even if you have more than one. Strollers, car seats, and travel cribs all fit under this guideline.
Conclusion
---
When looking for a lightweight travel stroller, first make a list of your needs. Do you need it to be on the more affordable side, or are you able to spend a little extra for more features? Will you need it for your newborn, or is this stroller strictly for a toddler or bigger kid? What are your storage needs? Are you travelling primarily to city destinations, or do you need a stroller than can handle more rough terrain or bad weather? By assessing all of these different options, you will be able to make a sound choice on which travel stroller is perfect for you and your family.
When you don't have to worry about how to get from point A to point B safely, comfortably, and without a fuss, you will be able to relax and really enjoy your vacation, while making priceless memories with your littlest travel companions.
---