Updated on by Lyric Fergusson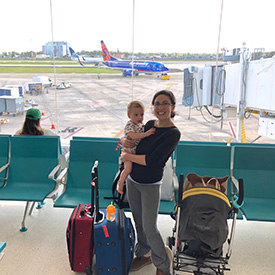 A travel stroller is a lightweight, easily portable and compact folding stroller that is perfect for air, train, subway, or car travel. Travel strollers are easy to open, comfortable for your child, and don't take up much space, so they are convenient to store when not in use. Travel strollers can easily be found for newborns to children weighing about 50 lbs (23 kg).
Important note: Airport security rules state that any stroller that weighs over 20 lbs (9 kg), is too big, or which is non-collapsible must be checked at the ticket counter. Parents, this means no stroller from check-in to your final destination if your stroller is huge, weighs more than 20 lbs, or cannot fold up!

Why do you need a travel stroller for travel?
---
While you might already own an awesome jogging stroller or another bulky standard-size stroller, there are a lot of good reasons that a travel stroller is a must-have:
1) Because Airport Security simply won't let you gate check a heavy or bulky stroller. As explained up top, any stroller that weighs over 20 lbs (9 kg), is too big, or which is non-collapsible must be checked at the ticket counter. I actually know a mama who got into a literal tug of war with the check-in-agent who forced her to check her jogging stroller at the ticket counter. This is really traumatic if you are traveling alone or have to make connections. Avoid this entirely. It's not worth the stress.
2) You do not want to lug a hefty (and expensive!) jogging stroller on your next family vacation. Even though it might have a smooth ride and luxurious accessories, bringing your bulky stroller on a trip is not a walk in the park. First, the airlines are not delicate with baggage and it is likely to get some damage. Second, most rental car trunks are small. And finally, it's just not worth lugging around such a massive piece of equipment.
We simply won't fly without our travel stroller—we love it!

Best Travel Strollers for Toddlers & Babies
---
(Best value — $)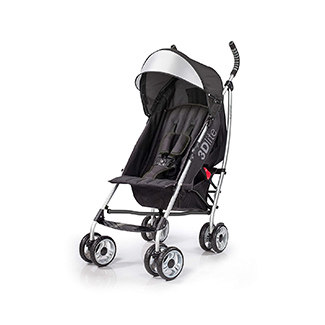 Why it's great: The 3D Lite is the stroller my husband and I personally own and love. It is inexpensive, a lightweight 15 lbs (7 kg), and folds up compactly. Even with its compactness and light weight, it also has a great basket for storage and the seat reclines into several positions (including almost flat), so it's great for on-the-go napping.
It also has decent shocks for a relatively smooth ride. We have taken it across Europe, to South America, and to the Caribbean, and it has yet to have any damage (partially thanks to this stroller bag!). But because of the low price point, you won't get too mad if the baggage handlers aren't as gentle with your cargo as they should be! If you have a young baby and need an option that is compatible with an infant car seat try this one.
Keep in mind: Some moms have complained that the low ride prevents older children from being as comfortable as a young toddler. The canopy is also not the greatest but we often use blankets and stroller clips to keep the sun out of his eyes when he is napping without much trouble. When it is fully reclined the storage basket is, unfortunately, not easily accessible. But I have to say this is the best travel stroller for the price and we won't travel without it.
Good for: Babies who can hold their head up unassisted to children weighing 50 lbs (23 kg).
---
(Best quality double stroller — $$$)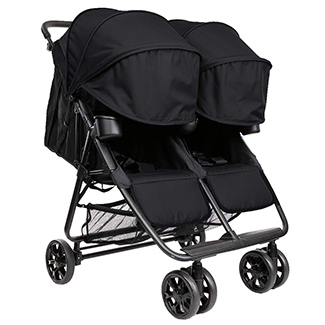 Why it's great: The Zoe XL2 Best Double Travel Stroller reclines and has two huge four-panel sun canopies, magnetic peek-a-boo windows, a large expandable elastic storage bin, snack cups and cup holders for baby, a parent cup holder, and front wheel suspension. Even with all of this, it still weighs only 17 lbs (8 kg). This means you can keep this stroller with you all the way to your destination without having to check it at the ticket counter.
It also has an amazingly easy one-hand collapse feature that kinda blew my mind. You can also buy a carry backpack/cover directly through the manufacturer, which is great for protecting the stroller when you check it at the gate or toss it into the trunk of a car.
Keep in mind: All side-by-side double strollers are wide, so maneuvering them in large crowds is always a challenge. Also, the buckles on this specific stroller aren't the most intuitive until you get the hang of them.
Good for: Babies 3 months and older to children weighing 50 lbs (23 kg) per seat.
---
(Most innovative — $$$$)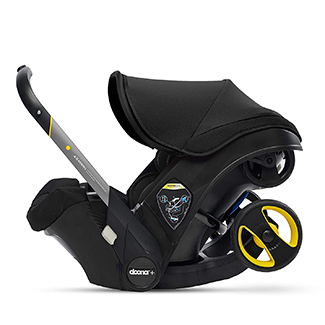 Why it's great: This stroller has the most unique and innovative design. It starts out as a complete infant car seat that includes the base that attaches to the car. In only one motion, it can completely unfold and convert into a small, travel stroller. You no longer have to have a separate stroller in your trunk, nor do you have to worry about whether your stroller has a car seat attachment.
It comes with a seat cover too, which means you don't have to stress about getting the dirty wheels on the interior of your vehicle. Plus, it's FAA approved, so you can take it right on the plane with you when you travel.
Keep in mind: Even at the fullest extension, the handle could be a little short for taller parents over 6 feet. All this means is that you may have to hunch a little, but with all the benefits this stroller has, it may be worth it.
Good for: Newborn babies and older up to 35 lbs.
---
(Guinness world record holder — $$)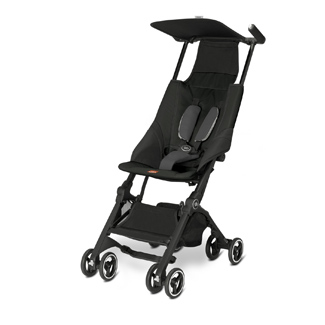 Why it's great: Well, the gb Pockit holds the Guiness World Record for most compact stroller. Weighing in at only 9.5 lbs (4 kg), it is by far the most streamlined travel stroller out there. It's super easy to fold and unfold, saving you a lot of hassle when you have tight connections, need to throw it in the car, or are going on a subway. And it FITS IN YOUR PURSE — or more importantly, the overhead bin on the plane. Don't believe me? Watch the video on Amazon!
Not only that, but there are new, upgraded models of this same stroller, making it super easy to find the one that's right for your needs.
Pockit Air has all the same features, but the seat back is all mesh for extra airflow.
Pockit+ adds on a UPF50 sun canopy and the ability to recline.
Pockit+All-City adds on an infant car seat adapter to the Pockit+, but loses the front swivel wheels.
Pockit+All-Terrain also has the infant car seat adapter, but adds on the front swivel wheels.
Keep in mind: Each version is slightly different and they're all on the same listing, so make sure you've clicked on the correct option and know which features you're getting.
Good for: Babies 6 months and older to children weighing 55 lbs (25 kg).
---
(Most affordable double stroller — $)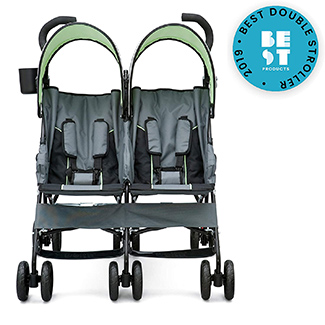 Why it's great: This double stroller is simple and streamlined for parents that just need the basics. It has shade canopies and two hanging bags for storage, plus a cup holder for the parent. The seats do recline a little bit, but not all the way down. However, you can recline each seat individually, which is a nice feature.
This one is a little easier to manuever than most double strollers and isn't quite as bulky. It can fit through a standard doorway without a problem. Also, it folds up fairly small for a double, which will leave you more room in the trunk for luggage. It also comes in multiple color options, so you can choose the theme you like the best.
Keep in mind: The shade canopies are small, so your children won't get full coverage. You can use a blanket or towel to create more shade though.
Good for: Babies that can hold their head up to 35 lbs per side.
---
(Best stroller/car seat set — $$)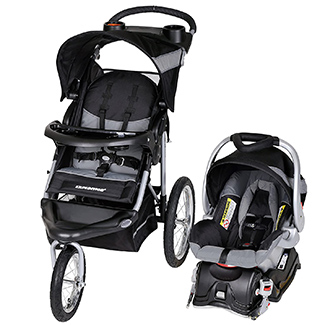 Why it's great: This stroller has extra large, bicycle style tires that work perfectly on any kind of terrain. It's great for parents who love to exercise and need a jogging stroller that can match their match. Plus, it's a smooth ride, so you won't have to worry about your child being jostled around when you're moving at a fast pace. The seat reclines and the canopy is wide enough to block all sun. The stroller folds down pretty compactly and will fit in the trunk of a sedan, but the trunk would likely need to be pretty empty.
This set also comes with an infant car seat and base that easily attaches to the stroller, which saves you the hassle of making sure your seat and stroller are compatible. The set is available in multiple different color options, so you're sure to find one that you like.
Keep in mind: This one is a little harder to fold down and definitely takes two hands, but it is manageable.
Good for: Newborns with the carseat attached or babies that can hold their head up on their own up to 50 lbs.
---
(Best all around stroller — $$)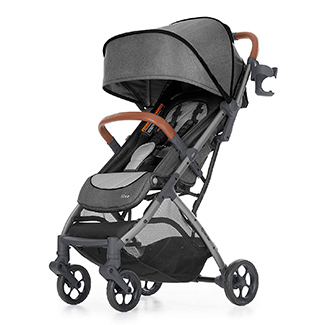 Why it's great: This stroller has pretty much all the features of a full size stroller, in a smaller, more compact design. It has a nice big canopy, storage space at the bottom, cup holders, reclining seat, plus much more. The seat is padded and extra comfortable for your child and it even has an adjustable height leg rest for the perfect fit. It has a built in adapter that's compatible with multiple different infant car seat brands, which means this stroller can be used right away. The brake is easy to flip on or off, whether you're wearing regular shoes or flip flops.
It folds down easily with one hand and is lightweight at only 16 lbs. It even comes with a carry bag for airplane travel or just for safe storage.
Keep in mind: This one isn't quite small enough to put in the overhead bin of a plane, but the carry bag makes it easy to check at the gate.
Good for: Newborns and older up to 50 lbs.
---
(Largest canopy — $$)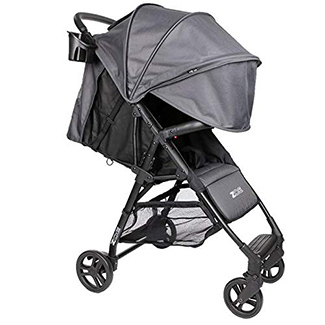 Why it's great: Parents simply love this stroller. It's under 11 lbs (4.9 kg), and has an almost flat recline that's great for napping, a large storage basket, a huge sun canopy, and a lifetime replacement guarantee on the wheels. It also maneuvers like a dream and can be collapsed and opened super easily with one hand. And don't forget it fits in the overhead bin on the plane!
Keep in mind: The main complaint is that the suspension could be a bit better for really bumpy terrain, but almost all feel its shock absorption is great for city streets and travel use alike.
Good for: Babies 6 months and older to children weighing 50 lbs (23 kg).
---
(Most features and even good for newborns — $$)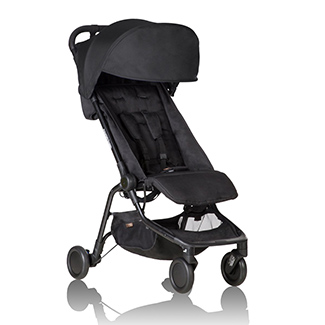 Why it's great: The Mountain Buggy Nano is awesome & unique for several reasons… It's super compact and light at 13 lbs (6 kg), and can fold up small enough to fit in a small backpack carrier that can be placed into the overhead bin on the plane.
Unlike most ultra-compact strollers it reclines, has awesome shock absorption, a solid canopy, a neat feature called "curb pop" which makes it easy to go on and off of city streets, and most importantly you can attach your infant car seat to it without a bulky adapter. This means the Mountain Buggy Nano could be your travel stroller from the moment your baby is born until they are about 4 years of age. There is no other ultra-compact travel stroller on the market that boasts all of those features.
Keep in mind: There is no cup holder, it will take two hands to open and close the stroller, and some feel that the narrow design makes it a bit snug for older children.
Good for: Newborns to children weighing 50 lbs (23 kg).
---
(Best manueverability — $$$$)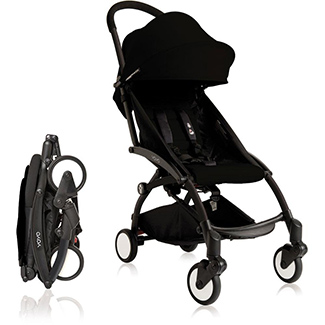 Why it's great: This stroller gives an unbelievably smooth ride and all four wheels can turn, which makes it very easy to manuever, no matter where you are or what direction you need to go. The canopy has the perfect amount of coverage to keep your child protected from the sun and the seat and straps are padded and very comfortable. It also reclines almost all the way flat, making it super easy for your child to take a nap.
It folds down super small and compact and can easily fit in an overhead bin on the airplane. It also comes with a carry strap, making it really easy to tote around. Plus, it's very durable and strong and will last as long as you need it to.
Keep in mind: This one is a little bit pricier, but the smooth ride and compact size make it worth the cost.
Good for: Babies 6 months and older up to 35 lbs.
---
(Compact and comfortable — $$)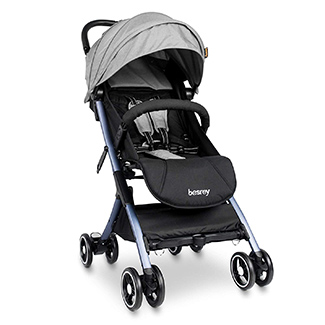 Why it's great: At only 16.24lbs (7.36kg), the Besrey Airplane Stroller is the second-most compact stroller on the market behind the gb Pockit. And like the Mountain Buggy Nano, it comes with a nifty backpack carrier that makes storing it in a rental car trunk or the airplane overhead bins a breeze. It has a chic design, is easy to collapse one-handed, has a 5-point adjustable harness, a reclining seat, a good sized sun-blocking canopy, and a pretty decent-sized basket for its size.
And if you need an even more lightweight option, Besrey has one that's only 12.98 lbs (5.9kg) here, but it doesn't recline.
Keep in mind: While you can collapse it with one hand, you'll need both to get it open and locked in place properly.
Good for: Babies 6 months and older to children weighing 33 lbs (15 kg).
---
(Largest capacity — $$$)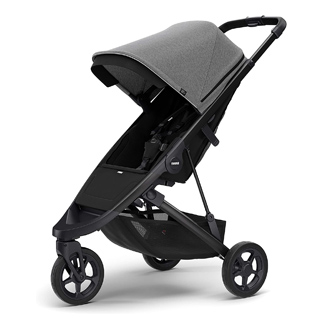 Why it's great: This is a great quality stroller and will work your little one longer than most, as it can hold up to 64lbs. Or, if you have an older child, it has a step-on that attaches to the back where they can stand and ride. This is a great feature for long trips where an older sibling may start to lag and need a rest. The three wheel design makes it much easier to manuever, but it's not as big and bulky as the jogging strollers that usually come in that design. The canopy is adjustable, vented, and has UPF50 and UV protection.
It folds up pretty compact because the front wheel tucks in between the back two. And it has a lever that's quick and easy to pull with one hand that folds the stroller down.
Keep in mind: This one is a little bigger than allowed in an overhead bin, but it comes with a bag for checking it at the gate.
Good for: Babies that can hold their own head up and older up to 64lbs.
---
(Most compact double stroller — $$)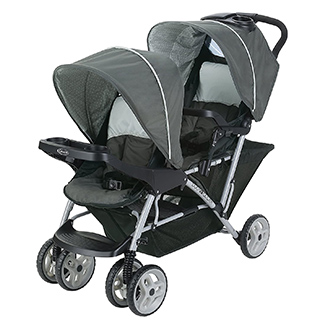 Why it's great: Most double strollers feature seats side by side, which can be hard to fit through doors or crowds. This stroller has the two seats one in front of the other, making it the same width as a regular stroller. Both seats recline and the back seat can lay completely flat. The storage compartment under the stroller is huge and has enough room to carry everything you need. Plus, each seat has it's own cup holder and tray and there's even one for the parent.
It's easy to collapse and fold up with one hand, but you will need two to lift it into a trunk. And it can fit in a standard trunk as long as it's folded up properly with the seatb acks up and the canopies folded back.
Keep in mind: This stroller doesn't need an adapter to attach car seats, but it is only compatible with Graco brand seats.
Good for: Newborn with car seat up to 40 lbs per seat.
---
Don't forget these must-have accessories:
---
FAQs about Travel Strollers
---
1) Is it better to check your stroller at the gate or during check-in time?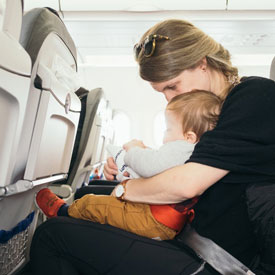 This one will definitely depend on your needs. If you are traveling solo with the kiddo, you may want to keep the stroller until you get on the plane, checking it at the gate at the last minute. This way you can use it to help contain your child and even help store your things as you have to wait in line at various points. If you don't need the extra helping hand, then consider checking it in at the counter with your luggage so it will be waiting for you when you go pick up your bags after a long flight.
2) I'm worried about the weight of these strollers. Will it be too much for me to handle when I am traveling with my child?
These strollers are all incredibly lightweight, especially compared to a traditional stroller or jogger. Think of it this way: a lot of stuffed diaper bags weigh in heavier than these strollers! If you can carry a packed purse, you can handle a travel stroller.
3) Isn't it easier to just rent a stroller at my destination?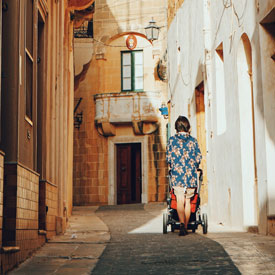 Not for most people. When you rent at your destination, you never know exactly what you will get. Rental companies can often run out of the stroller you thought you reserved, and then what? You are just plain out of luck. Strollers – especially lightweight, travel-specific ones – also make airports, rental car pick ups, and long walks through the city to get to your hotel a whole lot easier, so for most people, the convenience is worth it.
4) Should I have a separate stroller for home and for travel?
This really depends on your needs and where you live. Most of the strollers listed here would work just as well as an everyday option, so if you can only afford to buy one, it makes a lot of sense to get an ultralight travel stroller instead of a bulky jogger. If you are a mom who opted to invest a lot in a fancy luxury stroller, you probably don't want to risk damaging it on an airplane, and it will be best to have a travel stroller as backup.
5) If I'm traveling with a young infant, do I really need a stroller?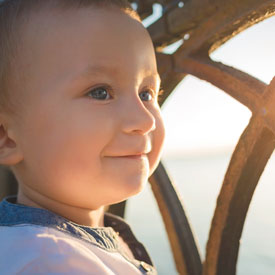 Even avid baby-wearing mamas will enjoy having the option to lay baby down and allow them to nap in the stroller once in a while. Strollers also have storage pockets and even drink holder accessories, something that wraps and carriers just can't offer. When traveling you always want to be prepa#ef4350, and you'll want to take advantage of opportunities to rest your own body as well so that you don't get burnt out.
6) Will I need to pay extra to check my stroller?
Not likely, as almost every US airline will check a stroller, car seat, and baby crib for free! Definitely check with your airline before you go, and be prepa#ef4350 for different rules when out of the country.
7) Can I take my stroller directly onto the airplane?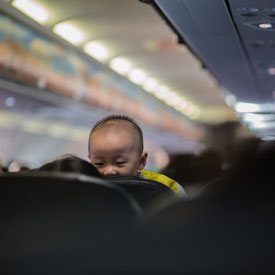 Unfortunately, with most strollers, this is not an option. Airlines will require you to check your stroller curbside, at counter check-in, or at the gate, so strollers will not be allowed into the cabin with you. However, if you have one of the travel strollers that folds up into a purse or carry-on size, you will likely be able to place it in the overhead bin!
8) What if I need to check my car seat? Can I check a stroller too?
Yes! Almost every US airline will allow you to check large baby items for free, even if you have more than one. Strollers, car seats, and travel cribs all fit under this guideline.
Conclusion
---
When looking for a lightweight travel stroller, first make a list of your needs. Do you need it to be on the more affordable side, or are you able to spend a little extra for more features? Will you need it for your newborn, or is this stroller strictly for a toddler or bigger kid? What are your storage needs? Are you traveling primarily to city destinations, or do you need a stroller than can handle more rough terrain or bad weather? By assessing all of these different options, you will be able to make a sound choice on which travel stroller is perfect for you and your family.
When you don't have to worry about how to get from point A to point B safely, comfortably, and without a fuss, you will be able to relax and really enjoy your vacation, while making priceless memories with your littlest travel companion(s).
---
Like us on Facebook here: