Updated on by Asher Fergusson
G
ermany is a country rich in fairy tale folklore, a vibrant art scene, and gorgeous countryside — all in addition to a wealthy history as one of Europe's most influential nations. To navigate this country, where the weather is as diverse as its subcultures, I put together this packing list.
In this guide you'll find what to wear in Germany, as well as what NOT to bring, and answers to other key Germany FAQs.
Prepare yourself for a wide variety of enjoyment from outdoor activities to the many opportunities to try German delicacies and beers (if you like)!
What to Pack for Germany – 17 Essentials
---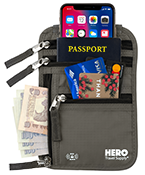 Especially when visiting touristy cities like Berlin and Munich, a neck wallet is an item you won't want to travel without. Keep your valuable belongings organized and secure by wearing this handy neck wallet beneath your clothes and out of reach for pickpockets.
---

Depending on where you're coming from, you may experience the unpleasant effects of jet lag upon your arrival in Germany. Prevent and treat those nasty symptoms by taking homeopathic jet lag relief pills and make the most out of your first day in Germany.
---

The weather in Germany can be unpredictable and sometimes you may experience all four seasons in a single day! In a country where you'll inevitably be spending a lot of time outdoors, you'll need to have a sturdy, windproof travel umbrella. This one will keep you dry and protected from the elements.
---

There's no question that you'll be doing plenty of walking while in Germany. From strolling through the vibrant cities, visiting museums, and enjoying biergartens, you'll need comfortable, stylish flats for days spent on your feet. These ones provide comfort and are the perfect breathable shoe to wear all day long.
---

If you plan to bring electronics on your trip, you will need a lightweight power adapter to convert from US to UK voltage and to use continental European outlets. This one is great because it's lightweight, compact, and comes at a great price.
---

Traveling to other countries often results in an upset stomach, whether it's caused by the traveling itself or by eating something that doesn't agree with you. Either way, activated charcoal is an absolute must-have. The charcoal absorbs toxins in your system and helps you carry on with the many fun parts of traveling.
---


Anytime you connect to WiFi in public places, such as in hotels, cafes, and airports, you leave yourself vulnerable to potential hackers. Keep your sensitive information, such as credit card numbers and passwords, safe by using a VPN when you go online. This will also allow you to have access to websites from home that may be censored in your host country.
---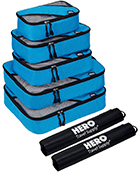 With all the seasonal gear you will be packing, from snow boots to bathing suits, you'll need to keep all your layers organized by storing your items in packing cubes. This set is great because it comes in a variety of vibrant colors and includes separate cases for shoes and dirty laundry.
Available on HeroTravelSupply.com with an exclusive 15% discount using the coupon code "HERO".
---

If you plan to use your smartphone for photos, videos, and navigation, you will need to power up your battery frequently during your time spent in Germany. This one is convenient because it's lightweight and small enough to carry in your back pocket, which is very fitting with Germany's minimalist style.
---

Fashion in Germany is utilitarian and understated, without sacrificing elegance or style. A sleek and sturdy backpack will guarantee you will fit in with Berlin's hip street style and see you through a long day of sightseeing.d durable, so it's perfect to bring with you on all your adventure activities for both photo and video content. Trust me, after your trip, you'll be glad you brought along a good camera to capture your favorite memories.
---

While cities like Berlin and Hamburg are highly fluent in English, it's polite not to assume. Further in the countryside, you might find yourself relying on your Deutsch to get around. A German phrasebook like this one will cover all the basics for finding your way around.
---

One of the most important items to make sure you have on any overseas vacation is reliable travel insurance. Both for peace of mind and in case of emergency, you'll want to make sure you're covered in any situation. We always use TravelInsurance.com to compare the best plans and find the best one for our trip. They can help you find coverage that covers the costs of lost or stolen luggage, flight cancellations, and medical expenses.
Compare policies at TravelInsurance.com ➜
---

The tap water is safe to drink in Germany, so you'll want to remain hydrated by bringing a reusable water bottle with you wherever you go. We like to use a water bottle with a Brita water filter as an added layer of protection when drinking from the tap.
---

Germany experiences all four seasons, and the weather can be a little unpredictable. Berlin gets hot in July, but it does rain. And while September is sunnier, it brings cooler temperatures. With a light jacket in a neutral color, you'll be prepared for any weather and fit in perfectly with the locals.
---

With unpredictable weather, a scarf or shawl will come in handy regardless of the season. Throw it on over your outfit on a cool summer night, cover your shoulders when entering a church, or use it to add some style to a winter outfit. This versatile item is a must-have for any trip to Europe.
---

You'll be glad you thought ahead when you can easily use your phone for navigation, google, uber, and more during your time spent in Germany. Purchasing a cheap, prepaid European SIM card will make things much easier for you throughout your trip. All you need is an unlocked smartphone and you're good to go!
---

Though in cities like Berlin, you'll want to opt for more casual evening attire, you may want to go out to a nice dinner or check out a more upscale bar or nightclub. In any case, it never hurts to pack at least one gorgeous outfit like this one that can be dressed up or down with the right accessories.
Other Germany packing list items to consider
---
What to Wear in Germany
---
From punk rock warehouse parties to the opera, Germany combines music with style to show off its diversity. Whether your taste is classical or avant-garde, functionality and simple elegance pervade across the country. Berlin by far is the most sartorially diverse city in Germany, whereas tastes swing more conservative in Bavaria.
When traveling in Germany, do as the locals do and opt for comfortable items that fit well and easily match. A neutral color palette with a few bold accents here and there goes over well.
With fashion's emphasis on the functional, you don't need to bring too much clothing. Dressing in layers will combat seasonal weather changes, and keeping colors and prints consistent will help you mix and match without weighing down your suitcase.
What should WOMEN wear in Germany? – (Click to expand)
Germany might be known for its understated fashion sense (famed designer Jil Sander hails from the tiny town of Wesselburen), but this country welcomes style in all shapes and colors. Everyone is free to dress in whatever way makes them happy in Germany's bigger cities. In summer women can't go wrong with a sundress, denim jacket, and stylish sneakers or flats. For evening, jeans, a sleek blazer, and heels make for an elegant dinner outfit.
What should MEN wear in Germany? – (Click to expand)
Whether you prefer to dress up or dress down, Germany offers something for everyone. Home to brands like Puma and Hugo Boss, this country caters to all tastes. To blend in with the locals, men can't go wrong with fitted jeans and a comfortable tee shirt with a stylish pair of trainers to match. Leather jackets and black denim are hardly out of place in trendy Berlin or Frankfurt. Clothing should be casual by day, and by night anything goes.
Germany's weather varies by season and region, so it's always a good idea to dress according to your main activities (museum visits and city life vs. camping and hiking). Keep the following points in mind:
Weather: Even in the busiest of cities, plan to spend plenty of time outdoors. From biergartens to exploring each city's unique architecture, you will spend a lot of time in streets or parks. You will spend even more time out in the elements if you venture to the countryside to explore Germany's stunning forests, mountains, seaside, and lake districts. The opportunities to enjoy the great outdoors are endless. But sometimes, so is the rainfall. Weather varies greatly by season, and sometimes you will see four seasons in a day—so it is always best to come prepared.
Spring – March, April, May
By March, the sun rears its head and people start heading to the parks for a beer. Still, while spring is lively it can remain chilly and rainy. It's very common for it to start raining suddenly, or for a strong breeze to bring on a chill. To enjoy social activities like grabbing a drink in a local Biergarten, expect to wear a wind-breaking jacket and carry an umbrella in hand.
By April it warms up slightly, and May and June show much milder weather with more consistent sunshine. Bear in mind that average temperatures in the mountains will be a little cooler. Average temperatures in March hover between 33 and 47 (1 to 8 C), rising to 39 all the way to 67 (3 to 19) by mid-May.
Summer – June, July, August
Summer might be just as varied as spring, with bouts of rain and wind here and there. Nevertheless, summer is when you can most reliably expect temperate weather and sunny skies in any part of the country. Temperatures vary significantly in the mountains, but typical of a moderate continental climate, Germany will offer plenty of toasty and sunny days perfect for an afternoon in the park and enjoying the beautiful architecture of Berlin, Hamburg, and Munich.
Average temperatures in the north hover between 21 and 25 (69 to 77), with two major exceptions: the mountains and the northern coast. Mountain temperatures stay in the single digits, from 2 to 9 (35 to 48) degrees. And the seaside is very warm, with temperatures frequently rising to 30-32 degrees (86-90).
Autumn – September, October, November
September is mild, offering summer's last leg of sun and warmth before temperatures cool down and it begins to rain again. Expect plenty of sunshine throughout most of the country, with the exception, as always, of the mountains. If you are heading to Oktoberfest, you'll be wise to wear layers, but keep your sunglasses handy.
By October, temperatures will drop and winds will pick up quickly. By November, the days get quite short and it not uncommon for a bit of frost or snow to fall. To feel comfortable in the city or country, a warm jacket, long trousers, and weather proof shoes are a must.
Winter – December, January, February
Winter in Germany earns its cold and bleary reputation year on year-end. In the north temperatures quickly drop to near freezing, hovering around 1 degree (33 Fahrenheit), but the coast welcomes warm waterfronts that keep these temperatures relatively stable.
Further to the south, temperatures will vary but cities like Berlin and Hamburg stay close to the temperatures range of -2 to 4 degrees (28 to 42), with most days rather grey. Meanwhile, Bavaria, where Munich is located, is reliably colder and greyer—witnessing Germany's longest winters. Here, temperatures stay much closer to the lower end of the national average, usually between -2 to 0 (28 to 32). The elevated region of Thuringia will also see snowfall and further drops still, which leaves no doubt that a German winter requires thick layers, a hooded coat, and mittens.
What NOT to bring to Germany:
---
1)

Fancy evening wear
– Unless you are going to one of Germany's famed opera houses for a live performance, you don't need to dress to the nines to have a good time about town. Casual, alternative, or smart—whatever your style, feel free to dress comfortably and be yourself in this diverse fashion capital.
2)

Sandals or high heels – Yes, summer is warm in Germany. But unless you are heading to the beach or lakefront, you are more likely to spend your day in sneakers or flats. Spare the extra space in your suitcase for some souvenirs.
3)

Electric hairstyling tools – Hair dryers, flat irons, and curlers won't work as well when plugged in to a European power adapter. To truly blend in with the locals, you're best off keeping your hairstyle simple. Otherwise, you can request a hairdryer to be loaned to you by your hostel or hotel concierge.

4)

Excessive medication
– Thanks to the country's fantastic and affordable healthcare system, you can find most medications at a reasonable price in any pharmacy. Bring the basics (including necessary prescriptions) in your bag and purchase the rest as need.
5)

Your credit card – Ok, you might need your credit card—but certainly not more than one. And you are unlikely to need any travelers' checks either. Surprisingly, Germany remains one of Europe's more cash dependent societies, with a notable disdain for paying with plastic. To make sure you can smoothly pay for museum entrances, restaurants, and tourist attractions you're better off with some cash (in Euros). Go to your bank for a more equitable exchange rate.

FAQs for Germany travel
---
1) What is transportation like in Germany?
Germany's cities and larger towns have excellent public transport systems. Bigger cities, such as Berlin and Munich, combine buses, aboveground trams, underground train networks, and S-Bahn (suburban) commuter rails into a single network. Generally though, people cycle. In bigger cities, you can rent a bike to navigate the city center. Out towards the countryside, the intercity rail network will get you from town to town, but for activities like camping, you may need to rent a car.
2) Do people speak English in Germany?
Germany is one country where English is widely spoken among city dwellers, particularly those aged 40 or under. Tourists will have no problem getting around Berlin or Stuttgart with English. In smaller towns, you may need to learn a few basic German phrases to get around. In all cases, learning how to say please and thank you goes a long way towards making new friends.
3) Is it safe to drink the water?
Yes, the tap water is very clean across Germany, and cities like Berlin or Munich in particular boast that their local supply is high in minerals and quite tasty. However, for some reason or another, among Germans it is very uncommon to drink tap water. Most restaurants serve only bottled water, and some people would consider it bad manners if you were to offer them tap water at home. To blend in, go for bottled.
4) What is the best time of year to visit Germany?
It really depends on the type of activity you would like to do in Germany. If you are an art lover, indoor museums and theatres are enjoyable any time of year—and certainly, the queues to get into popular tourist sites will be shorter.
However, as German cities are quite walkable, and the countryside offers incredible opportunities to explore nature, your best bet may be to visit in spring or summer. Especially if you're a fan of cracking open a cold one in your local Biergarten.
6) What is the German currency? Can I use US Dollars?
Germany uses the euro. As a cash-dependent society, Germany will require you to carry a fair amount of cash in hand. That said, in big cities you can naturally use your credit card in major restaurants, museums, and shops.
7) Do I have to tip in restaurants and bars?
Serve charges, tips, and VAT (a European tax) are all included in the bill in German restaurants, bars, cafes, and clubs—meaning your bill reflects the final price. Servers also earn a living wage, so there is no need to tip. However, it is customary to "round up" the amount to the next euro on a small cafe bill, for example. A rule of thumb is to add 5-10%, generally ending with a full Euro amount.
8) What do I need to know about Oktoberfest?
If you needed an occasion to break out your dirndls and lederhosen, Oktoberfest is the right one. As the world's largest beer festival, Oktoberfest takes place in September and October in Munich over the course of 16 days. The festival opens with a parade, a twelve gun salute, and a signal to all the restauranteurs attending that they can start serving their food and drink. Expect to explore this massive food festival with cash in hand to purchase beer, snacks, traditional bites like roasted sausage, and even trendy international fare. Make sure you drink water between beers and wear comfortable shoes. Munich is a safe town where provided you drink and eat responsibly, you can let loose and have a great time.
9) What is entertainment and culture like in Germany?
Germany's art, music, and entertainment spheres are some of Europe's most diverse. In big cities, there is something for everyone. Germany is a historical capital of opera and classical music, home to both Wagner and Handel. But the country is no stranger to experimentation, with electro music having been popular in German clubs for decades. If you are more of a visual art fan, Berlin and Munich offer a host of classical and contemporary art museums. In summer you will frequently come upon art, music, and food festivals—but don't forget about football either. This football-loving nation won the last World Cup, and local club matches are very exciting.
10) What is the food like?
Typical dishes include schnitzel, apple strudel, and plenty of sausages and delicious beer. Germany's traditional dishes can feel quite heavy when you try them all in one sitting. But healthy and experimental eaters need not worry. Germany has a long tradition of adopting Turkish and Mediterranean cuisine, and Berlin is one of the world's most vegan-friendly cities. Healthy, meat-free, and dairy-free options are often available if you have any health concerns or dietary restrictions.
11) Who is Checkpoint Charlie?
If you have been hearing a lot about Checkpoint Charlie, "he" is one of the most important figures in Berlin's history. This is the name not so fondly given to the crossing point between East and West Berlin when Germany was divided during the cold war, and "Charlie" represents a sad but important moment in Germany's history following the Second World War. Through many German cities you will see museums, landmarks, and architectural sites that make a nod to the country's turbulent and controversial history and find that German society is well-aware of it. Germany is a wonderful place to visit to learn about one's European roots and see how well a country can incorporate its history into building a brighter future.
---
Other Europe packing lists you may like…
Amsterdam | Barcelona | Camino de Santiago | Croatia | Europe | France | Greece | Hungary | Iceland | Ireland | Italy | London | Mediterranean Cruise | Norway | Paris | Poland | Portugal | Prague | Rome | Scotland | Spain | Switzerland | Turkey
Please note: We have over 200 packing lists covering practically every popular travel destination in the world. Access them all on our packing list overview page ➜