Updated on by Asher Fergusson
N
orway is a remarkable country full of culture and nature. Whether it is exploring its stunning fjords or strolling through its colorful streets, Norway will never let you get bored.
Yet, packing for Norway requires some planning. This Scandanavian country is beautiful all year long, but its weather and climate can be a little unpredictable. This also really depends on which extraordinary Norwegian site you choose to visit! With this solid packing list, you will fit in right with the weather abiding Norwegians. Get ready to enjoy every second and every inch of your Norwegian adventure!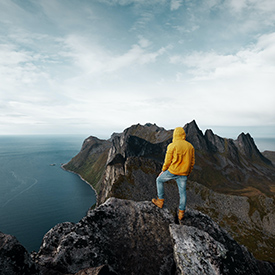 What to Pack for Norway – 17 Essentials
---

A trip to Norway is typically very active. You need to stay hydrated when exploring! This reusable water is an easy addition to any day pack. Norway is known for its high-quality tap water, especially in its major cities. But, there are still remote places where a water filter would be handy. This bottle is complete with a bulletproof carbon filter so that you have guaranteed clean water.
---

You will most likely need to wear layers in Norway. These cubes make separating and organizing all your clothing items simple. They are also great for all your other items too. These cubes keep your liquids packed safely. This protects your other items from any potential spills. Packing cubes seamlessly fit into any kind of luggage. Each cube even comes with little tags for total organization!
---

We know that time changes are not always easy to adjust to. If traveling from the U.S., Norway can be at least a 6 hour time difference. That is a quarter of a day! Fighting jet lag will help you get your exciting trip started faster. This mild medicine offers support before you even land, helping you save energy ready for your adventure to come.
---

This is a practical tool for all travel. Every country has unique electrical outlets. Norway typically uses a type f or type c plug. Either way, this universal adapter allows you to charge your electronics safely no matter where you are. And, it is equipped with two USB ports, for a more versatile charging experience.
---

Staying connected while traveling is much safer with a VPN. Instead of relying on just unsecure public WiFis, a VPN provides constant protection by setting up a private server. This keeps all your private information, from credit card to social security numbers, safe. Also, a VPN is set up in your home country, giving you complete access to sites available there, no matter where you travel.
---

It can get very rainy in Norway, especially in the Springtime. The country is notorious for its random downpours. A travel umbrella is a necessary accessory to keep you comfortable and dry. Its compact body is effortless to carry either around your wrist or in your day pack. This way you will fit in with the Norwegians, who are always prepared for the weather!
---

Visiting the stunning sites in Norway will definitely have you taking a lot of photos and videos. Whether it's your phone or camera, you do not want to miss a chance to capture a once in a lifetime moment. This small portable charger ensures you have constant charge all day long. It is a lightweight and easy addition to any day excursions.
---

This daypack is a must for your trip. No matter where you venture in Norway, there will be a lot of walking and hiking. A spacious and lightweight backpack is a necessity. This day pack is light and water-resistant. This means all your things can stay dry when the rain strikes. Also, this day pack is foldable, making it a great accessory to pack in your luggage if you already have enough carry on bags.
---

This is a natural detoxifier to have on you at all times. You never know when stomach trouble can strike, especially when trying new foods. Norway has some delicious foods to try. Activated charcoal pills are also great to keep your tummy happy while you are active. You wouldn't want a stomach ache to keep you from exploring the impressive Norwegian sites.
---

Norwegian weather can be very brisk, particularly in the evening. A reliable pair of winter gloves will keep your fingers protected. We suggest touch screen gloves so that you can remain active despite any cold temperatures. The gloves have touch screen sensitive fingertips so that you can capture epic photos without taking your gloves or mittens off.
---

Did we mention that Norway is made up of thousands of islands? That means a lot of water! This should not stop you from using electronics. This durable waterproof camera is a compact addition to your bag. It offers both HD cameras and video coverage. And, it comes at a cost that will not break the bank.
---

The daylight hours can seem neverending during Norwegian summers. Some days can have up to 19 hours of sunlight! This makes a sleeping mask absolutely essential for your Norwegian adventure. Also, flights to Norway can be long for many travelers. A sleeping mask is a great tool to improve your quality of rest when in transit.
---

Norway's many islands increase your chances of getting splashed at least once. A travel towel is a simple and lightweight accessory to bring wherever you go. It dries quickly and will not weigh you down no matter the adventure. Also, the summer months provide opportunities for whimsical swims. A travel towel will help you dry off, even if it is after a random rain shower.
---

When exploring all the natural Norwegian wonders, you may not encounter a restroom for hours on end. Hand sanitizer spray ensures you can keep clean whenever possible. These small bottles can be placed in a bag or jacket pocket. Their size makes them TSA compliant so that you can also keep your hands clean during air travel.
---

When traveling, lots of random events can occur. Setting up travel insurance before you depart is a bulletproof way to protect yourself. You can choose a plan that best suits your trip. Travel insurance also guarantees that your vacation will not end up costing a crazy amount, due to any crazy unforeseen events like theft or medical assistance.
Compare policies at TravelInsurance.com ➜
---

Norway is a country that prioritizes environmental protection. This DEET-free insect repellant spray prevents any uncomfortable insect bites, while also having zero effects on the environment. This makes adventures through natural wonders more carefree. This spray also comes in a large enough size to keep everyone on your trip protected from bites.
---

Norway can be chilly. Your feet are one of your most important assets when exploring. Keeping them warm and comfy will guarantee your excursions stay fun. These socks are moisture-wicking, shielding your feet from unnecessary moisture. This also with sweat and maintaining any potential odors. These all will keep your feet happy no matter the temperature.
Other Norway Packing List Items Not to Forget:
---
What to Wear When Visiting Norway
---
This truly depends on what time of year you visit Norway! Let's check out these stylish and reliable outfits to complete your Norwegian adventure.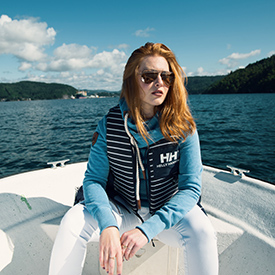 What WOMEN Should Wear in Norway: – (Click to expand)
Below is a sample women's clothing list. (All items link to Amazon.com for your convenience).
When it comes to the colder months, especially for those eager to see the Northern lights, layers are key. Thermals and a water-repelling parka are staples to wear. Both will ensure your core stays warm at all times. These should be paired with water-resistant pants and shirts. To finish off your outfit, waterproof hiking boots and warm knit socks will keep your feet comfortable at all times. And, don't forget a reliable winter hat to make sure your ears and head stay warm.
Warmer weather allows a little more flexibility in outfit choices. Always bring along a lightweight waterproof jacket or your favorite raincoat. A stylish outfit is always great, as long as it's water-resistant. Instead of leather accessories, opt for those made of more weatherproof fabric. For more active days, a sporty long sleeve t-shirt and soft jeans are an excellent match. If doing more simple city-strolling, you can even slip on a cute long sleeve dress with sandals or sneakers.

What MEN Should Wear in Norway: – (Click to expand)
Below is a sample men's clothing list. (All items link to Amazon.com for your convenience).
Cold temperatures are common in Norway. To feel comfortable and warm, men should always pack a waterproof parka, hat, and socks. This will keep all your limbs warm and comfortable so that you can stay super active. Underneath your parka, thermals and activewear are great go-to's. If venturing to more cold and snowy areas, a pair of snow pants are an absolute must.
When things warm up, men can dress more casually. Jeans and thick button-up shirts are awesome for both active and relaxed excursions. These pair effortlessly with a snug beanie and a lightweight rain shell, if the weather gets chilly. You can even wear shorts instead if the forecast shows some warmer temperatures. Don't forget supportive and stylish sneakers to keep your feet comfortable.

Winter

(December – March)

The winter months in Norway are dark and chilly. Darkness can last the entire day. Thermals are an absolute necessity to maintain warmth at all times. You can easily layer these with a lightweight sweater and water-resistant pants. Accessories are also key. Gloves, a wool scarf, and socks will sustain your body temperature, especially during long outdoor excursions.
Spring

(April – May)

Spring weather is pretty moderate in Norway. Keeping yourself dry is key in your outfit choices due to two main reasons. One, there is a lot of snow melting. And, it rains year-round in Norway. Make sure you wear waterproof socks and durable shoes. You will be on your feet a lot on your Norwegian adventure. Also, a lightweight rain jacket is great to wear or store in your day pack. Remember to choose a day pack that is waterproof and lightweight to keep all your belongings safe and dry.
Summer

(June – August)

Summer months bring the longest and warmest days to Norway. Lots of sunlight means you will need your sunglasses. You can rely on cotton t-shirts (either plain or button up) with shorts or jeans. You can even throw a bathing suit in your day pack if warm temperatures are expected. It is always wise to pack a cute raincoat to match your outfits. It can still rain sporadically; this will especially depend on where you are in Norway.
Fall/Autumn

(September – November)

The Fall is the wettest of months in Norway. You will experience a range of temperatures so it is best to check the forecast. In September, you can still enjoy summer temperatures. You should wear short sleeve t-shirts with shorts or jeans. Always bring along a lightweight rain jacket in your bag in case you get stuck in the rain. As October sets in, winter temperatures will arrive quickly. Accessories will help you here. Wool beanies, socks, and scarves will keep you warm during active adventures. Don't forget a reliable pair of waterproof hiking boots for optimal comfort no matter the occasion!


Dressing for Activities in Norway: – (Click to expand)

Hiking:

Hiking in Norway is an absolute treat! Since it often rains in Norway, you should make sure your clothing is light and waterproof. Quick-drying hiking pants and activewear t-shirts will be very useful. A pair of waterproof hiking boots is quite mandatory. You should always make sure they have excellent traction. Also, you will capture some incredible views no matter the season. Bringing along your waterproof camera in your lightweight day pack will ensure you never miss an epic shot.

Northern Lights: When getting ready to see the Northern Lights, you must remember that you will be near the Arctic! Layers will be your best friend to keep you warm. Slipping on thermals underneath your clothes will guarantee warmth. From there, you can slip on warm layers with your own style in mind. You will be taking some photos and having on a stylish outfit does help. Also, a reliable pair of touch screen gloves will help you to take photos while keeping your fingers cozy.

City Strolling: Norway has some super charming cities. Urban style in Norway is known for its minimalism. Dressing simply, but with your own flair is the best way to go. Button-up shirts and jeans are a very reliable combo. Also, you should always have your favorite raincoat on hand, in case there is random rainfall. A casual tote bag is always useful, especially if planning to go shopping. There are plenty of shops and markets to explore. This eliminates your need for disposable bags, supporting Norway's eco-friendly focus.

Scenic Drive: One of the best ways to explore Norway's fjords is by car. You can see the natural wonders and innovative architecture of the country. Jeans and a t-shirt are simple options to keep comfortable in the car. You should pair this with supportive sneakers for optimal mobility and safety while driving. When driving in warmer months, you should bring along a bathing suit, flip flops, and a travel towel. You never know when you will take a whimsical swim!

Sailing: Traveling along the fjords by boat is a magical experience. It allows you to truly capture the essence of the Norwegian islands. No matter the temperature, the sun can be bright and strong while sailing. You should always wear clothing that guarantees UV protection and dries quickly. A breathable rain jacket and comfy sweater are great to wear. We suggest bringing your dry bag to carry your reef-safe sunscreen and sunglasses.

Swimming: There are plenty of swimming opportunities in Norway! In fact, there are some lovely beaches to visit and enjoy the sun. For those, you should bring along a travel towel and reef-safe sunscreen. When venturing through the fjords, you will find some beautiful coves and natural pools to dive into as well. Water shoes are essential to safely and freely explore it all. Also, a sporty swimsuit and loose-fitting clothes are great go-to's. If both the weather and water are quite chilly, a wet suit is awesome to bring along too.

What NOT to Bring When Visiting Norway:
---
1)

DON'T BRING Non-supportive shoes
3)

DON'T BRING Leather clothing and accessories
5)

DON'T BRING Hairdryer
7)

DON'T BRING Euros

2)

DON'T PACK Deep v-neck shirts
4)

DON'T BRING Suede shoes
6)

DON'T BRING U.S. currency
6)

DON'T BRING Snorkeling gear

What NOT to Wear In Norway: – (Click to expand)
There are a few key things to not wear in Norway. This is mostly due to the weather. It rains year-round in Norway! Any items that would easily be damaged by water should be left at home. Leather shoes and bags are not advised, especially anything made of suede. Heavy knit wool sweaters should not be worn either, as they retain water easily when wet. If you expect to be very active, engaging in hiking and swimming adventures, you should avoid wearing any heavy jewelry.

FAQs to Know When Visiting Norway:
---
1. What language is spoken in Norway?
In Norway, they speak Norwegian. But, don't fret – almost everyone speaks fluent English.
2. What currency do they take in Norway?
The Norwegian Krone (NOK.)
3. What is the main airport in Norway?
The main and largest airport is in Oslo, the capital of Norway. There are also international airports in Bergen, Stavanger, Tromsø, Trondheim, Ålesund, Haugesund, and Sandefjord. Deciding which airport will depend on what your travel itinerary looks like.
4. What cities should I visit in Norway?
There are plenty of cities to see in Norway. You simply need to determine what city vibe you are searching for. Oslo is the biggest and most metropolitan city. There is also Bergen, the second-largest city, that showcases vibrant Norwegian culture while also providing easy access to the fjords. Finally, there is Ålesund. This smaller city boasts beautiful views and an incredible art scene.
5. What are fjords?
These are narrow bodies of water that separate the large mountainous islands in Norway. They make up the valley between the mountains.
6. How safe is Norway?
Norway is extremely safe. When visiting more crowded and touristic areas, however, you should be careful of pickpocketers.
7. What is Norwegian food like?
Norwegian food is very seafood driven (the country is made of over 50,000 islands!) The most popular fish you will find are herring (slid,) trout (orett,) and the iconic smoked salmon. The country is also famous for its delicious berries, served fresh or as jam. Also, do not miss out on Norwegian dairy. The country's unique brown cheese (brunost) is a must-try on local bread.
8. Can you camp in Norway?
Yes. There are many places to camp. It is always advised to look up the local rules in the area you intend to camp.
9. What time of year do you see the Northern Lights?
Typically, the Northern Lights can be seen between September and April. With more extended periods of darkness during the winter months, you will have much better visibility of the lights. Also, the best exact times will depend on where you are located.
Other Europe packing lists you may like…
Amsterdam | Barcelona | Camino de Santiago | Croatia | Europe | France | Germany | Greece | Hungary | Iceland | Ireland | Italy | London | Mediterranean Cruise | Paris | Poland | Portugal | Prague | Rome | Scotland | Spain | Switzerland | Turkey
Please note: We have over 200 packing lists covering practically every popular travel destination in the world. Access them all on our packing list overview page ➜