What is the best travel gear to bring when traveling with a baby?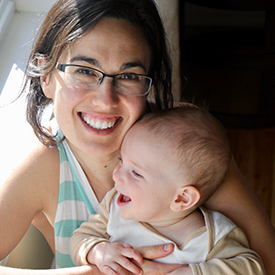 Hi All! My name is Lyric Fergusson.
I'm a mama of an incredible baby boy named Kingsley (pictured).
I fully understand how intimidating it can be to travel with a baby —especially for the first time. Not to mention there are so many baby travel gear options out there that sometimes it feels like your brain is going to explode!
In order to save you from mom-overwhelm-meltdown and endlessly Googling for the best of the best, my husband, Asher, and I came up with this list.
Below are the absolute necessities for traveling with a baby. I hope these picks make your baby travel headache-free (as it can be! 😉 )
(Click below or scroll to learn more) A good baby travel packing list would include the following items:
---
1) Travel Crib (a.k.a. Travel Play Pen)
Whether you're an avid co-sleeper or your baby is used to snoozing on his/her own, a travel crib or Playpen is an absolute necessity — especially for the 2 months plus crowd. Why?
1) Because you better believe that where you're going is not baby-proofed. Even if you have scores of family helping you at your destination, you will absolutely have times when you (or Grandma) will want to put the little one down in a safe place where he can play or sleep on his own.
2) Because your baby will sleep so much better in a crib that she is familiar with. I've had friends have "vacations from hell" because their babe refused to sleep for a week straight in an unfamiliar cot they got at the hotel. Do yourself a favor and get the travel crib before the trip. Let them play/nap in it before you head out. They will sleep so much better.
Here are my top 3 picks for the best travel crib (drum roll, please):
Option 1
Baby Bjorn Travel Crib Light ➜
(If quality and comfort are your main concerns)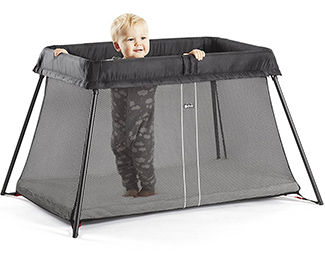 Pros: This is the Tesla of travel cribs. It is really really well made. It feels feather light (12 lbs.), is uber chic, and you can put it together and take it down in less than 10 seconds (without reading any instructions!). It has an extremely cushy mattress pad for baby to snooze on which lies flat on the floor.
Unlike the travel cribs whose mattress' hover inches above the ground, this design is awesome for spinal support and doesn't leave your baby wobbling around when they try to stand up/walk inside the crib. It comes with a sleek carry case that is super easy to take to and from the airport.
My little guy loves to play in it and has a blast bouncing around off the mesh siding! I love this crib so so much— and personally own it.
Cons: It's a bit pricey. But, you get what you pay for. You can usually find a color on sale via Amazon for about $60 off the asking price. Honestly, I can't think of any other cons…It's my first choice.
Also, don't forget to bring an appropriate travel sheet.
---
Option 2
Lotus Travel Crib and Portable Baby Playard ➜
(If easy access to baby and eco-friendliness are your main concerns)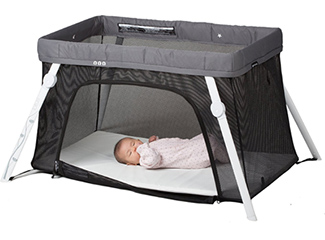 Pros: It has a super handy zipper. This is good for mamas with tiny babies and those who prefer to nurse their little ones to sleep while lying down. You can literally lay down with baby then scoot out and zip up once they are in dreamland.
The crib is decently easy to put together. It is the lightest of the travel cribs at only 8 lbs., and has a compact backpack carry bag. It also is the only travel crib out there that has been thoroughly tested for chemical emissions and certified to the GREENGUARD GOLD standard — which is pretty awesome.
Cons: Ok, I'm going to be a little harsh — because honestly, I know many mamas who really love this crib. But, the mattress is pretty damn thin and uncomfortable and has three very deep creases in it (where it folds up to be stored). I guess this mattress would be okay if you are just doing a few nights away? But I feel it would be really annoying for your little one on longer trips.
And, although it boasts that it is easy to put together, my husband did say a few curse words when trying to unfold the crib and shove it back in the bag the first time. Plus, it just doesn't feel as sturdy at the Baby Bjorn. (My opinion: 😉 Honestly, I don't understand why it gets 5 stars on Amazon.)
Again, don't forget to bring an appropriate travel sheet.
---
Option 3
Graco Pack n Play Playard ➜
(If price is your main concern)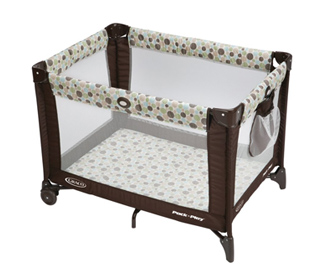 Pros: Best budget choice! It's under $50, easy to put together and folds up with the touch of a button. It's very sturdy and fits into a small carry bag, which makes it easy to check on flights or store in a closet at home. Really great choice for the price!
Cons: It's not the lightest of travel cribs, weighing in at 18 lbs. The mattress is also very thin and a few inches above the ground. This causes the mattress surface to be wobbly when the baby tries to stand or play. In my opinion, the lack of support also isn't the best for the little one's spine, but for short periods of time I think it is fine.
One thing to consider is you might want to buy a thicker travel mattress to give your baby some added support. But, this will run you an extra $30-$70 — plus give you another thing to shlep around.
Please note: Since most of these cribs/playpens are good till your bubba is 3 years old, I strongly feel the investment will be well worth it in the long run. Bonus Tip: You can check travel cribs, strollers, and car seats for free on most airlines.
Check out our full review HERE: 7 Best Travel Cribs for Babies and Toddlers ➜
---
2) Lightweight Travel Stroller
If you feel a-ok lugging a 40-60lb. stroller in and out of a tiny rental car in Minnesota, trying to fold up your clunky jogging stroller when entering a restaurant in Italy, or lugging your $300 prize possession up three flights of stairs to get to your Auntie in Canada, more power to you!
But, if this doesn't sound like your cup of tea… Get a 10-15 lb. travel stroller!
Here are my top 3 picks for the best lightweight travel strollers:
Option 1
The gb Pockit Stroller ➜
(If weight and compactibility are your main concerns)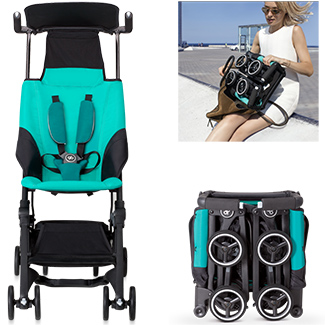 Pros: This stroller is freakin' magical. Weighing in at only 9.5 lbs., it is by far the most convenient travel stroller out there. It will save you when you have a tight connection. And yes, it FITS IN YOUR PURSE. Don't believe me? Watch the video on Amazon.
Cons: Yes, it's a bit pricey. It doesn't recline, although many moms say it's comfortable enough for napping. It doesn't have very much storage space for your belongings, or a huge canopy but with stroller clips you can make up for the lack of covering and attach diaper bags etc. But honestly what do you expect? It fits in your purse or backpack!
---
Option 2
Summer Infant 3Dlite ➜
(If price is your main concern)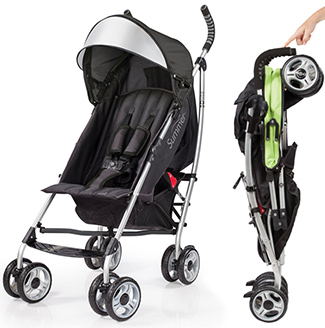 Pros: It is around $60, only 13 lbs, folds compactly, and has 4 different recline positions. Because it's so inexpensive, you won't feel bad if it gets a scrape or two when you check it for your flight. Theoretically it can be collapsed with one hand, although many moms say it's easier with two.
Cons: It's not the most sturdy stroller, but for the price, it's pretty well made. Some feel it's a bit low to the ground, and so when baby is 2 or so, they might have to bend their knees to keep their feet from dragging. It also isn't as compact as the other travel strollers, and you won't be able to put it in the overhead compartments on the plane.
---
Option 3
The Baby Home Emotion ➜
(If quality and comfort are your main concerns)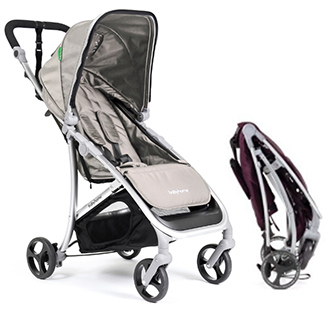 Pros: The Emotion is really well made and very luxurious for your baby. It's ultra lightweight (only 13 lbs.) and super maneuverable, making it great for travel, errand running and keeping up with lots of in and outs. Yet, this stroller still gives your child the comfort and amenities associated with a full-sized everyday stroller.
The wheels are large enough to handle just about any surface, and have shock absorbers and ball bearing mounts to ensure a smooth ride and incredible maneuverability. You'll be able to turn it on a dime in the tightest of spaces, even when pushing one-handed. As if that wasn't enough, it's also got a fully adjustable 5-point harness and 150-degree adjustable reclining back.
Cons: Despite its other features, this stroller has no carry handle and can't be folded or unfolded with one hand. Some parents complain the handlebar is too low, so that's something to consider if you're on the taller side. Lastly, it's probably no surprise that a stroller like this doesn't come cheap, although you can find certain colors on Amazon for under $250.
Didn't like my options? Try the Mountain Buggy Nano 2015 it is also only 13 lbs and folds very compactly.
Check out our full review HERE: 7 Best Travel Strollers for Babies and Toddlers ➜
---
3) Travel High Chair
Whether you're visiting family in Kansas or staying at an Airbnb in Paris, you better believe you are going to want a travel high chair.
Another option is a travel booster seat.
---
4) Multi-Purpose Catchall Mat
---
5) Travel Car Seat
Evenflo Tribute LX Convertible Car Seat is my top pick. It's 9 lbs., and the list price is $69 (often you can get a color on Amazon for under $50.) It works as a rear seat for infants or a forward facing seat until your bub is 40 lbs. Although not as durable as the everyday brands, this is a great travel car seat and will serve its purpose. You will thank me – I promise!
(If the Evenflo doesn't feel quite right try: Graco Contender 65 Convertible Car Seat It's heavier but slightly more cushiony for baby.)
---
6) Car Seat Travel Cart
A Car Seat Cart might seem a bit overkill but really, it's a life saver. This is how you will lug your carseat across a crowded airport —sprinting— and actually make your connection.
Want to check your stroller with your baggage? You can use this Travel Cart in lieu of a stroller at the airport by putting your baby in his carseat and toting him along in this puppy.
Not planning to check your stroller? Just use it as a streamlined way to haul the car seat quickly so you don't break your back and miss your next flight. Even if you have a 9 lb. travel car seat, this caddy will make your trip so much smoother!
---
7) Sleep Sack
The Woolino Sleep Sack is a must have.
Why is this so awesome? It has saved us from traveling with blankets, which took our luggage weight down considerably. It's 100% natural, made from premium soft hypoallergenic Australian merino wool, has a certified organic cotton outer shell, and is machine-washable. The merino wool layer regulates body temperature so it's comfortable for baby from temperatures as low as 60deg to as high as 77deg (depending on how you dress baby underneath the sack) and is a great way to keep baby cozy on an airplane.
---
8) Eating Smock & Silicone Bib
Ok mamas and papas, how many times have you been out at a restaurant and the little one somehow manages to bypass their bib and get themselves so immensely dirty that you need to give them a baby wipe wipe-down and change every piece of clothes on their body?
Well here is my husband's amazing travel hack that has kept our little dude pretty freakin' clean!
The Happy Parent silicone bib is great because it is also super easy to clean — you just rinse it in some soapy water when you get back to your hotel and it dries super fast.
View on Amazon.com ➜
---
9) 2 Wet/Dry Bags
---
10) Packing Cubes
---
11) Insulated Food Jar
View on Amazon.com ➜
---
12) Night Light
---
13) Baby Carrier
---
14) Snot Sucker
Works SO much better than those snot sucking bulbs! The Nose Frida is amazing for immediately de-clogging your little one's nasal passages. (And my little guy lets us do it and actually thinks it's kinda cool.)
Amazing. Portable. Easy to use. Easy to clean. BOOM. Don't forget extra filters
---
15) Homeopathic Remedies First Aid Kit
Don't leave home without these remedies. They are natural, safe, effective, and don't cause harmful side effects. They have saved us repeatedly during teething, tummy aches, or crabby spells. I can't recommend them enough.
Despite the grape flavor, these drops have no artificial flavors or dyes. They provide natural relief for all the symptoms that come along with gas, like bloating, colic, constipation, and restlessness.
If your baby is fussy or won't sleep, give these tablets a try. They're quick-dissolving and provide immediate relief, so you can both get back to sleep.
If your baby's been diagnosed with an earache, these all-natural drops will help relieve symptoms like fever, pain, irritability, and sleeplessness. The dosing dropper makes it super easy to apply the drops.
---
16) Diaper Backpack
This is a diaper bag that doesn't scream "diaper bag," and it's lightweight, which makes it great for travel. It's got 8 pockets to hold everything from diapers to a water bottle to your cell phone. And if you spill milk (or baby pukes on the bag), no problem! The wipe-clean material is super easy to clean. Bonus: It comes with a matching changing pad.
View on Amazon.com ➜
---
17) Dr. Bronner's Lavender Hand Sanitizer
So… there are a lot of germs in airports! This is harmless and smells yummy too. You can even spray on baby's hands. View on Amazon.com ➜
---
18) Stroller Clips
Since travel strollers often don't have large canopies, parents might need to drape a blanket to block light and keep bugs out. But there's a good chance that blanket will eventually end up on top of baby, tangled in the stroller's wheels, or on the ground somewhere. Enter stroller clips: they'll secure the blanket just where it needs to be, so your baby can sleep peacefully and you can push them easily. And even if you don't need to hang a blanket that day, stroller clips are great for attaching the diaper bag, your purse, baby's toys, or really anything else to the stroller.
---
19) Inflatable nursing pillow
Like other types of pillows, the best nursing pillow for travel is an inflatable one. Once deflated, it weighs almost nothing and packs down flat. This one is easy to inflate and deflate and comes with a washable cotton cover, and it's good up to 22 lbs.
View on Amazon.com ➜
Additional Baby Travel Gear to Consider
---
What not to bring
---
FAQs about traveling with a baby
---
1) Does my baby need a passport?
Yes. Regardless of their age, your baby needs a passport for international trips, including to Canada. To get them a passport in the U.S., you will need a copy of the birth certificate and two 2×2 photos of the baby (from the shoulders up), and both parents need to come with the baby to a passport acceptance facility. Single parents must present a custody agreement, and if one parent is not able to come (such as if they're stationed elsewhere), a signed and notarized Form DS-3053 will also have to be presented.
2) How should I choose a hotel when traveling with a baby?
To minimize your time schlepping everything around, look for a hotel that's near the attractions you plan to visit or at least near public transportation if you'll be using it.
Having quiet at nighttime is key, so try to avoid hotels on busy streets, as well as older buildings, which may not have good soundproofing.
You'll probably need to do laundry at some point, so check for either coin-op laundry in the hotel or a nearby laundromat.
Try to find a hotel with large rooms, which will allow plenty of space to set up a crib or playpen.
Make sure the bathroom has a tub, and not just a shower, which seems to be getting more common.
Even if the room doesn't have a full kitchen, it's useful to at least have a refrigerator, as well as some counter space to make bottle-washing easier.
If you're not planning to bring a travel crib, call the hotel before you book to double-check that they'll provide one.
3) What should I do to baby-proof our hotel room?
Ask before you arrive if the hotel offers baby-proofing supplies (or even baby-proofed rooms).
Check that all the furniture in the room (including the TV) is stable.
Check the floor (including under the bed) for anything a baby could put in their mouth: coins, rocks, pills, bottle caps, etc.
Put duct tape over the outlets.
Tape foam squares over any sharp corners near the floor.
Tape the toilet lid down.
Tape any electrical cords to the furniture out of baby's reach.
4) Does my baby need a plane ticket?
Different airlines have different policies on infant travel, but buying a ticket for children under two years old is usually optional. Without a ticket, the baby has to be held on your lap throughout the flight, and some airlines charge a "lap child fee," especially for international flights. If you're planning to fly with a child in your lap, you should inform the airline in advance. But if you'd rather not have a separate seat for your baby, you can book them one at a child fare.
5) Which airlines are the most baby-friendly?
The best airline for you depends on what's most important to you when it comes to flying with your baby. These airlines are regularly rated as the most family- and child-friendly:
Eithad: Their Flying Nannies are special flight attendants whose job is to help you fly with your baby, and they also offer a bottle-warming service on board.
Emirates Airlines: The Dubai airport provides complimentary strollers, and the airline provides children on the plane with an entertainment kit that includes blankets and a fuzzy "We Fly With Me" stuffed animal.
Air New Zealand: Their Economy Skycouch connects three seats and converts into a bed for comfort and easier sleeping, and the airline also provide bassinets on board.
6) How much baby food and milk/formula can I bring in my carry-on luggage?
As much as you'll need for the flight. Baby food, formula, and milk are exempted from the 3-ounce rule for liquids, but you do need to declare it at security so it can be inspected separately. Even for parents traveling with children, water is still not allowed, so plan to buy it or fill up your bottle once you've passed through security.
7) How can I help my baby sleep on the plane?
If you'll be using a bassinet, book a front row seat if possible to make sure there's plenty of space. Consider bringing a sleep sack to keep them more comfortable and a blanket or scarf to drape over the bassinet and block out light. And of course, bring their pacifier and any favorite toys. Feed your baby during take-off, which will help help pop their ears, reduce discomfort, and calm them down.
How many diapers do I need to bring on a trip?
A good rule of thumb is to bring one diaper per hour of flight or car time, but it's always a good idea to bring some extras beyond that, just in case.
8) Can I go camping with a baby?
If you've never been camping before, this might not be the best time to get into it. Otherwise it's a good idea to get an okay from your pediatrician first, but many families do go on camping trips with infants. You'll just want to be more aware of weather, drive time, cleanliness, and supplies, and it probably goes without saying that your baby likely won't sleep through the night in a tent.
9) What are the best places to travel with a baby?
Depending on your travel preferences, beach destinations and national parks can make for great baby-friendly getaways. Alternatively, all-inclusive resorts make things easy and will usually provide all the amenities you need. Of course, a staycation or a visit to family or friends are good options, too.
Here's a link to the relevant car seat rules for the major US airlines so you can be prepared for your next flight:

---