Updated on by Lyric Fergusson
H
i All! My name is Lyric Fergusson. My husband, Asher, and I are the parents of two incredible babies named Kingsley and Aurora (pictured). Our little ones have been with us to France, Italy, Mexico, Belize, Honduras, South America, five Caribbean Islands & on a road trip to California and the Grand Canyon — and having them along has been amazing and mostly stress-free!
This said, as a mama, I fully understand how intimidating it can be to travel with a baby, especially for the first time.
We feel that having the right gear is key to making a family trip a truly enjoyable one, and we believe it is a large part of why we've had such stress-free travels with our babies.
17 Essential Baby Travel Items
---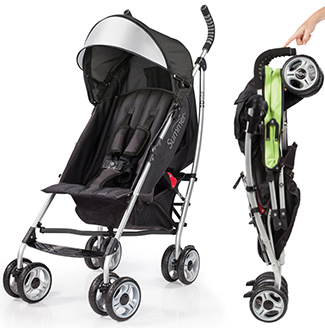 Airport security rules state that any stroller that weighs over 20lbs (9 kgs) must be checked at the ticket counter.
Mamas, this means if your stroller exceeds these weight limits, you will be schlepping your baby and ALL of your bags through the airport with no stroller. Suffice it to say you'll regret the decision to bring a too-heavy stroller.
This Summer Infant 3DLite is our top travel stroller pick. It's inexpensive, durable, only 13 lbs, and has a multi-position recline that goes practically flat for an on-the-go nap. It fits in the smallest of trunks and we've even hauled it (pretty easily) up and down six flights of stairs in Paris. We love it.
---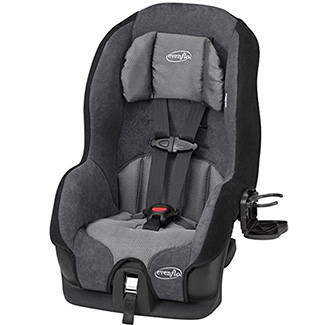 I would never put my baby in a car without a carseat. However, I cannot imagine lugging around our 35 lb car seat across the airport, let alone Europe!
Travel car seats are great because they are considerably lighter than the more expensive day-to-day brands.
Evenflo Tribute LX Convertible Car Seat is my top pick. It's 9 lbs., super inexpensive, so easy to install — and really safe/well-made for the price. It works as a rear seat for infants or a forward-facing seat until your bub is 40 lbs.
Note: All airlines will check your car seat at the ticket counter free of charge.
---
3. Travel Crib (a.k.a. Travel Play Pen)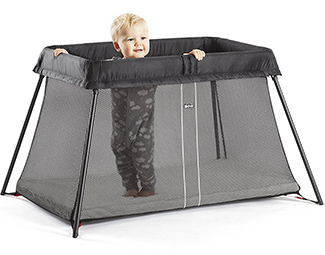 In our experience, the Baby Bjorn Travel Crib is the best of the best when it comes to travel cribs. It's only 12 lbs, really well-made, and you can put it together and take it down in less than 10 seconds (without reading any instructions!). The crib has an extremely cushy mattress pad that lays flat on the Earth, unlike most travel cribs where the mattresses hover above the ground and wobble whenever your baby shifts during the night (sounds comfy, right?).
It even comes with a chic, easy-to-carry case. Our little guy has slept beautifully through the night on every trip we have ever taken and I really think it is because of this crib.
Helpful tip: Get the travel crib before the trip. Let them play/nap in it before you head out. They will sleep so much better.
Note: All domestic airlines will check your crib at the ticket counter free of charge. I always check with international carriers about their policy prior to traveling.
---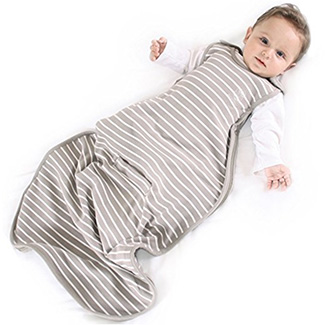 I love the Woolino sleep sack! It is 100% natural, made from premium soft Australian merino wool, has an organic cotton outer shell, and is machine-washable. It also regulates the body temperature and is comfortable for baby from external temperatures as low as 60°F (16°C) to as high as 77°F (25°C).
It's a great way to keep baby cozy on an airplane, and so helpful for unpredictable temperatures in hotels or and even at grandma's house. One extra bonus: we don't have to travel with many blankets which keeps our luggage weight down.
---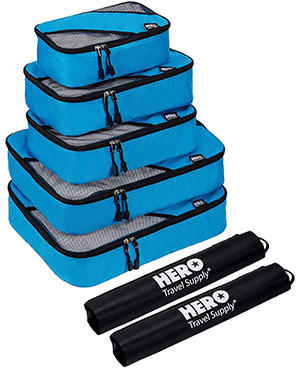 If you have ever dug frantically into a suitcase looking for a single clean baby sock while your whole family is downstairs waiting for you, you will understand why packing cubes are a necessity! I usually put my son's t-shirts and shorts in one cube, his long-sleeved sweaters and pants in another, and accessories in another. It really helps us stay organized!
Available on HeroTravelSupply.com with an exclusive 15% discount using the coupon code "HERO".
---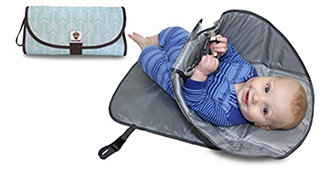 My husband and I use the Snoofy Bee changing pad religiously during travel because it keeps our little guy's arms contained when we are changing him in seriously dirty places.
We have used it on the airport floor, in the Louvre, and in Caribbean bathrooms that had no changing tables. Yuck! It's honestly the bomb and really worth the spend for travel.
---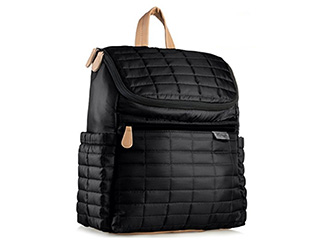 Diaper backpacks are awesome because they allow you to have two free hands when traveling. This diaper bag from Maman is stylish, lightweight, and won't break the bank. It also has 8 pockets to hold everything from diapers to a water bottle to your cell phone. And if you spill milk (or baby pukes on the bag), no problem! The wipe-clean material is super easy to clean. Bonus: It comes with a matching changing pad in case you forget your Snoofy Bee!
---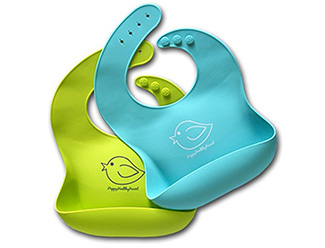 These amazing silicone bibs from Happy Healthy Parents are great because they have a handy lip that catches even the goopiest of foods. They are super easy to clean — even in small cruise ship sinks.
When baby is done eating, just throw it in a Wet-Dry Bag and rinse it later in some soapy water. It dries super quickly.
---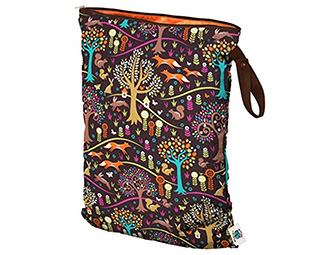 Bring one for dirty diapers and one for soiled clothes and bibs. It makes life so much easier and poop won't get all over your dirty bibs.
I like Planet Wise wet diaper bags, and the smallest size is inexpensive (about what you would easily spend on a week's worth of Ziplocs). Plus you are helping Mother Earth by going reusable. 😉
---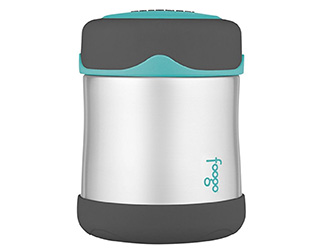 This jar has saved us so many times. If your baby is eating solids but is picky, likes warm snacks, or is just not into eating restaurant food yet (and you aren't too keen on always giving them jars of pre-packaged food), I would bring along one of these. You can bake them a yam at grandmas or order some steamed veggies at your hotel and throw the food in the Foogo Thermos, and it will stay warm for hours while you tour Rome or head to the beach.
---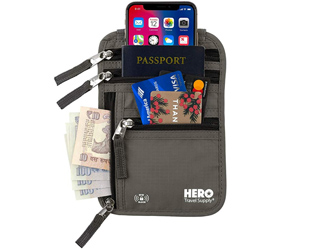 When traveling domestically or internationally with a little one, things can quickly get hectic while going through airports etc. The neck wallet pictured makes it super easy to keep track of where your families passports, phones, credit cards, cash and plane tickets are, while at the same time preventing pickpockets from ever getting their hands on them. My hubby wears his with all four of our families passports and when we're in crowded places he conceals it under his shirt. This one also comes with a lifetime replacement guarantee.
---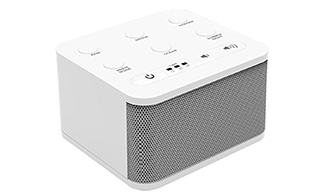 This was the best purchase we made before our Caribbean cruise adventure. Both at our hotel in Puerto Rico and on the cruise itself we had to deal with some really rowdy people yelling at all hours of the night. We were kind of shocked: our little dude slept peacefully through the night when we had this white noise machine on. I won't travel without it now. You never know who is going to be your neighbor!
---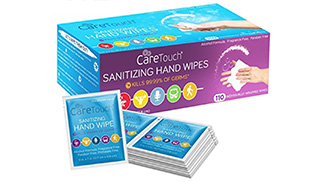 These are awesome! They are cheap and I have used them to wipe down airline trays, restaurant high chairs, bathroom changing tables (and of course our hands) while traveling. They fit easily in your diaper bag or your coat pocket without being bulky. 5 stars in our book.
---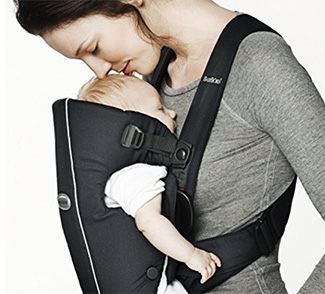 Ok, I know most of you probably already have a baby carrier but I have to mention this Baby Bjorn Carrier because it's been amazing for us while traveling.
It's inexpensive, really comfortable, not bulky, and can easily fold up and fit under the stroller. We even use it as a portable high chair!
How? Well when my little dude was too tiny to fit in a restaurant high chair but was eating solids he could comfortably have his entire meal while strapped to my hubby. It made eating out really stress-free, plus the carrier is super easy to wipe and wash.
---
15. Homeopathic First Aid Kit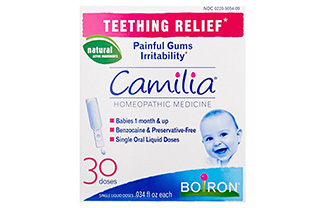 Don't leave home without these remedies – we certainly don't. They are natural, safe, effective, and don't cause harmful side effects.
They have saved us repeatedly during teething, tummy aches, or crabby spells. I can't recommend them enough.
---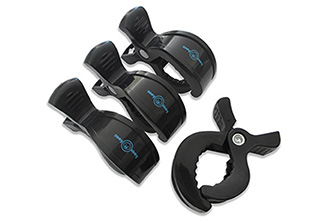 Whether you are using a blanket to block out the sun or to keep your little one warm, stroller clips are awesome because they'll secure the blanket just where it needs to be. That way your baby can sleep peacefully — and you can push them easily (no more blankets getting tangled in the wheels, blown off by wind, or dragged on the floor).
Stroller clips are also great for attaching the diaper bag, your purse, baby's toys, or really anything else to the stroller.
---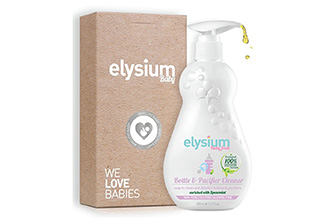 Cleaning bottles, sippy cups, bibs, and pacifiers on the go can be a bit of a challenge, I know! And it's really hard to get to a destination and realize you have no soap to wash your bubba's stuff (story of my life in the Caribbean…whoops!)
I now bring along baby-safe dish soap so that I can be sure that all of Kingsley's belongings stay clean even when I'm rushing to wash them in a tiny bathroom basin.
Baby Travel Accessories To Make Your Life SO Much Easier
---
Stroller Protector Bag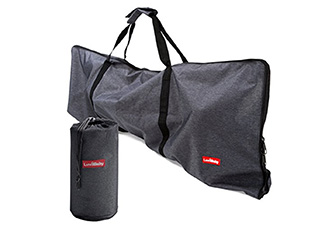 You'll have to check your stroller at the gate between flights and this bag will save it from getting wet or damaged as the flight crew is literally throwing it on and off the belly of the plane.
The Luvd Baby Stroller Bag is extremely sturdy and streamlined which is helpful when moving the stroller in and out of taxis, hotels, and rental cars, and it has a long set of straps that make carrying the stroller a breeze.
---
Car Seat Protector Backpack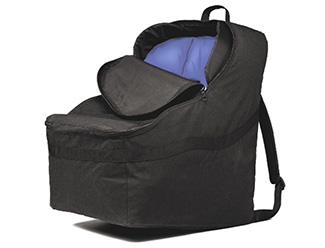 Many parents complain that their Car Seat has gotten dirty, cracked or damaged when they've traveled — especially if they check it at the ticket counter. Because of this bag, we've never had any trouble.
It's padded, and although you might look a little ridiculous with it on your back, I can't tell you how nice it is to have two free hands when you are trying to wrangle multiple children and luggage. I'm a pretty tiny woman and I can very comfortably wear it while using my hands for other things.
---
Sheets For Your Travel Crib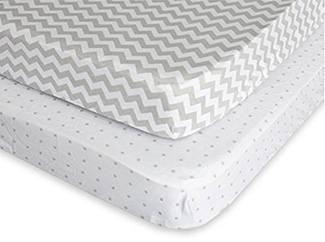 If you are bringing a travel crib, don't forget the travel crib sheet. I like this brand and it comes in a two pack which is really helpful.
In Paris I only brought one sheet and it ended up getting really dirty, and we had no place to do laundry. It was a bit frustrating. Now I always travel with 2 sheets, especially for trips longer than a few days.
Additional Baby Travel Gear to Consider
---
What NOT to bring when traveling with baby
---
1)

DON'T BRING a bulky stroller (no jogging strollers!).
They're hard to get in and out of a small rental car, and almost impossible to lift when you're juggling baby AND luggage at the same time (and don't even think about trying to collapse it!).
2)

DON'T TAKE a bulky car seat.
A big, heavy car seat also makes it hard to hold baby and deal with luggage, and even harder to run through the airport to catch your flight! Plus car seats can get damaged when traveling, so you don't want to be using an expensive one.
3)

DON'T PACK cloth diapers.
Cloth diapers are eco-friendly, but don't feel bad if you don't want to mess with them when traveling. They create a lot of extra work, and you'll already be plenty busy traveling with a baby.
4)

DON'T BRING heavy toys.
There's no need to lug around your baby's heaviest toys when you're traveling. Bring their lightweight ones instead, and you can always buy a few new toys at your destination for added fun!
5)

DON'T PACK too many blankets.
It's tempting to think you should bring tons of extra blankets "just in case." Just don't. Go for a sleep sack instead – they're easier and they stay put on their own. Bringing extra blankets is asking for weight, bulk, and extra laundry!
6)

DON'T TAKE too many diapers.
Disposable diapers are bulky, so think about how many you'll need before you pack (do bring some extras – just not too many extras!). Better yet, have
Honest Company Diapers
ship a pack to your location, or if you're going overseas, just buy them when you arrive.
7)

DON'T BRING heavy baby books.
Maybe you want to use your vacation time to catch up on some reading, but this is not the time to tackle that 500-page book on everything you're doing wrong as a parent. You're on vacation, treat yourself to some light beach reading instead, and make it even more convenient by using a
Kindle
.
8)

DON'T PACK too few baby clothes.
I know this sounds odd, but it's a balance. Of course you don't want your suitcase to be too heavy, but you don't want to spend your whole trip washing either. And honestly, it's not like baby clothes weigh much!
9)

DON'T TAKE full-sized bottles.
Traveling with a baby means packing lots of liquids (baby shampoo, baby lotion, dish soap, etc.), on top of your own toiletries. So many regular-sized bottles will be way too heavy, so pack all your liquids in travel-sized containers instead.
10)

DON'T PACK too many disposable items.
No matter where you're traveling, you'll probably be able to get things like wet wipes, tissues, and plastic bags pretty easily. So just bring as many as you'll realistically use, and know that you can easily pick up more if you end up needing them.
FAQs about traveling with a baby
---
1) Does my baby need a passport?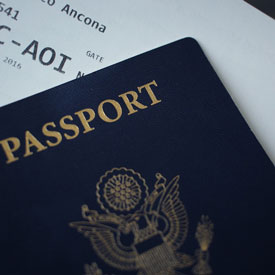 Yes. Regardless of their age, your baby needs a passport for international trips, including to Canada.
To get them a passport in the U.S., you will need a copy of the birth certificate and two 2″x2″ photos of the baby (from the shoulders up), and both parents need to come with the baby to a passport acceptance facility. Single parents must present a custody agreement, and if one parent is not able to come (such as if they're stationed elsewhere), a signed and notarized Form DS-3053 will also have to be presented.
2) How should I choose a hotel when traveling with a baby?
To minimize your time schlepping everything around, look for a hotel that's near the attractions you plan to visit or at least near public transportation if you'll be using it.
Having quiet at nighttime is key, so try to avoid hotels on busy streets, as well as older buildings, which may not have good soundproofing.
You'll probably need to do laundry at some point, so check for either coin-op laundry in the hotel or a nearby laundromat.
Try to find a hotel with large rooms, which will allow plenty of space to set up a crib or playpen.
Make sure the bathroom has a tub, and not just a shower, which seems to be getting more common.
Even if the room doesn't have a full kitchen, it's useful to at least have a refrigerator, as well as some counter space to make bottle-washing easier.
If you're not planning to bring a travel crib, call the hotel before you book to double-check that they'll provide one.
3) What should I do to baby-proof our hotel room?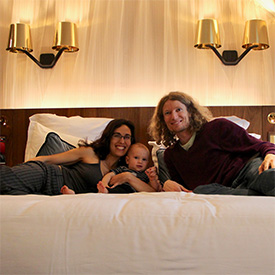 Ask before you arrive if the hotel offers baby-proofing supplies (or even baby-proofed rooms)
Check that all the furniture in the room (including the TV) is stable
Check the floor (including under the bed) for anything a baby could put in their mouth: coins, rocks, pills, bottle caps, etc.
Put blue painter's tape over outlets.
Tape foam squares over any sharp corners near the floor
Tape the toilet lid down
Tape any electrical cords to the furniture out of baby's reach
4) Does my baby need a plane ticket?
Different airlines have varying policies on infant travel, but buying a ticket for children under two years old is usually optional. Without a ticket, the baby has to be held on your lap throughout the flight, and some airlines charge a "lap child fee," especially for international flights.
If you're planning to fly with a child in your lap, you should inform the airline in advance. But if you'd rather have a separate seat for your baby, you can book them one at a child fare.
5) Which airlines are the most baby-friendly?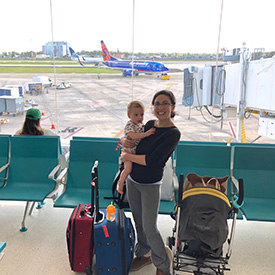 The best airline for you depends on what's most important to you when it comes to flying with your baby. These airlines are regularly rated as the most family- and child-friendly:
Eithad: Their Flying Nannies are special flight attendants whose job is to help you fly with your baby, and they also offer a bottle-warming service on board.
Emirates Airlines: The Dubai airport provides complimentary strollers, and the airline provides children on the plane with an entertainment kit that includes blankets and a fuzzy "We Fly With Me" stuffed animal.
Air New Zealand: Their Economy Skycouch connects three seats and converts into a bed for comfort and easier sleeping, and the airline also provide bassinets on board.
6) How much baby food and milk/formula can I bring in my carry-on luggage?
Bring as much as you'll need for the flight. Baby food, formula, and milk are exempted from the 3-ounce rule for liquids, but you do need to declare it at security so it can be inspected separately. They run a harmless test on excepted baby liquids, and once they're done they will reseal it and give it back to you.
Even for parents traveling with children, water is still not allowed, so plan to buy it or bring a reusable filtered water bottle to fill up once you've passed through security.
7) How can I help my baby sleep on the plane?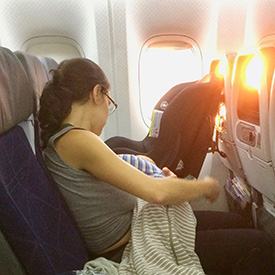 Parents planning on using a bassinet, book a front-row seat if possible to make sure there's plenty of space. Consider bringing a sleep sack to keep them more comfortable and a blanket or scarf to drape over the bassinet and block out light. And of course, bring their pacifier and any favorite toys. Feed your baby during take-off, which will help pop their ears, reduce discomfort, and calm them down.
8) How many diapers do I need to bring on a trip?
A good rule of thumb is to bring one diaper per hour of flight or car time, but it's always a good idea to bring some extras beyond that, just in case.
9) Can I go camping with a baby?
If you've never been camping before, this might not be the best time to get into it.
Otherwise, it's a good idea to get an okay from your pediatrician first, but many families absolutely go on camping trips with infants, and have plenty of fun! You'll just want to be more aware of weather, drive time, cleanliness, baby-safe insect repellent, and supplies, and it probably goes without saying that your baby likely won't sleep through the night in a tent.
10) What are the best places to travel with a baby?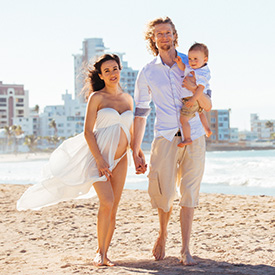 Depending on your travel preferences, beach destinations and national parks can make for great baby-friendly getaways. They tend to be mellow and allow for a lot of flexibility with your schedule and activities.
Alternatively, all-inclusive resorts make things easy and will usually provide all the amenities you need – plus they tend to be VERY fun!
Of course, a staycation or a visit to family or friends are good options, too, and will probably feel a little more familiar to you and baby.
11) What kinds of things are required when flying with a baby? Do I have to have a special seatbelt?
YES, you do need a special seatbelt for toddlers and up to a certain weight. Babies will likely need their own carseat, or you can typically hold them in your lap. If the airline doesn't require you to purchase a ticket for a lap-child, this is a great way to save money as long as you're comfortable holding your little one the whole time.
In instances like this it's handy to have a baby sling which can be tightened to hold baby close, or loosened to act as a lap-cradle to relieve your back and arms while baby sleeps.
Verify the TSA requirements for traveling with small children here.
Here are some links to the relevant car seat rules for the major US airlines so you can be prepared for your next flight:
Other packing lists you may like…
2-Week Trip | 3-Day Trip | Baby Packing List | Bachelorette | Backpacking | Beach | Birthright | Bonnaroo | Burning Man | Business Trip | Cabin | Camping | Canoe Trip | Car Camping | Carry-On | Castle Trip | Cheerleading Camp | College Dorm | Convention | Cruise | Day Hike | Deer Hunting | Desert Trip | Destination Wedding | Diaper Bag | Digital Nomad | Disney | Disney Cruise | Elk Hunt | Fall | Float Trip | Flight | Girl Scout Camp | Girls | Glamping | Golf Trip | Honeymoon | Hostel | International | Island Vacation | Kids | Lake House | Long-term | Men's Packing List | Minimalist | Motorcycle | Moving Abroad | Music Festival | Overnight | Peace Corps | Resort | Road Trip | Round The World | Ski Trip | Snowboarding | Spring Break | Study Abroad | Summer Camp | Summer Vacation | Teen | Theme Park Trip | Toiletries | Toddler | Tropical Vacation | Ultralight | Wedding | Winter Vacation | Weekend | Zoo Trip
Please note: We have over 200 packing lists covering practically every popular travel destination in the world. Access them all on our packing list overview page ➜