Updated on by Asher Fergusson
K
enya is a spectacular country wear wild animals like elephants, lions, and giraffes roam free. Whether you are looking to go on a safari, hike Mount Kenya, learn about the culture from local tribes, or relax on a beach, Kenya has a lot to offer.
Keep on reading, to find out what you need to pack for your Kenyan adventure!
We have a section on what to wear in Kenya, what NOT to bring and answer many important FAQs. Have a great trip!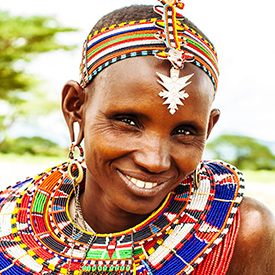 What to Pack for Kenya – 17 Essentials
---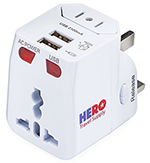 In Kenya, the standard voltage is 240 volts. If you're coming from North America, you will need to use a reliable universal power adapter. This one is awesome because it works in nearly every country and includes USB ports so you can charge multiple devices at once.
---

Kenya is full of hiking and adventure activities and you won't want to visit without a good pair of hiking boots. You'll definitely want comfortable, closed-toe shoes when you're hiking or walking through the bush to protect your toes from scorpions, snakes, or anything else you wouldn't want to expose your feet to!
---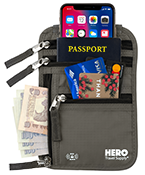 Pickpocketing and petty theft are pretty common in major cities like Nairobi and Mombasa. Protect your cash, credit cards, passport, and smartphone by securing them in a neck wallet like this one which can be worn underneath your clothes.
---

Binoculars are an essential item if you plan on going on safari. Many animals like leopards and lions tend to keep their distance which makes them difficult to spot without a good lens. Don't miss out on the fantastic wildlife that Kenya is known for by forgetting to bring binoculars!
---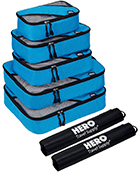 To help yourself stay organized and avoid overpacking be sure to use packing cubes. These can easily fit in your hand luggage and help keep your clothing wrinkle free and in order. This set comes in a variety of fun colors and includes separate cases for your shoes and dirty
Available on HeroTravelSupply.com with an exclusive 15% discount using the coupon code "HERO".
---

Under the hot African sun, you'll need to stay hydrated by always carrying a water bottle with you. Unfortunately, the tap water in Kenya is not safe to drink, so instead of buying endless plastic water bottles, opt for a handy LifeStraw reusable water bottle that comes with a filter to prevent you from ingesting germs.
---


There are many countries which have restricted access to websites that may be available in your home country. To ensure you can view any site around the world, connect to a reliable VPN. This will also be a lifesaver when connecting to WiFi in public places, as it will protect your personal information from potential hackers.
---

In Kenya, the power supply is unreliable and often goes out without notice. Unless your accommodation has a generator, it is a good idea to bring a flashlight for unexpected power outages. This will also come in handy when you're on safari and need a light to guide the way in evenings.
---

In Kenya, you're likely to be using your phone and camera throughout the day, whether it be for photos, navigation, music, or anything else. You won't want to worry about your devices running out of battery at an inconvenient time, so toss this small portable charger in your backpack and use your electronics all day long.
---

Malaria is prevalent in Kenya so it is very important that you always wear mosquito repellent and take the proper precautions. In addition to wearing bug spray, these insect repellent bracelets offer a great and easy layer of added protection and last up to 300 hours.
---

Depending on when you visit, Kenya can get HOT. You're sure to be spending a lot of time under the sun, whether you're hiking, exploring the cities, or on safari. Be sure to remain properly hydrated by bringing electrolyte packets to add to your drinking water. These will especially come in handy if you get sick while traveling.
---

Give yourself peace of mind by getting travel insurance before your trip. TravelInsurance.com will help you compare great plans to find the best one for your needs. Plans cover such things as emergency medical, trip cancellation, and even your tech gear like laptops and cameras.
Compare policies at TravelInsurance.com ➜
---

Useful in endless scenarios, you won't want to travel without a microfiber travel towel. This one dries incredibly quickly, which is perfect if you need to toss it back in your daypack after a day at the beach, hiking, or on safari. This is also useful if your accommodation doesn't provide a towel or provides one that isn't up to your cleanliness standards.
---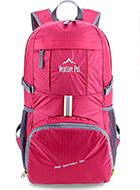 For all your safaris and excursions, it's good to have a daypack. This one is very popular among travelers because it's compact, lightweight, and durable. Perfect for carrying anything you might need throughout the day, you won't want to visit Kenya without one!
---

Whether you're exploring Mombasa or chilling at the beach, you're likely to live in a sturdy pair of sandals during your time in Kenya. The hot weather means sandals are in order, and a lot of time spent on your feet means you'll need something durable and sturdy. These are the perfect pair for any trip to Africa.
---

With plenty of local and regional delicacies to try in Kenya, there's no doubt you'll enjoy experiencing a variety of new cuisines. Prevent getting food poisoning or having an upset stomach from eating unfamiliar foods by taking activated charcoal caps, which will quickly absorb and expel the unwelcome toxins in your system.
---

You can never go wrong tossing a pack of deodorant wipes in your purse or daypack while you explore all that Kenya has to offer. Lots of time spent traveling around under the hot sun can leave you in desperate need of a quick refresh, and these wipes will do the trick.
Other Kenya packing list items to consider bringing
---
For more ideas of useful items during any season, pack these along!

What should I wear in Kenya?
---
In Kenya, choose clothing in neutral colors that are light and comfortable.
Locals have a casual, easy-going style. Men will fit in well with flip-flops, shorts, and a teeshirt. Women can also wear shorts and a teeshirt or summer dresses. Just avoid wearing anything too revealing such as crop tops and shirts with plunging necklines especially on the Kenyan coast where there is a large Muslim population.
You will not need to bring more than two pairs of footwear. Trainers and a pair of comfortable sandals are all you need.
On the beaches, a good choice for men is board-shorts. Women can wear bikinis or a one-piece. A sarong and beach towel should also be packed with plenty of sunscreen and a hat.
If you are going on safari, dress in layers because it can be quite cool in the morning. Pants which can convert into shorts are very useful. On top wear a teeshirt and sweater. A hat, sunglasses, and sunscreen should be worn to protect against the sun.
Theft and pickpocketing are common crimes so make sure to keep cash credit cards and any other valuables protected with an RFID wallet, crossbody bag or money belt.
What NOT to take to Kenya
---
1)

DON'T BRING valuables
– There is a lot of poverty in Kenya and theft crimes are common. Be smart by keeping your valuables at home.
2)

DON'T CARRY a lot of cash
– Cities like Nairobi and Mombasa will have ATMs available and hotels and restaurants will take visa or master card. Remember to protect your cash in a money belt.
3)

DON'T TAKE an expensive cellphone
– Tourists are strongly recommended to bring a simple burner phone.
4)

DON'T PACK bright colored clothing
– if you are going on safari. Bright colors will attract insects and wild animals. Stick with neutrals.
5)

DON'T WEAR camouflage
– It is illegal to wear.
6)

DONT'T BRING heels
– Many roads are unpaved and there are few places where you would ever need to wear them while visiting.
---
Kenya has two seasons: dry and wet.
Dry season includes June, July, August, September, and October. These months are much cooler where the temperature is around 73°F. There is very little rain and humidity during these months which makes it a great time to visit the beaches. Things to pack while visiting during the dry season include sandals, shorts, capris, teeshirts, and tanks. Don't pack too much warm clothing, you will be fine with just 1-2 pairs of pants and long-sleeved shirts or light sweaters. Also, don't forget a hat, sunglasses, and sunscreen.
The wet season includes November, December, January, February, March, April, and May. During these months the rain will vary. November and December will receive short periods of rainfall and usually occurs in the late afternoon or evening. January and February will actually receive less rain but March-May are the rainiest months and downpours can be expected. During these months the average temperature ranges between 75°F-86°F. Make sure to pack light, breathable clothing. Shorts and dry fit teeshirts work best. Also, bring a travel-sized umbrella and a light rain jacket or a rain poncho. Waterproof shoes or plastic sandals work well for footwear.
FAQs about travel in Kenya
---
1) Is it safe to visit Kenya?
Compared to other African countries, Kenya is relatively safe. However, you should check with your government's national travel advisory before planning a trip. Exercise street smarts in the day and avoid going out at night.
2) Do I need a visa?
While there are some countries whose nationals don't require a visa to enter Kenya, if you are coming from the US, Canada, Europe, Australia and many non-African countries, you will need a visa. Check with the Kenya High Commission for the complete list of countries that are visa exempt.
3) Do I need vaccinations?
Common vaccinations required for a trip to Kenya are hepatitis A, hepatitis B, rabies and typhoid, diphtheria, polio, measles, and yellow fever. It is best to consult with a doctor for vaccinations that you will need specific to your trip.
4) Can I drink tap water?
No, you can only drink boiled or bottled water.
5) Is English spoken in Kenya?
Yes, Kenya's two official languages are English and Swahili.
6) What currency is used in Kenya?
The Kenyan shilling is used as currency although, on safari, many national parks will also take USD.
7) How much money should I bring?
Kenya is a fairly expensive country. On a low budget, expect to pay around $100/day. For Midrange to high budgets, $100-$250 a day is the norm.
8) Where are the best places to see wildlife?
In Kenya, there is an abundance of wildlife. Some of the best places include Amboseli, Lake Nakuru, Tsavo west, Maasai Mara, and Nairobi National Park.
9) What is the Big Five?
The Big Five refers to the most popular as well as some of the most challenging animals to spot on safari. These animals include elephant, lion, buffalo, rhino, and leopard.
10) What else is there to do in Kenya besides safari?
Hike Mount Kenya, have breakfast with giraffes at Giraffe Manor, relax on Kenya's beautiful coastal sandy beaches, scuba dive or snorkel with abundant sea life, visit coffee and tea plantations, and try out the local cuisine!
---
Other Africa packing lists you may like…
Africa | Egypt | Morocco | Safari | South Africa | Tanzania | Uganda
Also see our Europe packing lists…
Amsterdam | Barcelona | Camino de Santiago | Croatia | Europe | France | Germany | Greece | Hungary | Iceland | Ireland | Italy | London | Mediterranean Cruise | Norway | Paris | Poland | Portugal | Prague | Rome | Scotland | Spain | Switzerland | Turkey
Please note: We have over 200 packing lists covering practically every popular travel destination in the world. Access them all on our packing list overview page ➜