Updated on by Asher Fergusson
S
outh Africa offers environments that range from craggy cliffs, pristine beaches, lush forests, lagoons, and the bustling cities of Cape Town and Johannesburg. As the southernmost country on the African continent, South Africa is a sought-after destination for tourists, travelers, and adventurers.
The below list will guide you on what to wear in South Africa, what NOT to bring, and the answers to the top South Africa FAQs. Have a great time, and make the most of this incredible destination!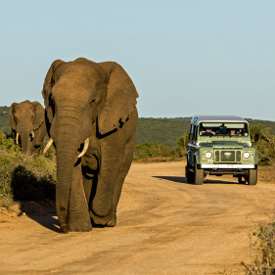 What to Pack for South Africa – 17 Essentials
---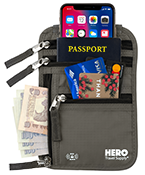 In a destination as touristy as South Africa, you'll want to prevent pickpocketing and petty theft by keeping your belongings organized and secure. This neck wallet is essential for keeping your phone, passport, wallet, and other valuables securely fastened beneath your clothes and out of reach for wandering hands.
Available on HeroTravelSupply.com with an exclusive 15% discount using the coupon code "HERO".
---

If there was ever a time to bring binoculars on a trip, it's now. They are totally essential if you're going on safari – you never know which member of the Big Five you might see! These ones are waterproof and can hang easily from your neck when not in use.
---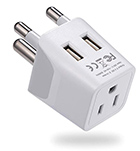 One of the most important items not to forget to pack is a good quality power adapter. Using this handy adapter, you'll be able to plug in your electronics from your home country with ease in South African sockets. This one also include USB ports for charging phones and cameras etc.
---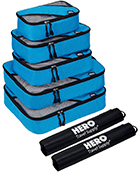 If you don't travel using packing cubes, you're doing it all wrong! Packing cubes are by far the best way to remain organized and avoid overpacking on trips overseas. This set is great because it comes in a variety of fun colors and includes extra bags for laundry and shoes.
---

You'll most likely do a lot of walking when you're in South Africa, whether it's backcountry hiking, waterfall hunting, or big game stalking. In all cases, sturdy walking shoes are essential. These ones are my all-time favorites.
---

In summer, South Africa is teeming with pesky mosquitoes. In addition to wearing bug spray, you may want to think about taking malaria pills during your trip. Make sure to wear an insect repelling wristband like this one to keep away those mosquitoes, ticks, biting flies, gnats, and chiggers. It works for up to 300 hours so you can just slide one on and forget about it!
---


Using a VPN is something you may not have previously considered, but it is an absolute must-have when traveling abroad. Turn on your VPN when you connect to public sources of WiFi in hotels, cafes, and airports to prevent potential hackers from accessing your passwords, credit card numbers, and other sensitive information.
---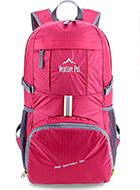 Chances are, you're going to want to explore one of South Africa's national parks, or at least hit some local hiking trails during your stay. Stay organized during outdoor outings, sightseeing, and everything in between with a solid daypack. This one is well-designed, and great for a full day on your feet.
---

Don't forget to bring a swimsuit cover up if you're hitting up a beach town like Durban or Port Elizabeth! This one is cute, versatile, and looks great during a day of swimming, diving, jogging along the beach or even hiking through the jungle. Pack this with a cute swimsuit and some flip flops.
---

Drinking tap water in South Africa is perfectly safe. Bring a reusable water bottle that you can refill over and over again. This one is great because it comes with a built-in LifeStraw water filter as an added layer of protection for your drinking water.
---

On overnight safari or trekking trips, it will prove handy to bring your own solar charger from home, so you'll never have to worry about your phone or camera running out of battery. Especially if you plan to use your phone for photos, music, or navigation, you won't want to worry about your battery dying at an inconvenient time.
---

For your trip to South Africa, make sure you have good, reliable travel insurance. Beyond offering you peace of mind during your trip, travel insurance will cover your costs in case of emergency. We always use World Nomads because of their generous and comprehensive coverage.
View their plans at WorldNomads.com ➜
---

Bandanas are incredibly useful while traveling. They can serve as headbands, face masks, napkins for snacks, and so much more. They can be used to protect your neck from the sun, or as a scarf to keep warm when it's cold. Tie one of these to your daypack before leaving home.
---

Whether you're spending the day on safari or at the beach, a quick dry travel towel is one item you'll be glad you packed. Perfect for keeping you cool on a hot day or tossing back in your pack after a day in the ocean, this travel towel is a fantastic compact and lightweight option.
---

Be sure to pack a sturdy pair of sandals for your trip to South Africa. You'll likely be spending a lot of time on your feet so you'll want something comfortable and breathable to wear all day under the hot sun. These Tevas are perfect for any South African activity.
---

Especially if it's your first time to Africa, you will undoubtedly be intrigued by the wide variety of regional delicacies to try. Bring along activated charcoal tablets to absorb unfamiliar toxins in your system to keep you enjoying South Africa and out of the bathroom.
---

For evenings out in the larger cities like Johannesburg and Cape Town, you'll want to dress to impress. This stunning jumpsuit is perfect for a night on the town, as it's lightweight and breezy and can be dressed up or down depending on your accessories.
Other South Africa packing list items not to forget
---
What should I wear in South Africa?
---
In South Africa, breezy and casual is the accepted style. On beach days, plan on wearing swimsuits, tank tops, shorts, cover-ups and sundresses. When you go out for drinks or dinner, simple and cute outfits are good, so bring some simple dresses, a nice pair of khakis, and simple sandals. A hat and sunglasses are also a good idea too. For any athletic activities, shorts and a tank top are good to beat the heat. No matter what, bring comfortable walking shoes. A nicer outfit and heels or dress shoes might come in handy for going out to dinner or dance clubs in one of South Africa's big cities.
What should WOMEN wear in South Africa? – (Click to expand)
Since locals tend to dress fairly conservatively, try to avoid wearing anything too revealing. Only wear swimwear at the beach and pool, and cover up with loose clothing or a sarong. Longer skirts and breezy pants will help you beat the heat.
What should MEN wear in South Africa? – (Click to expand)
In general, casual, versatile clothing like t-shirts, shorts, polos and swimwear are good to pack. If you're planning on going to any nightclubs, know that men are required to wear a shirt with a collar, and no sneakers or tennis shoes are allowed.
South Africa is a year-round destination because of its fluctuating regional climates. The Cape has wonderfully hot, dry weather in its summer months (November-February). Dress in lightweight clothing and bring walking sandals, like Chacos or Tevas. Most of the country has warm, sunny days and cool nights during summer and spring. When packing for an autumn or winter trip ( June–August) , remember to pack long-sleeve shirts, sweaters, warm socks, a jacket and raincoat. Scarves, gloves and beanies may also come in handy.
How to dress for activities in South Africa
---
Safaris – Wear neutral, lightweight clothing on safari trips. Also bring a wide brim sun hat, and plenty of sunscreen!
Hiking – Always wear synthetic fabrics, so that they don't trap moisture. A solid synthetic short-sleeve t-shirt is a good idea. If it's chilly, make sure to bring a midweight synthetic or fleece long-sleeve top to layer on top.
Beach days – Bring a few swimsuits and coverups that dry quickly. Sunglasses and sandals are also a great idea.
Dining and Dancing in Cape Town – Cape Town is an up-and-coming fashion capital, so feel free to dress up! Think dresses, button downs, heels and dress shoes.
Wine Tasting – If you're headed to the beautiful Stellenbosch to taste some world class wines, dress nicely, and wear appropriate footwear like sandals with a low heel.
Sightseeing – Casual or athletic clothing is fine. Wear comfortable walking shoes, or your hiking boots if you're looking to save space in your backpack or luggage.
What NOT to bring to South Africa
---
1)

Short shorts or Mini Skirts
– In general, revealing clothing is considered inappropriate in almost all parts of Africa. A good rule of thumb is to make sure your shorts reach your fingertips when your hands are hanging by your sides.
2)

Lots of Cash
– Most larger towns and cities in South Africa have ATMs, so you can take out local currency once you arrive instead of carrying around all your money at once.
3)

Mosquito Net
– Pretty much all hotels, hostels and airbnbs will already have mosquito nets installed.
4)

Unnecessary Valuables
– Things can get lost on the road, and there's always some risk of theft when traveling anywhere. Unless you totally, definitely need it, leave the valuables (like jewelry) at home.
What NOT to wear in South Africa
---
Stay away from short shorts, and revealing tank tops. Unless you're going on a safari, don't wear safari clothing. You'll stick out like a sore thumb if you're walking around any major cities in khaki coloured and cliched safari clothing!
FAQs for South Africa travel:
---
What's the best time of year to go to South Africa?
South Africa's summer months are December to March. Autumn is April to May. Winter is June to August, and spring is September to November. Because South Africa covers such a large area, and each region's offerings change with the seasons. Check local weather conditions throughout the year, and plan from there.
What languages are spoken in South Africa?
There are eleven official languages of South Africa: Afrikaans, English, Ndebele, Northern Sotho, Sotho, SiSwati, Tsonga, Tswana, Venda, Xhosa and Zulu. Fewer than two percent of South Africans speak a first language other than an official one. Most South Africans can speak more than one language!
What kind of adapter do I need to bring?
In South Africa, D, M and N power sockets are used.
How can I capture all my South Africa trip memories?
Bring a camera, GoPro, or video camera with an extra battery to capture the special moments of your trip. If your batteries are rechargeable, make sure you bring the charger! Apps like One Second Everyday also make for good memory savers.
---
Other Africa packing lists you may like…
Africa | Egypt | Kenya | Morocco | Safari | Tanzania | Uganda
Also see our Europe packing lists…
Amsterdam | Barcelona | Camino de Santiago | Croatia | Europe | France | Germany | Greece | Hungary | Iceland | Ireland | Italy | London | Mediterranean Cruise | Norway | Paris | Poland | Portugal | Prague | Rome | Scotland | Spain | Switzerland | Turkey
Please note: We have over 200 packing lists covering practically every popular travel destination in the world. Access them all on our packing list overview page ➜