Updated on by Asher Fergusson
W
ith its opportunities for gorilla trekking and world-class safari options, along with the adventure hotspot of Jinja and the bustling capital of Kampala, Uganda has more than earned its place as one of Africa's top travel destinations. From buzzing nightlife to traditional villages to rugged wilderness, this is a country that has something for everyone. And the relative stability and well-developed tourism infrastructure make it a safe and accessible place to visit.
But if you're planning your first trip – and especially if it'll be your first time anywhere in Africa – you'll be asking, "What do I need to take to Uganda?" We put together this list so you'll have exactly what you need (and won't end up having to lug around things you won't use). Scroll down to see the top Uganda packing essentials along with what to wear in Uganda, what NOT to bring, and answers to FAQs.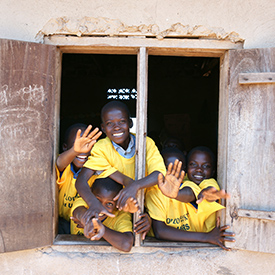 What to Pack for Uganda – 17 Essentials
---

Using packing cubes is one of the easiest ways to stay organized while traveling. Instead of things getting lost in the bottom of your suitcase or backpack, everything will get packed into a cube before it goes in your bag. This set includes cubes of different sizes, making it easier to organize different types of items (socks in one cube, pants in another, and so on), as well as two laundry bags to store dirty clothes until you get home.
---

There are many reasons a daypack is one of the top things to bring to Uganda, because you'll have so many uses for it. You'll want to have a daypack for day trips, hikes, safari drives, and just days that you're out exploring. And, it'll also double as a carry-on for the long flight.
---

Uganda uses Type G electrical outlets, the same kind found in the UK. So if your electronics are British, you're all set. But if you're coming from elsewhere – including Europe, North America, or Australia – you'll need to bring a power adapter. This universal adapter will work in Uganda, as well as in most other countries, so you'll be able to use it on any trip you take.
---

When you're out exploring for the day or sitting on a long bus ride, you'll still want to be able to keep your phone charged – especially if you're relying on it for the camera or maps. This tiny portable charger is only about the size of a tube of lipstick, so you won't even notice you're carrying it, and you'll be able to easily juice up your phone on the go.
---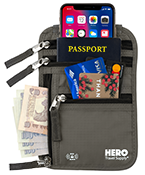 Though major crime, especially against tourists, is uncommon in Uganda, pickpocketing is a concern in some areas. At bus stations, busy markets, and other crowded places, as well as in any touristy areas, it's particularly important to be vigilant. Keeping your valuables around your neck instead of a bag or pocket will make you much less likely to fall victim to pickpockets, so make sure a neck wallet is on your list of things to take to Uganda.
---

Most accommodations in Uganda will provide towels, but some of the cheapest or most remote places might not. You should definitely bring your own if you're traveling on a shoestring or planning on doing any camping. Even if not, you'll still want a towel for things like swimming and rafting, and it can also double as a sheet, picnic blanket, or makeshift curtain in a pinch. Unlike a regular bath towel, this one is made from microfiber, so it's small, lightweight, and dries out quickly.
---

VPNs aren't only for accessing Facebook in China! They're also very useful for protecting your privacy online and keeping you safe from hackers. That's especially important to consider if you're using a lot of different public Wi-Fi networks, which will likely be the case in Uganda. Get your VPN set up before you leave for your trip.
---

Spending time on the Nile and on Lake Victoria are both popular things to do in Uganda, and you'll want to have your phone with you so you can take pictures. To make sure it doesn't get damaged if you get splashed or drop it in the water, put a waterproof case on your Uganda packing list.
---

For visitors who aren't accustomed to it, Uganda's tap water isn't safe to drink. Unless it's bottled, the water you drink there will need to be boiled, filtered, or treated in some other way. Using a LifeStraw bottle is one of the easiest ways to filter unclean water, especially when you're on the go. Just fill up your bottle from the tap, and the unique straw will automatically filter as you drink.
---

Most travelers to Uganda spend a lot of time outside, whether it's hiking, swimming, or going on safaris, and that means it's easy to get a minor injury. You'll want to be able to quickly handle things like scrapes, cuts, and blisters. This First-Aid kit is compact, but it has all the basic items you should carry with you on a trip.
---

Most parts of Uganda get heavy rain in the spring and fall (and there's still occasional rainfall at other times of year). Really, no matter when you're visiting, an umbrella is one of the essential things to take to Uganda. This travel-specific is sturdy and protective, but it's also small and lightweight. It'll fit easily into your purse or daypack, and it will be a lifesaver if you get caught in a storm.
---

Travel insurance is an absolute must when traveling to Uganda. TravelInsurance.com is our preferred company to find a plan with great coverage because they will help you find plans that cover not only medical treatment, but also evacuation in case of emergency, as well as stolen luggage and trip cancellation.
Compare policies at TravelInsurance.com ➜
---

Hand sanitizer has never been more critical, especially when traveling, so it definitely needs to be on your packing list for Uganda. Soap and water won't always be available, especially in more rural areas, so hand sanitizer is a must for staying healthy during your trip. Keep a small bottle in your daypack or purse to make sure you always have some with you.
---

Everyone needs to pack shampoo, and choosing a solid bar instead of the regular liquid kind will make it much more convenient. You won't have to worry about the bottle leaking and making a mess in your bag, and a shampoo bar won't cut into your liquids allotment if you're flying with just a carry-on. Plus, the packaging is much more eco-friendly than normal shampoo. Using a solid shampoo bar can take a little getting used to, though, so give it some time.
---

The mosquitoes can be relentless in Uganda, and they carry diseases like malaria and dengue fever, which can be deadly. Preventing bites is something travelers need to take seriously. Insect repellent may not be easy to come by once you're there, so it's truly one of the essential things to take to Uganda. Just don't forget to re-apply regularly, especially at dawn and dusk.
---

If you're coming to Uganda from Australia or North America, you'll have a huge time difference (not to mention a long flight) to contend with. While it might take a couple days to get over the jet lag, using a natural remedy can help. These homeopathic jet lag relief tablets have just five ingredients, and taking them when you fly can help reduce the fatigue and disorientation that comes with a big time difference.
---

Power outages are common in most of Uganda, and many parts of the country don't have power at all, or have limited outdoor lighting. No matter why it's dark, a headlamp will be one of your Uganda essentials when it is. You could carry a flashlight instead, but a headlamp is generally more convenient to use (and you won't have to worry about dropping it in the latrine!).
Other Uganda packing list items not to forget
---
What to Wear in Uganda
---
One of the most important things to consider when deciding what to wear in Uganda is modesty. Ugandan culture is generally quite conservative, and even more so in the rural areas. Women are usually expected to cover their knees, shoulders, cleavage, and midriff, and local men typically do as well. That means shirts with sleeves, knee-length (at least) skirts and dresses, and capris or full-length pants will be the staples of your Uganda wardrobe. Since it's usually warm, fabrics that are lightweight and breathable will be the most comfortable.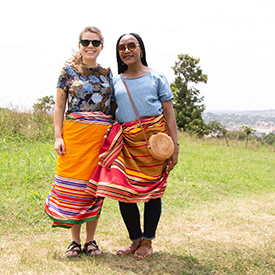 However, you'll likely need a light jacket or sweater for the evenings. Most travelers end up doing a lot of walking, so make sure you have some shoes for Uganda that are sturdy and comfortable for wearing all day.
SPRING in Uganda

– March, April, May

The spring months in Uganda are the rainy season, so expect heavy rainfall if that's when you visit. Waterproof hiking shoes, sandals that dry out easily, and clothes made from quick-drying fabrics are the best clothes for Uganda this time of year.
SUMMER in Uganda

– June, July, August

Due to its location right on the Equator, the temperatures in Uganda are pretty consistent year-round. However, the summer months are extremely dry compared to the spring (though rain is still possible at any time). Choose clothes made from lightweight, breathable fabrics, and make sure to bring some layers for the evening.
FALL in Uganda

– September, October, and November

The fall is Uganda's second rainy season, although it's typically less intense than the spring. You'll still want to be prepared for rain, and be sure to bring a rain jacket and an umbrella.
WINTER in Uganda

– December, January, February

Winter is the dry season again, and these are actually the warmest months in most of Uganda. However, the difference between average summer and winter temperatures is only around five degrees. Stick to breathable, lightweight clothing, but make sure it's not too revealing.

Dressing Appropriately for the Activity – (Click to expand)

Hiking:

There are many places to go hiking in Uganda, as well as the opportunity to go gorilla trekking, which is one of the country's top attractions. Whether you're searching for primates or just taking in the scenery, appropriate hiking attire will keep you comfortable and protect you against the brush, bugs, and sun. Plan to wear long pants, a breathable shirt with sleeves, and good hiking shoes or boots, as well as a hat and sunglasses.

Rafting: Whitewater rafting the Nile is another of the most popular things to do in Uganda. For this adventure, activewear-type clothes that dry out quickly will be the most comfortable and convenient. A pair of snug, sturdy sandals is also a must.

Safari: There are several places to go on safari in Uganda, and since you'll be out in the wilderness, hiking clothes will generally be the most comfortable. Choose breathable fabrics and comfortable shoes, as well as long pants. For early morning and nighttime game drives, you'll also likely want a warmer layer like a fleece jacket and a scarf.

Nightlife: Like many African capitals, Kampala has a vibrant nightlife scene, with numerous trendy bars and clubs. If you're planning on a night out in the city, pack a pair of jeans, closed shoes, and a nicer top (like a blouse for women and a polo or button-down for men). Anything less and you'll find yourself significantly underdressed compared to the locals.

What NOT to Bring to Uganda
---
1)

DON'T BRING lots of cash:
Once you arrive, you'll be able to withdraw money from international ATMs in Kampala and other major towns in Uganda. There's no need to carry a ton of cash with you and risk having it get stolen or lost.
2)

DON'T TAKE a mosquito net: You might need a mosquito net in Uganda, depending on the region, season, and type of place you're staying. But if one is needed, it'll be provided – and if it's not, there most likely won't be a way to hang one anyway.
3)

DON'T PACK a sleeping bag: Unless you know you'll be camping at a place where you have to provide your own gear, you won't need a sleeping bag in Uganda. Any other type of accommodations will provide regular bedding, so you can leave the sleeping bag at home.

4)

DON'T TAKE a bath towel:
A towel should definitely be on your Uganda packing list, but don't grab the one from your bathroom cabinet. Regular towels are big and don't dry out well, so they're inconvenient for travel. Bring a microfiber travel or camping towel instead.
5)

DON'T BRING excessive valuables: Even though Uganda is generally a safe travel destination, things can happen anywhere. There's always a risk of your things getting lost, stolen, or damaged on the road. You'll probably want things like your phone and camera, but leave any valuables that aren't actually necessary at home.
6)

DON'T PACK unnecessary gear: Many travelers to Uganda come over-prepared, bringing all kinds of outdoors and survival gear they have no us for. Consider what you'll actually need, and avoid the temptation to bring extra stuff.
What NOT to Wear in Uganda – (Click to expand)
Revealing clothing is considered inappropriate in Uganda, especially for women, so you can leave things like miniskirts and crop tops at home. To stay comfortable in Uganda's warm climate, avoid fabrics that don't breathe or take a long time to dry. You might want one pair of jeans for going out in Kampala, but there's no need to bring any more than that. Anything delicate, valuable, or dry-clean-only is also best left at home. Lastly, since you'll be on your feet a lot, don't plan to wear any shoes that are uncomfortable or haven't been broken in yet.

FAQs about Uganda travel
---
1. What is the weather like in Uganda?

Uganda's location on the Equator means the weather is warm all year, and temperatures stay fairly stable. Most of the country is between the mid-60s and mid-80s year-round, making it much more pleasant than many tropical countries. February is typically the hottest month, and July is the coldest, but the difference between them is only around five degrees. Uganda has an intense rainy season from March to May and a second rainy season from September to November, with dry seasons from December to February and June to August. Even during the dry season, though, rainfall is still a possibility.

2. What is the best time of year to visit Uganda?

Travel during the rainy season in Uganda can be difficult, and plans are likely to get thwarted. The two dry seasons – summer and winter – are better times of year to visit, especially if you want to go gorilla trekking or whitewater rafting. The Christmas holidays and the summer are peak periods for tourism, but visiting in January or February or early-September should give you dry weather with fewer crowds.

3. Do you need a visa for Uganda?

Most international visitors are required to obtain a Ugandan visa prior to arrival, which can be done online. Around thirty countries, mostly in Africa and the Caribbean (as well as Ireland and Singapore) are exempt, and instead, receive a free visa on arrival. For nationals of other countries, including the U.S., a single-entry tourist visa costs $50 and is valid for six months. All visitors must have a valid yellow fever vaccination certificate in order to receive a visa or enter the country.

4. Is Uganda safe?

Uganda is generally a safe travel destination and is one of the safer African countries to visit. Violent crime against tourists is rare, although pickpocketing and petty theft are not uncommon, especially in crowded areas. Still, as in most places, it's best to avoid walking alone at night, especially in isolated or unfamiliar areas. The biggest threat to safety for visitors to Uganda is typically road and traffic conditions, as many roads and vehicles are poorly maintained, traffic laws are often loosely enforced, and drunk driving is not uncommon. Choose reputable bus and tour companies, and travel during daylight hours whenever possible – and of course, follow your gut.

5. How can you get around in Uganda?

Uganda's main towns are well-connected by many bus companies, which makes the country fairly convenient and cheap to get around, although some of the routes are long and uncomfortable. Matatus (mini-buses) run between towns as well, but they are less reliable and stop more often. For more flexibility, you can also easily arrange a private car and driver through your hotel or a local tour company.

6. Where are the best things to do in Uganda?

The most famous thing to do in Uganda is to go gorilla trekking in Bwindi Impenetrable National Park, although the permit alone costs $700. If that's out of reach, Bwindi is still a top destination for hiking and spotting other wildlife, especially primates. Or for a classic safari and the chance to see elephants and lions, head to Queen Elizabeth National Park. Murchison Falls National Park is another of Uganda's top parks, and taking a hike or boat ride to its namesake falls is a must. For adventurous travelers, it doesn't get much better than the town of Jinja, East Africa's adventure hotspot. This is where Nile River whitewater rafting trips start, and there's also bungee jumping, mountain biking, and many other activities available. Make sure to spend some time in Kampala as well, for a day of shopping or a night out on the town.

7. How can you see mountain gorillas in Uganda?

Gorilla trekking permits in Uganda are limited, and they often book out six months in advance. Make sure you plan ahead, and be prepared to pay up – permits cost $700 per person. Many companies in Uganda organize gorilla trekking and will handle obtaining your permit and provide transportation to the park. When you arrive at the park on the morning of your trek, you'll be assigned to a park ranger who will act as your guide. It can take anywhere from two to six hours of hiking to reach a family of gorillas, and once there, you'll have an hour to observe and photograph them (from a safe distance, of course) before hiking back.

8. Where can you go on a safari in Uganda?

Queen Elizabeth National Park is Uganda's top destination for safaris and is known for the rare tree-climbing lions that inhabit it. Murchison Falls National Park is also incredibly popular for safaris and is home to elephants, hippos, chimpanzees, and more. Mgahinga National Park and Lake Mburo National Park are less touristy but still offer safaris with amazing wildlife-viewing opportunities. In these and the other parks in Uganda, there are many tour companies and safari lodges to choose from, offering packages that range from rustic and budget-friendly to extravagant.

9. What is the food like in Uganda?

Traditional food in Uganda tends to be heavy on starches, including plantains, cassava, potatoes, and rice. The national dish of Uganda is matoke, or cooked mashed plantains, which is usually served with peanut sauce, beans, meat, or fish. Another staple food is ugali (also called posho), a dough-like porridge made from maize, cassava, millet, or sorghum flour. You'll find some combination of these staple foods at nearly any local restaurant in Uganda. Another thing you have to try? The classic Ugandan street food, rolex (yes, like the watch, but it comes from "rolled eggs"), which is a simple wrap made of chapati, fried egg, tomato, and cabbage.

10. How can I stay healthy in Uganda?

Staying healthy starts before you leave: make sure you're up-to-date on all your basic vaccines, including polio, MMR (measles-mumps-rubella), Tdap (tetanus-diphtheria-pertussis), and chickenpox. For travel to Uganda, typhoid and hepatitis A vaccinations are also recommended. In addition, a yellow fever vaccine (and valid certificate) is required to enter the country. Malaria prophylaxis is recommended as well, and you should consult a healthcare provider to choose the best one for you. While you're in Uganda, it's critical to be cautious about what you eat and drink. Do not drink untreated tap water, and be aware of juices and other drinks that may have been prepared with tap water. You should also avoid eating raw fruits or vegetables unless they have a peel; that means skipping raw berries and greens, but things like mango and pineapple are safe to eat. Lastly, be careful to avoid food that's been sitting out, and make sure anything you eat has been thoroughly cooked.