A
lot of people were asking me, "What should I pack for India?" so I wrote this complete India packing checklist.
Below are my top 18 "must-take" items and I also have an important section on what to wear in India which I hope will make your next trip safer and more enjoyable. At the bottom I also include a list of what NOT to bring to India.
In addition to all these physical items be sure to also bring: plenty of patience, an open heart & mind, a healthy sense of humor and an adventurous spirit! 🙂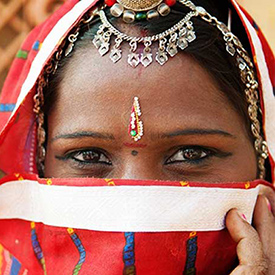 What to Pack for India – 18 Essentials
---
1) LifeStraw Personal Water Filter

I generally only drink bottled water while traveling in India but occasionally it's not available. In that case I bust out my LifeStraw filter which removes all bacteria, amoebas and other pollutants in the water. It's inexpensive and it doesn't weigh much so it's totally worth having for emergencies. Also check out the Lifestraw water bottle if you'd prefer to find filtered water from hotels etc that you can refill from instead of always using bottled water.
---
2) India power adapter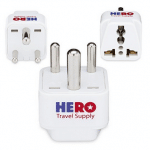 After trying countless different brands, I decided to take matters into my own hands. My company, Hero Travel Supply, sources and sells these quality power adapters that are individually tested in the USA.
Every order also comes with a corresponding free ebook which teaches you how to avoid frying your electronics in India. I wrote this comprehensive guide based on years of experience in dealing with the unpredictable, often surging power supply in India which can ruin your devices (I know because my $2000 Macbook got fried)!
---
3) Charcoal tablets

They're an incredibly effective way of stopping diarrhea and preventing dysentery (Delhi Belly). It quickly absorbs the toxins or pathogens that are causing the problem and keeps you strong. Whenever I have any sign of diarrhea, I take 2-4 tablets and typically within 1 or 2 hours I am back to normal – they are literally lifesavers!
---
4) Neck Wallet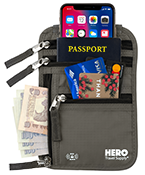 You obviously need a passport and visa for India travel but I also recommend you get a neck wallet for your passport and other valuables. This way, I'm able to keep my money, credit cards and important travel documents under my shirt so that I don't have to have a wallet in my pocket. Many times I've had beggars put their hands in my pockets and but since my valuables are in my neck wallet, I've never had anything stolen.
---
5) Female Urination Device

Okay, don't get weirded out by this one. India is a place with limited toilets and when you do find a toilet they are often absolutely disgusting. For guys, this is not a problem because we can stand at the side of the road to pee but for women, that's not possible. Indian ladies have mastered the art of squatting discreetly without mooning curious onlookers. This little device enables Western women to stand and pee with no mess and no embarrassment. My wife uses it and says it's great 😉
---
6) Cooling Towel

India can get hot and humid and aircon is hard to find when you are out and about. It is not necessarily even available in some accommodation so travelling with this cooling towel is essential. I don't enjoy feeling overheated and this chemical free towel provides instant relief. I simple wet it, wring it out, place it around my neck for 30-60 minutes of reprise. To continue feeling cool I just repeat the process. It even comes in its own case so my other belongings don't get damp when I pack it away.
---
7) Travel Insurance for India

I personally use and recommend World Nomads. They are the best travel insurance provider I've used because it's designed by travelers for travelers and covers everything you'll need. In India, you need to expect the unexpected. This travel insurance company gives me the peace of mind to go forth on the adventure while knowing I have financial support if I get into an emergency or have all my belongings stolen! (This, unfortunately, happened to a close friend. He had no insurance and so had to replace his stolen belongings out of pocket).
View their plans at WorldNomads.com ➜
---
8) Packing Cubes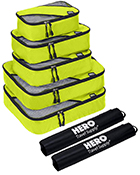 Whether you're traveling with a suitcase or a backpack, a few packing cubes will make it so much easier to stay organized. And this is something that is VERY important in India. You will be jet-lagged and adjusting to the new environment which can make your mind a bit hazy. With packing cubes you'll know exactly where everything is when you need it!
Available on HeroTravelSupply.com with an exclusive 15% discount using the coupon code "HERO".
---
9) Travel Backpack

A good travel backpack is essential for India travel. This Osprey 46L backpack is the perfect blend of size, quality and comfort. It has great back support with real "suspension" built in and it's not terribly expensive. It has padded pockets for your laptop or iPad as well. As a day pack and a good flight carry-on pack this is all you'll need.
---
10) Travel India Safely (Online Video Course)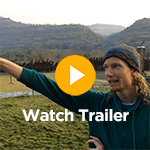 After 10 years of work, my wife and I have just released Travel India Safely. In this 13 lesson video course, we teach all our "secrets" to traveling India smarter and safer (and without getting sick or scammed!)… It's based on a decade of traveling India, tips from other expat experts living 15+ years in India, countless hours of research, and much more… If you have any questions or concerns about your upcoming trip and want to be fully prepared then this is the course for you. It also comes with a private Facebook support group where you can ask unlimited questions like, "how do I get train tickets?", "how much should I tip my tour guide?" and "what's the pollution like at night?" etc.
Learn more at TravelIndiaSafely.com ➜
---
11) Electrolytes

Electrolytes save lives on a daily basis. When someone has dysentery or diarrhea they get very dehydrated and in extreme cases this can lead to death. I'm not trying scare you but this highlights the value of having electrolytes for if you get sick. Even if you don't get sick it is important to stay well hydrated in the hot, dry weather of India and these satchels can easily be added to your bottled water for an extra boost of hydration. Note: You can get electrolytes cheaply in India but in my experience they are low quality and taste horrible.
---
12) Virtual Private Network (VPN)


India's Internet censorship is nothing compared to places like China but it is still a thing and apparently it's on the rise. To ensure you won't get blocked from certain websites that you require access to while traveling, I recommend using NordVPN.
Additionally, and perhaps more importantly, is the security that a VPN provides. If you join any unsecured WiFi networks while in India such as at hotels or airports, you are putting your passwords and credit card details at risk of being hacked. The good news is a VPN will protect you with just one click!
---
13) Probiotics

These probiotic supplements boost the good bacteria in your stomach, improve digestion and increase natural immunity. If you want to help prevent Delhi Belly, they are a must before traveling to India, especially during your travels and afterwards when you get home. They're also generally good for all round digestive health, even when you're not planning a trip to India.
---
14) Universal Waterproof Phone Case

This cell phone case is a great little, affordable invention that will save your iPhone or Android from the dust, dirt and grime of India. Additionally, if you're going for a boat ride on the Ganges or the Keralan backwaters it will save your device from accidental water damage. It even makes it possible to take underwater photos and it's very inexpensive!
---
15) Deet-Free Mosquito Wristbands

India is known to have cases of malaria but the problem is that malaria medication has horrible side effects such as nausea, vomiting, diarrhea and abdominal pain. I personally prefer to take all the precautions to not get bitten by mosquitoes in the first place. These mosquito repellent bracelets in addition to using insect repellent and wearing long pants at dawn and dusk provide the best natural protection in my experience.
---
16) Travel First Aid Kit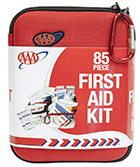 It's inevitable that you'll get a cut or scrape or some little thing that would need a first aid kit. The item I use most are band aids to help prevent infection in a wound. I also like to put honey on the cut before I place the band aid because it acts as an antibacterial shield. There are drug stores (chemists) all over India but it's nice to come prepared with basic, lightweight, high quality first aid equipment.
---
17) Travel Toilet Paper

Believe it or not, toilet paper is still mostly unused in India. Only the more expensive hotels carry it. When you're out and about you will be hard pressed to find a place that has any at all! There is travel toilet paper available on Amazon or you can simply bring a few normal rolls from home – although they can be too bulky to carry around.
---
18) FREE Step-By-Step Guide to India Travel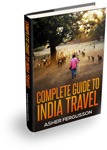 I have written a 39 page ebook with all my best tips for India Travel which you can download for free. I was compelled to write this ebook to help people learn how to survive, thrive and have a more enjoyable trip to India.
Other India packing list items to consider bringing
---

I also recommend you bring digital copies of all your important documents, including passport, visa, driver's license, bank info, and credit cards. Just in case. A simple way to do this is scan or photograph them and then email them to yourself.

What should I wear in India?
---
For both men and women, the main rule in this very conservative country is to avoid flaunting bare skin as much as possible. Of course, things are more lax in tourist hotspots like Goa and Varkala, but it's still more respectful to tend toward modesty.
Female tourists should generally keep their shoulders, knees, cleavage, and midriff covered; clothes like hot pants, miniskirts, tank tops, and bikini tops are inappropriate everywhere in India unless you're at the beach. Dressing modestly will help reduce unwanted attention from staring Indian men.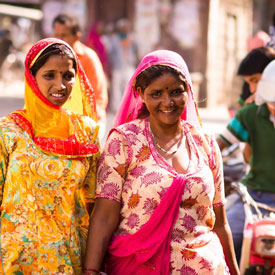 Expectations are less strict for men, and Indian men now commonly wear casual Western clothes, but it still pays to be modest. Interestingly though, I've rarely seen an Indian man wearing shorts.
What should WOMEN wear in India as respectful tourists? – (Click to expand)
Below is a sample women's clothing list. (All items link to Amazon.com for your convenience).
City wear/everyday wear:
In Mumbai and Delhi, Western dress is perfectly acceptable. You'll see as many Indian women wearing jeans and t-shirts as saris. The case for covering up is the same, though – it's best not to wear clothes that are tight or revealing. Go for light, comfortable clothing.
Temple Wear: Covering up is not just recommended here – it's essential. Many temples have a dress code, and won't allow you entry unless your head AND shoulders are covered. In 2016, Madras actually enforced a ban on all western clothing in temples, refusing entry to anyone wearing jeans, shorts, skirts, short sleeves or tight leggings.
Your best bet is a long, loose skirt (calf or ankle length) and a plain, long-sleeved top or shirt. If you don't have long sleeves, a long scarf draped over your shoulders should be fine. Wear shoes that can be easily removed, as you'll be leaving them at the door anyway.
If you want to be really respectful, then a Kameez top or a full Sari will be the best received. This is what Lyric (my wife) wears when in India.
Going Out: The same applies: cover up. India's cultural and tourism minister issued a statement last year imploring foreign female tourists to refrain from 'skimpy' clothes, particularly short skirts and dresses. It's actually a matter of personal safety.
What should MEN wear in India as respectful tourists? – (Click to expand)
Below is a sample men's clothing list. (All items link to Amazon.com for your convenience).
City wear: Dress is less strict for men, but it still pays to be modest. Dress according to the season.
Temple wear: Covering your arms and legs is just as important for men as it is for women. Don't wear jeans or other western items such as leather belts. Loose cotton pants paired with a respectable shirt should be sufficient but if you really want to be respectful, wear a white Indian kurta/pajama set. I like to wear a dhoti (cloth wrapped around waist extending to ankles) when I go to temples.
Going out: Western dress is pretty safe for foreign men but shorts may be frowned upon if you're going to a nice place.
WINTER – December, January, February, (partially) March:
Winter is, logically, the coldest and best time of year to visit most parts of India (though temperatures are much warmer in South India). Dress according to how comfortable you'll be in the temperatures, and plan to bring appropriate cold weather gear if you're in the North (hats, gloves, light jacket or fleece) as appropriate for the activities and elevations you'll be experiencing. Temperatures in the north (Delhi) average between 45°F to 75°F (7°C to 24°C), and in the south (Kochi) between 73°F to 90°F (23°C to 32°C).
SUMMER – (Pre-Monsoon Season) April, May, June:
This is by far the hottest time to visit India, and believe it or not it can be a dangerous time. April and May are the hottest months, and can bring some interesting weather.
The north can get intense pre-monsoon storms which carry hail, and the famous Loo winds blow in the north during the summer.
The intense heat can cause people to get sunstroke and it's advised to never go out in the midday sun.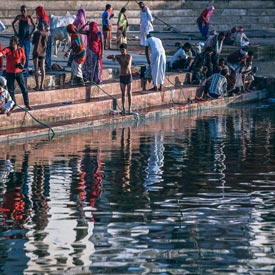 When packing for India during the summer, be very sure to do your research about the specific regions you'll be visiting and staying in. Pack light, quick-drying clothes and items that can cover you for sun protection while keeping you cooler – think long-sleeved linen shirts, quality sun hats, linen pants, sunglasses, etc. Temperatures in the north (Delhi) average between 80°F to 102°F (27°C to 39°C), and in the south (Kochi) between 80°F to 90°F (27°C to 32°C).
MONSOON – July, August, September:
As you might guess, Monsoon season is very wet. Monsoon rains are what drive India's agriculture-based economy, so it's a very important, albeit soggy, time of year for the country and its inhabitants.
Rains move in from various directions, and by July almost the entire country is experiencing storms and downpours, and a fair amount of flooding. If you're visiting during Monsoon season, plan to bring high-quality rain gear and quick-dry layers.
An umbrella is crucial, as is a rain jacket. Waterproof shoes are ideal, but you'll want to avoid shoes that will take a long time to dry. Temperatures in the north (Delhi) average between 80°F to 94°F (27°C to 34°C), and in the south (Kochi) between 75°F to 85°F (24°C to 29°C).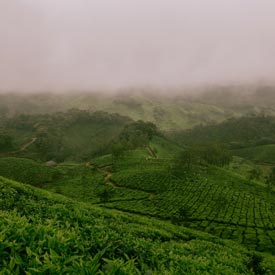 FALL – (Post-Monsoon Season) October, November:
During Indian autumn, drier and cooler air spills across the Himalayas and clears the skies, bringing the sun back into the picture. This is a windy season, so layers are important, as the wind can bring uncertain temps in some parts of India. Many areas experience lingering, dwindling precipitation, so you should absolutely plan to have rain gear and a windproof umbrella on-hand. Temperatures in the north (Delhi) average between 60°F to 90°F (16°C to 32°C), and in the south (Kochi) between 75°F to 88°F (24°C to 31°C).

What NOT to bring to India
---
1) 🚫 DON'T BRING too many clothes. You can buy clothes cheaply in India and can get the local dress so that you fit in better and feel more comfortable 🙂

2) 🚫 DON'T PACK valuables in general. Unless it's absolutely necessary, why risk it? Valuables such as: passport, credit cards & cash I carry concealed under my shirt in my passport pouch.

3) 🚫 DON'T TAKE too much cash. ATMs are the safest way to get local cash and they are everywhere across India.

4) 🚫 DON'T BRING expensive jewelry. It's just not worth risking losing it or getting it stolen.

5) 🚫 DON'T PACK your computer.
Unless you really need it and it's a lightweight, cheap one (such as a
Chromebook
) that you don't mind getting fried by the irregular power supply or stolen.
6) 🚫 DON'T TAKE other unnecessary electronics. Again because of the chance of it getting ruined by the power supply and the excess bulk.

7) 🚫 DON'T BRING too many books. An e-reader like the Amazon Kindle can be a great option because it's light weight and has a 3 week battery life.

8) 🚫 DON'T PACK too many toiletries but do bring your favorites. Your special products are probably not available in India but generic soap, shampoo and toothpaste etc is widely available.

9) 🚫 DON'T TAKE nice shoes. They will get dirty no matter what. Sandals or Crocs are best.

10) 🚫 DON'T BRING bulky towels. Instead bring a simple travel towel.

11) 🚫 DON'T PACK more than one set of warm clothes.
India is a hot country (unless you're in the Himalayas) and it's rare to be too cold. I only bring one good, lightweight
fleece
and one pair of long pants plus a scarf or shawl.
12) 🚫 DON'T TAKE anything that isn't suitable for your destination. Do your research on weather and location specific needs before you go to India so that you are prepared without having too much bulk in your luggage.

FAQs about travel in India
---
1) How do I avoid getting Delhi Belly?!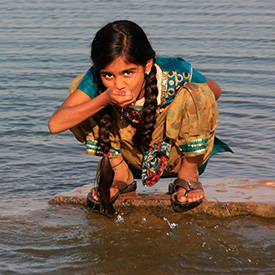 The most likely cause of Delhi Belly always comes down to contaminated food or water. Therefore, the best way to avoid getting a bout of diarrhea is to be extra diligent with hygiene around meals and with any beverage. I highly recommend you only eat freshly cooked, piping hot food. Avoid all salads or fruits that have been washed with tap water. Only drink quality bottled water and never have ice in your drinks. Avoid street food or anything that doesn't look clean. Always wash your hands with sanitizing wipes before meals. Trust me, you don't want to get Delhi Belly. I know from experience, it can cause you to be bed ridden for a week! 🙁
2) What items are NOT readily available in India?
While many pharmaceutical drugs are available in India, you may prefer to bring the items you're used to. Other miscellaneous items that are most likely best to bring from home include your preferred brands of contact lens solution, dental floss, shampoo/conditioner, feminine hygiene products, makeup, underwear, supplements and energy bars… etc!
Body lotions and sunscreens that don't contain skin-bleaching formula are sometimes difficult to find. Pale skin is highly coveted in India and most Asian countries, so many skin care products contain some form of "whitening". This may or may not be what you want!
Clothing and other gear made from 100% cotton or wool is sometimes pricey and/or difficult to find. Much of the clothing available in tourist areas is made of rayon or polyester or other synthetics, which isn't so comfortable in hot weather and not warm enough in cold weather.
Quality sunglasses and shoes that aren't knock offs can be hard to find. Also, I've found that almost always, electronics such as camera or computer equipment is both hard to find and way more expensive than in the US.
3) What's the best way to deal with pollution in India?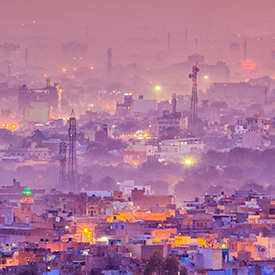 India has some of the worst pollution levels in the world, worse than China. I've found that the #1 way to deal with the extreme pollution is to get out of the big cities like Delhi and Mumbai as soon as possible. This means finding places to visit that are less populated and more in the countryside or coastal areas. For example, small towns in Kerala generally have way less pollution than anywhere in Northern India near Delhi. See this map for live Indian pollution levels.
Additionally, I highly recommend you bring a quality dust mask like the Cambridge Mask. This will allow you to breathe without inhaling as much toxic fumes, pollution, smoke and dust.
4) How do I avoid getting scammed?
There is no question, India is full of scam artists from street beggars to tricky taxi drivers and even the Mafia. The biggest advice I have is to simply say "no thank you" when approached by someone selling something. Don't give money to beggars (who are typically scammers in disguise). And know where you're going, what your hotels name is and the address when getting in a taxi or rickshaw. Read my full list of the top 27 scams in India for all the details.
5) What are some good souvenirs to bring home from India?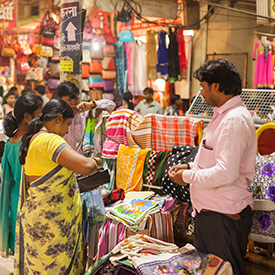 Handwoven scarves, pashminas or tapestries are quintessential "Indian" pieces that can be easily packed into a suitcase. Scarves and pashminas make a great conversation piece when you return home, and tapestries can become bedspreads or wall-hangings. Try to find out the back story of items you purchase – you don't want to be supporting an industry of slave labour. Also, be hyper of aware of fake pashminas. The best way to test if they are real is to take a thread and light it on fire to see if it melts (synthetic) or burns like a candle, turns to ash and smells like hair burning (this is likely real pashmina). You may also like to check out "fixed rate" shops that are recommended by a high end hotel to find the authentic dealers.
Spices such as masala, turmeric and cardamom are the perfect way to bring the tastes and smells of India home with you! They should stay fresh for months.
Indian musical instruments such as the flute and sitar make a fantastic gift – and could encourage you to get more musical!
Jewellery is available everywhere in all forms – wooden, bone, leather and sterling silver. Easy to wear and carry. Again, make sure these items are real and fairtrade.
6) What kind of bag and suitcase should you bring to India?
Backpacks are definitely the easiest to move around with – and India requires a lot of moving around! Backpacks can be squeezed into train/bus luggage racks or under seats, and obviously, they go where you go. The size of your backpack depends on the bulkiness of your gear, but it's a good idea to choose one with lots of zip compartments and pockets, so you can find stuff quickly.
Suitcases are less suitable (especially the four-wheeled spinners) for India's rugged road surfaces and tight spaces, but they do make life easier if you're staying in a place for a long period of time. I personally like this Samsonite wheeled duffle for the best of both worlds.
7) I'm healthy, do I really need to get Travel Insurance?
YES. Travel insurance is a must. You never know what, where or when something could go wrong – and in India, anything can go wrong. Losing your wallet or tripping down a flight of stairs can ruin your entire trip – not to mention swallow up a hefty portion of your funds. Consider also that things can go wrong back home, which may mean an unexpected flight back. Travel insurance covers all the things that you don't want to happen but CAN happen.
Even if nothing goes wrong, having a good travel insurance provider like World Nomads takes care of the "what if?" worry that's bound to niggle away at the back of your mind – which means you can enjoy your trip more! Use this widget to get an instant quote.
View their plans at WorldNomads.com ➜

8) Do cruise-lines stop at ports in India?
There are several companies such as Royal Caribbean, Celebrity and Princess that all make stops in India. The itineraries often also include the Middle East and/or Southeast Asia and are typically around 2-weeks in length. We've heard reports that even if you don't get off the boat when at an Indian port, you still need a visa. Also, see our cruise packing checklist for cruise specific packing ideas.
9) What about vaccines? Should I get all the ones that they recommend?
Vaccines and medications for India are a very personal choice and some of them do have negative side effects such as Malaria medication. Talk to your doctor about what vaccinations you may or may not need. Chances are you have already had most recommended vaccinations as a child. Otherwise, the CDC website provides a comprehensive list of vaccines recommended for India at any particular time. Remember that outbreaks do occur from time to time, so it's important to do your research.
You may also like…
After 10 years of work, we have just released
Travel India Safely
. In this 13 lesson video course, we teach all our "secrets" to traveling India smarter and safer (and without getting sick or scammed!)… It's based on a decade of traveling India, tips from other expat experts living 15+ years in India, countless hours of research, and much more…
If you have any questions or concerns about your upcoming trip and want to be fully prepared then this is the course for you. It also comes with a private Facebook support group where you can ask unlimited questions like, "how do I get train tickets?", "how much should I tip my tour guide?" and "what's the pollution like at night?" etc.