Updated on May 17, 2017 by Asher Fergusson
How to send a gift to India, stress-free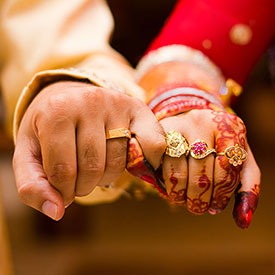 I have traveled to India 7 times and stayed with countless amazing Indian friends. I've been to weddings, birthdays, Vedic ceremonies and seen a little bit of everything.
Below I detail my step-by-step guide for sending the perfect present to your friend or loved one in India even if you live in the US, UK or other international countries.
I list items that are appropriate for each type of person and the occasion as well as how to send it to India with affordable International shipping.
Read on to discover that perfect gift for an Indian and how to send it from the USA.
1) First, consider who is the gift for? What's Their Gender, Age & Religion and What's the Occasion?

The first step for selecting an appropriate gift is knowing who is it for. Be sure to consider all the variables before choosing your present. Things worth knowing are: gender, age, religion, income, religion, wedding gifts, if it's for an entire family, a lover or a business person etc. And of course the recipients general interests is also important to take into account.
2) See if you can find something uniquely from your country that cannot be found in India

Any gift will be appreciated but if it is not easily available in India then that's even better. For example, I have found that children go crazy for a US one dollar bill or even a coin. I think this is because it's a true souvenir from America that their friends certainly won't have. Other examples include baseball caps, NFL or UK football jerseys from your favorite team or an US brand chocolate such as Hershey's (although the problem with chocolate is it will likely melt in transit).
3) Don't get something too expensive that the person couldn't reciprocate easily

This kind of goes without saying but important to note. If you got a cheap $200 laptop for a friend in a small village I'm sure it would be greatly appreciated but the burden they would feel in reciprocating your gesture would just be too much. Therefore, in this case I would get a gift that is more inexpensive such as a cheap digital camera or maybe an India friendly cell phone.
4) Be sure to give from your heart not just to impress

It's very important to be thoughtful with your present and to give it with true sincerity from your heart to theirs. Don't give something just to be the "rich tourist" but truly mean what you're doing and you'll sure to be well received.
5) Here is a list of my favorite gifts to give based on who it's for:
For single men
This $89 Sony digital camera http://amzn.to/1Nt2CCx
A fancy pen like this
Cologne if he's single
A framed photo of you with the friend
For single women
Firstly note if you're a single man giving a gift to a woman that is inappropriate. Instead the gift can come from your whole family and friends not just from you.
For a family
A framed photo of you with the family
For children
Boy: Chocolates, Fancy looking pen, a Kite or a Cricket bat or a volley ball
Girl: Chocolates, Colored pencils or pens, inexpensive jewelry or appropriate clothing
Religion
Business person
A really nice pen or maybe some new cufflinks would be suitable.
For a wedding
Be sure to check the registry as you would in the West but generally household items that may not be easy to get in India is a great choice.
6) How do I ship my gift to India? Or can I bring it in my suitcase?

You can either ship direct to your friend or if you're going to India and have room you could bring it in your suitcase.
If you choose to ship directly to your friend then the easiest way is to use Amazon.com International Shipping.
a) select the item you like such as one of the suggestions above.
b) add it to your cart
7) Some general Indian cultural observations I've noted around gift giving

Don't use your left hand when gift giving. The left hand is generally used for more "dirty" activities in India and so giving a gift is better to do with the right hand. If you forget, it won't be the end of the world.
Generally, alcohol, cigarettes or leather products are not good gifts. Unless you know for certain that your friend likes these things and that it wouldn't be a taboo within there family then I would avoid gifting them. Culturally alcohol is perceived as a negative thing usually leading to drunkards disturbing the peace. Leather comes from cows which are sacred in the Hindu religion so that goes without saying.
The act of giving is very significant more than the gift itself. This is very important to realize.
Don't give a gift to the opposite sex if you're single.
If for some reason you're giving money put a 1 on the end. For example, 51 rupees is better than 50. There are various reasons I've heard for example, "It signifies 'I expect to see you soon' and 'continuity of relation' as '0' signifies the end" and "it's simply more auspicious and lucky".
When attending a festival be sure to do some research about the appropriate gift beforehand.
Don't expect your gift to be opened in front of you. In my experience, Indian's are uncomfortable with this and will wait until later to open the gift.
Don't give Indian Muslims toy dogs or gifts with pictures of dogs. I believe this is because they are seen as being unclean (and may have rabies).
It isn't necessarily rude for a good friend to ask you for a gift.
You may also like…
---
---
---
---