10 Steps to Surviving Indian Airports
The Indian airports range from new, luxury, state-of-the-art airports (in places like, New Delhi and Mumbai), to rural, ex-military bases converted into "airport sheds" (in places like Jabalpur & Tirupati). Below I explain all the nuisances to watch out for because they're quite different from any Western airport I've ever been.
I hope these tips will take some of the stress out of your airport experience because otherwise things can quickly get quite insane!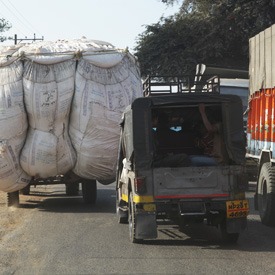 1) Allow plenty of time to get to the airport & avoid traffic jams!
India is a place of unexpected changes. For example, traffic can suddenly get very bad (in big cities like Chennai) and therefore allowing plenty of time to get to the airport is a must. I try to arrive 2hrs before domestic flights and 4hrs before international flights. Make sure you get multiple opinions on how long it takes to get to the airport from your hotel because you'll often get wildly different answers! 🙂 Early morning is often the safest way to avoid traffic in India.
2) Print your e-tickets or you WON'T get into the airport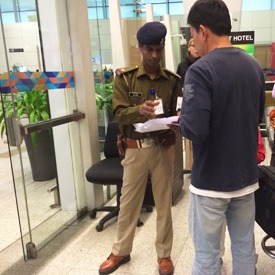 If you don't have a valid, printed e-ticket or airline confirmation email showing your itinerary, you won't be allowed in the airport. Yes, you read correctly. The military guards at the door insist you show these documents along with your passport to get in the front door of the airport. This means non-traveling friends and family cannot accompany you and you'll have to say your goodbyes at the door. I recommend printing all these e-tickets before your trip because getting them printed in India can be nightmare due to the scarcity of printers, paper and unusable Internet cafes.
3) Security screen your bags before checking in or you'll be sent to the back of the line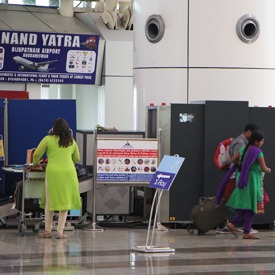 In the Indian airports your bags are screened before you are able to check-in. If you don't know this (or remember it like me) then you'll wait all that time in line only to get to the desk and be told to go back and screen your bags first. Ugh! Another thing is to make sure it's the correct screening machine for your airline because otherwise you'll also wait in line only to find it's for the wrong airline! Beware of everyone trying to push in front of you and call them out for it if needed. Otherwise you will be waiting a loooong time.
4) Make sure your bags don't weigh too much!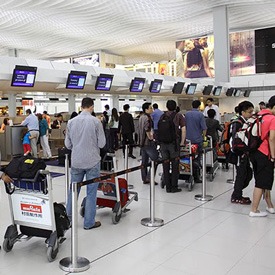 In most Western countries, the checked-in bag allowance is: one bag weighing 23 kgs (50 lbs) or at the minimum 20 kgs (45 lbs). And, your carry-on bag allowance is usually one small case and one personal item which rarely get weighed (at least in the US). In India, the checked-in baggage weight allowance is only 15 kgs (33 lbs) and your carry-on limit is one bag at a maximum of 7 kgs (15 lbs) for all domestic flights. All items get strictly weighed and the cost for excess weight is between $4 to $5 (250rs to 300rs) per kilogram. As I found out the hard way, this fee can quickly turn into $100 (6000rs) or more! So beware of this restriction and travel light. One solution for the problem is to travel in business class where the checked bag limit is 30kgs (66 lbs) but then you're paying double or triple the ticket price. Also worthy of note, Indian airlines such as Jet Airways have low baggage weight limits for international flights as well. Their limit is 23 kgs for checked bags and 7 kgs for carry-on and then $20 per kg after that. If you have an extra bag of souvenirs (like I did) that weighs 23 kgs then you'll be asked to pay a whopping $460!!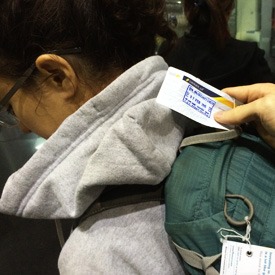 5) Get carry-on bag tags at check-in
This is really important because if you don't have these tags on your carry-on bags when going through security then you won't be able to get them stamped. This will annoy the security personnel and slow down the line (sometimes they won't have any extra tags and will make you go back to get them). Once you get the tags stamped don't remove them because they will be repeatedly checked by military personnel as you meander through the airport to your flight.
6) Security can be as annoying as heck!
– Remove all electronics from your bags. This includes: cameras, cables, batteries, computers, tablets, kindles and phones etc. If you don't do this then security will take their royal time searching through your bags, rescanning them and handling your equipment roughly. I learned this the hard way since I'm a photographer and always have a lot of electronics but now that I remove EVERYTHING I don't have a problem any more.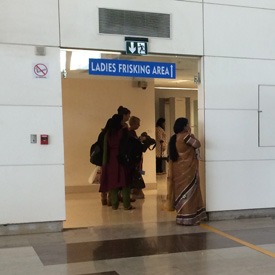 – Ladies have their own line. At all Indian airport security lines there is a special queue for ladies so that you will be patted down in private behind screens so that the men can't stare at you. That's considerate! 🙂 I would guess that 80% to 90% of domestic travel is done by men so it makes sense they have special lines for ladies.
– Watch out for pushing. As is the case all through India, people will try to push in front of you as you wait in line. Stand your ground and don't let them do it. Say something if necessary.
– Keep your boarding pass in hand. After walking through the metal detector you will be scanned with a wand and then your ticket will be stamped. If you don't have your pass out then obviously this causes a mega headache as they try to locate it amongst your stuff going though the scanner.
– Be patient and easy going. If you mess up or forget one of these things or the people around you do, don't stress out. Get to the airport plenty early enough so that if you do make a mistake it won't make you miss your flight. I've seen people almost lose their mind in the Indian airports so just take it easy.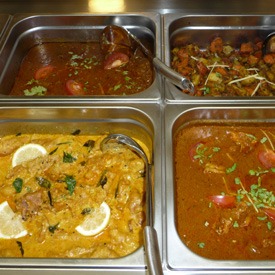 7) Don't trust the airport food
Food is dodgy at almost all Indian airports. It's usually been sitting for a long time and who knows what kind of bacteria may be growing in it! The only place I trust is Dominoes pizza where I know they just cooked the food at high heat. One thing that can be done to overcome this problem of poor quality airport dining is to bring your own food such as fruit (that you can safely peel) or an "aloo paratha" from the hotel. Learn more about safe eating in India here.
8) You'll probably have to ride a bus to your plane
Find your gate as listed on your ticket or departure screens (sometimes gates change at the last minute) and then sit to wait until your flight is called. You will then be packed into a bus that takes you to your plane. If your seat is row 25 or higher then you will probably have to get on the plane from the back stairs. Watch out for toxic exhaust fumes that may be blasting from the plane engines into your face!
9) Have your ticket ready for getting off the plane
If you're flight continues on to another destination after you get off then you'll need to show your ticket. This is to make sure that you are in fact at your final destination. It sounds a bit silly but they enforce it and so if you don't have your ticket in hand or easily accessible then it can be a bit annoying. And, if you somehow left your ticket on the plane then you'll have a bit of a problem.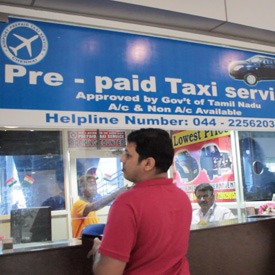 10) Get a pre-paid taxi for getting to your hotel from the airport
If you leave the airport hoping to find a random taxi driver then you'll likely be mauled by a group of yelling men arguing over who "gets you" and then they will quote outrageous prices for your journey. Whereas if you go the "pre-paid taxi" stand located inside the airport near baggage claim then you'll get a fair price (500rs for a 30 min journey) and usually a good driver who is unlikely to try to scam you.
Also note that using a pre-paid "outside" taxi when leaving your hotel will be way cheaper than using the hotel driver especially at the 5 star hotels.
Now: Please share this article with anyone going to India because otherwise I don't know how you could know these things without learning the hard way like me! 🙂
Last updated: January 4th, 2016
You may also like…
---
---
---
---