Updated on March 2, 2021 by Asher Fergusson
H
iking in the Annapurna region will be one of the most stunning and rewarding experiences for your life. The Annapurna Circuit takes you high into the Himalayas, crossing over the Thorong La Pass at 5,416 meters. All along the way, you will stay in villages that offer you beautiful insight into various local mountain cultures.
For your optimum comfort and enjoyment, you'll need to pack light while also ensuring your safety and warmth. From my experience hiking the Annapurna Circuit, I've compiled this Annapurna packing list of everything you should need to have an amazing experience in the incredible region. There are also sections on what to wear on Annapurna, what NOT to bring and answers to FAQs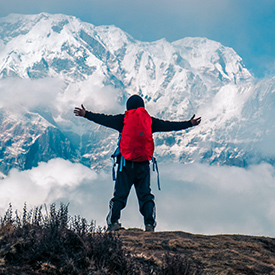 What to Pack for Annapurna – 17 Essentials
---

You will be living out of your backpack. I recommend using packing cubes in your backpack to keep organized as you move from guesthouse to guesthouse. Packing cubes organize your belongings so that packing and unpacking each day is a breeze. You can also separate your warm weather hiking gear, for the lower altitudes, from the warmer set of clothes that you'll need for the higher altitudes.
---

These waterproof compression sacks serve a dual purpose of saving room in your backpack and also keeping your belongings dry. They compress your clothes, sleeping bag and towel, removing air to pack down smaller. A pack that is as small as possible is definitely desirable for this long and challenging hike, which is why compression sacks are a must-bring.
---

An emergency paracord bracelet is essential for any serious hiking trip. In addition to a 12 foot long paracord fashioned into a nifty, lightweight bracelet, this one also has a built-in emergency whistle, small knife, compass and fire-starter. It's inexpensive and fits on any wrist, and can be a lifesaver in case of emergency.
---

Make sure that you have great travel insurance for the Annapurna Circuit. The trail can be dangerous, and even experienced hikers should expect the unexpected and be prepared for anything. World Nomads covers everything from injury and illness to theft, as well as general risks involved in hiking trips.
View their plans at WorldNomads.com ➜
---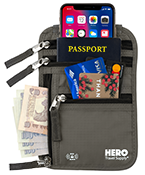 Traveling on planes and busses, and then walking and sleeping in a different place each night when you're on the trail, it can be easy to lose track of your most essential documents. This pouch allows you to carry your passport, debit cards, cash and documents safely under your shirt where pickpockets can't reach them. This neck wallet even comes with RFID blocking to prevent e-thieves from stealing your credit card details.
---

A good backpack makes all the difference on a hike as long and arduous as the Annapurna Circuit. Because you'll need to carry at least 10 days worth of belongings with you, it's essential that your backpack is lightweight and ergonomic, distributing weight effectively for your optimum comfort. It's helpful to buy a backpack for your gender, as women's backpacks are fitted for the female body whereas men's backpacks distribute the weight differently. Osprey backpacks are fantastic quality, and this one has anti-gravity suspension to make your load feel lighter, which is a lifesaver when you're spending your days climbing mountains.
---
7. Hiking Boots Women and Men

Your shoes can be your best friend or worst enemy on the Annapurna Circuit. Be sure to wear hiking boots with excellent ankle support, fantastic grip for varying terrain, and waterproofing that will keep your feet dry in mud, wet weather, or snow. These Timberland Chocorua boots for men and women are also lightweight and extra comfortable with a compression-molded foam midsole comfort system. They're Himalaya-approved for most seasonal conditions.
---

The Annapurna Circuit without good hiking poles is a hiker's worst nightmare. This is particularly true on your Thorong La Pass day, when you will need to descend approximately 1,600 meters. Such a descent absolutely requires the support of hiking poles. These TrailBuddy hiking poles are aircraft grade aluminum, which means that they are both super lightweight and super durable. The handles are moisture-wicking and mold to the shape of your hand for added comfort and anti-chafing.
---

During your long hiking days, you won't often have the luxury of a toilet in which to urinate. For men this shouldn't be a problem, but for women crouching can be a very messy and uncomfortable. Especially because you won't be doing laundry during your hike, I recommend hiking with a female urination device handy so that you can cleanly and comfortably pee anywhere.
---

Most guest houses have running water that hosts will tell you is drinkable, but in reality filtration is often absent or very basic, and you will find a multitude of particles floating in the water. It's therefore necessary to pack s Lifestraw water bottle. It filters and purifies water on the go so that you can drink safely and efficiently from any water source, be it dirty taps or alpine rivers.
---

Though most guest houses provide blankets, often the bedding can be both slightly dirty and also not nearly warm enough to get you through a cold mountain night. This is particularly true at the Thorong La High Camp, which has no insulation and was by far one of the coldest nights of my life. For this reason, a very warm sleeping bag is essential in Annapurna. This Marmot sleeping bag keeps you toasty in the cold, and is also lightweight and very packable.
---

With those cold mountain nights up high in the Himalayas, it would definitely be a big mistake to not carry a good sleeping bag liner. A sleeping bag liner is small, lightweight and easy to pack, and it makes a surprisingly huge difference as an extra layer in keeping you warm at night. This liner is microfleece, so that it is more cozy and comfortable than most sleeping bag material.
---

A normal bath towel is bulky, heavy, slow to dry, and completely impractical for the Annapurna Circuit. This travel towel, on the other hand, dries quickly and packs small, making it ideal for hiking trips. It will serve you very well for a hot shower after a long, cold day of hiking.
---

Thermal base layers are essential for hiking in cold weather. They're comfortable and moisture wicking, so they'll keep you dry when you sweat. Merino base layers in particular are breathable and lightweight, and are excellent for keeping you cool when you're active and sweating, but warm in the cold high altitudes.
---

Power outlets can be understandably unreliable in mountain villages. This lipstick-sized portable charger will keep your camera and phone charged without adding unnecessary bulk and weight to your backpack. Particularly if you're using maps.me for your hike, as many hikers do, a charged phone at all times is essential!
---

You'll eat delicious local food in villages throughout your hike. It's a rare pleasure to have hot meals served to you for breakfast, lunch and dinner during a multi-day trek in the mountains! However, new rural cuisines may not always sit well in your stomach. Activated charcoal soothes an upset stomach by absorbing toxins so that you can recover quickly and hit the trail again.
---

Altitude sickness is one of the biggest risks of the Annapurna Circuit. In addition to acclimatizing for two to three nights in Manang, you should also take altitude medicine to avoid severe and dangerous altitude sickness. You can easily purchase diamox at pharmacies in Kathmandu and Pokhara, or have it prescribed to you by your doctor before your trip. If you're unwilling to take diamox, these chewable supplements use an herbal formula of pure ingredients for altitude relief.
Other Annapurna Packing List Items Not to Forget
---
What to Wear During the Annapurna Circuit
---
Make sure that you wear good quality hiking gear on the Annapurna Circuit. This should include top-quality hiking boots, as well as comfortable and warm merino hiking socks. You'll need hiking clothes for both warm and cold temperatures, as the hike starts warm but temperatures drop in your ascent. The Thorong La pass is VERY cold!
In addition to hiking clothes, pack lightweight, warm and comfortable clothing for lounging in the evenings. This should include comfortable, slip-on shoes to wear around your guesthouse so that you can allow your hiking boots to dry overnight.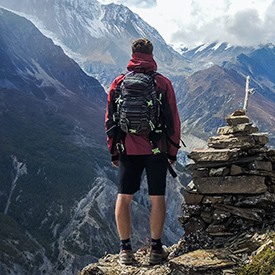 Don't forget to pack a bathing suit as well to enjoy the hot springs at Chame! Trust me, you absolutely won't want to miss out on the warm soak.
SPRING

– March, April, May

Springtime at Annapurna is warm and clear, with great visibility of the mountains. Spring is a good time to hike the Annapurna Circuit, with the added bonus of beautiful rhododendrons in bloom at the lower altitudes. To hike in the spring, you'll need hiking shorts (men and women) and moisture wicking t-shirts (men and women) for the beginning of the track, but hiking pants (men and women), merino thermal base layers (men and women), a coat (men and women), a warm hat, gloves and a neck warmer for the higher altitudes.
SUMMER

– June, July, August

Summertime at Annapurna features torrential downpours, mudslides, leeches, and mosquitos. For this reason, the summer is not a desirable time to do the Annapurna Circuit. However, if you do decide to take advantage of the summer's thinned out crowds, make sure to wear a good rain jacket (men and women), waterproof boots (men and women), and gaiters. Good insect repellent is also a must.
Autumn

– September, October, November

Autumn is the best season to hike the Annapurna circuit, with the calmest weather, clearest skies, comfortable temperatures and ideal visibility. However, for this reason, you may find yourself hiking with a crowd. be sure to have shorts (men and women) and a moisture wicking t-shirt (men and women) for the lower altitudes, and hiking pants (men and women), merino base layers (men and women), a coat (men and women), a warm hat, gloves and a neck warmer for the higher altitudes.
Winter

– December, January, February

Winter at Annapurna is icy and snowy, and the circuit is not recommended for winter hiking. Some upper regions of the circuit may be closed due to ice and snow. However, skies are blue and beautiful, and the winter can be a great time to experience local cultures at villages along the trail without the mass of tourists that accompany the trekking seasons. Be sure to pack extra warm clothes, including a coat (men and women), fleece layers (men and women), thermal base layers (men and women), warm socks (men and women), and good winter hiking boots.

Dressing appropriately for the activity– (Click to expand)

Hiking:

While hiking, wear moisture-wicking, movement-friendly hiking gear that keeps you cool when you sweat but warm in the cold. The first days of the circuit, at lower altitudes, are fine in hiking shorts and a moisture-wicking t-shirt, as well as a wide-brimmed and breathable hat for protection from the sun. As you ascend, temperatures drop and you'll need hiking pants and long sleeves over merino base layers. Good merino hiking socks are also important for hiking the whole way through, as well as durable, comfortable and waterproof hiking boots.

The pass: The pass, including Thorong La High Camp, is VERY cold. You will need a warm coat, a neck warmer, a warm beanie, and warm, waterproof gloves. You'll also need thermal base layers, as well as a layer of micro-fleece and a hiking jacket under your coat. Be sure to also wear a headlamp, as you'll likely set off for the pass before dawn.

Evenings: Pack warm and comfortable clothing for evening lounging at the guesthouses. This should include sweatpants, or other loose-fitting and warm pants, and a couple of layers of comfortable warm sweaters. Pack lightweight slip-on shoes so that you can take a break from your boots in the evenings. You can also buy yak wool slippers in Kathmandu or Pokhara that are perfect for keeping warm at the guest houses. Don't forget to also pack a bathing suit for the hot springs at Chame.

What NOT to bring to Annapurna
---
1)

Food:
Apart from a few trail snacks like granola bars, there is no reason to bring food to the Annapurna Circuit. All along the hike, you will find guesthouses with restaurants that can serve you hot, delicious, affordable, and efficient meals, with both local and western cuisine on offer. Often, you can even sleep for free at a guesthouse if you agree to eat breakfast and dinner at their restaurant.
2)

Unnecessary valuables and electronics: Keep it simple for the hike, and only pack what you need. The circuit is no place for a laptop, tablet, or any other unnecessary electronics. Stick to your phone, portable charger, and camera, and your wallet and passport. Other valuable items may easily get damaged during the hike, and add unnecessary weight to your pack.
3)

Bath towel: A bath towel is bulky, heavy and impractical for the Annapurna Circuit. To dry off, pack a travel towel instead, as it packs small and dries quickly, and is therefore much more practical for a multi-day trek.

4)

Too much clothing:
It's important to only pack what you need so that your backpack is as light as possible. Only pack clothing that is practical for hiking, as well as one or two outfits for lounging, and a swimsuit for the hot springs. Rather than changing clothes every day, plan to re-wear three to four moisture-wicking shirts, and one or two hiking pants should get you through the trip just fine. Your hiking boots should be top-notch, and the only other pair of shoes you'll need are lightweight slip-ons to wear casually around your guesthouse after hikes.
5)

Unnecessary weight: For your comfort on the circuit, keep your backpack as light as possible. Store whatever you don't need for the hike in your hostel, hotel or guesthouse in Pokhara or Kathmandu.

What NOT to wear in Annapurna – (Click to expand)
Revealing clothing
: You'll be passing through traditional villages in the Annapurna region, and it is important to dress respectfully. Wear appropriate clothes for hiking and avoid items that may be revealing or offensive. Keep your stomach covered.
Heavy materials: Keep your body and pack light by avoiding heavy materials. Ultralight down, micro-fleece, and merino are great materials that are very light but also keep you very warm. Leave leather, denim, and other stiff and heavy materials behind.
Uncomfortable/impractical footwear: Economize your footwear in Annapurna to avoid extra weight. Your hiking boots should be lightweight, waterproof, and durable. In addition to your hiking boots, you may pack one pair of lightweight slip-on shoes for evenings when you want to take a break from your boots. I recommend also buying warm yak-wool slippers in Kathmandu, Pokhara, or Chame. Any other footwear should be left behind to save room in your pack.
Clothing that doesn't move well and wicks moisture: All of your hiking gear should move well and be moisture-wicking. This will keep you comfortable throughout your trek. Moisture-wicking clothing is particularly good because it can be re-worn, meaning that you only need to pack 3-4 shirts for the Circuit instead of changing every day.
Fashion: There's really no need to be fashion-conscious in Annapurna. Instead, focus on wearing clothing that is practical, durable, athletic, respectful, and warm. Keep your more fashionable items stowed away in Kathmandu and Pokhara for when you return to urban life.

FAQs about hiking Annapurna
---
1. What skill level will I need to hike the Annapurna Circuit?

The Annapurna Circuit is long and strenuous, with difficult ascents and descents. You should have a reasonable fitness level to be able to hike up to eight hours per day for up to ten days. The high altitudes also require a certain degree of health and fitness, and you should discuss any pre-existing health conditions with your doctor before your trip. However, the trail is very well marked, and the pass is gentle and wide rather than narrow and steep. It's unlikely that you'll get lost. For most seasons you should not need any particular mountaineering skills, apart from good fitness and common sense, to safely complete the Annapurna Circuit.

2. What permits do I need for Annapurna?

You will need two permits for the Annapurna Circuit Trek, a TIMS permit, and an ANCAP. For most nationalities, the TIMS permit costs approximately 10$USD while the ANCAP costs approximately 30$USD. You can obtain both from the Nepal Tourism Board Office in Kathmandu. You will need to bring passport photos to the Tourism Board Office to obtain your permits. Be sure to plan ahead, as the Office is closed on various holidays and also often entails long lines and waiting times.

3. Where do I stay during the Annapurna Circuit?

All along the circuit, there are villages with guesthouses and teahouses where you can spend the night. Often, you can sleep for free if you agree to purchase dinner and breakfast from the guesthouse or teahouse. Plan with maps so that you have an idea of what village you will aim to sleep in each night. This will help you to plan your route.

4. Do I need to bring any camping gear?

Because there are guesthouses and teahouses all along the track, you do not need any camping gear. In fact, it will be difficult to find places where you can pitch a tent. You should certainly plan to sleep in guesthouses instead. Because there is affordable hot food all along the circuit, you should not need to bring cooking gear, either.

5. Where can I store the rest of my travel luggage during my hike?

Fortunately, you do not need to hike with all of your travel luggage. Most hotels, hostels, and guesthouses in Kathmandu and Pokhara have systems in place for storing your luggage for you while you are hiking. This is often very affordable or free of charge and allows you to keep your pack as light as possible for hiking.
Other Asia packing lists you may like…
Asia | Bali | Cambodia | China | India | Indonesia | Japan | Nepal | Philippines | Southeast Asia | South Korea | Sri Lanka |Thailand | Vietnam
Also see our Oceania packing lists…
Australia | Hawaii | Kalalau Trail | Kauai | Maui | New Zealand
Please note: We have over 200 packing lists covering practically every popular travel destination in the world. Access them all on our packing list overview page ➜