Updated on February 25, 2021 by Asher Fergusson
I
ndonesia is a beautiful country with sandy beaches, some of the best waves for surfing in the world, and an abundance of sea life to discover in its waters.
Whether you are looking to relax or go on an adventure, you can find it all in Indonesia. So when you are thinking of what to pack, follow this complete packing guide!
We cover what to wear in Indonesia, what NOT to bring and general FAQs. Enjoy your trip!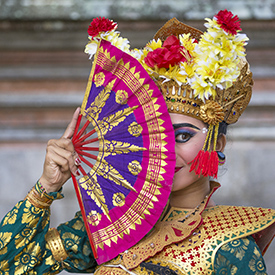 What to Pack for Indonesia – 17 Essentials
---

The weather in Indonesia can be unpredictable, especially during the wet season. If that's when you plan to travel, be sure to bring a sturdy, windproof travel umbrella to keep you dry in case of rain. This umbrella's awesome because it can fit multiple people underneath.
---

Depending on where you're traveling from, Indonesia might be a long way from home. Prevent the uncomfortable effects of jet lag and make the most of the first day of your trip by taking these homeopathic jet lag relief pills. We bring them along every time we travel overseas!
---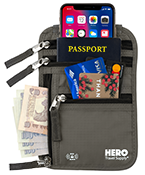 A neck wallet is an incredibly valuable item to have with you when visiting particularly crowded or touristy places. Keep your important belongings organized and secure by wearing them in this handy pouch around your neck and beneath your clothes. This one's great because it's large enough to hold your phone, wallet, passport, and other valuables.
---

A sarong has endless purposes while you are traveling and is a fantastic and versatile item to bring with you to Indonesia. It's a blanket on a plane, a shawl to cover your shoulders for temples and holy sites, a swimsuit cover up, and even a beach blanket. We never travel without one!
---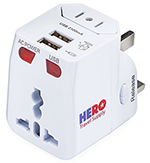 Indonesia uses 220 volt power which means you may need a power adapter if you are coming from countries like the US or Canada. This universal power adapter includes two USB ports which means you can charge multiple devices at the same time.
---

A microfiber towel is lightweight and takes up little space in your suitcase which is great for traveling. If you have plans to stay in hostels, many will not provide a towel so you will need to bring your own. This towel dries very quickly which makes it super useful to have at the beach or for any water activities.
---


Many countries in Asia will restrict your access to certain websites like Facebook and Netflix. A VPN will give you access to everything on the internet worldwide no matter where you are traveling to. It will also protect your information from hackers when you connect to WiFi in public places.
---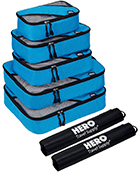 Packing cubes are a great way to keep yourself organized before and during your trip. Avoid overpacking by limiting yourself to this handy set of packing cubes and easily find anything you're looking for throughout your trip. This set also comes with separate cases for laundry and shoes.
---

The tap water in Indonesia is not safe to drink, so you'll likely be tempted to use a lot of single-use plastic water bottles, which are bad for the environment and will end up costing you an arm and a leg by the end of your trip. Avoid this by bringing a reusable LifeStraw water bottle which will filter your water before you drink it.
---

A lipstick-sized portable charger is a must-bring for your trip to Indonesia. While you're out and about during the day, you'll likely be using your camera and phone for photos, videos, navigation, communication, and more. Don't risk your devices dying at an inconvenient time, simply bring this external battery with you to charge them on the go.
---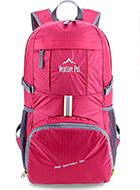 Regardless of your plans, you'll definitely want to bring a good daypack with you on your journey through Indonesia. Leave the majority of your belongings safe at your accommodation and just take what you need for a day of exploring. You'll want a daypack like this one that's comfortable, sturdy, and can carry what you need.
---

Stay safe while traveling by getting reliable travel insurance. World Nomads is popular with travelers because they cover a range of activities from snorkeling to horseback riding as well as trip cancellation and protection for your gear. Don't visit Indonesia without it!
View their plans at WorldNomads.com ➜
---

From riding on scooters through the jungle to scuba diving with abundant sea life there's a lot that you will want to capture on camera. This affordable, durable, underwater camera is a great choice to get those action shots both on land and in the water.
---

During your trip to Indonesia, you'll likely be spending a lot of time in and out of the water. Make sure your smartphone is protected from the elements by bringing along a good waterproof phone case like this one to use throughout your vacation.
---

The majority of your time in Indonesia is going to be spent in sandals so you should bring a pair that is sturdy and comfortable to wear for a long period of time. This pair is a great option because they dry quickly and will offer your feet much needed support throughout your trip.
---

Indonesia has some stunning beaches and crystal clear waters that you'll definitely want to take a dip in. Between swimming and surfing, you may stop into a beach bar or find yourself on the back of a moped. On these occasions, you'll definitely want to throw on a cute cover up like this one over your swimsuit.
---

Though Indonesia is known for its delicious and often health-conscious cuisine, there's still a chance you may eat or drink something that doesn't agree with you. Prevent an upset stomach and traveler's diarrhea by bringing activated charcoal to expel the toxins in your system and keep you feeling healthy.
Other Indonesia packing list items not to forget
---
For more ideas of useful items to pack, check these out.

What to wear in Indonesia
---
Indonesia is a tropical, hot climate year round which means you should choose clothing that is light, breathable and with moisture wicking abilities. Materials like cotton, linen, and rayon are great choices.
The most common clothes for women are shorts with a tank or dresses. For men, it is shorts with a tee shirt or tank. Just make sure to have a good pair of sandals with you.
On beaches, bikinis are the most popular choice for women and board shorts for men. A sarong and microfibre towel are also good to bring along. Make sure to protect yourself from the heat by wearing sunscreen, a hat, and sunglasses. If you plan on doing a lot of snorkeling it may be worthwhile to bring your own gear.
If you plan on visiting any of the temples in Indonesia, make sure your shoulders and knees are covered.
While exploring busy towns and cities don't wear flashy clothing and jewelry. Keep your things protected by wearing an RFID cross body bag or storing your cash and cards in a money belt.

What NOT to take to Indonesia
---
1)

DON'T OVERPACK
– You will only need one pair of pants and a sweater. The rest should be summer clothes that you can wear for a week. Plenty of cheap laundry service will be available in all hostels.
2)

DON'T BRING heels
– Many of the roads are unpaved and dirty so it's completely unnecessary to lug around heels.
3)

DON'T PACK warm materials
– This is a tropical country and you will feel very uncomfortable in clothing made of materials like denim, polyester, and nylon.
4)

DON'T TAKE expensive jewelry with you
– Bringing expensive things will make you a target for pickpocketing and scammers.
5)

DON'T BRING tops that have plunging necklines or expose the midriff and avoid short shorts and skirts
– The majority of the country is Muslim and wearing clothes like this will be considered disrespectful and attract a lot of unwanted attention.
6)

DON'T PACK a jacket
– If you are visiting in the rainy season, the country is still hot so an umbrella and/or rain poncho will be better.
Packing correctly for Indonesian weather
---
Indonesia has two distinct seasons but can vary a bit depending on if you are visiting in the Northern or Southern region.
The wet season typically begins in October or November and will run during December, Janu-ary, February, and March. During this time, the average temperatures range between a low of 73.4 °F and a high of 84.2 °F. Although it is the wet season, it normally doesn't rain throughout the day. Instead, you can expect thunderstorms that will last for a few hours typically during the early morning or late in the evenings. Make sure to pack an umbrella, rain poncho, and water-proof shoes. It's also good to have a sweater for the cooler mornings and evenings.
The dry season starts typically starts in April and includes the months of May, June, July, Au-gust, and September. This is the best time to visit with frequent hot, sunny days and great visi-bility underwater. This is also peak season where places like Bali, Lombok, and the Gili Islands are flooded with tourists and prices increase. During these months the temperature ranges from a low of 73.4 °F to a high of 87.8 °F. Make sure to wear plenty of sunscreen and bring a hat and sunglasses. Dress in light, moisture-wicking clothing. Shorts and a teeshirt or tank are the most popular choices amongst male and female travelers.

FAQs about travel in Indonesia
---
1) Do I need a visa?
For many countries like the US, Canada, the UK and Australia, you can enter Indonesia without a visa for 30 days as long as your passport is valid for 6 months beyond the date of your arrival and that you have two blank pages.
2) Is Indonesia safe to visit?
In general, Indonesia is a safe country to visit. Scams and theft are common crimes particularly in Bali and Lombok, so do not leave your valuables somewhere unsafe and just be aware while exploring busy areas. Make sure before your trip to check with your national government advisory for the latest updates.
3) Can I drink the water?
No, you should drink only boiled or bottled water.
4) What currency is used?
In Indonesia, they use the rupiah. Make sure to bring cash for your trip especially if you are going to more remote areas where ATMs are nonexistent.
5) How much money should I bring?
If you are on a budget and plan to stay in hostels and eat cheap meals budget for $32/day. If you have a midrange budget plan for $70/day and luxury travelers can expect to spend a minimum of $145/day.
6) Where can I surf in Indonesia?
Indonesia is known for its surf sites and Lombok is a surfers paradise. For beginners, head to Kuta beach where you will find plenty of surf shops and locals offering lessons.
7) Where should I go for yoga and meditation?
Everywhere in Ubud, you will find yoga studios and meditation rooms. A popular spot frequented by travelers is The Yoga Barn, which offers a wide variety of yoga and meditation classes, as well as hosting retreats, wellness activities, and even accommodation.
8) What's the best way to get around to different islands in Indonesia?
If you are up for some island hopping, either boat or air is best. Just make sure to check the prices because oftentimes budget airlines are cheaper and faster to take than by boat.
9) Where are the best dive sites in Indonesia?
Indonesia has a ton of sea life and excellent opportunities for some amazing scuba diving. Some places you should visit if you've got scuba diving on your agenda includes Raja Ampat, Wakatobi Islands. Komodo Island. Banda Island, and the Togian Islands. Go from April to October where visibility is at its best.
10) Should I tip?
Tipping isn't mandatory but some places like nice hotels and restaurants will include a service charge on your bill. If you want to tip you can add 5-10% off the total bill and just round up in taxis.
---
Other Asia packing lists you may like…
Asia | Annapurna | Bali | Cambodia | China | India | Japan | Nepal | Philippines | Southeast Asia | South Korea | Sri Lanka |Thailand | Vietnam
Also see our Oceania packing lists…
Australia | Hawaii | Kalalau Trail | Kauai | Maui | New Zealand
Please note: We have over 200 packing lists covering practically every popular travel destination in the world. Access them all on our packing list overview page ➜