What should I bring on my trip to Nepal?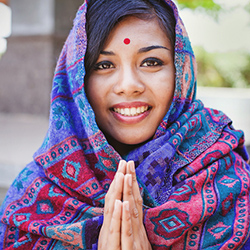 With Nepal's towering Himalayas and age-old temples, it's no surprise that so many people have this small South Asian country on their travel bucket list. Between its dozens of treks, Buddhist and Hindu religious sites, and delicious food, travelers young and old fall in love with Nepal each year. That's not to mention that supporting tourism in Nepal is more important than ever, as Nepalis try to recover from the earthquakes of spring 2015.
Before you hop on the first plane you can to Kathmandu, though, it's important to think about what you'll put in your backpack. I've lived in Nepal for eight months now, and I definitely wish I had packed a little differently before moving here. To help you out, here's a list of packing essentials for Nepal, as well as what you should buy or rent there, what you should leave at home, and answers to some FAQs about traveling in this amazing country.
---
---
---
3) Passport
– This may seem obvious, but don't lose your passport! This is your ticket in and out of Nepal. Bring along some photocopies of your main passport page too, just in case.
---
---
---
6) Cell phone and charger
– Bring your cell phone with you, especially if you know that it's unlocked (Verizon phones, for example, are generally unlocked). SIM cards in Nepal cost less than $1.50, and data is also relatively inexpensive. If you think being able to make calls and have data will be useful, I definitely recommend that you purchase a SIM!
---
---
---
---
---
---
12) Non-hiking clothing
– When you're back from your trek, you're going to want to explore the sights and sounds of Pokhara, Kathmandu, or whatever other place you're visiting. Nepalis avoid dressing shabbily, and few wear athletic clothing on the street. You probably won't need anything fancy, but I would recommend bringing one reasonably modest and nice outfit that you can wear out.
---
---
14) Credit and debit card
– While Nepal is a primarily cash-based society, ATMs are regularly available in Kathmandu, Pokhara, and other large towns. Bring a credit or debit card so you can withdraw cash when you're in urban centers; that way, you'll be able to pay in remote areas (which certainly do not accept Visa, Mastercard, or any other type of plastic).
---
---
---
---
18) Personal medications – It should go without saying that you should bring any prescription medication you use with you to Nepal. While certain pharmaceuticals are readily available at the small pharmacies commonly found in Kathmandu, others are not.
---
---
---
---
---
---
Other packing list items for Nepal
---
What to buy or rent in Nepal
---
Planning on trekking? There are certain items that are much easier to buy or rent in Thamel once you've arrived rather than schlep all the way from your place of origin.
1) Sleeping bag
2) Down parka
3) Wool sweater
4) Wool hat
5) Scarves
6) Hiking sticks
7) Books
8) Most other hiking gear is cheaply and readily available for purchase!
What to wear in Nepal
---
Nepal generally has very consistent weather. Monsoon begins in late May or early June and goes through until late September or early October; the coldest temperatures are generally in mid November through mid February; and the hottest ones in May. However, temperatures can vary greatly depending on where and when you're traveling, so it's best to check ahead of time! If you're going to be in the mountains at higher elevation, you'll want to pack warm layers no matter what time of year. If you're traveling in the Tarai (plains) region of southern Nepal, it will be fairly warm year round. As a general rule, though, it's good to dress in layers and to carry a scarf (for extra warmth and/or to protect your face from city dust!)
In terms of style of dress, responsible travelers will note that Nepal is a culturally conservative country. Even in relatively cosmopolitan Kathmandu, men and women cover their shoulders and knees. Avoid tight, revealing clothing. For women, the color red is quite popular— wear it if you want to blend in a little more!
Open-toed shoes that dry quickly are recommended for the monsoon. If you're trekking, you'll want to bring good quality hiking shoes. Cheap shoes are easy to purchase in Kathmandu and other larger cities and towns, but the large-footed among us should know that it can be quite hard to find properly sized footwear.
What NOT to take to Nepal
---
FAQs about travel in Nepal
---
1) Is the tap water in Nepal safe to drink?
As a general rule, the water in Nepal is not safe to drink. It is particularly dirty in Kathmandu and other large urban areas. Nicer restaurants will give you filtered water to drink with your meal; use your judgement as to weather or not it's safe to consume. If you're not sure about your water quality, use a water filter like a Lifestraw or chlorine tablets to purify it.
2) What is food like in Nepal?
In Nepali, the word for food is khaanaa— which is also used to describe dal bhat, or lentils and rice, the staple food in Nepal. Most Nepalis eat dal bhat twice a day, and you should make sure to partake of this hearty, delicious dish while you're in the country. Momos, a Tibetan dumpling, is another local favorite. Vegetarians will find many options. Kathmandu has a variety of international cafes and restaurants, and you can easily find good quality cuisines from all around the world (with one glaring exception; where's my Mexican food at?). Trekking tea houses have a standard menu of dal bhat and other carb-heavy specials like pasta, chow mein, and pizza. In villages, you'll be limited largely to dal bhat and chow mein.
3) What are some basic safety precautions in Nepal?
As with anywhere, it's better to travel in a group than alone, and better to avoid walking alone at night. Kathmandu is generally a safe city, but beware of pickpockets and nightlife scams, particularly in the Thamel area. Avoid eating street food and drinking tap water. Political tensions are still high in Nepal after a ten-year civil war that ended in 2006, and political demonstrations are common; do not join these.
In terms of transportation, I highly recommend that you avoid overcrowded buses between cities; Nepal is full of high, narrow, curving mountain roads, and it's better to invest in a (slightly) more expensive ticket for a comfortable, safer ride. In Kathmandu, make sure you look both ways before you cross the street, since traffic is chaotic and unpredictable.
4) Do people in Nepal speak English?
In Kathmandu, most people speak at least a bit of English, and most people employed in the tourism sector speak English as well. Private schools are often English language, while public (government) schools conduct their lessons in Nepali. You'll find that younger, middle-class Nepalis are almost always basic conversational in English.
5) How much money should I budget for Nepal?
Your budget in Nepal will vary greatly depending on the way you travel. A budget trekker traveling alone will pay about $25 USD per day for a guide, plus about $20 USD per day for food and accommodations. In Kathmandu, you can find a decent guesthouse in Thamel for $10 USD a night. A meal in an international restaurant costs about $4-$8 USD; a local meal can be had for as little as $1. Local buses around Kathmandu are about 20 cents per ride; a taxi ride across the city at rush hour, however, can be as much as $6. Admission to the biggest temples in Kathmandu is anywhere between $2 and $15. A solo traveler in Kathmandu who wants to enjoy the sights, travel by taxi, and eat at international restaurants should budget approximately $40 per day, but that can easily be cut down by eating at cheaper restaurants, avoiding the more expensive temples, and taking public transportation.
6) What's the best way to travel around Nepal?
Flights are much more expensive (and much faster) than travel by bus, so consider your budget and schedule and plan accordingly. For example, traveling from Kathmandu to Pokhara is $8 and takes about 8 hours on a tourist bus; flying costs $100, but takes only 25 minutes. Whatever you decide, I do not recommend traveling at night nor on crowded buses.
For getting around Kathmandu, taxis are the easiest, but are much more expensive than local public transport. Unless you can convince your driver to use the meter, expect to haggle a price!
7) Should I tip in Nepal?
Restaurants will often have a 10% service charge automatically added to the bill. If not, you can leave a few rupees, but a large tip is not necessary. Do not tip taxi drivers.
8) What should I know about Nepal before going there?
Most foreigners last heard about Nepal because of the catastrophic earthquakes that shook the country in April and May 2015. Nepal, which has the second-lowest GDP in Asia ($1,300), was devastated by the quakes, which killed 9,000, injured 22,000, and displaced 3.5 million. The earthquakes also destroyed priceless centuries-old temples and other religious sites. Two years later, the country is still very much in the process of recovery, with millions still living in corrugated metal shacks.
Fewer foreigners know about the tumultuous politics of Nepal, which is still in the early years of its democracy. A good place to start learning about current events is the Nepali Times (nepalitimes.com), an English language newspaper published weekly in Kathmandu. Forget Kathmandu by Manjushree Thapa provides a fascinating look into Nepal's political history, particularly the civil war that killed an estimated 13,000 people between 1996 and 2006.
9) Do I need a visa to visit Nepal?
For most passport holders, tourist visas for 15, 30, or 90 days ($25 USD, $40, and $100) can be acquired upon arrival at Tribhuvan Airport in Kathmandu or at Kakadvitta, Birgunj, Bhairahawa, Nepalgunj, and Gaddachowki on the India-Nepal border. Indian nationals do not a visa to enter Nepal. The tourist visa can be extended, for $2 USD per day, for up to 150 days in a calendar year.
10) Are there ATMs in Nepal?
There are plenty of ATMs in Kathmandu and Pokhara; however, do not count on an ATM being available in smaller cities or towns.
11) What is the best time of year to visit Nepal?
Late September through mid-December is the best time to visit Nepal; at that point, the monsoon rains have petered out, the land is green, and the skies are the clearest they will be all year. The second best time to visit Nepal is mid-February through April, although the skies are hazier. If you're planning on trekking at higher elevation, avoid the winter months (mid December through early February), when there can be a lot of snow. Would-be trekkers should generally avoid the monsoon season between June and September, with its torrential downpours, washed-out roads, and abundance of leeches.
12) Does Nepal have good internet and phone connection?
Wifi is readily available in Kathmandu, Pokhara, and most other larger towns, and even smaller towns oftentimes have cell phone service. It's unlikely that you'll have wifi or cell phone service while trekking, however. I recommend buying a SIM card upon arriving in Nepal, so you don't have to depend on wifi to communicate!
13) What vaccinations are recommended for traveling in Nepal?
The United States Center for Disease Control recommends that all travelers have their routine vaccinations up-to-date before they travel to Nepal. They also recommend that most travelers take Hepatitis A and typhoid shots. Depending on where you will be traveling, you may want to research getting Hepatitis B, Japanese encephalitis, malaria, rabies, and yellow fever shots as well. Note that you can get some of these shots (often at a fraction of the price) at the CIWEC clinic in Kathmandu.
14) How can I be respectful of local culture and religion in Nepal?
As with anywhere, it's best to take the lead of the locals. Remember that Nepali culture may be more conservative than the one you grew up with, so observe and ask questions. For example, it is unusual for Nepali couples to touch in public (some younger couples in Kathmandu will hold hands, but even that is not very common). However, friends of the same gender will often link arms or hold hands on the street.
Nepalis are generally welcoming, friendly, and glad to help foreigners get around, so return their kindness and be a respectful guest during your stay!
---
You may also like these other packing lists…
---
---
---
---
---
---