Step-by-Step Guide to Using Cell Phones in India + How to Get a Local SIM Card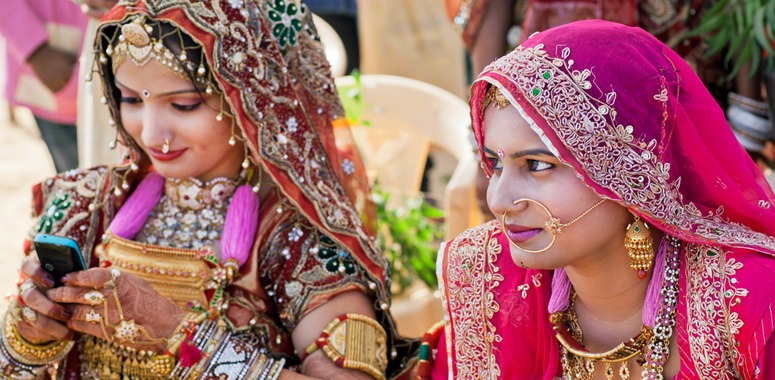 Quick facts:
a) India has recently surpassed 1 BILLION cell phones in use which is 40x the number of their landlines!
b) The cell phone coverage and reception is pretty darn good across most of the country (except for some remote rural areas) and the rates per minute are among the cheapest in the world.
Here's the deal:
Follow these tips below to learn how to get a SIM card (without getting scammed), what the going rates are, how to recharge your plan and which phone you should use.
1) Firstly, why do you need a cell phone for India?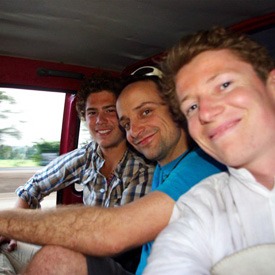 Some people say, "I don't know anyone in India, so why do I need a cell phone?"
There are several good reasons, such as to:
Make a reservation at your next hotel in another state.
Communicate with a fellow traveler.
Call the authorities or an ambulance in an emergency.
Cross check something that a scamming taxi driver says.
Look up a Google Map or Wikipedia entry.
Call your new Indian friend or your family at home.
Send an email or text to anyone in the world.
Make a calculation at a shop to verify you're not being ripped off!
There are of course a million other reasons that you could need a cell phone but you get the idea.
2) Make sure your phone is compatible with the GSM band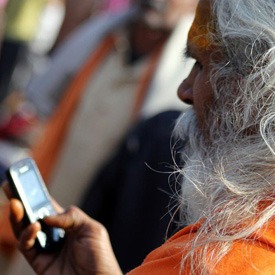 The GSM (Global System for Mobile Communications) frequency band for India is the same as Europe and most parts of the world at GSM 900 and GSM 1800. The US and Americas GSM is different so your US mobile cell phone might not work in India (check to be sure).
Also, it is best to get a local SIM card so you will require an unlocked phone that can take new SIM cards. I've listed a few of my suggested phones below.
If you're wondering, "what the heck is a SIM card?!" — it's the little chip inside a phone that connects to your provider (pictured at the top of this page). In the US the service providers typically lock them into the phone so you can't easily change carriers. As far as I know, almost all other countries have phones that are unlocked.
3) Bring a phone from home that you don't mind losing
I have a phone I use specifically for my India trips because I'm not going to take my $900 iPhone. This brings me peace of mind and assurance that I'm not about to waste a ton of money if it gets lost or stolen. Although, that's what travel insurance is for 🙂
Here are a few good (affordable) options that I recommend:


4) Bring copies of your passport/visa & passport sized photos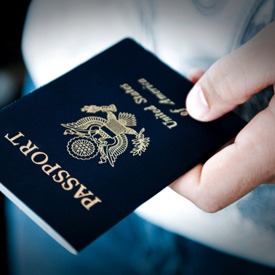 To buy a SIM card in India you will be required to provide a copy of your passport and visa as well as some passport sized photos of yourself.
Often times you'll also need to show proof of your Indian address which can be a letter from your hotel manager. Additionally, you may be asked for proof of your home address which could be a copy of your driver's license.
I know, this is pretty strict but they say it is to help curb terrorists using cell phones in India…
5) Where can you buy the actual SIM card and also where do you recharge your SIM minutes?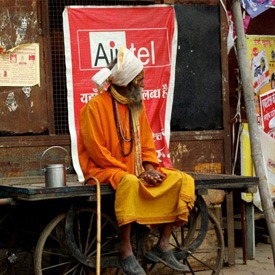 I like to try to get a SIM card from the International airport that I arrived in India at. They are usually more organized and more likely to not cause any troubles when compared to getting one from a vendor on the street. Although, this means you likely will have to already have proof of address in hand before you arrive in India.
If you don't manage to get one from the airport then the next best option is to go to an official office of one of the top service providers such as Airtel, Vodafone or Reliance. These can be found in every major city across India. If in doubt ask your hotel to help you organize it.
One thing to note is that it can take a while for them to verify your address and you should insist that they do because otherwise the SIM will "magically" be turned off after just a few weeks of service!
You can recharge your SIM card minutes or data at any participating vendor on the street that is displaying your service provider's logo. Make sure you see that your phone actually recharges while you're in the shop in order to avoid getting scammed.
6) How much should the SIM card cost?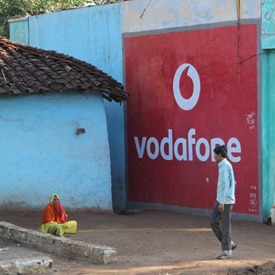 The actual SIM card shouldn't cost more than 150 to 200 rupees and the average costs for calls, texts and data are as follows (approx. 67 rupees to US$1):
Local calls = 1 rupee/ minute
Local texts = 1 rupee/ minute
International calls = around 7 rupees/ minute
International texts = around 5 rupees/ minute
3G data with Airtel = approx. 300 rupees/ 1GB
4G data with Airtel = approx. 650 rupees/ 1GB
The convenience of having 3G mobile Internet is pretty epic when you're in outback India checking Facebook while on a train but it can get expensive fast if you're doing a lot of work.
In this case, you may be better off to get a 3G Dongle that connects via USB to your laptop. The same documentation as above will be needed for getting your hands on one of those suckers.
7) Which is the best cell phone service provider to use in India?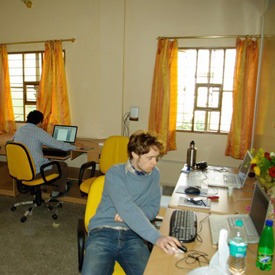 These are my favorite carriers in India:
I have had the best experience and coverage with Airtel and Vodafone. Although, all of them seem to have quite terrible customer service so be warned and be patient.
In the picture above you can see a couple of friends of mine when we set up an office in India for a working holiday there.
8) Lastly, beware that SIM cards have a limited life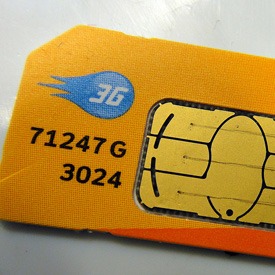 Usually a Simcard will stop working after 3 months of inactivity. They claim this is to stop terrorism. It is a bit annoying if you plan to come back next year.
One way around it is to lend it to your friends who may be going to India within the 3 months after you get back.
Typically you should expect that you'll need a new SIM card every time you go to India.
You may also like…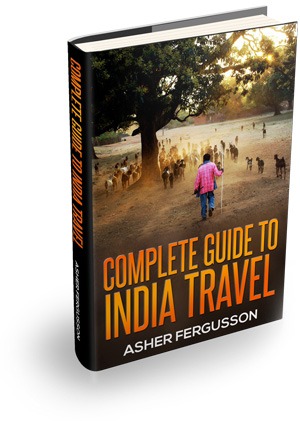 Get my FREE Step-By-Step
Guide to India Travel
– Learn all my tips for safe India travel
– 39 page full color ebook
– Printable PDF
– Save yourself from getting sick in India
Free Instant Access